Take a look inside this "new" ClickBetter system. In this review, I reveal exactly what you will be getting for your money if you decide to buy it.
When I took a glance at the sales video, I knew right away what I was in for, but since I am dedicated to helping people avoid low-quality systems, I watched the whole thing and I went through the system itself and analyzed it for you so you can make your own decision after reading my review.
---
If you are looking for a way to create a passive income online, I can say right away that this system will not deliver on its promise. However, I invite you to check out how I make money while I sleep using a proven business model that works!
Click here to find out about My No. 1 recommendation

---
Summary
Name: 10 Minute Paydays
Website: http://www.10minutepaydays.co
Owner: "Gregg Price" This is a pen name, the real owner(s) is (are) hiding behind a narrator.
Price: $9 with Multiple expensive upsells
Recommended: NO
Score:
 One-star rating just because it is sold on ClickBetter platform and you can get your money back within 60 days
Overview:
Well, the sales video starts out by making a super hyped up claim saying that this "free" money-making system will help you generate up to $5,000 per day with just 10 minutes of work.
Imagine that! 10 minutes a day, that's a little more than an hour per week to generate $35,000?!? It would be very nice, but as the saying says, when it sounds too good to be true, it is usually!
And, I could tell just by the title of the product and the first 2 minutes of the sales video that this system is full of BS!
The narrator says that in the last 30 days dozens of people made "more than $150,000, with ease, from the comfort of their own homes".
Then, we have a fake testimony right from the start where this lady claims that she has made $157,000 in her first month of using the 10 Minute Paydays system...
And here she is offering her services for a video spokesperson on Fiverr!
As you can see, there is absolutely no truth in what she's saying (as if a $9 system can generate $157,000 in a month!!!) She's reading a script and she's paid to say that this system works, while in reality, it's a whole different story!
Then, of course, there is the infamous "bank screenshot" showing millions of dollars in it :
Anyone with a little bit of knowledge with Photoshop or any other imaging software can easily create that kind of image and change the numbers to what they want! That is NOT proof of anything!
Then he (the Narrator) comes back promising that anyone can make $5,000 per day by working 10 minutes each day with no prior experience… I am not so sure about that one either!
Then he goes on and on about how this system could be your "way out", your dream come true and that you should never have to worry about bills, credit card debt or even keeping a roof over your head. And that this is "the real deal"!
Really? with a $9 system?
These sales video are made to get you all primed up and emotionally involved so that you click on the "start now" button. They tell fairy tales and they want you to believe that their system is your "dream come true".
I have seen the same story hundreds of times before in systems like Cash Sniper and Cash Formula.
Heck, they even use the same narrator as he has the same voice!
There is not much more to say about the sales video besides being full of untruths and being so hyped up that it's almost mind-numbing!
---
If you are fed up (like me) of trying these very low-quality systems that promise you riches overnight without ever delivering what they sell, let me tell you how I make money online and how you could also start your own online business for FREE. ===>Check out My No. 1 recommendation<===
---
What is 10'Minute Paydays?
When I entered my email address to get in the members' area, I was bombarded with upsells!
What they do is that they get you in at a small fee ($9), then they say that in order to increase your chances of success you need to buy these "improvements" to the basic system.
The first upsell is called Double your Profits-Payday Plus and it costs $197, if you refuse then they propose a downsell of $97
The second upsell is called Boost profits up to 5X the amount and is sold at $147 with a downsell if you refuse of $47.
Needless to say that I did not buy the upsells, so I will only show you what the basic product looks like.
When you enter the member's area, you will see this:
The first thing you will see (Introduction) is an affiliate link to John Crestani's Super Affiliate system. The "live workshop" they talk about is also a sales page to get you to buy that system.
If you would like to know more about Super Affiliate System, I have written a review on it in the past and you can find it here: Super Affiliate System
Then you have 6 different menu items and they are all PDF documents!
That's right!
The system that should be making you $5K a day is made up of 6 basic PDF documents showing you different methods of making money online.
So much for working 10 minutes a day and making a fortune! That statement from their sales video is just a joke!
Here is what they really give you for your hard-earned money:
Method 1
This 18 pages PDF will give you basic information on doing online voiceovers.
Method 2
This 21 pages PDF document will be giving you basic information on how to sell stock photos.
Method 3
This 21 pages PDF document is about making money freelancing online.
Method 4
This is a 21 pages PDF showing you how to make money with online gaming.
Payday Plus
This 19 pages PDF is about outsourcing and subcontracting the work needed to be done for your online business.
Secret method
This 24 pages PDF talks about Social Media, creating a niche website and managing clients.
There you have it folks, the complete system in 6 documents!
I have to say that I am not surprised. These very low-quality systems are never what they pretend to be. They even say it directly on their sales page:
"The typical purchaser does not make any money using this system.  10Minute Paydays does not guarantee income or success"
That is NOT what the narrator was saying in the sales video anyway!
PROS & CONS
PROS
The only pro I could find for this one is that they have a 60-day money-back guarantee from the ClickBetter platform they have it on.
CONS
Hidden owner hiding behind a smokescreen. That in itself tells me that this is a very low-quality system since they don't even show themselves!
Fake testimonies – They hire actors saying stuff like they made $157,000 in a month when in fact it is very far from the truth. If this was the case, they wouldn't have to hire actors to tell lies!
Unrealistic money claims! There is no way in heck that anyone can generate $5,000 per day working 10 minutes with a few PDF documents, it is simply impossible!
Fake Bank screenshots – There is nothing true about this Bank of America screenshot. It is very easy to take an image and change the figures to make it seem real.
No support whatsoever – I checked the email support@10minutepaydays.co and it does not exist. They only put it up there to put your mind at ease if you ever want any advice or support. But you are not going to get there!
I could go on and on, but by now you get the idea right?
Conclusion
This very low-quality system is NOT what it's pretending to be. There is no way that anyone can make the kind of money they claim can be made with it, especially for only 10 minutes of work per day!
You cannot take their word for it! It WILL NOT work as they say. It is NOT as easy as working 10 minutes a day and making 5 grand.
I am not saying that making $5,000 per day with an online business is impossible, what I'm saying is that you are not going to do it for a $9 very basic information system.
That's what it is a few basic information documents that you could easily find yourself for FREE on the internet by doing a little research.
Now the question: Is it a Scam? It depends on how you see a scam, if you compare what they say on the sales video and what you get for your hard-earned money, then I would qualify it as a LIE, not a scam.
The true sense of the word scam is that you receive nothing for the money you pay, and in this case, you do receive "some" electronic documentation.
Anyhow, the bottom line here is that this "system" is not even worth the $9 you would pay for.
How about a Real Method!
This is just one of the thousands of other very-low quality systems there are on the Internet these days claiming all kinds of ridiculous money claims just to prey on people's emotions and get them to purchase their system, while in fact the only people making money are the ones who create this kind of BS system!
If you are looking to make a passive income using the Internet, why not start from the ground up and build from there! That's how I started over three and a half years ago, and now my online business makes me money while I sleep!
The platform I use has made that possible. I too went from bogus system to bogus system only wasting my time and money. That was until one day, I decided to check things out (like you are doing today) and found this platform that teaches affiliate marketing.
They have a proven step-by-step video and text training that will make you an online entrepreneur in no time.
However, I have to say that this is NOT a get-rich-quick method!
You will NOT be making $5,000 per day working only 10 minutes.
It takes dedication and effort in order to succeed in this business. But, once you have that mindset, the sky is the limit.
You can open a starter account right now for FREE, no credit card required!
Open your account today by clicking on the "Join me here" button below and you will have access to the first 10 lessons of the step-by-step training along with 2 free websites to establish your online presence.
Just enter your email address and you are in!
When starting an online business you will need three important and necessary elements:
Website(s), Education And Expert Training.
With Wealthy Affiliate, you will get all three along with my personal support to guide you along the way.
I also want you to have my Free eBook just to thank you for being here on my website:
Click on the image or the button below and get your own copy.
And I will see you on the inside!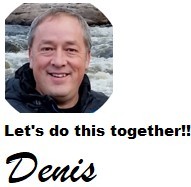 As always, if you have any comments or questions, please do not hesitate to use the comments section below!