Welcome to my 1G Profit System review! For today's discussion, I'll help you determine whether this program is a good value for your money or not.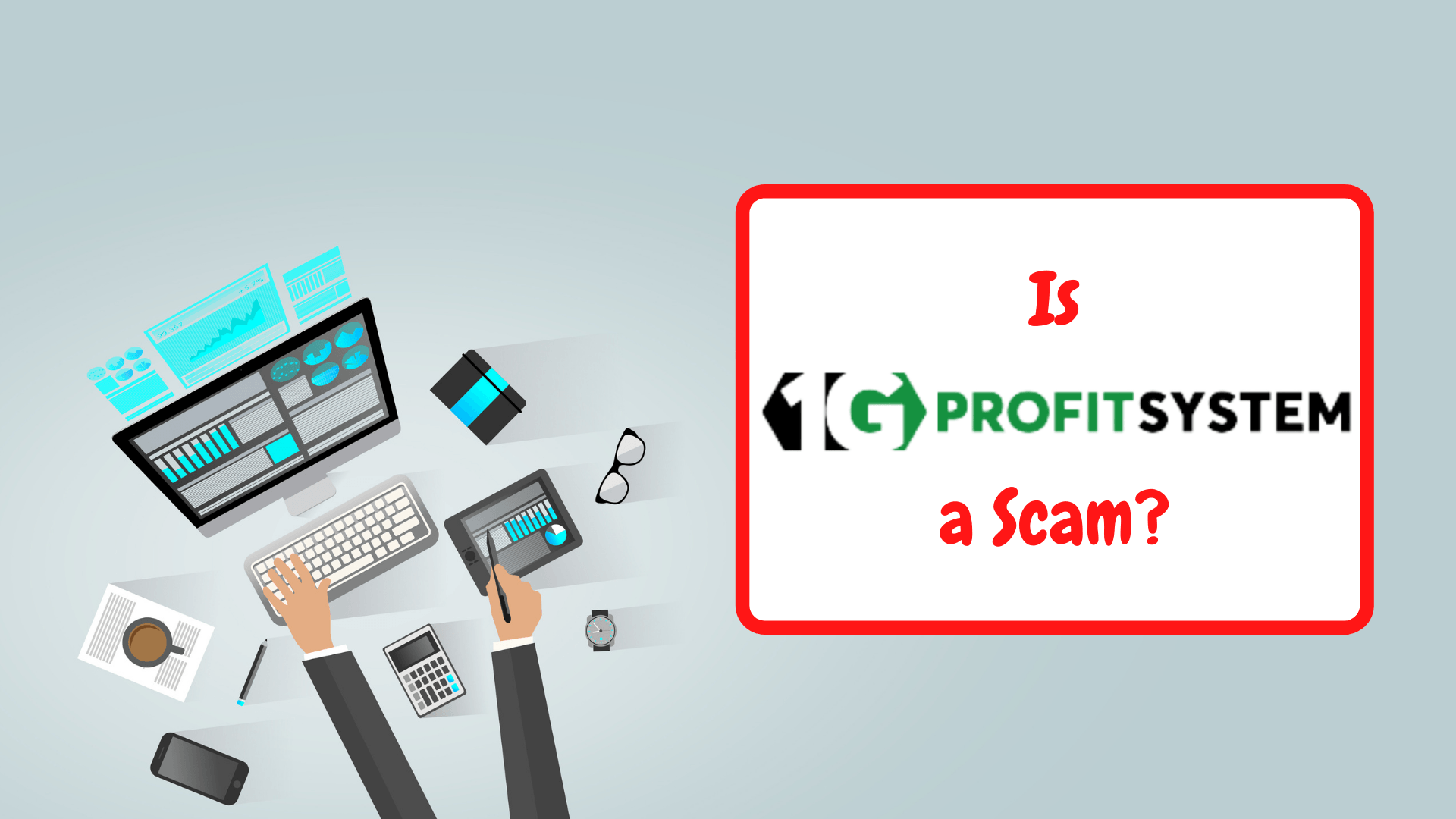 Welcome to my 1G Profit System Review!
The sales pitch of the program might have been something that you received one day in your email or even when you checked your email spam.
If it got your interest and you want to know more about the legitimacy of the program, then the article I have prepared for today is what you are looking for!
We will explore the specifics of the 1G Profit System and help you decide whether it's indeed the real deal or not.
But before I begin, allow me to disclose first that I am NOT an affiliate or representing the 1G Profit System or promoting any of their upsells. This discussion is my honest and unbiased take on the program and whether you should avail of them or not.
So without further ado, let's begin…
Who Created the 1G Profits System?
The program poses a person named Adam Williams as their founder and owner. However, like many suspicious programs I've reviewed in the past, it has characteristics that led me to believe that they're a scam right off the bat.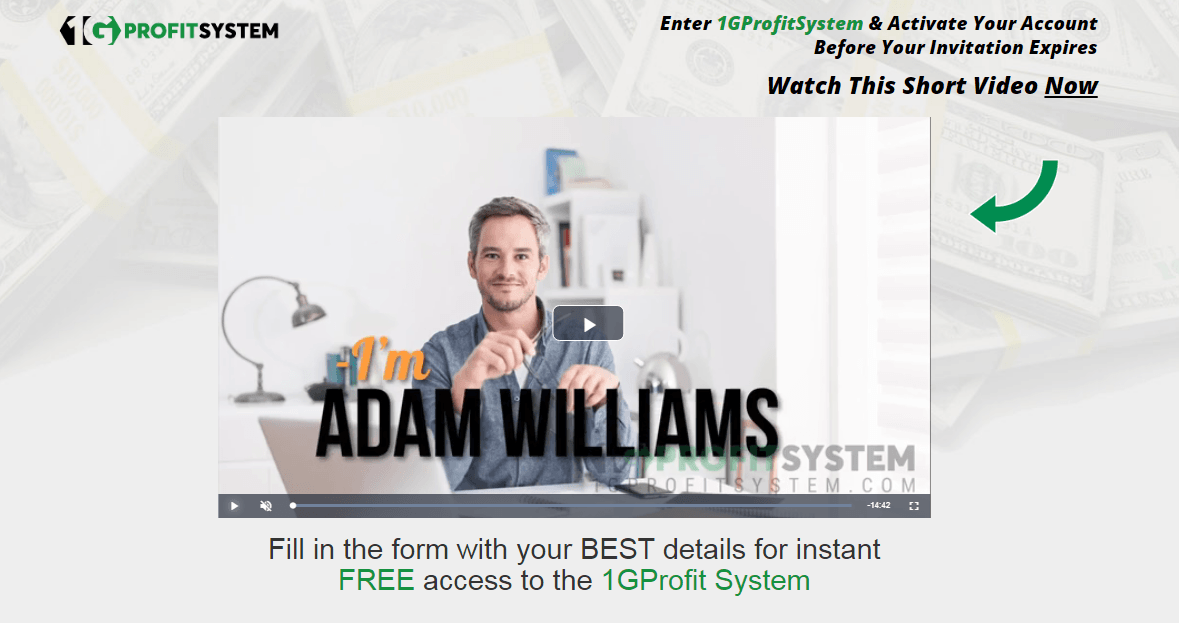 For one thing, we don't see who the presenter is. We only hear his voice which could be just a paid voice actor from Fiverr or UpWork.
I also reverse image searched the photo of this supposed "Adam Williams" and found that it's just a stock image as shown below—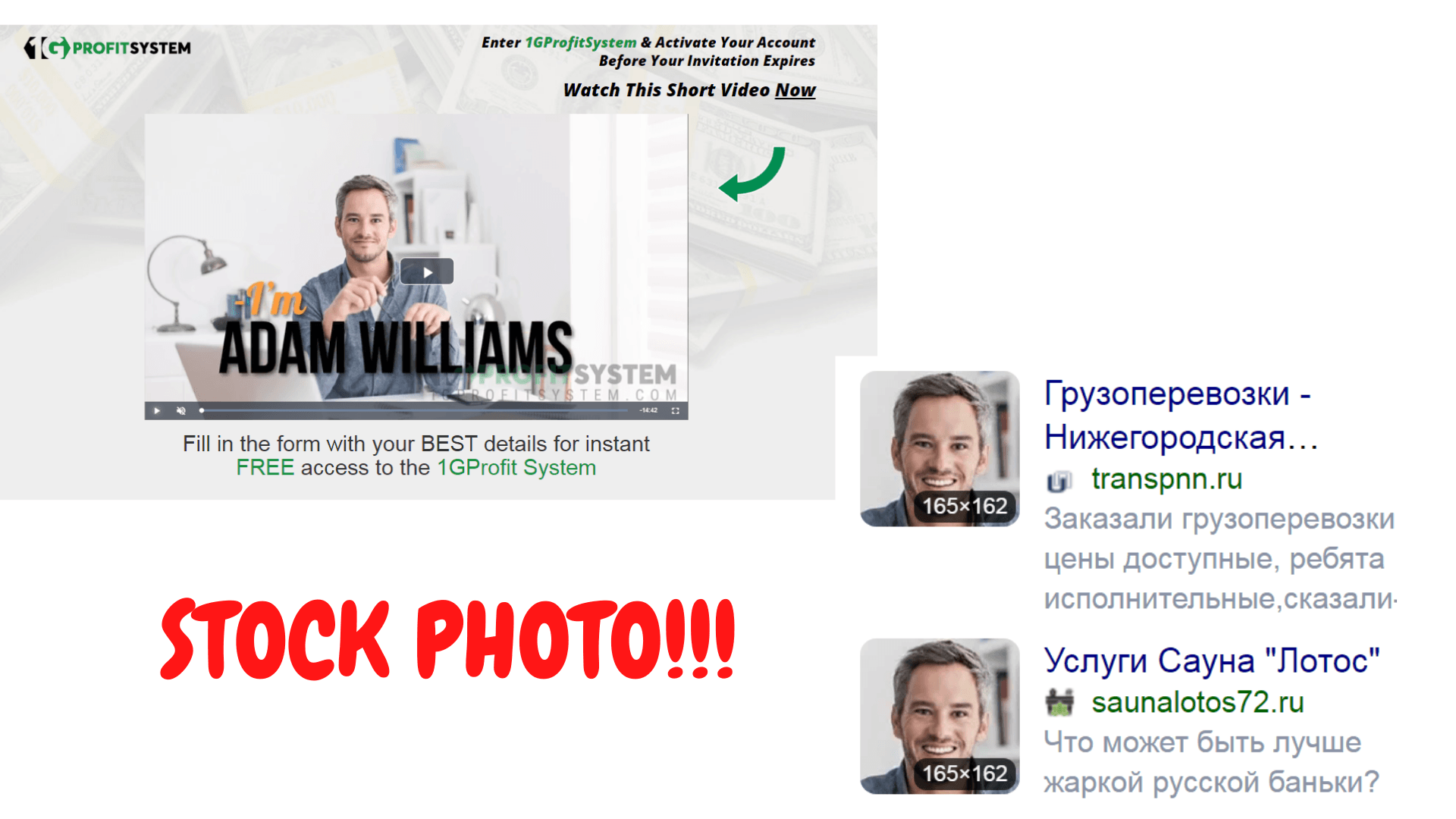 This information alone is a huge red flag!
In addition, they have not shared with the public any information about them like date of inception, headquarter, current owners, etc.
But according to their domain name, the site was published about 3 years ago now, as you see below—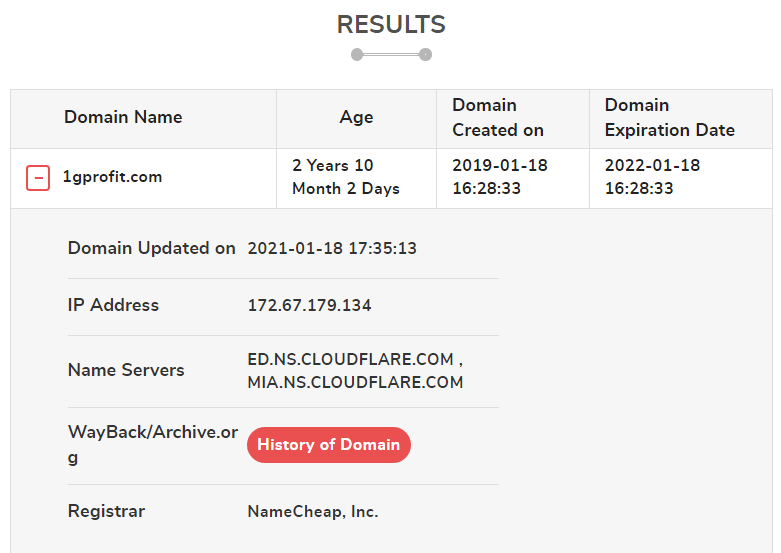 And then, the company is located in San Francisco, California, according to their IP Address—

However, I wouldn't trust the results entirely because I am suspicious that they're using a VPN connection. Also, most of the scam sites I've reviewed are using San Francisco, California, as their base of operation.
With this being said—would you put your trust in someone who is not willing to disclose any genuine information about their company?
Let's continue with my 1G Profit System review and find out how the scam works…
What is the 1G Profits System?
The 1G Profits System is advertised as a binary options trading system that is supposed to generate $1,000 per day without breaking any sweat.
This, to me, is clearly BS!
Such exaggerated claims are among the first signs of a scam! This is because even legitimate programs like Stock Navigators and Crypto Hopper won't hype their program and make such claims as what these scams are doing.
You will also hear statements like Adam will only select a handful of people in having the opportunity to access his supposed "amazing" system. Again, this is an outright lie because it is apparently open to the public.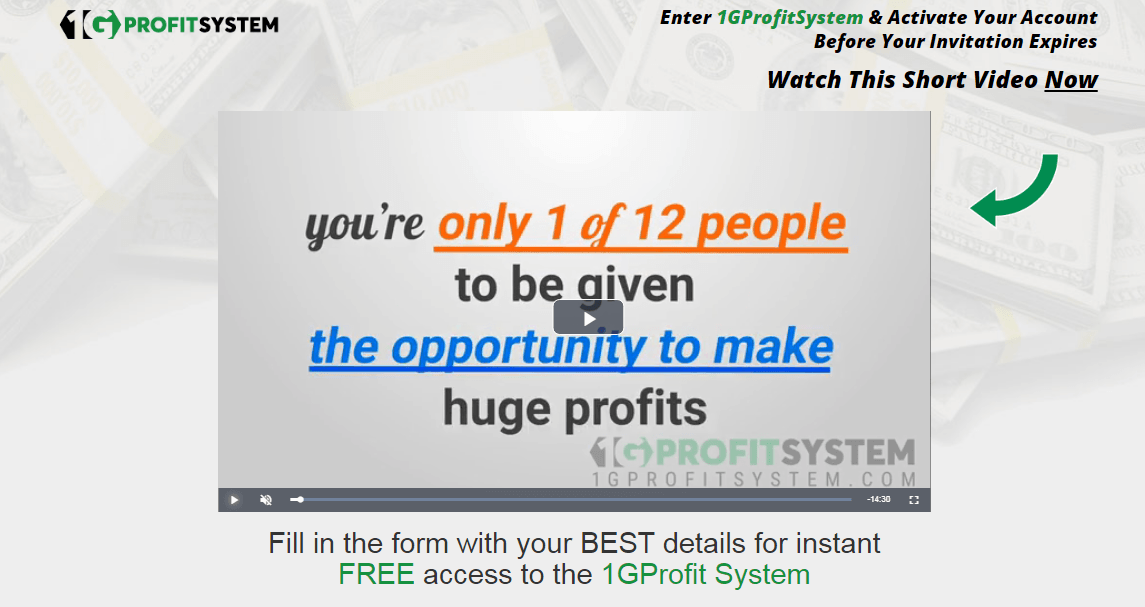 For one thing, many might have received the invitation through email spam. However, it is not limited to emails because anyone who has the links can access the scam site.
Also, as I said, the domain is already over 2 years of age. Thus, if they only need 12 people, then it doesn't make sense if they still haven't acquired that number of people within the span of 2 years.
Let me emphasize once again—the program is a scam! It is only a marketing strategy tactic to create a false belief that there is scarcity and demand for their product.
If you're interested, I've also reviewed a number of scam programs in the past, as mentioned earlier. You can visit them out if you like—Myigga, OPM Wealth, and Auto Profits, just to name a few of them.
Or, you can check the full list here.
How the Program Really Works?
1G Profit System advertises the program as a binary options system. But the truth is that they do not have any program to offer!
What really happens is that they are affiliated with several binary options brokers. And then, the creators of 1G Profit Systems earn commissions every time someone invests in the broker site.
Let me also add that binary option brokerage operations are riskier compared to a traditional broker. Such businesses gain profits when you lose money. It means that they're not making any money if you're winning.
You have to try my top work-from-home suggestion if you're looking for a more legitimate program you can spend your time and money into!
Is 1G Profit System a Scam?
As you might have already surmised by now, the 1G Profits System is definitely a scam!
First and foremost, the inability of the program's creator to disclose its genuine identity and even go as far as faking them makes their operation highly suspicious.
Also, they do not have any programs to offer. As discussed, they will lead you to another binary options broker.
Lastly, the testimonials they have presented are likely paid actors from Fiverr or UpWork. It's a trend that many scams employ.
With this being said—stay away from the 1G Profit System and save your money for more legitimate investments.
What I DON'T LIKE about 1G Profit System
I also have listed the things I don't like about the program—
Scam!
1G Profit System is a scam! Do not engage in this program in any way if you don't want to lose your hard-earned money.
Bogus Business Owners
There's no Adam Williams! The corporate information they have disclosed in their video sales letter is fake.
He also mentioned that he partnered with a guy from Goldman Sachs. Unfortunately, this is also a gimmick in luring you into buying the scam program.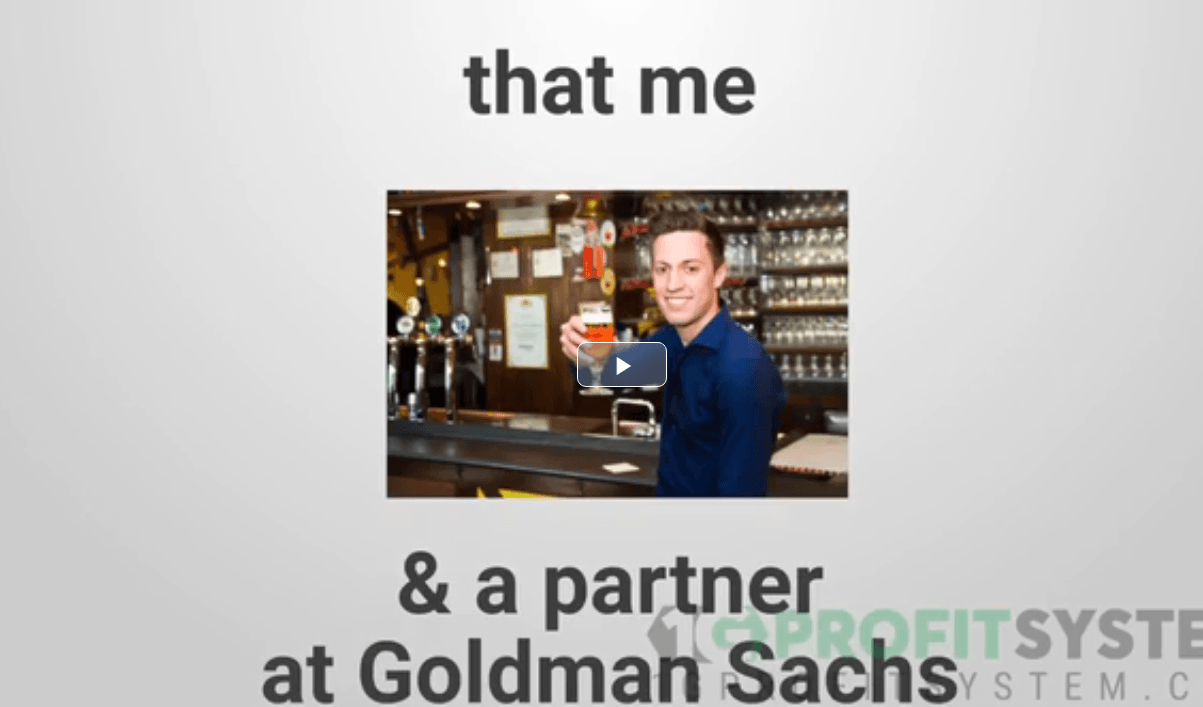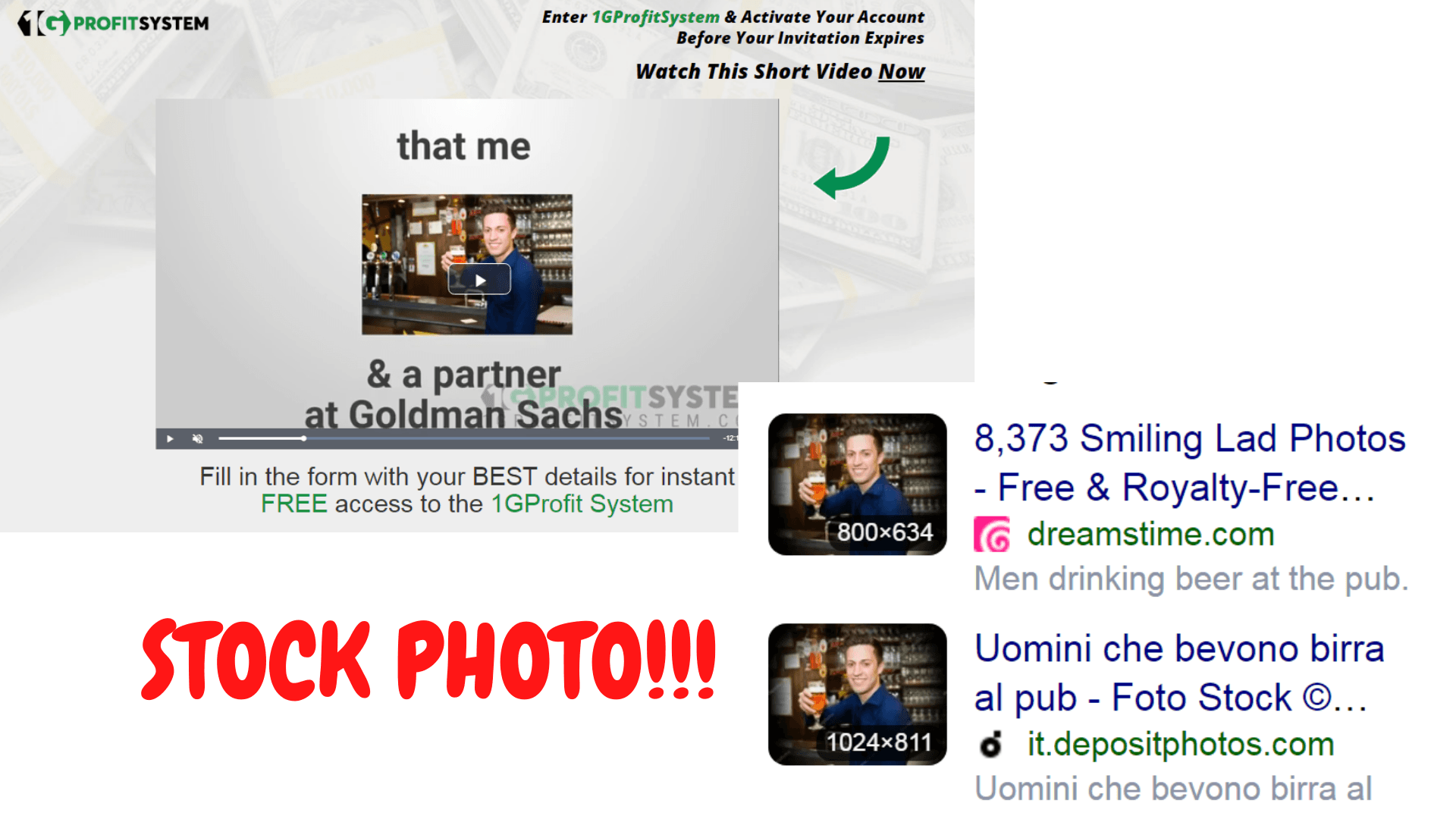 Fake Scarcity
Scarcity tactic is something many dishonest marketers use to somehow create pressure among their audience. But in reality, there's no demand for the product.
Not Accredited by the FTC
They have been in operation for over 2 years, which means that they should have a secured license or have been accredited by the FTC by now if they are truly legitimate, right?
Unfortunately, it is a scam, and there's no way for them to secure a license from any financial institution.
What I LIKE about the 1G Profit System (if there are any…)
As I said in the previous sections, IG Profit is a scam!
And I didn't find anything positive about the business that could lead me to believe that they're worth taking a look at somehow.
If you want a more legitimate and budget-friendly program, then you have to refer to my top work-from-home recommendation!
Final Thoughts: 1G Profit System Review
I hope my 1G Profit System review has provided you with the information you need in convincing you why you shouldn't invest your time and money in this fake program.
My finance instructor back in college once told us that if something is too good to be true, then it is most likely not true. The promise of $1,000 per day won't happen in just a few simple steps.
It takes skill and experience to succeed in binary options trading. In fact, many seasoned traders are still struggling to gain any sort of traction in this type of investment.
You can't completely automate your binary options investment because it still needs your constant observation and makes changes whenever needed.
Let's continue to the last section of my article, and I will show a much better income opportunity online…
How I'm Making a Living with the Internet
If you search the web for the most lucrative source of income online, then I'm sure among the top results would be affiliate marketing. And it is very popular today for several good reasons which include the following—
100% legitimate
No upsells
Cost-effective
Very low risk
You are not involved with inventory management or deliveries
Your potential income is limitless, considering you can promote as many brands as you like
As you might have already guessed, your primary focus is to represent a company by promoting its products or services through your online content.
And then, you gain commissions any time someone clicks the links and uses them to avail the offerings on the company's eComm page.
Of course, your chances of succeeding in this type of business model rely on lead generation and sales conversion.
If you're new to affiliate marketing and have no idea where to begin, then I have something that should put those uncertainties away.
Do you see the highlighted texts below?
Consider giving it a slight tickle, and I'll show you how you can create a site that's attracting quality traffic from scratch—
>>HERE'S MY BEST WORK-FROM-HOME RECOMMENDATION!
In addition, I am also giving away my eBook to show you my appreciation just by reading my 1G Profit System review. It should help you kickstart your affiliate marketing endeavor and gain some traction in the business—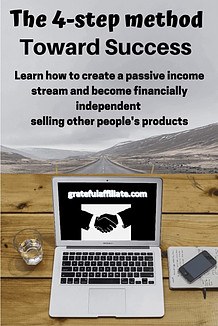 Well, I believe that is just about it!
Thank you for your time!
Peace!