How does Commission Plan X work? Can you really make money online using this "weird commission plan"?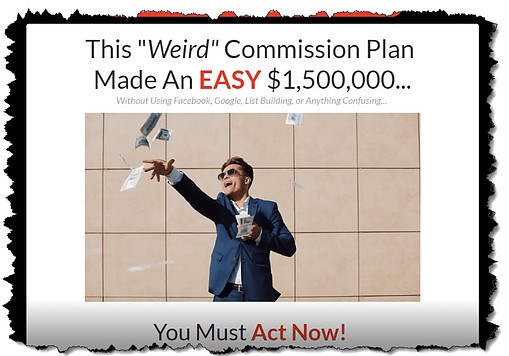 Or is it just a scam?
Seeing this guy throwing money in the air right at the beginning of the sales video tells me that this is probably another one of "those" system.
One that promises you riches without work.  It is typical for these types of systems to trigger some emotions about money and to entice people to join without thinking any further.  However, YOU have made a wise decision by taking the time to do some research prior to giving them your credit card number!
---
Click here to find out about My No. 1 recommendation
---
Summary
Name: Commission Plan X
Website:  www.commissionplanx.com
Owner:  "Dylan Gardner"  The only Dylan Gardner I could find was an American singer-songwriter, producer, and musician from Plainfield, IL.  There is no one attached or related to this system by that name.  They use fake names, or "pen names" to hide behind a smokescreen.
Price:  $67

Recommended:  NO
Overview

This new digital product is being sold through the ClickBetter platform.
From what I saw in the sales video, it has all of the ingredients of a cheap, exaggerated kind of "system" that will leave you with not much more than a bruised ego and some "training" that will not bring you their promised easy money!
I have seen them so often before that I know how to spot them and expose them so that you don't have to "buy before and find out later".  These systems never reveal what they include, they only tell a big story and make you believe that you have found the "Pot of gold".
---
If you are fed up (like me) of trying these very low-quality systems that promise you riches overnight without ever delivering what they sell, let me tell you how I make money online while I sleep and how you could also start your own online business for FREE.
===>Check out My No. 1 recommendation<===
---
Check out what I found!
Ok, so I watched the sales video.  It is very typical of any of the low-quality products I have reviewed before.
It starts out with some "testimonies" of people supposedly making a ton of money right?
Well, guess what?  They're ALL hired actors!
Want proof?  Look at the next image taken off the sales video:
Now here is the same person offering his "spokesperson" service through Fiverr:
I have seen this guy in other systems I reviewed.  FreeAdCash System is one of them
Well, so much for the testimonies!
If this system was such a great thing, why would they hire actors and not use actual customers?
It does not look good right from the start!  These actors are just trying to make money themselves by offering their services.
Then the narrator goes on to say that not everyone watching the video will be even allowed to use the system and that only 45 people will be "allowed in" to see $300 to $1,000 or more in daily profits! So today is the luckiest day of your life!
And then this statement:
AS IF!
If you want to give them your credit card number, they're not going to stop you.  This is another tactic to make you believe that there is a scarcity and that only a "few lucky people" will be able to get access!
I DO call B.S. on that statement!
Then, as usual, they show a screenshot of their supposed bank account with over  $1 Million dollars in it, oh and we also see a tiny picture of a driver's license from New York State showing this as proof that he is who he says he is…
The problem is we can barely see the photograph of a man, let alone what is written on the license. The same goes for the amounts in the bank account. That is NO proof whatsoever!
This could have been made with any cheap photoshop software and pasted in the presentation!
And his PayPal account is shown with $192,159.00 "just sitting there".  Well, the same applies here.  Anyone with a little photoshop skill can replace a $0.00 with $192,159.00.  It's very easy to do!
Then they show another few actors saying they are making a ton of money and finally, you need to give them your information to "reserve your spot".  So I did!
Next, I got redirected to a second video:
This one is pretty much the same as the first.
They claim that your $477 per day account is being set up and that you must watch the brief orientation video before activation.
The rest of the video tells you that you don't even have to know exactly how it works, just work 10 to 20 minutes per day and the cash will start flowing, they do repeat themselves quite often and make it sound "too good to be true".
One thing that is typical of these systems is that they never tell you exactly what you are buying.  They say you will be rich in a matter of days with the system, but you have to give them your credit card number in order to find out what it is you are buying.
Just like buying a pig in a poke!
One last thing is that even though they don't tell you what exactly you are buying, from the clues I got in the sales video, I can deduct that it has to do with affiliate marketing.
PROS & CONS
PROS
The system is sold through the ClickBetter platform and therefore, has a 60-day money-back guarantee if you are not satisfied
CONS
False scarcity – They make you believe that there are only 45 spots available.  That is so far from the truth.  The creators of these systems want to get your credit card number, and they will not stop at $45.  That is a certainty.  Go on their sales page next week or next month and they will still say the same thing!
Exaggerated money claims –  The "screenshots" that you see in the videos are most probably made up and do not tell the truth about how much someone will make if they purchase the system.
Fake Testimonies – Hired actors say what they were hired to say.  If this system was such a great thing, why would they hire actors to tell their stories?  Why not take a real member and ask him? I think you know the answer here!
Conclusion
If you want to become successful online, and not follow the crowd that wants to be rich overnight, well this kind of system that promises you to be rich in a very short time will only take your money and leave you empty-handed.
Believe me, I have been there before!
Bold claims and hyped up bank accounts is the way to play with people's emotions and get them to "dream" that they too can do it in a day or two.  However, nothing could be farthest from the truth.
In order to make it online in today's standards, you have to be willing to put in the work and learn the right method.
Sorry to burst your bubble but there is no get-rich-quick method, no magic system that will make you rich overnight.
However, making money online can be easy if you know "how" to do it.
But it's not "overnight" easy like this system is trying to convince you!
There are a lot of ways to make a good living online. This system is NOT one of them!
Is this system a scam? Well, a scam is a fraudulent scheme that would take your money without your knowledge.
To be very honest here (and giving a full disclaimer), I did not purchase the system.
However, I know enough and have enough experience in the "make money online" to spot the fake, and this one is a BIG fake in my opinion.  I would not call it a scam, I call these systems "very low quality" systems.
In this case, you will probably end up with "some kind" of training in pdf or video format, and I am actually not interested in finding out exactly what they provide.  Just by watching both videos told me enough NOT to give them my credit card number!
And I suggest you do the same!
I do NOT recommend this system!
A Real System
What I do agree with this system is the method they use and I do recommend affiliate marketing for beginners.

Why?
Because most people's biggest hurdle to making money online, is they don't know-how.
They don't know what to sell.
They don't know how to make a product.
With affiliate marketing, you're selling other people's products, and getting a commission.
The affiliate marketing industry continues to grow as the online spending increases, and the number of companies investing in their affiliate programs is constantly increasing. To be completely honest, there has never been a better time to get involved in Affiliate Marketing! That is just ONE facet to building a business online, and a website can be monetized in many ways.
At this point, I would like to introduce to the system that I have been using for the past 4 years.
It's the kind of system you can start learning and implementing right away.
When starting an online business you will need three important and necessary elements:
Website(s), Education And Expert Training.
With Wealthy Affiliate, you will get all three along with my personal support to guide you along the way.
Wealthy Affiliate is structured in a way that delivers simplified training in video and text format.
It's not set up like most online income opportunities. Wealthy Affiliate stays clever in its approach.
It invites you to engage with a vibrant community of over 2 million members while learning through their online classes.
You actually "earn while you learn".
Why don't you give it a test drive for FREE (NO credit card information required to join the Starter membership).
You will get:
2 Free Websites & Hosting
Keyword Tool Access
'Course 1' in Affiliate Marketing
Access to a community of over 2 million other affiliate marketers and entrepreneurs
Plus: You will get all the "Premium Features" for 7 Days.
---
I also want you to have my Free eBook just to thank you for being here on my website:
Click on the image or the button below and get your own copy.
And I will see you on the inside!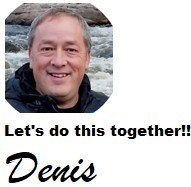 As always, if you have any comments or questions, please do not hesitate to use the comments section below!