In this review, we expose the whole truth about what this system really is! We give you a look inside the members" area so you can decide if it's for you or not!
This digital product is claiming this big bold headline on its sales page "How to profit $1,000+ per day trading Penny cryptocurrencies".
Now first off, I would like to caution you that any anytime a digital product makes a big income claim like this you want to be very cautious and I see that by being on this page, you have done your due diligence and you have decided to check things out before buying it, which is a great decision!
I've seen and reviewed tons of different products like this and most of the times they make very unrealistic claims about the amount of money that you can make, especially if you're brand new or you're just starting off.
Can you make a huge amount of money online? Absolutely! But if you're new to the online business, you should not expect that you are going to just instantly start making thousands of dollars right away!
There is a huge learning curve with a digital product like this!
---
Click here to find out about My No. 1 recommendation
---
Summary:
Name: The Crypto Vault
Website: http://cryptovault.network
Owner: We have no clue, the owner is hiding behind a narrator!
Price: $37 with multiple upsells: Upsell No. 1 is for $197 and it's supposed to double your cryptocurrencies and Upsell No. 2 is for $27 and this one claims that it will give you "crypto picks" that will guarantee big profits.
Rating:
(one star)
Overview:
The sales video itself is very typical of any other digital products that you can get from ClickBank. I have seen it so many times in past reviews that I have written on this website. They try to make believe like it's possible to earn $1,000 per day right away and then people get so excited that they instantly get it and then they realize "oh no there's a learning curve to this". You want to keep that in mind when you are looking for that "new shiny object".
There are many claims in the sales video that are way over what is reality! The biggest one is that they say that they teach you how to buy and sell cryptocurrencies and that you can turn $20 into a fortune in a few weeks! Then they say that if you bought Verge just 4 months ago for $100 you would be cashing out $57,136 today.
But here is the real story, this is very similar to the stock market and speculations:
As you can see here, yes there was a time back in November 2017 when the prices went through the roof for a brief moment, and if you had cashed then, yes there was a possibility of making a huge profit, but it quickly went back to barely anything right after.
There are numerous claims like that in the sales video and you want to be very cautious with claims like this!! I've seen tons of different systems and most of the times they make very unrealistic money making claims. If you're brand new with cryptocurrencies or maybe you're just starting off, let me tell you that this is not going to be a money making machine.
Yes, you can you make a huge amount online with cryptocurrencies, I am not arguing that fact!
But if you're brand-new and just learning, you have to realize that you're not going to just instantly start making thousands of dollars just like that!
---
If you are fed up (like me) of trying these low-quality systems that promise you riches overnight without ever delivering what they sell, let me tell you how I make money online and how you could also start your own online business for FREE. ===>Check out My No. 1 recommendation<===
---
What is The Crypto Vault
After entering the members' area you will be greeted with the following page:
The first big red button is a 49 pages PDF document called "The Crypto Vault" supposedly written by an "Andrew Gladwell". As I started to read the document, it looked like something very familiar. I looked up my past reviews and there it was:
I have seen the exact same document before in another system I have reviewed called The Digital Gold Rush. The only difference is that they have changed the "writer's" name. They even have the same disclaimer at the beginning of the eBook:
Investing in cryptocurrencies is not appropriate for everyone. There is a risk of loss associated with trading and investing in these markets. Losses can and will occur. No system or methodology has ever been developed that can guarantee profits or ensure the avoidance of losses. No presentation or implication is being made that using the strategies or tactics, or the information in this webinar or accompanying material will generate profits or ensure the avoidance of losses.
Like I said on my previous review this is VERY true and you should not be taking this kind of risk if you don't have the means to lose money…
But to get back to the actual "product", what you get in this version is the exact same product as Digital Gold Rush.
Now, which one is a rehash from the other, I'm not sure because they are both still online as I write this review.
Here is a peak of the member's area for Digital Gold Rush:
And here is a view of the Crypto Vault Network:
NOTHING has changed, it`s the exact same product!
What the creators do is that once they see that one product does not generate any revenue, or has low sales, they quickly rename and rehash the same product under a different name! And in this case, they also changed the name of the "writer" of the eBook, which is most probably a PLR(Private Label Right) that they put up in the "system", which also probably bought through the same means.
If you would like to see exactly what is inside the "system" I suggest that you read my other review The Digital Gold Rush.
No use repeating myself here, everything is the same down to the core.
What you will get for $37 are short videos and PDFs. You won't be "pleasantly surprised" because it's l basic stuff that you could find on your own by doing a little research.
PROS & CONS
PROS
Relatively cheap at $37
Money back guarantee from ClickBank
CONS
Very hyped-up and non-realistic money claims
The owner is hiding behind a narrator, so we have no idea who is promoting this product
There is a huge learning curve when buying and selling cryptocurrencies, and this system will only give you a basic overview of what you need to know to be successful.
There is an obvious risk, just like the stock market, cryptocurrencies are very volatile.
No support whatsoever, just videos and PDFs.
Unfinished product: There are numerous parts of the system that are not even live yet, and this was the same in my last review!
Rehashed from a "previous version and name", but still exactly the same!
Conclusion
This is another very low-quality digital product and it's only purpose is to create wealth to the persons who sell it, not the buyer!
It's misleading and uses fake stats to lure you in, when in fact if you do just a little research, you would be able to find all of what is included in here.
My opinion is that you will not get anything in here that you would not find elsewhere for free!
And if you do decide to get the product, I strongly suggest that you skip the upsells!! What you will learn in this will not turn a $20 bill into $57,136, NO way!
So in conclusion, I do not recommend this system!
A real alternative
you want to succeed in the online business world, the first thing you need to realize is that you can never quit EVER! And stop looking for that new shiny object of a quick fortune for little effort, they do not exist!
Roll up your sleeves and get to building your online empire yourself. You are the only one who can do it!
I have been working my butt off for over 3 years now and I do not regret it one bit because it has paid off! After buying all kinds of shiny objects like this one, and losing my time and money, I finally found a platform called Wealthy Affiliate.
With this platform, which is more a community of like-minded members helping each other succeed, I learned the 4-step method to create a solid foundation to build my online business on and I wrote an eBook about it.
I want you to have my Free e-book just to thank you for being here on my website:
Click on the image or the button below and get your own copy.
When starting an online business you will need three important and necessary elements:
Website(s), Education and Expert Training.
With Wealthy Affiliate, you will get all three along with my personal support to guide you along the way.
And I will see you on the inside!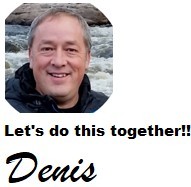 As always, if you have any comments or questions, please do not hesitate to use the comments section below!