In this review, I will expose what you get from this digital product called Daily Profits which claims you can make $2,400 today. Is this real or just another scam?
Hi and welcome to my review of Daily Profits.
If you are here today, it's probably because you want to know if the claims of this system are real. Well first, let me congratulate you on doing your due diligence and checking things out before buying this system. When something seems too good to be true, it usually is. But let's not get ahead of ourselves here and read on to find out exactly what you are getting for $7.
---
I do have to tell you that I have a much better method that I use to make money while I sleep (and while I'm awake also)!
Click here to find out about My No. 1 recommendation
---
Summary:
Name: Daily Profits
Website: https://dailyprofits.cc/
Owner: Gary Jenkins – I couldn't find anyone under that name that is associated with this system, so it has to be a pen name and the real owner is hiding behind it.
Price: The initial cost is $7 with 2 upsells: Upsell no. 1 called Daily Profit Elite (It's supposed to double your earnings) is $297 with a downsell of $97, and then Upsell No. 2 called Nitro Profit Method (this one claims you can make a profit selling products you don't own and while others are doing the work) sells for $197
Score:  1 out of 10 (only because you can get your money back)
Recommended: NO
Overview:
The first thing I noticed on the sales page is all of the BIG names on the bottom of the screen like NBC, Forbes, Los Angeles Times and many others. They place these there to make believe that this "system" has been on these networks, but nothing could be farther from the truth. There is no link and if you do a search for this system within these companies, you will NOT find Daily Profits in them!
If you've watched the sales video to the end, you must be still wondering what the heck is this about right? There is a whole lot said in this fifteen-minute sales video, but actually NOTHING about what this system really is!
Daily Profits is designed to make you believe that you are getting a steal of a bargain at $7 for a system that will make you rich overnight. Imagine making $2,400 today for a $7 investment. I think that we can already assume that this is very much hyped up and that we can conclude that we won't be making $2,400 today with this.
There is, of course, the "screenshot" of their bank account with 3.4 million dollars in it:
Do you know how easy it is to edit a screenshot and make it whatever you want? It can even be done with free software like GIMP or paid software like photoshop. Therefore, this is a simple lie just like the rest of the video as a matter of fact.
Then there are the "testimonies" that are all FAKE. I checked and found all of them as "actors" on Fiverr offering their services as spokespersons.
Here is proof:
This lady claims that she's making $2,600 daily with Daily Profits, when in fact she's reading a script!
This guy claims that he has earned $73,482.93 in the last month using Daily Profits, but again I found him offering his services as an actor or spokesperson on Fiverr
Now you know that these testimonies are lies! And so are all of the other testimonies. They tell scripted text about making thousands and thousands of dollars when there is nothing farther from the truth. They only make a few bucks recording a video for this sales page!
The rest of the sales video is just a long-winded sales pitch that tells nothing but a hyped up story on how this "Gary Jenkins" is lazy and rich by using this "loophole", but again, there is nothing about what is the loophole in the sales video.
It's the kind of thing where you have to buy and believe what they tell you in the sales pitch before you can actually see what you are getting…
---
Are you fed up by all these very low-quality programs that promise unrealistic money claims and tell total lies in their sales video just to hook people up and get their hard-earned money, while they are the only ones making a profit?
===>Check out My No. 1 recommendation<===
There is nothing to hide in this platform! I have been using it for over 3 years now and it has helped me create a profitable online business!
---
So, what is Daily Profits?
After refusing all of the upsells that could cost you up to $494, you first get access to this:
An introduction video that tells you to activate your free Shopify account (plus a lot of hyped up claims once again saying that he has earned millions of dollars with Shopify) and a link to create it!
Yes! Shopify is a great way to make money online but why would you pay to get a link to create a 14-day trial account with Shopify you ask?
Well, it's an affiliate link!
Whenever someone creates an account through their link, and if they stay after 14 days and starts paying their monthly fee, the creator of this "system" gets a commission. It's as simple as that.
If you think about it, you would pay $7 to end up on a sales funnel!
But, let's not forget that you also get access to the actual system which is below the Shopify link:
At first look, I thought that it was an actual "system" that I had bought for $7, but I soon realized that this system is NOT what it seems to be!
All of the actual menus on the left goes NOWHERE! There is NOTHING in them!
At least the big green button got me to download a zipped file called "Daily Profits"
Well, let me say that what I found in it was not impressive!
There are 4 OUTDATED PDF documents in it. That's it!
Files from 2016 way too old to be of any use today. Even eBay changed it's ruling in January 2019 and dropshipping is not even allowed on that platform anymore.
So that's it, folks. A few PDFs and you should be making $2,400 today.
What kind of B.S. is this anyway!!!
What else can you expect from a $7 system? I expect that upsells are not better. Most probably a PLR (Private Label Rights) bought and modified to make believe that it comes from Mr. Jenkins!
PROS & CONS
PROS
The only good thing I could find about this system is that you have a 60-day money back guarantee from ClickBank.
CONS
Very hyped up and unrealistic money claims – There is no way in heck that anyone can make $2,400 today with 4 outdated PDFs
False Advertising – making believe that this system has the approval of big names like Forbes and Entrepreneur.
Fake Testimonies from hired Fiverr actors.
False scarcity – "Only 8 copies available" this is complete rubbish. This product is sold through ClickBank and it has an unlimited amount of copies to be sold
Outdated, unusable information in a PDF format will not enable you to make the kind of money they claim you will be making. I read the PDFs and they barely scratch the surface and gives you a very general idea of what you need to know to run a profitable Shopify store.
Incomplete and unusable menu links tell me that this cannot even be called a "system". It's a link to download 4 PDF outdated documents.
Conclusion
Even at $7, my opinion is that this "system" (which is not a system) is actually very overpriced.
Is it a scam? Well, not really because you do get a few PDF documents for your money, however, my opinion is that it's not worth anything!
Not even the time wasted on the sales video is worth anything!
I give it a BIG THUMBS DOWN!
A Real Method to make money online!
Like I mentioned earlier, I have been using a platform for the last 3 years that has enabled me to create a very profitable online business, and there is nothing to hide in this one. It has a very comprehensive step-by-step video and text training method to begin and grow an online business based on your passion and knowledge.
One BIG advantage is the fact that you can get in, kick the tires and check things out for FREE, and keep your credit card in your wallet, as there is NO obligation or commitment to creating a free starter account.
The Wealthy Affiliate University is the platform for anyone who wants to build a solid foundation and grow their business the right way right from the start.
It's absolutely NOT is a "Get rich quick" method. It's a REAL method, with real people. Nobody is hiding behind fake testimonies or making any unrealistic claims here. It's a community of real people helping each other succeed.
Click on the link below and start your own online business TODAY.
When starting an online business you will need three important and necessary elements:
Website(s), Education and Expert Training.
With Wealthy Affiliate, you will get all three along with my personal support to guide you along the way.
I also want you to have my Free eBook just to thank you for being here on my website:
Click on the image or the button below and get your own copy.
And I will see you on the inside!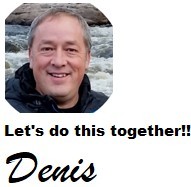 As always, if you have any comments or questions, please do not hesitate to use the comments section below!