This product says that you can make $1,245 per month in your spare time with no website, no list, no social media, etc. Is it real? Take a look inside and find out!
If you are here today it's probably because you have been invited to buy Easy eCash and are wondering if it's worth your time and money. Well, let me start by saying that you are on the right path. Checking things out BEFORE buying is the only way to survive on the Internet these days. There are so many bogus products and scams, that one cannot find a clear path as to what believe and what not to believe.
Don't fret any further, I did the research for you and I will reveal in this review, what Easy eCash is made of so that you can make a wise and sound decision before buying it.
---
I can tell you right away that Easy eCash is not like the exaggerated statements that they have on their sales page and it is NOT going to generate the kind of money they claim it will bring you!
—–>Click here to find out about My No. 1 recommendation<—–
---
Summary
Name: Easy eCash
Website: https://easyecash.net
Owner(s): Will Allen, Pallab Ghosal, and Ram Rawat
Price: $11.65 with Multiple upsells (I talk about these in the overview section)
Recommended: No
What is Easy eCash? Take a look inside!
Overview
This digital product says it will teach you how to make money selling on eBay. One of the creators of this product (Will Allen)
says that he makes at least $1,000 per month using this method.
Now, let's take a look inside and see what this system is all about.
But before we do, just be aware that the price of $11.65 for just the basic system.
Once you're in, they hit you with multiple upsells (Which by the way, I did not get):
Upsell No.1 – top seller strategies they sell this one for $27.
This upsell is supposed to show you how to multiply your cash and just stand out above other sellers.
Upsell No.2 – Advanced eHack this upsell is $37.
This one is supposed to show you how to "steal" products from Walmart, Amazon, and Target to resell on eBay…
Upsell No.3 – Easy eCash you will need $67 for this upsell.
With this upsell, they show you 20 products that are virtually guaranteed to sell on eBay.
Upsell No.4 – Resale rights for $97 you get the resale rights to the Easy eCash system and get to keep 100% of the profits.
As you can see you could end up paying a lot more than the small $11.65 fee they charge…This is where these guys make money, with all the upsells…They create a front end product, only to hit you with products after products before getting to the one you have just bought.
Now, getting back to the Basic system
The first thing they want you to do is to click on a link as a step #1 – Well this is a link to another system sold on Warrior Plus platform completely dependent from Easy eCash. So it is an affiliate link from the creator so that if you do buy this, the creator of Easy eCash makes a commission from the sale. It has nothing to do with Selling on eBay, it's actually a training about PPC (Pay per click) advertising. I just looked at the sale page quickly and did not purchase it.
For step #2, they have this second link to a system called "Sense Drill" that supposedly used Google Adsense to generate $132,747 in 2017?? I did not go any further with this one either!
---
If you are fed up (like me) of trying these very low-quality systems that promise you riches overnight without ever delivering what they sell, let me tell you how I make money online and how you could also start your own online business for FREE. ===>Check out My No. 1 recommendation<===
---
Step #3 finally brings you the actual "course" or system, which is 10 short videos on how to set up and sell stuff on eBay.
Here they are in the order that they are presented inside the system:
It is not completely useless and does have some good information about how to set up and sell on eBay.
They will teach you (in short narrated videos) how to set up your payment method using either a credit card or PayPal, how to find stuff in your own home, apartment or even your Goodwill store. Then they show you how to set up your listings, where to find free items on Craigslist and other websites to resell them on eBay and that is basically it!
However, to make the kind of profit that they claim you can make, you will need some money to start buying inventory and a place to store these items. Plus you will need some time to prepare and ship everything (when you do sell).
You also have to consider fees that eBay charges for using their platform, as well as PayPal.
That is it, folks, the whole system is a 10 short video modules that will give you basic information on how to start and set up an eBay account and sell stuff on it. I believe that most of the information that we have here can be found for free on the Internet by doing a little bit of research.
PROS & CONS
PROS
Low cost for the front-end system.
30-day money-back guarantee with the Warrior Plus platform
Good tutorials if you want to start an eBay business
CONS
You will need some capital to start
You will need space to store your items
Time-consuming – especially shipping and handling
A lot of other costs like PayPal fees, eBay fees, shipping fees. You will need to calculate those fees in your sale price to make certain you make money.
Not as profitable as they lead you to believe.
Conclusion
Selling on eBay is a real method, and it can produce results, I am not arguing that fact at all!
And if you are convinced that you can do it, by all means, please do. My personal opinion is that in order to make any kind of decent profit on eBay, it's like any other business out there, you will need the time, dedication, persistence, and money to buy inventory.
The way they present this is that you could make thousands without investing anything, which is stretching the truth way too much for me!
I personally don't use eBay that much, and to start going to Goodwill stores to buy stuff to sell on it (if it sells at all) is really not what I would do to start an online business.
So, in conclusion, I don't recommend this system!
A Real Method!
Stop wasting your time, mental energy and money!
You have probably wasted a lot of time and mental energy on low-quality products like this one and you ended up with nothing at the end right?
Here's why:
These kinds of courses deliver results for SOME marketers, but they leave the rest of us demoralized and empty.
Does that mean that all courses are worthless? Certainly NOT! (Although there are real scams out there, and believe me I have seen them!)
Some people will take this and hit the ball out of the park with it, while the majority will simply be overwhelmed and make nothing out of it! They become lost and stuck and just give up, not even asking for their money back because of the shame they feel. This is exactly how these guys make their money! (Not by selling cheap stuff on eBay!)
One of the major problems with these courses is that they only deliver one piece of the puzzle and not the full picture! So you stuck and confused and you just lose interest. Or you simply just get fed up with wasting your time and mental energy and just throw in the towel.
Either way, you end up losing money and wasting time.
How about a real method?
One that will take you step-by-step, building your online business while learning everything about it.
About 5 years ago, I was in your shoes, going from one worthless product to another. That is until I found what is to me, the holy grail of making money online: Affiliate Marketing.
With affiliate marketing, you don't need t buy any product to resell and you don't need to create any products either. The basis of affiliate marketing is that you sell other people's products, and when someone buys the product (through your "affiliate link") you get paid a commission, which can be as high as 75% of the sales price!
The affiliate marketing industry continues to grow as the online spending increases, and the number of companies investing in their affiliate programs is constantly increasing. To be completely honest, there has never been a better time to get involved in Affiliate Marketing!
That is just ONE facet to building a business online, and your own website can be monetized in many ways.
But you will need guidance.
When starting an online business you will need three important and necessary elements:
Website(s), Education And Expert Training.
Wealthy Affiliate is a training platform where you will get all three along with my personal support to guide you along the way.
Join me and become a member! We are a community of 2 million people all thriving to help each other succeed.
The best part is that you can take a test drive absolutely free! No credit card needed. Just click on the link below and create your free account right now!
I also want you to have my Free eBook just to thank you for being here on my website:
Click on the image or the button below and get your own copy.
And I will see you on the inside!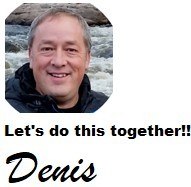 As always, if you have any comments or questions, please do not hesitate to use the comments section below!