Making over $1,000 per day sound like a dream come true, doesn't it?
Imagine the freedom of time AND money this would bring to anyone.
It sounds like winning at the lottery, and this "new" system for making money online is claiming that you can make that kind of money. Or can you really?
If you landed on my blog, it's because you are looking for the truth about this system. Well, with my review, I did the research for you! Now you will be able to make your own decision.
There are so many digital products out there, that it's very hard to determine which ones are good and which ones are not so good!
So, let's go through the sales page first and see where it will lead us.
---
However, if you want to know my verdict right now, I cannot recommend this system, for the obvious reasons that are enumerated in my article.
However, if you want to stop wasting your time and money on these very low-quality systems, I recommend the same platform I use to make money online.
You can check it out by clicking on the button below:
---
Summary
Program name: Explode My Payday
Website: https://www.explodemypayday.com
Owner: Meaghan Harper (we will come back to her later)
Price: $47 plus multiple upsells
Overview:  This is another one of those products with completely unrealistic money claims – Making $1,000 in 24 hours with no work required is simply ridiculous!
Score: 1 out of 10
Details
The sales video starts with some testimonies from "members" making tons of money without any experience.
Well, I can tell you that I've seen that before. I have reviewed a lot of low-quality systems and this one starts the same way and has the same "feel". But let's not get ahead of ourselves let's see how it goes.
There is only a limited amount of spaces available, and because of being able to watch the video, we should be so happy to have an "exclusive" invitation and don't forget that this is for a limited time!
Then Meaghan tells us that this system can be set up in 15 minutes
And requires no skills, and is fully automated with no effort required on your part.
All of this would be so nice, but I truly believed by now that this is already too good to be true!
Of course, there is the proof of income with a screenshot of the bank with over 3 million dollars sitting there, and then a $192,000 in their PayPal accounts again just sitting there.
Every time I see these kinds of money claims, I become very suspicious. Most of the very low-quality systems use these huge figures to lure people to sign up, but they usually have nothing to offer other than empty promises.
If such a system would exist, wouldn't everybody quit their job, pay $47 and become millionaires?
I would be the first one to buy in!
Time to do some research
So, Explode My Payday is supposedly a "new" system for making tons of money online. At least that is what the sales video is telling us. The first thing that I found while doing my research on this system is this:
This "brand-new" Explode My Payday system it's just a rehashed version of another low-quality system called Greedy Mentor!!!
Really? Is this the way it goes? When one system doesn't perform anymore or has been denounced as a very low-quality system, they just change the name?
My research doesn't start very well, doesn't it?
So, when I found out about this, my research went even further and I looked up every inch of this sale video. And guess what, there's more.
These testimonials that they provide are just paid actors. They offer their services on Fiverr here's the proof:
Here is another one
This is a common practice for low-quality systems. They hire people and give them scripts to pretend that they are making boatloads of money, when in fact they are just saying what they are being paid to say. I have reviewed a lot of similar systems, and here are a few similar programs:
I could go on and on, but I think it's enough for you to get the idea here.
All these systems really want is your credit card number. Period. They have no interest in your well-being whatsoever!
---
Would you like to belong to a community that does care! A community of like-minded online entrepreneurs that are always eager to help one another. Then click on the following link and see how I learned to make money online the right and true way!
This is my No. 1 recommendation
---
Oh! And that's not all, remember I talked about the owner of the system? Her name is supposed to be "Meaghan Harper".
Well, here she is, or who is she exactly?
It's just a picture taken from Shutterstock!!!
Any system that hides behind a fake owner is what I call very-low-quality! They can't even own up to their own system!
With all these proofs or "red flags", we can already classify this one has a very low-quality system right away without even going any further.
But there are more reasons not to get in. If you read the fine prints right next to the sales video they say that by clicking the getting started now button, you are giving them permission to rent or sell your data!
However, for research purposes, and for your convenience, I did put in my email address and went to the next step.
What is Explode My Payday
After you give them your email address you are directed to a second long-winded video. Huhhg!
This one was even more hyped up than the first one. The narrator (we'll call her that because we know Meaghan Harper doesn't exist) explains that this method she is about to sell you is used by 92% of the Internet gurus. Yeah right!
It will take a total newbie from 0 to $1,000 a day without any effort and all of this in 24 hours!!!
All of this while manipulating internet traffic to bring them to your site. Once on your site, you should be able to make a ton of money because they're all going to buy your "stuff" (We don't even know yet what it is we are going to do!).
Oh, and the best part is you don't have to work for this.
Then there's this part that kind of confuses me! She claims (Just to prove that her system works) that she opened an account with zero in it and a few minutes later, there was $240 just waiting for you to pick up when you enter the membership area.
From $0 to $240 in a few minutes:
Please don't believe this because you will be taken for a ride, there will be no money waiting for you when you join!!!
Clicksure.com is just another affiliate marketplace where, when you sign up with them and use affiliate links they provide, you would be able to make some commissions if someone buys a product by clicking on your link.
There is no way that she could have created an account for you with just an email address, no way, it doesn't work that way. You have to provide them with personal information that she would not have had!
This is just another lie and a fake tactic.
There's even a disclaimer on the video that says that it's "Not representative of average earnings". That one made me chuckle! ????
She then goes on about manipulating internet traffic? How the heck can you can manipulate internet traffic?
There are ways to bring traffic to your website using SEO (search engine optimization), or even paid traffic (like solo ads and buying ads on search engines) but there is NO WAY ON EARTH you can manipulate 96% of the Internet traffic to come to your website???
Do you realize how much traffic that represents?
According to cisco.com there were 26,600 GB per seconds (YES per seconds) of Internet traffic in 2016, and this figure will jump to 105,800 GB per seconds by 2021. We can only assume that the figure for 2019 should be in the 60,000 + GB per seconds.
If a system could get that kind of traffic to a single website, the server would blow up!
This is just a ridiculous claim!!!
And of course, she goes on saying you won't have to lift a finger to get this to work for you. It will all be done for you on an automated system ( A system and/or website that they will own and manipulate by the way!) in the account that she has created for you (That supposedly has $240 already in it).
Come on! Really??
After this it was time to justify why she only charges a small fee of $37, it's because, if you join and become a member, you will be using her infrastructure, so she needs to continue making money to keep on "growing her team". That is the complete opposite of what she was saying at the beginning of the 1st video, remember? It was for an exclusive number of people!
And according to the video, she will be charging $5000 for this system in a couple of months! Great gods, everyone will be disappointed!
What is really frustrating about all this, is that there is nothing, not a word about what is it you are going to get or even what your system will be. It's all a big guessing game, and I had seen enough BS to know better, so I just exited the video!
PROS & CONS
PROS
Sold on ClickBank so it has their 60-day money back guaranty.
Relatively low price of $47
CONS
False promises
Hyped-up money claims
Fake testimonies with paid actors
Fake owner using stock photos.
Automated all-done-for-you no work involved system – this kind of money-making system does not exist!
I could go on here, but I think it's enough to make a point.
Conclusion
I will be totally honest with you here, after my research and with all the red flags that I uncovered, I did not buy this system, for the obvious reasons mentioned in my article.
These kinds of systems rely on the inexperienced user who wants to make money quickly, and then use that to grab a credit card number and run! And being so dishonest in their sales page makes them an unreliable way of trying your hand at making money online.
At this point, I will let you decide if this system is for you.
I will, however, tell you that I don't recommend it one bit!
The only reason I'm not calling it a scam is because it's sold on ClickBank and you can get your money back in 60 days. And being sold on ClickBank, you will get some kind of training, but by seeing all these red flags, I would not even try it.
My way of making money online
With the numerous reviews of systems like this on my website, I can see why anyone would be suspicious of any kind of recommendations. I truly understand your point of view, I was exactly in your shoes a few years ago.
But the fact is that I have found a real and honest way of making money online. Like you, I searched high and low until I found a legit platform called Wealthy Affiliate
And to prove that Wealthy Affiliate is the real deal, you can get a free trial without having to give any personal information except your email address and a username that you create (You can if you want to, use your real name of course).
I can guarantee that they will NOT sell your email or spam you.
What you will get in exchange for your email address is FREE access to the No.1 Affiliate Marketing platform on the entire Internet!
And by signing up, you will also have me as a mentor. I will be there for you every step of the way
---
I also suggest that you check out my FREE eBook: The 4-step Method
No hyped-up stories, no untruths, just pain facts about making money online with Affiliate Marketing
I will see you on the inside 🙂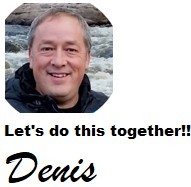 ---