Does GoEarn.co really live up to its promise? Can you really make $500 today or is it just another scam? You will find your answers in this article.
Whether you have been invited through email or social media, you have made a wise choice to check things out and do your due diligence prior to giving this system any kind of personal information!
---
Discover my method of generating passive income through a Real online business!
Click here to find out about My No. 1 recommendation

---
Summary
Name: GoEarn
Website: GoEarn.co
Owner: Unknown (whoever owns this is a scammer)
Price: It's free to join but they will definitely scam you.
Recommended: This one is definitely NOT RECOMMENDED! It's a SCAM!
GoEarn.co says it's the #1 Influencer network that is helping people and is "the best way to start earning money online. Everywhere. Anytime." With the opportunity to earn from anywhere in the world and having the highest paying tasks on the Internet. Here's what they say on the landing page:
However, I will show you in this review that this is VERY FAR from the truth. Actually it's a filthy lie!
Read on as I show you what I have discovered and why I say this is a lie!
---
Are you fed up with trying to find a legitimate method of making money online only to be disappointed every time by scams like this one? Let me tell you how I make money online and how you could also start your own online business for FREE. ===>Check out My No. 1 recommendation<===
---
How does GoEarn.co really work?
As they state on their landing page, you should be able to make $500 online today! They supposedly (again according to their landing page) paid out $44,700,000.00 to their members.
My question is how can they pay out that much money, how are they making money to pay this much out?
As I did my research, I quickly realized that this website is nothing more than a scam. I have reviewed very similar systems in the past and they all look alike and say the same thing.
Here are a few examples of the websites I have reviewed:
GoEarn.co is no different and is not an influencer program and no one on social media is talking about it.
The only ones who are talking about it are the people who are promoting it to get referrals. I came across a Pinterest post the other day and the person sounded very desperate to get "referrals"… Good luck getting paid for those referrals!
They (GoEarn.co) don't even have any social media accounts, which is another big red flag because any well-known company (Who would be paying out over $44 million dollars to its members) would be on social media.
Red flags
Red flag No.1 – Fake Surveys that will "steal and resell" your sensitive personal information to other scammers!
OK, so I decided to "play the game" and enter their "money-making" website. The first thing I tried was their $35 task wall
Of course, my system is set up with protection and this is the first thing I saw when I clicked the link was this:
Then I asked Norton for more information and this is what I found out:
So Norton is telling me that it is highly recommended that I do not visit this webpage that I was sent to…
But, for the purpose of this review, I use my "isolation mode" and tried a link to get a $500 Visa Gift Card.
There were 4 steps required to "qualify" for the Gift card. I was able to do the first 4 steps which were Email, registration, and special offers, but when I got to the final step I needed to complete one of the Silver offers that were listed. I tried in vain to do one or another, but it kept bringing me back to the original page saying my final step was still "pending"…
A loop, to get people to re-register and try some other offer…just to get them to send their personal information all over the internet and then who knows what would happen.
NOTE: I did NOT use any of MY personal information. I have accounts set up just for this purpose…
So as you can see here, this system is all rigged! All these "tasks" are FAKE!
The main purpose of them is to gather sensitive and personal information like your full name, address, and phone number.
Real and legitimate survey site NEVER ask for this kind of info! And they never payout such big amounts of money!
Red flag No.2 – Fake testimony
I was able to easily find Matthew Young ( who claims he made $237,000 with GoEarn.co) as a FAKE testimony.
Here's the person in question. His name is NOT Matthew Young and he DOES NOT make money with GoEarn.co. He's a model for stock photos on Adobe Stock:
Forget about any "proof" being put on this website as truth!
It's all lies and fake!
Red flag No. 3 – Proof that they will NEVER pay you in their own terms and conditions:
Here is a screenshot of parts of their terms and conditions.
They clearly state that IF YOU ARE YOUNGER THAN 99 YEARS OLD (written as "under the age of ninety-nine(99)), you are not allowed to use the GoEarn Sites and Features:
So basically they are saying that the only person who is allowed to use their website and earn money on it is someone 100 years old or older!
So, Good luck making any kind of money with them!
PROS & CONS
PROS
There are NO PROS here,
CONS
They will definitely SCAM you!!! Either through malicious code installed on your computer when you click on one of their link or by reselling your personal information.
Nothing on this website is true: IT'S ALL LIES
If you have given them your personal information, you will get spammed for starters. And I would get a professional to check out your computer for Computer viruses and malware that would have been installed when you click on their link!
Conclusion
Nothing else to say about this one except STAY AWAY!!!
You don't need a system, you need training!
In a sea of scams like the Internet Marketing space, I tried so many systems during my first years of online business, but nothing was working, in fact, I was losing my money and my time trying useless methods like the one I have just described above. That is until I built my current online business!
The reason I say this is back in January 2016 I found a training platform (through my own research, and probably the same way you are doing right now) that is simply second to none!
It has a comprehensive and detailed step-by-step set of instructions that teaches you how to build your online business while learning the ins and outs of what to do and how to do it. It offers a legitimate solution that actually works and never requires you to buy sell or recruit people by spamming social media!
I am also living proof that this training works!
Build your Online Presence First!
What I suggest is to do the same I did: Use the same exact training I still use to build your own online business today!
As I said, I have been building my online presence for a few years now and I still need some guidance, hence the fact that I am still learning. There is so much information out there, one can get lost. However, one of the easiest methods of making money online is through Affiliate Marketing.
As of today, my online business is generating a four-figure passive income and I owe it all to affiliate marketing and the platform that taught me everything I know about it!
Affiliate marketing has grown exponentially due to the COVID-19 pandemic and a lot more people are doing everything online these days.
This is where you can come in and cash in on this growth.
Companies have increased their investments in their affiliate products and to be truthful here, there has never been a better time to start an online business.
However, when starting an online business you will need three important and necessary elements:
Website(s), Education, And Expert Training.
With Wealthy Affiliate, you will get all three along with my personal one-on-one support to guide you along the way.
Why don't you give it a free test drive?
There is no commitment on your part and you don't need a credit card to check things out!
You have nothing to lose and an online business generating a passive income to gain!
I also want you to have my Free eBook just to thank you for being here on my website:
Click on the image or the button below and get your own copy.

And I will see you inside!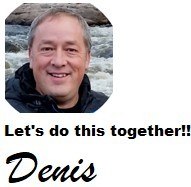 As always, if you have any comments or questions, please do not hesitate to use the comments section below!