The Home Business Package claims that you can make $1,000's per day with their automated websites. Is this the reality? Read my honest review and find out!
This new "opportunity" is supposed to provide you with a "Done for you system to Financial Success". Is the Home Business Package a scam? Or does it really provide you with a realistic automated website system?
At first glance, I can tell you that anyone who claims that they have a "done-for-you" system is usually full of B.S.
I have reviewed hundreds of similar systems and they all have something in common: "HYPE". They all claim that they are the latest and greatest method of making money online without any efforts.
Let's see what the Home Business Package provides and evaluate it's potential.
---
If you want to find out how I generate passive income Click here to find out about My No. 1 recommendation
---
Summary
Name: Home Business Package
Website: https://homebusinesspackage.com
Owner: Unknown! (We have no idea who is behind this "system")
Price: $37 or $97 depending on where you look!
Recommended: NO
Overview
First, let me say that I am in no way shape or form associated with this system.  This review is based on facts found during my research on the Internet and available to the public. 

The sales pitch video is about 11 minutes long from some anonymous female "voice over artist" that says her name is "Pam". She starts by saying: "If I gave you a way to make a few hundred to a few thousand dollars a day, just by pressing a few buttons, would you take it?"
They make it sound so easy, don't they?
Examine this statement and think about it for a moment.
What is actually said here?
Just clicking (or pressing) a few buttons and make a few thousand dollars!
If things were this easy in life, don't you think that everyone would be doing it? Especially at a $37 price tag?
---
If you are fed up (like me) of trying these very low-quality systems that promise you riches overnight without ever delivering what they sell, let me tell you how I have created an online business that earns me money while I sleep and how you could also start your own online business for FREE.
===>Check out My No. 1 recommendation<===
---
How does Home Business Package really work?
The sales video doesn't tell you much about what you are getting for $37 except that you are supposed to get Automated Websites.
There is a major lack of transparency here. We NEVER find out who the owner of this system is or what is the automated system.
They are hiding behind a smokescreen, never mention anything about how the system works and make income claims like the ones I describe here:
Fake Live Account Creation
They make it sound so easy! The narrator pretends that she's creating a "Live Account" for a "Johnathon" that starts at zero ($0.00) and 10 minutes later has $55.
That is complete B.S.!
They have NOT created an account for Johnathon, and there is NO MONEY in this FAKE Account!
And if you look closely at the screenshot, it says right there that it's "AN EXAMPLE", so do not believe this, it's so easy to create Daily Sales Snapshots like these with any image manipulation software!
FAKE Testimonies and income making claims.
They present you with a bunch of "supposed" testimonies from members already making money with this system:
Do you see how EASY it is to fake a screenshot? It took me 30 seconds to take "Justin's" name out and put my name instead.
These testimonies and "income proofs" are worthless and do NOT prove anything else but to confirm that this system is full of lies!
The irony here is that the sales video says that the Internet is full of scam artists that promise millions overnight that deliver zero results:
They have pretty well described themselves here!
Fake Bank Account screenshots
During the sales pitch, "Pam" says that this system has generated hundreds of thousand dollars in revenues in the past 6 months with her automated websites:
Again, as I said earlier, it's SO EASY to create a fake screenshot.
Here is what I did in about 30 seconds:
I have, very easily, changed the amount to $10,000,000 with an image manipulation software.
There you have it, everything in the sales video is FAKE!
---
So Instead of wasting more time with a sales video that has no worth whatsoever, I decided to do some more in-depth research on the product itself and found this website:
As you can see here from their actual website, there is NOTHING here that is automatic and done-for-you. It looks more like a "training website" than anything automated.
From what we can understand here, you will get a "package" that includes some website templates, some email marketing training, and some e-commerce training. The rest (Strategies, bonuses, and mentorship) is just fluff added to the list to make it look more appealing.
Then I clicked on the checkout link and (not) to my surprise, the price is not the same as the sales video.
As you can see the price is quite different with an increase of $60 for the same product…
No support whatsoever
Then I tried to see if there is any support so I first tried calling the phone number indicated on the website.
It rang once and then a female voice said: "Thank you for calling customer support. Our office is now closed. Please call us during our office hours." I did try a couple of times during the day and it always has the same message.
But if you haven't noticed, they have VERY WEIRD hours of operation from 10 am to 7 am EST??? So much for phone support!
So, I did some research on the email address that I found at the bottom of the checkout page: support@homebusinesspackage.com
Here is what I found:
Could not be verified with https://email-checker.net/ so I tried https://mailtester.com/ and got the same kind of answer:
It says that the web address homebusinesspackage.com exist (obviously) but the server does not allow e-mail address verification.
Therefore, I would not expect any kind of support from them even if you do buy the system!
PROS & CONS
PROS
You will be provided some training materials, some strategies and templates for $37 (or $97 depending on where you checkout), but nothing will be automated and done-for-you.
CONS
Complete lack of transparency. You must buy the product to find out what it is. There is not enough information supplied and too many exaggerated claims to believe anything they say!
No support whatsoever
Misrepresentations
Fake bank account screenshots
Fake "live account" creation and monetization
False scarcity
Fake testimonies
Conclusion
With everything I reveal with my research here, I am NOT going to recommend it. Not one bit, so it's a BIG thumbs down for the Home Business Package.
Disclaimer: I have been doing reviews like this for years now, and I can spot a fake when I see one. With everything I found out about this system, and all the lies from the sales video, I did not purchase the system. Why waste time and energy when you know that nothing they say is real!
A Real Method
Let me put things in perspective right away. If you want to create some passive income that generates income without any efforts, I'm sorry to burst your bubble, but it does not exist.
There are literally hundreds of thousands of similar systems out there that all pretend the same thing: Their systems are the latest invention that you can use to make money without doing hardly anything. Well, I have yet to find a single one of them.
You see, an online business is just like a brick and mortar business. You have to nurture it and it has to grow on a solid foundation. I figured this out the hard way — through YEARS of trial and error, buying and trying all kinds of useless systems like Home Business Package.
But you can skip that painful learning curve and jump straight into the path of success.
Once you join the platform I use that has helped me create passive income streams, you'll have confidence, clarity, and a plan that'll help you leave doubt in the dust…
This platform teaches Affiliate Marketing. Basically, Affiliate Marketing is promoting another business or person's product or service and getting an "affiliate link" from them. When someone visits your website, clicks on the link you provide, and buys the product or service, you as an affiliate marketer, make a commission on that sale. The commission can range from 5% to 100% of the amount of the sale, depending on what item you promote.
The affiliate marketing industry has seen tremendous growth in the last few months because of the pandemic. People are shopping online now more than ever, and the number of companies investing in their affiliate programs is constantly increasing.
To be completely honest, there has never been a better time to get involved in Affiliate Marketing! That is just ONE method of building a business online, a website can be monetized in many other ways.
But you will need guidance.
When starting an online business you will need three important and necessary elements:
Website(s), Education, And Expert Training.
With Wealthy Affiliate, you will get all three along with my personal support to guide you along the way.
The best part is that you can start right now, with no obligations, no credit card required!
Why don't you give Wealthy Affiliate a FREE test drive and become a starter member?
You will get the first 10 lessons of 2 different methods (Online Entrepreneur Certification and Affiliate Bootcamp)
They will also provide a free website.
All you have to do is create a username and enter your email address.
Once you have gone through the training and went through the platform for a while, you will have enough information to decide if you want to upgrade to the premium account. If this does not suit you, simply leave and nothing else will happen.
I also want you to have my Free eBook just to thank you for being here on my website:
Click on the image or the button below and get your own copy.
And I will see you inside!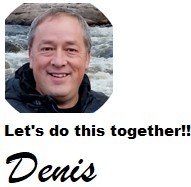 As always, if you have any comments or questions, please do not hesitate to use the comments section below!