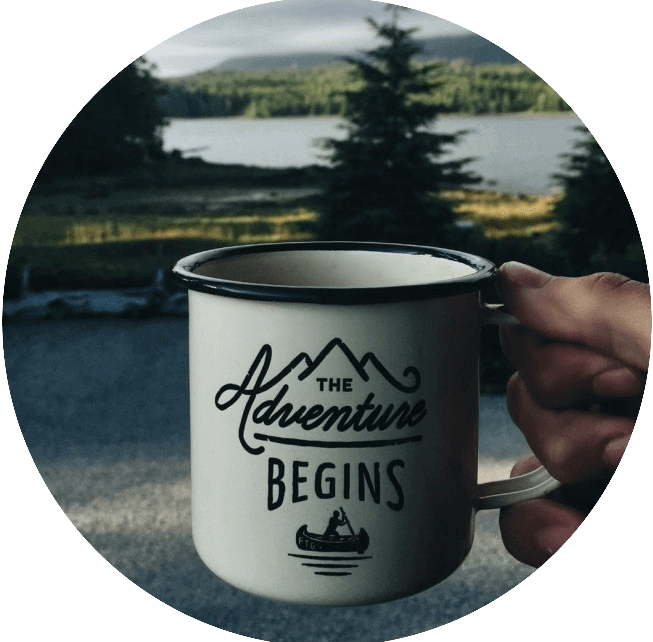 Are you like many other retirees and still want to work to keep yourself busy and sharp?  Or maybe you are looking to make ends meet a little easier when month end comes? Or you are looking for a home-based business, using your knowledge to leverage it?
Let me tell you a well-known secret:  Making money to supplement your retirement income could be as easy as turning your computer on.
There are so many ways you can leverage your experience with others and make money doing it online, and it doesn't require any programming or coding knowledge. A basic knowledge of the Internet is all it takes.
You could share your knowledge gained through your career or hobbies with a money-making "blog".
What the heck is a blog you ask?
Wikipedia defines a blog by saying this:
A blog (a truncation of the expression "web log") is a discussion or an informational website published on the World Wide Web consisting of discrete, often informal diary-style text entries ("posts"). Posts are typically displayed in reverse chronological order, so that the most recent post appears first, at the top of the web page.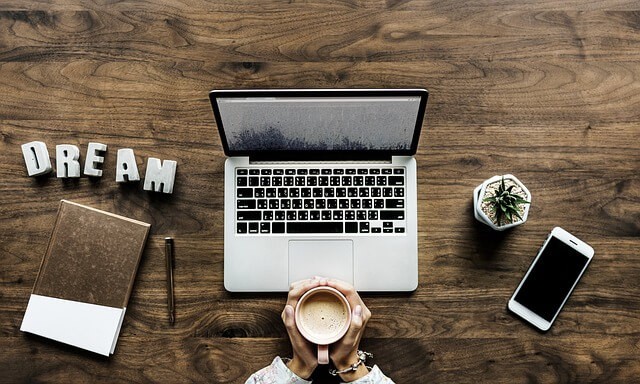 Ok, now that we have a definition of the "verb" blog, how do we start making money with it?
Like I stated earlier, you don't have to be a computer programmer or know any computer languages.  Nowadays, it's very easy to start a website online.  As long as you know your way around a computer and the Internet, you have all the tools to make it.
Of course, you will need guidance, and I'm sure that thought has crossed your mind.  You can and will find all the information you need don't worry.
Making money online isn't only for the younger generations. For retirees like you who knows their way around the Internet, there are numerous opportunities to make extra cash online using the skills you gained over the course of your career.
The way to make money online I recommend is using "Affiliate Marketing".
Affiliate Marketing is an arrangement between an online retailer who pays a commission to an external website for a sale generated by its referral.
So basically, you promote someone else's product or service on your own website, and when people come to your website, click on your "link" and buys the product from your "affiliate" retailer, and they pay you a commission. It's basically that simple.
Here is a simple image describing the whole process: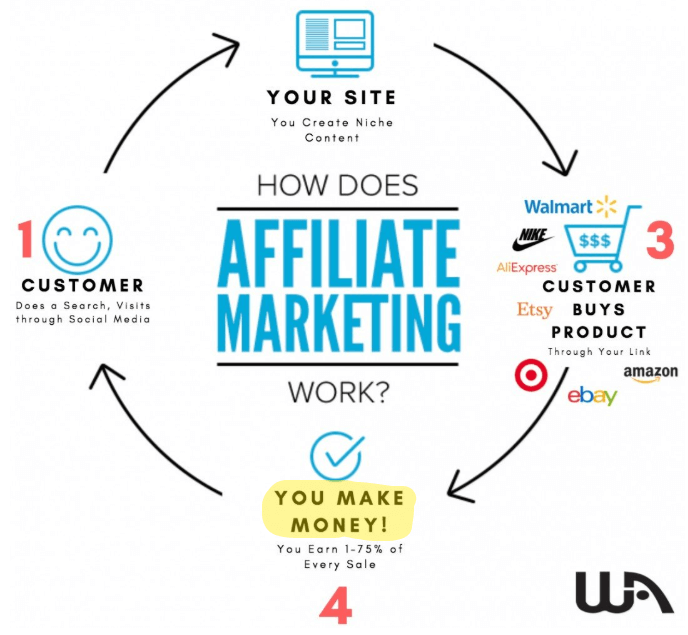 As you can see from the above image, commissions for promoting other people's product can be very lucrative and depending on what you promote, it can range from 1% to 75% of the actual sale.
---
If you are already convinced that this can help you and you are interested in changing your life, you can start right away by clicking the button below:

---
Ok, now we will explain everything you have been asking yourself here:
How do I do this? How do I make a website? How do I find affiliates to promote?  Sounds about what you have in mind right now?
It does sound a little bit overwhelming, doesn't it?  Well, let me put your mind at ease!
Like you, a few years ago, I was looking to supplement my income.  I searched high and low on the Internet for ways to make money using the Internet.
I started a few shabby money-making systems that promised way too much for what they delivered and lost some money along the way.  Then one day, I stumbled on a game-changing place/platform that had everything I was looking for.

I didn't know anything about Affiliate Marketing, so I started with this training platform called Wealthy Affiliate.
I looked it up and people all over the Internet were raving about all of the benefits and advantages they had found with it.  I have made a review myself about Wealthy Affiliate.  You can find it by clicking here.
I had been burned too many times in the past and I was skeptic, but I decided to join anyway.
They have a FREE starter membership with NO credit card required, NO obligation, NO commitment and NO upsells whatsoever, so I thought, "what do I have to lose?"
Well, let me tell you that it was the best decision I have ever made to start my online business!
Here is a little of what you can learn about Affiliate Marketing and blog for FREE:
First, let me tell you that you can start without spending a dime!

Yes, their starter membership is NOT a trial membership, it's a FREE lifetime membership that will give you 2 FREE websites hosted on their platform SiteRubix, that you can create, which are also free forever!  And there is no hurry or pressure to upgrade.
You will also get access to their Online University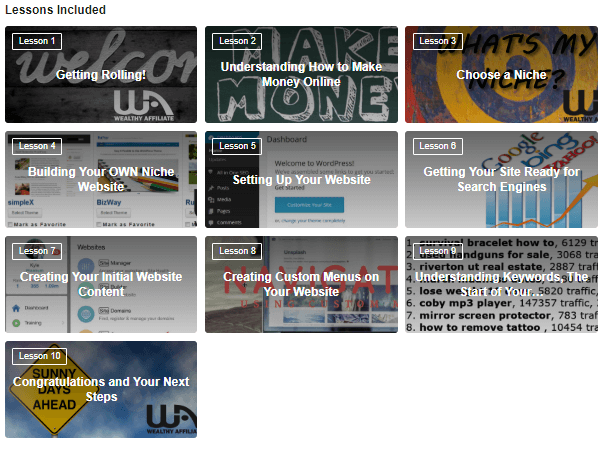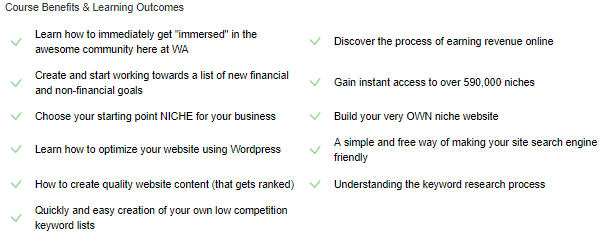 In the training HQ, you will have access to the Online Entrepreneur Certification which will give you free lessons on how to start an online business from the ground up.  By the end of the lessons, you should have a website up and running with some content on it, all of this without spending any money.
The certification is aimed at building a website by choosing a "Niche" of your choice.
What is a Niche?
Are you passionate about something? We all have something that excites us!  Or do you have an expertise?
How can you help people that are passionate about the same thing then you?
If you're retired from a job that required any kind of technical expertise, you could share your expertise with the world from home.
The concepts of a niche and its importance is very well explained in the certification.
Once you have found your niche, the rest will come naturally, and you will be guided step-by-step all along the certification course.  The "blueprint" of your online business has been done for you.  All you have to do is follow along.
Things you will be learning is in written and video format.
But what if I don't know what to write or talk about on my website?
Well, Wealthy Affiliate has got you covered there too.  You can join their BootCamp.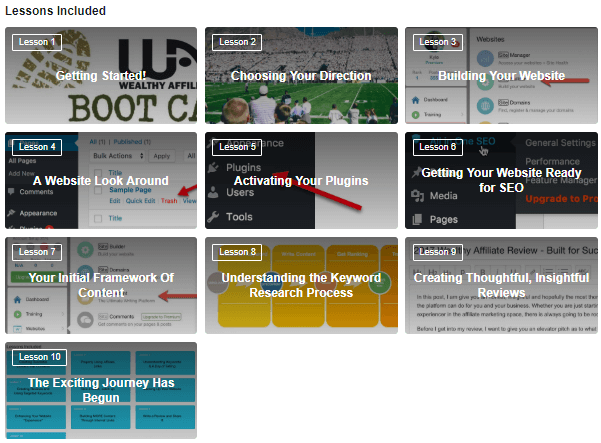 With BootCamp, you will learn how to build your website to promote the Wealthy Affiliate platform as an Affiliate for them.
The best part is that you can even do this with their FREE starter membership, meaning you don't have to pay anything, build your website(s) and promote Wealthy Affiliate and make money as an affiliate.
What about Support?
There is a ton of support at Wealthy Affiliate.
Available 24/7, from a "live chat" to having access to the owners directly, the support is what makes Wealthy Affiliate so great!  You are never alone, and the community here is one of a kind.  You have access to over 100,000 of like-minded active members that have all the same purpose and are always willing to help each other.
You can ask a question, and get an answer within minutes, if not seconds by another experienced member, and usually, they have an easy answer to your query because they have been there already.
My recommendation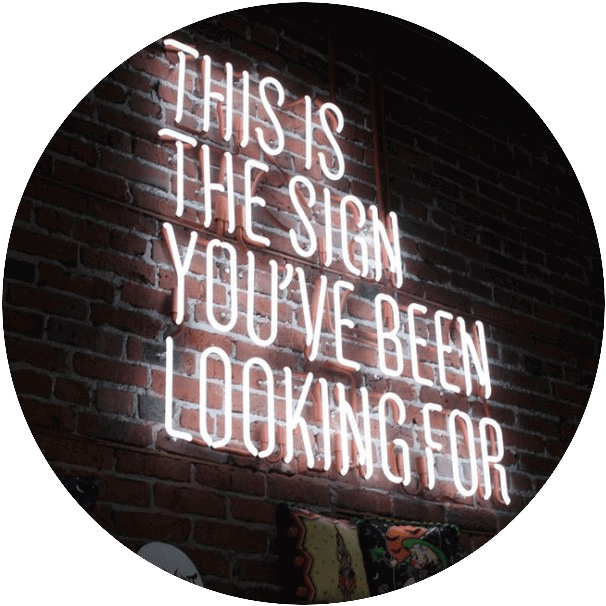 There isn't another platform like Wealthy Affiliate on the Internet that comes even close in terms of comprehensive education and support, all with everything you need to launch your business online. If you have been dreaming of supplementing your income with a passive revenue, it's time to make that dream come true!
Therefore, I suggest that you make the leap of faith and create your free account

Still not convinced?
I have a comprehensive page on my website that gives you a detailed explanation and the basics of where and how to start your online business using Wealthy Affiliate
Press the link here and it will bring you to my "FREE Beginners Guide – Work Online From Home and Make Real Money" page.
In it hopefully, you will find the answers to the questions you are still asking yourself.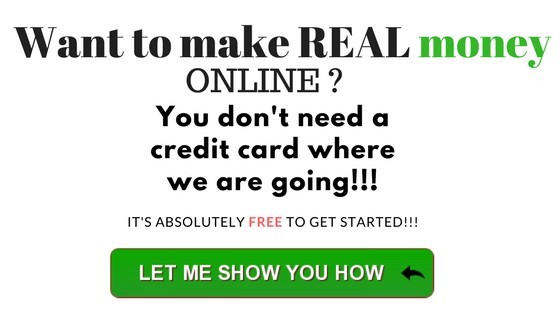 Or you can leave me a comment below.  I am very active online and will answer your question promptly.