Does IM Profit Multiplier live up to its promise of making $500/day or is it just another system full of empty promises? Read my honest review and find out!
I was invited through an email to check out this new digital product.  It went something like this:
My partners are in favor of you because I told them that you're a good candidate for this high-paying program:
Details here. (usually, this is where you click the link)
And it's true, you're the best fit for this and I also want to help you out. People are talking about it on social media but only a few are able to see it.  So, I urge you to check it out now.
Of course, with the experience I have with these kinds of emails, I knew one thing for sure, I am NOT privileged to get such an invitation.  It has been sent to anyone and everyone on their email list.
I decided to check it out anyway and let you know what I think.  Let's dig in shall we?
---
Click here to find out about My No. 1 recommendation
---
Summary
Name:  IM Profit Multiplier
Website:  http://theimprofitmultiplier.com/
Owner: "Ace" but this is just a pen name, the actual owner of this "system" is hiding behind a smokescreen!
Price: $37 with multiple upsells in the thousands (I'll explain later in the review) – The price has increased to $47 since we posted this article originally
Recommended:  NO

Overview
---
MAJOR UPDATE! 2020-01-26
Since I posted this review, the sales video has gone through a MAJOR change!!!   It's actually not the same at all! 
The video started out the same way but now, instead of being 1 hour and 4 minutes long, it is now only 25 minutes!  What a difference!
Someone, somewhere (probably within The Super Affiliate Network) has decided that the first presentation made no sense!
And I agree 100%!!
The sales video is now a lot more efficient (we are not given the same repeated sentences over and over) and is a lot better at describing what it is they are selling as a system (Affiliate Marketing), even though it still does not tell you what exactly it is you are buying.
One of the major changes to the video is they changed the narrator to a male voice and he does say that his name is Misha! 
And we do see Misha Wilson on stage and at the end of the video saying he lives in Maui, Hawaii: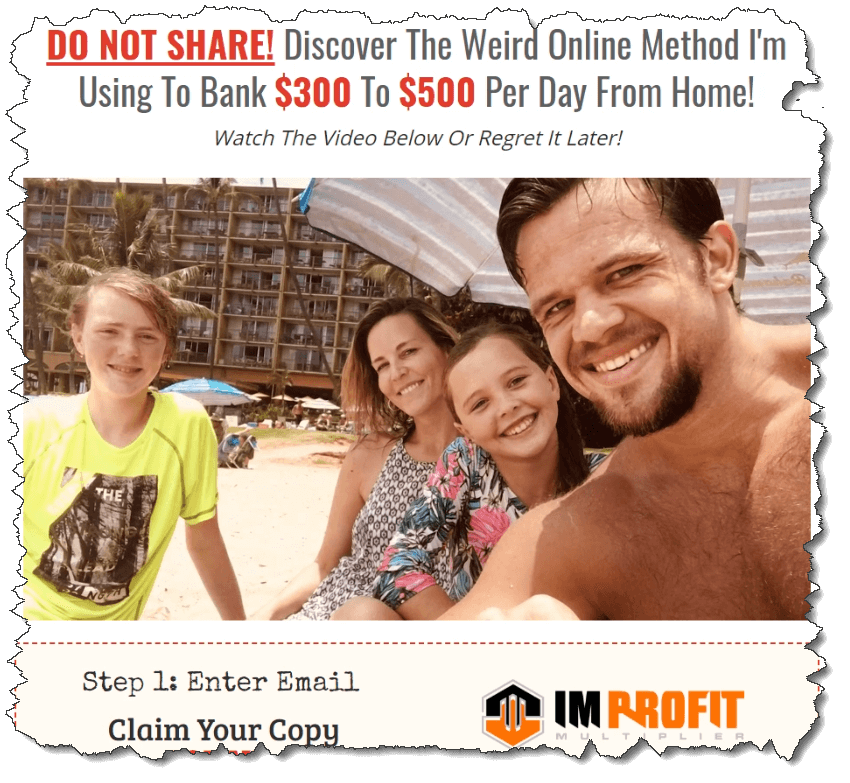 So I believe that whoever had created the video in the first place was given another direction, and is now being supported by Misha himself since I don't believe that Misha had made the first sales video!
Also, the testimonies are longer and they say more than just an amount of money earned.
Actually, there is a couple at the end of the video that describes their experience and gives a shout out to Misha Wilson himself for his help. This caught my attention since it was the first time that I had actually heard someone giving thanks to Misha himself.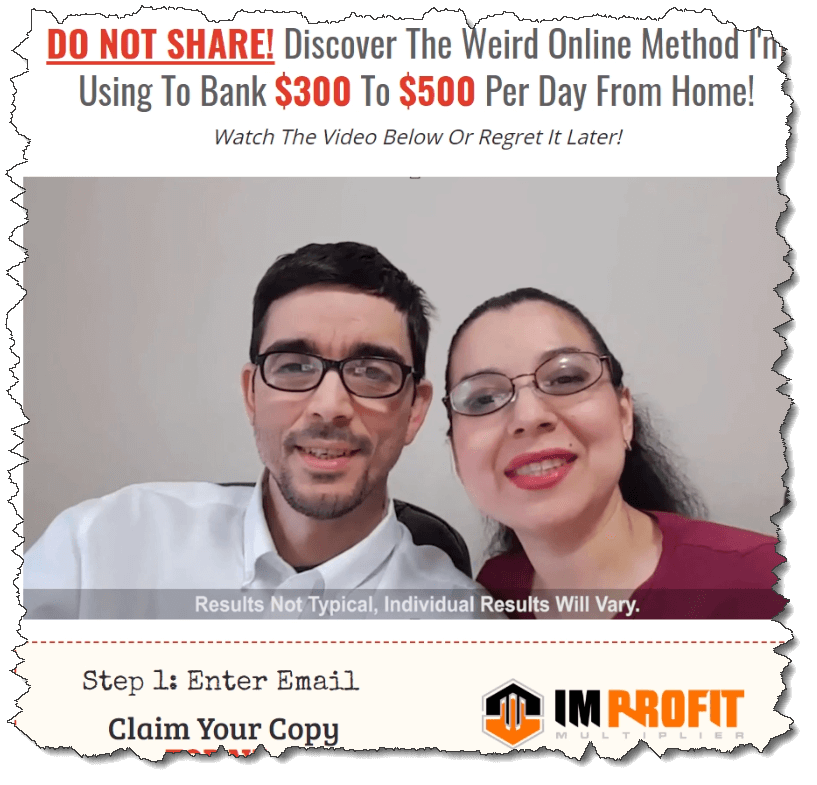 I listened closely to what they had to say and the first thing they say is they present themselves:
He is Reg Gusman and she presented herself as Anastasia Hodge, Better known as "Ace"!!
They are known as Ace & Reg
Ha! You know what?  I figured who is behind the IM Profit Multiplier, it's those two!
In the first video, the narrator said that her name was "Ace" and if you look at both pictures, the one from below and the one from above, it's the same woman!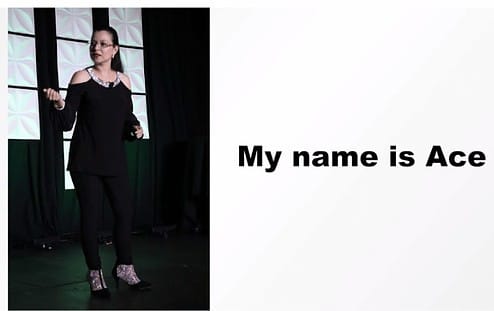 They must have been told by Misha Wilson to create a better presentation and to introduce themselves properly.
They give out a short but powerful testimony that Misha's system and training has helped them earn $12,000 in 30 days (Like they say in 3 seconds in the first video)
I believe that this money was earned with The Super Affiliate Network and not from this by-product!
Now they are headed for Maui, Hawaii to get more coaching from him – Misha has to be the one that helped them out and that first useless sales video with his coaching and is now charging them $10 Grand to coach them (The Maui Intensive program)!
As far as my opinion, it hasn't changed. I do not recommend you to join The Super Affiliate Network through this by-product!
My advice is that if you are interested in The Super Affiliate Network, go through the original website (thesuperaffiliatenetwork.com) and register from there.
You will save yourself $47  and you will have direct access to the system.
The Super Affiliate Network products are listed at the bottom of this article but here is a quick review:
Profit Boosting Bootcamp costs $7.
The IM Profit Formula costs $7 for shipping (It's a book)
The Solo Ad Success Formula for $297.
The Super Affiliate Inner Circle Membership that costs $297.
The Maui Intensive Program for $9,997
The All-In package for $24,997
As far as reviewing The Super Affiliate Network, it was not the purpose of this review.
Instead, I have shown you what The IM Profit Multiplier really is:
Ace & Reg are affiliates for The Super Affiliate Network, and they are using the secure checkout and Misha's blessing to make some money on the side…
To summarize what I had said earlier in this article, The Super Affiliate Network is Legit and has really been improved since the last time I looked at it.
However,  I have my reservations about paying up to $25,000 for a system and I am still not ready to invest my own money on this system at the moment.  It's up to you to decide here!
I still say that my preferred method and platform is Wealthy Affiliate.
First, because of the value received versus the money put in.
The highest someone can pay to use the WHOLE platform is $49 per month.
But this is the highest price, there is a better deal than that if you chose to pay for a year in advance.
Here is the breakdown for a yearly membership:
Price: $495 per year
Discount: $93 off (basically a 2-month discount)
Bonuses: Free .com Domain ($14 value), 100 Community Credits, Bonus Live Class (AMA With Kyle, Succeeding in 2020)
You get the whole thing:
The training, the web hosting, the weekly live training, a top-notch Keyword tool called Jaaxy, thousands of listings and links with Affiliate Program Search that you can find affiliate products to promote right from the platform, Live 24/7 Chat connecting you to thousands of other members, even the founder and CEO, Kyle, joins in every day, a 24/7 support Help center, and much more.
The best part, you can join for free as a starter member!
Test drive the platform and have access to the whole platform for 7 days without paying a cent!
No credit card required!  Simply enter your email address and you are in!
What are you waiting for?
---
This is the original article:
OMG!!!  What a long and useless sales video!!!
I wasted 1 hour and 4 minutes of my life watching this endless sales pitch about this system.
And if it wasn't for the fact that I did some digging afterward, I still wouldn't know what "the system" is after all this time!
It starts out by saying that you are the luckiest person on earth because you ended up on that sales video and that you are about to learn how to make tens of thousands of dollars from the comfort of your home using this system.
The female narrator, which apparently is named Ace, just kept repeating herself over and over and over for the full hour.
The first thing they do is they get actors to give testimonies of how easy it is to make tons of money with "the system".
How do I know they are actors?  Well, they claim that they made money within a certain period of time (up to 90 days) but the "system" has only been registered since December 27, 2019!  Here's proof:
So that doesn't start well, doesn't it?  The website is only a couple of weeks old and the persons making the testimonies claim that they are making money for over 3 months with the system…BIG FAT LIE right from the start!
---
If you are fed up (like me) of trying these very low-quality systems that promise you riches overnight without ever delivering what they sell, let me tell you how I make money online and how you could also start your own online business for FREE. ===>Check out My No. 1 recommendation<===
---
What is The IM Profit Multiplier?
Well, if you want to know what it is, you will definitely NOT find out by watching the sales video.
All you will see and hear is that you are very lucky to have been sent to that web page and that they have limited space for this "fail-proof step-by-step system" that they use it to make tens of thousands of dollars per month using this very system! Blah Blah Blah!
Then they share some "screenshot" of an account where there are thousands of dollars in it, which can be true, for the most advanced marketers. The real reason behind these is to play with people's emotions and get them to think that it's that easy to make thousands per month with the "system".
The closest I got to an answer to my question "what is this system" is this statement in the sales video:
"Then they buy"
That pretty much sounds like "Affiliate Marketing" to me.
Ok now that we have established that they use affiliate marketing, I am not going to waste more time describing the long-winded sales pitch from the hour-long video and will determine what can we get for $37!
Well, I went ahead and gave them my email address and was redirected to this Order form:
Just then I realized that I had seen this form before…I looked closely and then BAM it hit me!
This "system" is just a front for another system called The super Affiliate Network, by Misha Wilson.
Here is how I figured it out:
This Secure order form belongs to The Super Affiliate Network!
Want more proof?
Here is the secure Order form for one of the products you can buy from The Super Affiliate Network, called The profit Boosting Bootcamp:
The rest of the order form looks exactly like the order form from The IM Profit Multiplier look:
As you can see from the images above, The IM Profit Multiplier is just a sales page to lead you into The Super Affiliate Network.
It's not the first time I see members from this platform playing that kind of trick.  I did a review a while back on a system called My Super Affiliate Mentor, which used the same method of luring people into the main platform.
So basically, if you want to know what is The IM Profit Multiplier, you must join The Super Affiliate Network to find out. You will definitely not learn anything from the long-winded sales pitch video!
The main system (The Super Affiliate Network) was launched in 2016 by Misha Wilson and is basically a training program teaching people how to build their own affiliate marketing business.
According to their website "The Super Affiliate Network is a global community of entrepreneurs" dedicated to helping everyone become a successful affiliate marketer.  Here is an image that I took from their website that describes what a "super affiliate" is or should be:
Then you have big statements on their main website (https://thesuperaffiliatenetwork.com) like:
"Leveraging cutting edge digital marketing tactics"
This all looks fine and dandy, but unfortunately, even though The Super Affiliate Network is LEGIT, things are not that great!.
I clicked on the big "CLICK HERE TO SIGN UP FOR FREE", button, gave them my email address and was redirected to an upsell:
In the video, Misha Wilson tells his own sales pitch on how this system will definitely change your life… And you can get in for a whopping 93% off…
However, for the pûrpose of this review, I thought I would check out what I could get for free.
I clicked on "No Thanks, I Do Not Want Invest $7 Into Myself And Save 93% On The Profit Boosting Bootcamp" and got redirected to this page:
So from there, I tried accessing Phase 1 through Phase 3 and again I was redirected to a video from Misha Wilson saying that I did not have access to that part of the training:
So basically, you get nothing for free except a few videos saying you need to pay for the training…
I suppose that it's kind of the reality of things, you're not going to get much if you don't pay for it.
Talking about money (I promised earlier I would explain the upsells) there are three basic programs you can purchase from the website itself:
Profit Boosting Bootcamp costs $7. (We showed this one earlier).
The IM Profit Formula costs $7 for shipping (It's a book)
The Solo Ad Success Formula for $297.
The Super Affiliate Inner Circle Membership that costs $297. This will give you access to 12 months of the Profit Boosting Bootcamp
There are also two other additional tier memberships (or training packages as they call it):
The Maui Intensive Program for $9,997 and The All-In package for $24,997!
As you can see, it can become VERY expensive…But there are success stories all over the Internet with Misha's system, so it`s really a matter of preference and affordability!
I am not going to go any further with The Super Affiliate Network since this was not the purpose of this review.
My main objective here was to show what The IM Profit Multiplier really is:  A front for them to get you in the Super Affiliate Network as their affiliate referral.
I want to emphasize that there is absolutely nothing wrong with being someone's referral in any affiliate network.
What I despise here is the fact that this product (The IM Profit Multiplier) is just a disguised system for something else completely!
In my book, this is called a Big Fat Lie!
PROS & CONS
PROS
The only pro I could find is that at least you can join a legit program: The Super Affiliate Network.
CONS
Exaggerated earnings for someone just starting out. I'm not saying making $300 – $500 per day from home is impossible, but you will not make that kind of money right away, it's just a hook to get you in and grab your credit card number.
Fake testimonies – all of them are fake, these are hired actors paid to say that they are making tons of money for a long time with a system that has only been online for a few weeks.
False Scarcity – "only 5 spots left".  Another tactic to get you in right away.  Check next week or even next month, and everything will still be right where you found it on the internet.
"Secrets that can't leave this webpage … for your eyes only"  That is just a big fat lie.  The sales video is for anyone who wants to watch it and there are no big secrets!
False statements like "If you leave the video you will use your spot".  There will always be a spot available.  This is just another way to get you to rush your decision and give them your credit card number as soon as possible.
You could enter The Super Affiliate Network on your own for $7 instead of paying $37 to whoever is behind this fake system.
Conclusion
If you are curious about The Super Affiliate Network, then I suggest you go to their main web page and enter from there.  The $37 you are paying through this IM Profit Multiplier is just wasted money on a product you can get in by yourself.
The IM Profit Multiplier is nothing more than a sales page for you to enter The Super Affiliate Network.
How about an alternative that is actually free to try!
About 5 years ago, I was like you, searching for ways to make money online.
I went from one product to the next without finding anything of value, getting scammed out of my hard-earned money in the process.
From experience, and I will be very honest here and say that there are NO get-rich-quick methods!  If you want to earn money online you will have to build yourself a real business.  Just like a brick and mortar business, it takes time and effort to create a sustainable business.
But it is POSSIBLE if you are willing to put in the effort and time.
But if you are just starting, you will need guidance.
When starting an online business you will need three important and necessary elements:
Website(s), Education, And Expert Training.
I have been a member of a platform for the past 4 years and it has enabled me to create a profitable online business and now, I make money while I sleep!
No obligations, No commitment, NO credit card required!

Simply enter your email address and you're in as a starter member with full access for 7 days!
I also want you to have my Free eBook just to thank you for being here on my website:
Click on the image or the button below and get your own copy.
And I will see you on the inside!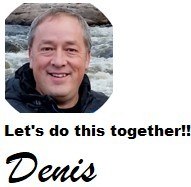 As always, if you have any comments or questions, please do not hesitate to use the comments section below!