Inbound Closer claims that 1621 people replaced their 9-5 income in 21 days tapping into a 129 Billion-Dollar Industry that will stuff your pockets with $980 or more per day!
All of this using nothing but a phone and a 6 page PDF!

When I first read these sentences on their sales page my "scam radar" became active ?.
21 days seems way too fast to be able to replace someone's salary and to me, this sounds like a "get-rich-quick" method and even an outright scam.
However, I decided to decipher and make sense of the whole system to find out exactly what it is so that YOU can make a decision for yourself if this system is for you or not.
---
If you want to learn how I receive daily commissions and I earn money while I sleep then click on the following link: My No.1 recommendation for earning money online
---
Inbound Closer
Website: https://inboundcloser.com/
Price: $97
---
You have probably been sent to their sales page as I did, through an email from some person that wanted to share this "new" Inbound Closer method that should enable you to replace your salary in as little as 21 days.
As I clicked on the link in the email I received, I was redirected to their sales page that had the above-mentioned statement along with a sales video, which brings us to…
The Inbound Closer sales pitch
I watched the 36 minutes long sales video and in the first few minutes Payton Welsh the narrator (and co-founder of the system), talks about how people hate their jobs and they would do anything to change that.
He also asks what would you give to finally "Free Yourself from that meaningless 9 to 5 job before this time next month and instead, working a part-time side hustle that would give you the job-replacing income you need and create the abundance that you and your loved ones deserve".

Well, my impression of the first minute was that this "sales pitch" is very typical of any other sales video I have seen in hundreds of product reviews I have done in the past.
Very overhyped and filled with empty promises as I have seen so many times before.
Then he goes on about the limitless opportunities online BUT how hard and rough things can get if you try and how much work you would need to put in (about 80 hours a week for the next 2 years) to get ahead and make money.
I can tell you right now it doesn't have to be that way with the right kind of help and training, but let's finish the analysis.
He claims that with his "high-demand" method, you will be able to create a job-replacing 6-figure income working PART-TIME!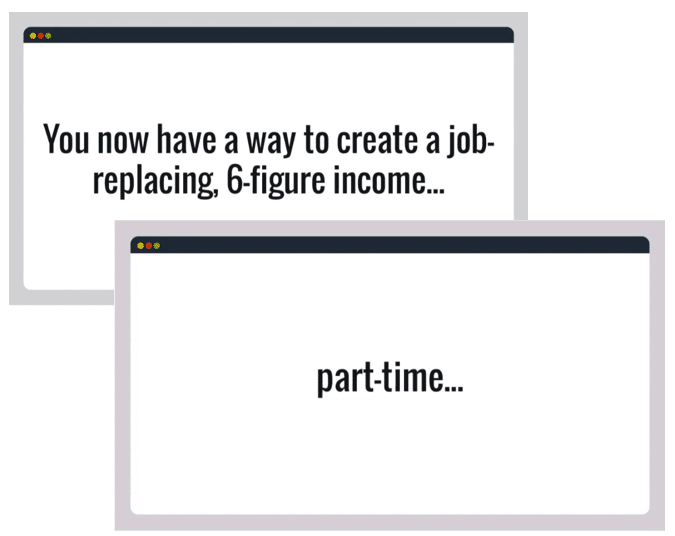 Well, now he had my attention and could not wait until the actual "punch line" to find out what he was talking about!
Basically, the spokesperson (Payton Welch from trafficandfunnels.com) says that with Inbound Closer and the skills you will learn with this "straight to the money side-hustle that's in high demand", you will be able to create a job-replacing 6 figure income – part-time!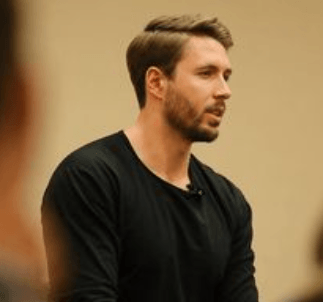 It's a long-winded sales video filled with promises that if you join their training you will have access to a program that will release you from the shackles of your boring 9-5 job and provide you with financial freedom.
What he's referring to is becoming a telemarketer in the digital advertising industry (they are usually called specialists) and closing high-ticket programs over the phone.
The sales video is very typical of any other sales pitch you will find on the Internet.
These systems all say the same thing: that they are the best method of earning a full-time income online and they exaggerate and normalize the amount of money that can be earned.
I did a review not so long ago called Class with Jeff that had the same kind of exaggerated money making claims.
What is NOT said in their sales video, which is usually found on their disclaimer, is at the very bottom of the sales page is this: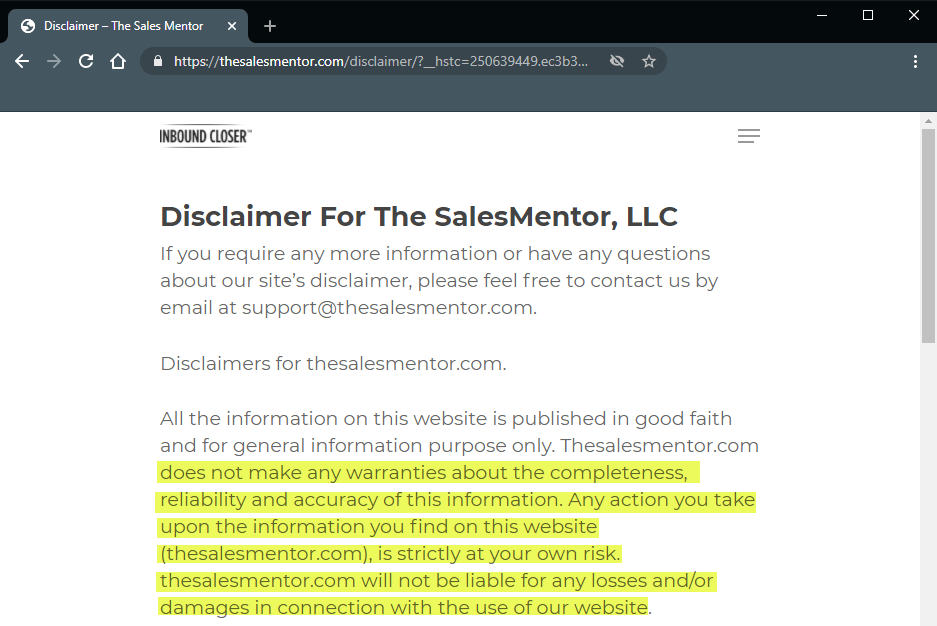 All I can say besides that is "Buyer beware"!
Even if they show you great results from "other" members, they are not typical for every body!
Basically, you pay for a web course about inbound closing that's presented as the next best thing since the invention of sliced bread.
One thing you must remember though: The whole system still follows the laws of the universe. You won't earn any money simply by taking an online course.
You must be good at selling and convincing your leads to buy, and it just won't happen overnight (or in 21 days) if you don't put in the necessary effort and have the natural talent for verbal sales.
What is The Inbound Closer?
First of all, I wanted to know exactly what is Inbound closing (a new term to me) and how it works. I did a lot of research and found out that Inbound Closing is when the marketing team and their marketing effort of a company generate a lead from one of their offers.
These leads are usually generated by online advertising and can be done in many ways: like a YouTube ad, or Facebook ad, a Google ad, or even on a blog post.
At the end of that piece of content, whether it's a blog, video, or an ad, they're asking the potential customer: "hey if you're interested in learning more about our "product X" go ahead and schedule a time to talk to one of our specialists"
This is essentially how an inbound lead is created.
They have examples of people looking for Inbound closing in the sales video from people advertising in Facebook like these people: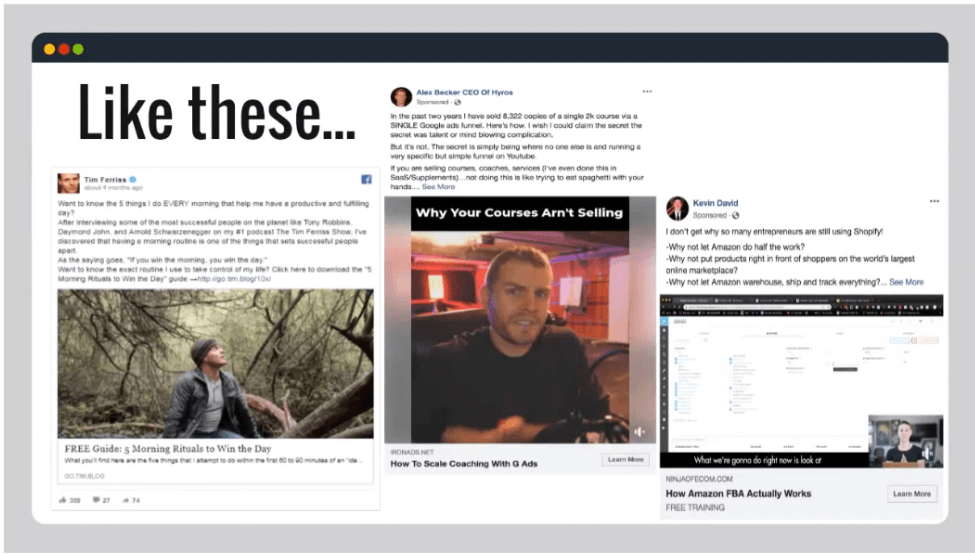 So, The Inbound Closer is designed to help you learn about this digital advertising industry and the training/lessons are supposed to help you earn up to $980 in daily commissions.
These commissions would be from inbound calls that you would take to provide information about the product or service you are hired to promote and convince and persuade the prospective customer sent to you what they may need to do to buy these high-ticket programs.
Once you have them on the line, you have to tell them where to go after they have bought the product if it's a good fit for them, and in return, the company that sells the program would pay you a generous commission.
This system also claims that it's very cheap to start:

By the end of the video, you get their offer. A one-time fee of $97 (with a money-back lifetime guarantee) which will give you full access to The Inbound Closer system.
What you get with the Inbound Closer.
So, as I said earlier I watched the video and also did a lot of research on the system.
However, I have to state this disclaimer: I did not purchase this system and I am NOT promoting it either!
What I have learned from my research is that Inbound Closer is part of an older program called The Sales Mentor and found on this website: https://thesalesmentor.com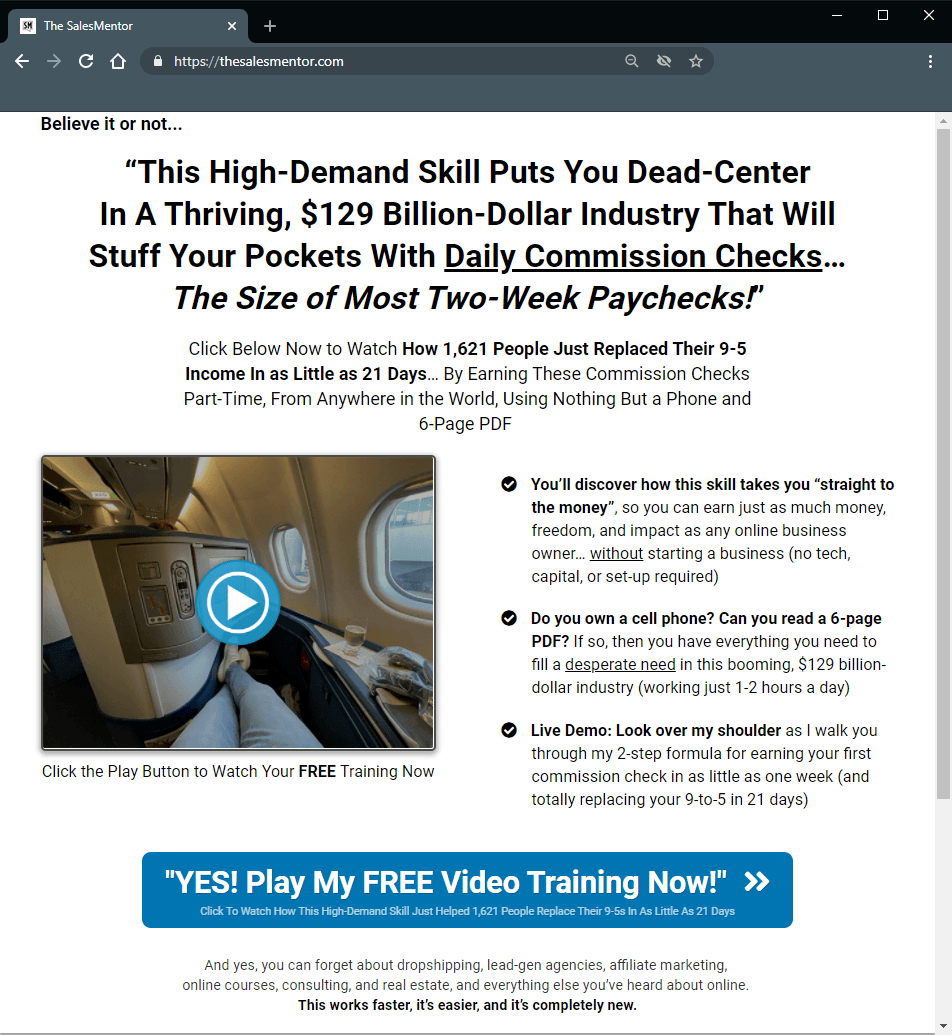 As you can see https://thesalesmentor.com and https://inboundcloser.com/ sales pages are almost identical.
So I checked out the oldest of the "twin" websites and here is the result: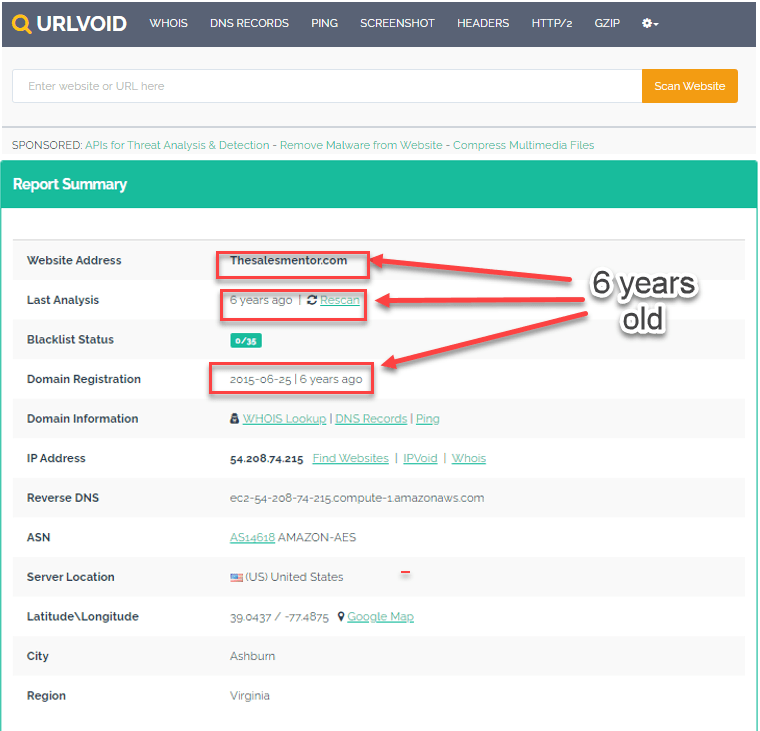 So this "new" opportunity (Inbound Closer) is actually 6 years old!
This tells me that they are just rehashing/rebranding the same old system (called The Sales Mentor), that has become outdated, to this "New" brand called Inbound Closer.
This is typical of programs that are not doing well under their original name and they rebrand the old one to create a new optimistic product that "seems" to be new, but the reality says otherwise. I might be wrong here, but it sure looks like the Sales Mentor has run it's course and they are now focusing their marketing efforts to Inbound Closer.
Salary replacing system
To replace your current salary with this source of income that should/would require less effort on your part while working from home, you will be taught how to take advantage of these high-ticket systems that are looking to increase their sales and in the same effort, you would get these big commissions.
Here's what's included in the training:
The Daily Commission Check Blueprint – A step-by-step set of instructions that will give you everything you need to earn your first high-ticket commission.
Inbound Closing Accelerator – This is where you will learn (within 21 days) how to become a pro at Inbound Closing. This training was created by Taylor Welch himself after taking over 3180 inbound calls and closing over $42 million in sales.
There are also these "growth accelerating bonuses" included:
Free bonus No. 1 – Post-Call Recordings and breakdowns – These recordings will help you increase the percentage of your closed sales by listening to calls made by Taylor and analyzed by other very successful closers, so that you can copy his methods and increase your closing rate.
Free bonus No. 2 – Access to the Inbound Closer Mastermind Facebook Group – Once you have purchased the system and you provide them with the email you have used to purchase the system, you will have access to this private Facebook group where you will be part of a community of members that will help you ask questions, practice and strategize with fellow members.
Bottom line here is that $97 will not break the bank for someone who can afford it and if you are the kind of person that thrives on this kind of opportunity, then by all means jump in!
---
Recommended: Click here to see MY No.1 recommendation for earning money online
---
Pros & Cons
Pros
A Lifetime, no questions asked, Money back guarantee.
Training material provided along with private Facebook group
These guys (The Welch) have experience with this kind of system and are very successful with it
Low cost to get started ($97)
Cons
Hyped up and exaggerated sales video
Expensive upsell not revealed in the initial sales pitch that you need to get going if you want access to high-ticket systems right away.
Even if the "idea" of replacing your current job is appealing, it might be worst than what you are currently doing if you are not really good at convincing people to buy high-ticket products.
The average person will not be making $980 per day in 21 days! It will be determined by your experience, background and work ethics.
Is Inbound Closer a scam?
NO, this system/program is NOT a scam.
The sales video is presented in a similar way as low-quality products are presented with all the hype and the long-winded sales pitch, but it has some value for the person who wants to go with that particular method of earning money.
If I give you my personal opinion, I should first say this: My personal opinion should be considered as biased because I personally just HATE any job/system that requires me to be on the phone all day, especially trying to convince someone to dish out thousands of dollars for a high ticket program, so this system is definitely NOT for me.
But as I said earlier, if you are the kind of person that likes being on the phone, are a good verbal salesman and have a convincing personality, then this one could be for you!
How about starting "your own" online business for Free?
If you are still here and reading my article, I suspect that you are looking for another method than the one proposed here, which does NOT require being on the phone all day trying to convince people to buy and dish out thousands of dollars.
About 5 years ago, I was just like you, roaming around the Internet, searching for the next sensation to make money online and as you would guess, I got scammed and burned quite a few times! I almost gave up (Like 95% of people do) that is until one day, I was doing my "due diligence" researching a website that claimed that I would be rich within a week with their system.
Just then, I came across a website pretty much like this one, and the owner had researched that other system and showed me all the flaws that it had.
In the end, he proposed a platform that he was using that thought affiliate marketing and it could be tried and tested for free. I jumped on the opportunity and I never looked back since!
This platform, teaching Affiliate Marketing is totally free at the beginning of your training.
You will have access to create yourself a free secured website to start your online business, hosted right on the platform itself, so you get everything you need to get going right from the start.
With the website you will get access to 2 separate courses that you can take.
The first is the Online Entrepreneur Certification. There are 50 task-based and videos lessons that will teach you how to make money with a website build around your passion, something that you know and love doing, and that you could share with the world to help them.
If you are not sure what to go with, what really drives you and makes you "tick", then you have a second option.
The second course is the Affiliate Bootcamp. This one has 70 task-based and video lessons and will teach you how to make money by promoting Wealthy Affiliate.
Both courses are very well made and easy to follow. You will build your own website (hence your own online business) while learning everything you need to know to become successful.
Let's not forget the fact that there are hundreds of thousands of other members that are already here, already successful and experienced and we form the Wealthy Affiliate community. The beauty of it all is that we all thrive on helping each other succeed, so you are never stuck.
If you decide to go premium you get all the extras with full training but there is no pressure to spend at the start it's more about learning about the platform and completing your Entrepreneur Certification Training which is also free to accomplish.
The affiliate marketing industry continues to grow as the online spending increases, especially since the confinements of COVID-19, and the number of companies investing into their affiliate programs is constantly increasing.
To be completely honest, there has never been better time to get involved in Affiliate Marketing! That is just ONE facet to building an online presence.
A website can be monetized in many many ways.
But you will need guidance.
When starting an online business you will need three important and necessary elements:
Website(s), Education and Expert Training.
With Wealthy Affiliate you will get all three along with my personal support to guide you along the way. 

I also want you to have my Free eBook just to thank you for being here on my website: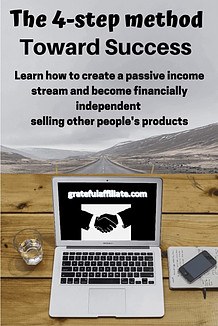 Click on the image or the button below and get your own copy.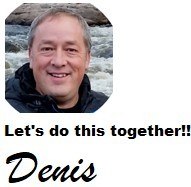 As always, if you have any comments or questions, please do not hesitate to use the comments section below!