Instant Cash Solution (ICS) says you can easily make $100-$500/day commissions by copying and pasting ads. Is this the life-changing opportunity they advertise? Find out here!
I was intrigued by this system as it claims a very bold statement: Making up to $500 per day! I have seen a lot of systems claiming that their money-making systems is real and that anyone can do it.
Is this another one of these? Claiming something that is not realizable or is this one the real thing?
Let me show you what I found out!
---
Disclaimer: I am not a member or an affiliate of Instant Cash Solution.
I am providing you with the results of my research so that you can take an informed decision before joining.
However, if you want to discover a real money making solution, I have a great opportunity for you:
Click here to find out about My No. 1 recommendation
---

Summary
Name: Instant Cash Solution
Website: https://instantcashsolution.com
Owner: Rich Meyer
Price: $100 to $500 depending on the membership level; plus administration fees of either $29 or $79
Recommended: No
Overview
The sales video makes it sound so simple and easy that it sounds "too good to be true"!
It's a lot like everything else I have seen before: "They talk a lot but say very little".
Rich Myers says that all you have to do is to post some pre-written ads on classified ads site and all over social media, then your prospects visit your "done for you" website, see the opportunity and buy it.
You make $100 to $500 per sale! Sounds pretty easy, doesn't it?
He calls this a member-to-member instant payment system.
First, you must choose one of the 4 membership levels at either Bronze for $100, Silver for $200, Gold for $300 or Platinum for $500 plus an "admin" fee of $29 for bronze, silver and gold and an admin fee of $79 for a Platinum Membership.
Once that is done you enter the membership area at the level you chose and depending on the level, you get different options per packages. Here are the options you would get:
This is all fine and dandy!
And you might be able to make some cash with this method.
However, most of the "done for you" and copy-paste systems are never as simple as they lead you to believe.
There is more to this than just posting some pre-written ads. This is an exaggeration!
The real procedure is much more complicated than just copy and paste!
It also sounds and looks a lot like another system I reviewed not so long ago called Fearless Momma.
It's basically the same. It's what I call a "chain recruitment" system.
What this means is that "You" as a member (at the level you buy in) have to recruit people to buy the same product you are using and they pay you directly.
And the promoting company (Instant Cash Solution) gets the admin fee, that is how they keep on making money.
So your job as a member is to promote the system to others so that they too can do the same and so on, and so on.
Do you get the picture?
I am not saying that someone with experience could not make money with this, but for a newbie, not so sure…
And you can only make money at the level you buy-in:
If for whatever reason, someone joins under you at a higher level than you have purchased, you don't get paid anything!
The money goes to someone higher on the membership level than you.
How does Instant Cash Solution Really Work?
As I said earlier, the higher the level you buy, the more money you should be making. But what about the "push button – all done for you" program. How does it really work?
Even though I found that the sales video is not the "crap" I usually see, we still need to analyze this system for what it is exactly. By doing this investigation, I found several "flaws" (or red flags) that kept me from joining the "game"!
Red flag No. 1 – Copy and paste system
The biggest sales pitch of this system is that it's super easy and that all you have to do is copying and pasting some pre-written ads on sites like Craiglist and social media like Facebook and Instagram. Then money should start pouring in. Really?
So your job consists of posting these pre-written ads on websites and social media.
Did you know that duplicate posting is not well seen by any of the Social Media platforms and could actually get you banned, or at least make you look very "spammy"!
Google despises duplicated posting and will put you at the end of the search engines if they even acknowledge your post at all!
So the possibility of your ads being seen is very slim. And if in fact, you do get them seen by someone, it will most likely be ignored completely, or they could even report you for spamming because of the "hype" that these ads would be portraying.
There are other ways to get your pre-written ads seen by people without posting them where they want you to.
You could buy solo ads or by PPC (Pay per click) advertising.
However, you have to be a seasoned marketer to be able to benefit from these methods. If you are just starting out, you would need hundreds and even thousands of dollars to even get going… You would probably end up losing your money instead of making some.
Red Flag No. 2 – Recruit people to buy the same product you are using.
One thing about these kinds of systems I am going to say here is that nobody joins because of the products being sold, they get in "for the money". Yes, they do provide training and instructions, and that is why it's not categorized as an MLM (Multi-Level Marketing) business model.
However, to honestly evaluate this system we have to say it has it is. So the fact that the only way to make money with this system is to actually sell the system itself is a HUGE red flag!
It is very close to what is known as a pyramid scheme.
The only reason it's not exactly a pyramid scheme is that they also provide some products (Training, videos, and webinars) that tags along with the main purpose of the whole system: getting someone under you so that they pay you directly.
And as I said earlier in this article, in order to make more money you have to be in the higher levels. The compensation structure is designed to get more money out of you, and it doesn't really mean you are going to make more either.
You do get more "stuff and fluff" as you join higher levels, but I am certain of this:
Nobody pays hundreds more just for a few more video training! It's only to get to the higher level!
Red Flag No. 3 – The hype!
They lead you to believe that it's so easy to make some cash with this that it's just a matter of working 30 minutes per day posting pre-written ads all over Social Media and Craiglist. They even show you an income calculator that shows how much potential money you could make:
Do you know how much web traffic you would need to generate just 1 sale per day?
Let's be generous and give this system a 15% conversion rate, meaning that people that would click on your ad would actually buy it.
That means that (theoretically, at 15% conversion rate, which is very high) 1 out of 7 people would actually buy it.
Now, to get 7 people to click on your ad is another story.
You would need hundreds and hundreds of "views" before someone actually sees and clicks on your ad. How would you get those views? OK, Craiglist is a very popular website, and so is Social media sites like Facebook and Instagram.
However, let's be realistic here, in order to get the hundreds and even thousands of views to actually get up to 5 sales a day to make $500 is quite a challenge. It is NOT as simple as posting ads and hoping people will buy!
If you don't know what you are doing, you will need some kind of training! By looking at the different membership levels of this Instant Cash Solution, the only levels that talk about traffic and marketing is the higher $500 level…
To put it bluntly, the conversion rate of your offer does not matter at all if you don't have any traffic to it!
And your actual conversion rate would probably be more in the 1% to 3% NOT 15% like our example.
So, in a few words, "promoting your offer is the basis of making money online" and I don't see much of it in this system!
---
If you are fed up (like me) of trying these very low-quality systems that promise you riches overnight without ever delivering what they sell, let me tell you how I make money online and how you could also start your own online business for FREE. ===>Check out My No. 1 recommendation<===
---
PROS & CONS
PROS
There isn't much to say here. There is some training provided in order to be able to promote the system.
CONS
No guarantee and NO REFUND! No matter how hard you try, there are absolutely no refunds, so If you dish out $500, and you decide a little while later that it's not for you, or that you are not able to generate any traffic to your ads, well, sorry you lost your money! And they don't guarantee that you will be able to get someone to join under you either!
Not really cheap! You need to spend at least $129 just to get in (up to $579), that is not counting how much more you would need to spend on advertising…
You will be branded a spammer on social media. This is not a good marketing strategy!
Hyped up – You will not be making $100-$500 per day with this system. Period!
You are not really buying anything, there is no real product, all you are doing is purchasing the rights to sell the same membership level you have purchased yourself.
Not a good business model – There is a high probability that you will not be able to maintain a constant revenue flow if you ever join and try this. There is a definite end to this kind of business.
Inadequate training – especially on the lower membership levels. They want you to buy at the $500 membership level to get basic training on how to promote your "offer".
Red flags – Well you know what mean here, I have described them in this article
Conclusion
Even though they make it sound so easy, it's REALLY NOT! It's all about buying at the highest level and getting your prospects to do the same using pre-written ads and posting them all over!
After looking at this in every angle, I can say this: I DO NOT RECOMMEND THIS SYSTEM!
I am not saying that you can't make money with it… You might even make a few sales!
It's always up to YOU whether you become successful at something.
However, no system in the world will make you rich overnight! It simply does not exist!
And without persistent effort on your part, not one business model will make you any money.
It's like any other brick and mortar business, there are no magic buttons and no shortcuts!
What I really don't like about this system is that everyone is posting and using the same "done for you" ads, using the same network and promoting the same thing!
If you ask me, anyone using this is setting themselves up for failure. And the truth is that most of these system lasts for a while then when it has run its course (and the creators have made boatloads of money), they move on creating another "similar" system with a different name to it.
But making money online is possible for anyone! IF you are willing to make an effort, not by wishing to find a magical solution.
How about a Free test drive?
With all the "make money online" training platforms and opportunities you find out there, it can be very difficult to differentiate between the ones that are legit and the ones that are only interested in slowly emptying your bank account.
What I did find out with the experience I gained over the years is that if it's too good to be true, it usually is.
It really comes down to how bad do you want it!
Are you willing to work, dedicate yourself and create an online business that really gives you the means and tools to make money while you sleep? If you do keep on reading.
One thing I have to say right away: What I want to propose to you is NOT a get-rich-quick method!
It's not an MLM (Multi-Level Marketing) scheme either.
What I do every day to make money online is called Affiliate Marketing!
Affiliate Marketing is the process of selling someone else's product and getting paid a commission by the company that has made the product each and every time someone buys the product through your own affiliate link.
The affiliate marketing industry continues to grow as the online spending increases, and the number of companies investing in their affiliate programs is constantly increasing.
To be completely honest, there has never been a better time to get involved in Affiliate Marketing!
And, that is just ONE of the methods for building a business online. A website can be monetized in many ways.
Now my suggestion:
A FREE test drive to Wealthy Affiliate University
The Wealthy Affiliate free test drive is something that really stood out to me when I first heard of this platform.
Not like most of the platforms out there that are similar to Wealthy Affiliate where there is a buy-in and it's typically around $99. Meaning you must pay before you actually see what you are in for.
Wealthy Affiliate takes the opposite approach: No Hype, No Glitz, No Glamour, and NO BUYING.
Instead, they have a free test drive.
Get started right away!
All you need to do is enter your email address, your name, choose a username and a password and you are in!
As you can see there's no payment information needed this is truly a free test drive
You get started right away, no waiting or credit card needed!
This is very impressive to me that there is no credit card required as we've all seen it before: when it's a free trial you enter payment information and then within 7 to 10 days if you don't cancel out, you will get charged a fee.
On the other hand, Wealthy Affiliate has a truly free test drive. And you can remain free for as long as 6 months before your free websites are actually taken off the free Site Rubix server.
By the 6-month mark, you should have a very good idea if you want to upgrade to the premium membership or not.
But you will need guidance.
When starting an online business you will need three important and necessary elements:
Website(s), Education and Expert Training.
With Wealthy Affiliate, you will get all three along with my personal support to guide you along the way.
I also want you to have my Free eBook just to thank you for being here on my website:
Click on the image or the button below and get your own copy.
And I will see you on the inside!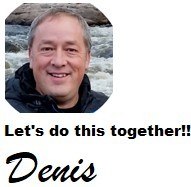 As always, if you have any comments or questions, please do not hesitate to use the comments section below!