Is Instant Payday Trick a way to make $800 per hour or just another scam? Read my review and find out!
Update April 2020:
I received an email this week proclaiming that there was an AI (Artificial Intelligence) system out there that is revolutionizing the online business system.
So, I decided to check it out, and (not) to my surprise, it's the same crappy system that I had reviewed back in 2018. It is still out there scamming people out of their hard-earned money!
The following is the original article that I wrote back in 2018 and it still applies today.  NOTHING has changed, the same sales video full of lies and deceit!
---
This is the original article from 2018:
I received an email from one of my (too numerous) subscriptions the other day and I was invited to check out this "new opportunity". The email said that "I might actually get addicted to this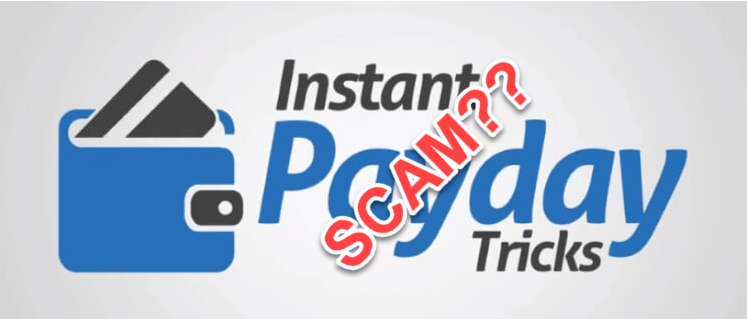 system making money FOR YOU once you get in" and that "Some exceptional people are seeing up to as high as $800 per hour or even much more using this precise system"
Of course, I clicked on the link and got redirected to a website sales page. I decided to watch and see what I could get from it all.
If you are here today it's because you have decided to do your own research before committing a system. Well, I would like to congratulate you. There are so many digital products out there, it's a real jungle and it's not easy to differentiate the good ones from the bad.
In this article, I will give you a thorough review so you can decide by yourself if it's for you or not!
---
If you want a real method, one that is not all about hype and fake and has little to NO value, I suggest that you check out my No. 1 recommendation and how I make money online. I have been using this platform for the past 4 years and I truly recommend it!
---

Summary:
Name: Instant Payday Tricks
Website: https://www.copyhismethod.com/
Owner: Ed Roberts – I can tell you right now that I could not find an Ed Roberts anywhere on the Internet claiming to own this product, this is just a pen name used to hide behind a FAKE system.
Price: $37 with a multitude of upsells
Well, I started watching the sales video, and right away I could tell that this system is pretty much the same as a lot of the ClickBank products that are being sold online these days.
I actually reviewed a low-quality system not so long ago called Money Looper, and it's obvious that this system was made up by the same person. It has the same feel and the same kind of presentation. The narrator has the same voice and well, it looks pretty well the same:
And everything is under one domain called copyhissuccess.com. I checked out the website and it seems to be about some kind of life coaching. On the checkout page, they say that you will have access to some training videos.
Anyway, if we get back to the sales video itself, it starts out with "News Snippets" about making money online. These snippets are generic clips taken from unrelated real news reports all copied and pasted together. The purpose of showing these are to make you believe that they are talking about this system, but nothing is farther from the truth!
This is a well-known way for low-quality systems to pretend that they are legit and are "making the news".
I have reviewed many similar systems in the past like The AD Formula that uses the same tactic and it all adds up to a sales pitch that has no meaning or value! These very low-quality systems are all the same, they are very misleading and very hyped up!
Then, of course, we move on to the money making claims and how much money someone can make with this system. Instant Payday tricks is no different. It claims that you can make a boatload of money by using a secret method. This time it's called AI (Artificial intelligence) and it's all done for you!
This method is supposed to keep on finding new "tricks" to continue making money without ever having to do any work and it supposed to start working right away, from day one!
I hate to set things straight here, but this is pure B.S.
In fact, this sales video is a hyped-up story full of lies and fake testimonies.
It has actors from Fiverr saying that they are making money with the system, but in fact by watching closely, we can even see that they are reading a script. Their eyes are not always on the camera and you can easily see that they are reading while giving their testimonies.
Here's the proof:
As you can see, if this system was even the slightest true, do you think that they would use actors to give FAKE testimonies? I don't think so.
---
Check my No. 1 recommendation for making money online.  No hyped-up stories, no fake testimonies.  A REAL platform that has over 1 million members and has been online since 2005.

---
OK then, what is Instant Payday Tricks?
When you enter the member's area you will be greeted by a message saying that the first thing you need to do is sign up for a ClickBank account because most of the methods that they use involve "AFFILIATE MARKETING"
Where is that artificial intelligence they were talking about in the sales video???
I thought maybe that the green button on the right-hand side that says "Auto Money System" would send us there but it does not lead anywhere at all!!!!
OK, that did not start very well indeed!
Then further down the page, there are 3 "How to make money quickly" videos:
Video no. 1 is about "how to make up to $1000 per hour using voice gigs" – The video itself is about 5 minutes long and –shows you how to access a website platform called voices.com that supposedly gives you the potential of making thousands of dollars an hour while doing voice gigs. Sure the website is legit and you could land some gigs on it, but $1,000 per hour? I highly doubt that!
Video No. 2 is about "How to make autopilot paychecks off Craigslist" – Really Craigslist? In this 11 minute video, he shows how to post your affiliate link in Craigslist. He even goes as far as showing how his account got suspended because he broke Craigslist rules and how he "by-passed" the system by including his affiliate link in a reply email!! THIS IS REALLY PITIFUL!!!
Video No. 3 – "Bonus: copy this Easy method for $100/day income" – This video is 3 minutes long and it's also about using Craigslist in some unethical manner!!!! You actually try and get a "remote job" from Craigslist gigs and then go to this staffing service called adecco.ro and hire someone from Romania and become the middleman for someone doing the work for you.
This is Pathetic!
In the next part, I found the exact same PLRs (Private Label Rights) and tools from that system that I had reviewed a short time ago called Money Looper.
The exact same products! So either this is a copy of Money Looper, or Money Looper is a copy of this product. These are PLRs taken from some other website and put up here, and one of the links included doesn't even work!!!
Next, in Step 2, you will find "The Emergency Cash Generator" which are videos that will help you make a little bit of money here and there like taking surveys and Using Craigslist (again).
The first video called "Emergency Cash Generator Video Part 1" is narrated by "Mike Dee" (The supposed owner of Money Looper) and he says right at the beginning that the video has been updated for 2014!!!
And what he proposes is to use a website called "Cash Crate" (https://www.cashcrate.com) where you sign up for different offers, surveys or shop through their website and earn a few bucks.
I watched the video and it is pathetic once again!  He is trying to show how to how to make money with this website, but at the same time, he says that the companies they deal with are not very reliable! I watched the whole video and unless you want to send your personal information all over to unknown websites and get spammed, it is a big waste of time!
If you want to use the quick method of making money, there are a lot of ways that are much better and efficient. The guys from carefulcents.com have it down to a great list and it will give you plenty of ways to make money without wasting your time buying this product.
The second video called "Emergency Cash Generator Video Part 2" is still about Cash Crate, but this time you have to get people to join under your link and make money while they do the surveys and stuff!  He suggests that you ask your friends to join.  Maybe once they join they won't be your friends anymore!
The 3rd video is all about making money with Craigslist once again, so I didn't even bother watching it!
The forgotten traffic plan is from someone named Lucas Adamski???  I did a little research and found the video.  It's from 2012!  This was just copied from Youtube and put in this "system".
The effective list building blueprint is also by someone else and is about how to build an email list.  Of all the products in this system, this one is probably the best of them all.  It's over 1 hour long and is somewhat detailed!
The last video (taken on YouTube from someone else's account again) is a short 3-minute video about ClickBank, what they are about and how to set up an account
Step 3 is about sharing "Facebook articles" using a Payzeno Account.  You share already written articles on Facebook that have a Payzeno ad on them and you are supposed to make money when someone clicks on the ad.  A total of 5 articles? Well, good luck with that!
There are also three "e-books" with some affiliate marketing methods that you could use if you decide to read them. I did not go through all of them as I got pretty much bored right away!
I did not accept any upsells, so I don't know what they are, but just looking at the basic product for $37, I am sure it"s not worth the money either!
This system (Instant Payday Tricks) was launched sometimes in the summer of 2018, and probably because of a ton of bad reviews, the "owner" has since changed a few things in the sales video like the wording and he also used different actors, but it still remains the same crap and both systems (Money Looper and Instant Payday Tricks) are the same very low quality and I am not impressed by both systems!
Pros and Cons
PROS
There is nothing good about this system so there are NO Pros!
CONS
The owner is hiding behind a pen name and we have no clue who is Ed Roberts.  He actually says in one of the videos that his name is Mike Dee from Money Looper!
All the testimonies are fake and by paid actors.
The "Secret" AI (artificial intelligence) method that is talked about in the sales video is inexistent!
Outdated training and methods that will only make you a couple of bucks here and there and only if you are very patient.
If you do use his methods, get ready to be spammed!
Hyped up, misleading and outdated money claims!
And much more…
Conclusion
DO NOT waste your time and money with this system!
You will be very disappointed if you do. Believe me, I have been there and done that! Buying and trying these low-quality systems only to get burned and not making a single penny!
Now the statement everyone is waiting for: Is this a scam?
Well, I can start by saying that this system has a very unethical way of showing how to make money online. I don't agree with most of the methods shown here, but that is my personal opinion.
To be a complete scam, when someone buys the product, he or she would be left in the dark with no way of getting his or her money back.
In this case, I am definitely going to ask for my money back, so I guess we can call it a VERY VERY LOW-QUALITY system!
If you want to make money online, you need to follow a plan!
If you really want to learn how to make money online, you will need to follow an all-inclusive, step-by-step training.
This is how I learned how to create an online business using affiliate marketing and how I make money while I sleep!
The platform I use showed me how to take advantage of the millions of products and services that you can make affiliate commissions from.
I have been using this business model for my online business for the past 4 years and it's how I make money online.
There is no secret method here, and it's not a get rich quick method either!
Wealthy Affiliate will provide you with comprehensive, state of the art free training including 10 lessons to get your online business started with the right foundation and will give you a free website to get going!
But wealthy Affiliate is more than that. It's a community of over 2 million like-minded members always ready and eager to help one another succeed.
You can become a free member and test drive it today by clicking on the button below, NO obligations or credit card required!
I also want to provide you with some guided help to get you started by giving you my e-book:
You can access it by clicking on the button below:
When you join Wealthy Affiliate, you will have access to me personally as your own personal help and coach.
Let's do this together!
Denis