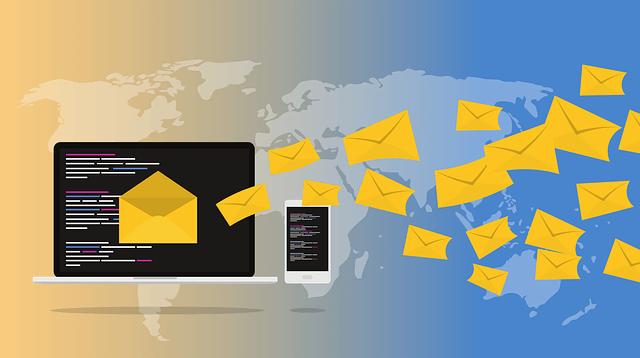 I get emails from all kinds of sources, actually, I get more than my share! Just the other day I received this email that started like this:
"Congratulations Denis,
You have been selected to access a brand new online opportunity that can earn you over $500,000 a year, eCom Profit Sniper is the newest, freshest way of making huge sums of cash online. A secret that for some reason, hardly anyone knows about or even talks about.
This offer is only available for a limited period of time so make sure you click the link below and get signed up immediately before someone else takes this opportunity……"
and a lot of blah blah afterward, but you get the picture!
Of course, being an online entrepreneur, I had to check out this big secret!
Summary
Program Name: eCom Profit Sniper
Website: http://www.ecomprofitsniper.com
Owner: Tom Parker (from the video but I could not find a Tom Parker associated to this product)
Price: $37
The video starts by saying that you are in for a great money-making machine, you can make $2,308.24 per day, or $44,290.11 per month and even $521,704.33 per year!
Sounds interesting, doesn't it?
Here's a snapshot of sales made in one day according to the narrator: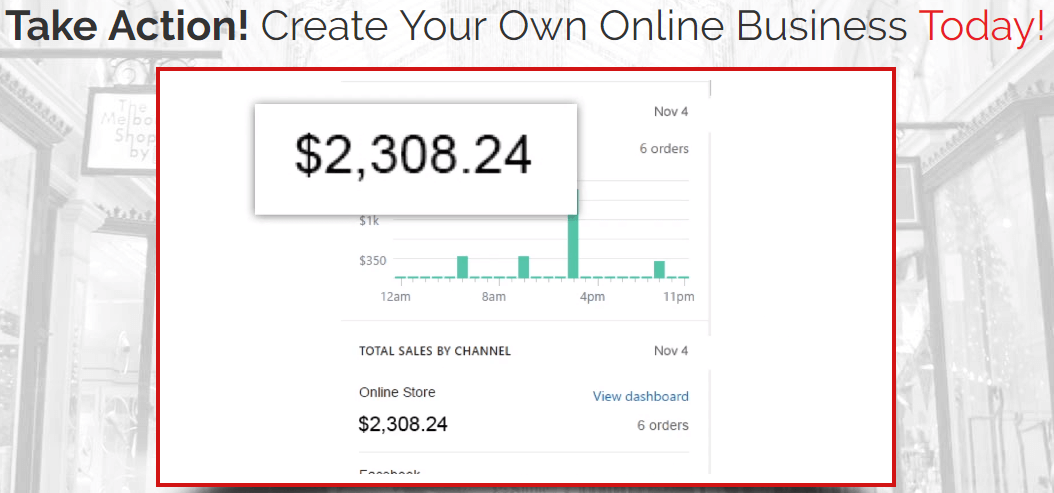 Here we go again with a super hyped up sales video!  It seems that there is a new product like this coming out every minute nowadays!
I review similar products all the time and I can't keep up with new products coming out with their hyped-up videos and sales pages!
Anyway, I decided to watch the video and see where it would bring me.
Intro
Right away I got clues about how this is another one of those products that are only looking for your hard-earned cash and pry on your emotions to lure you in.
First:  Fake testimonies – I've seen it all before, they hire an actor on Fiverr and get them to say that they made a ton of money.  Here's my proof:
This snapshot is from the video.  She claims that she's making $40,000 a month and that in only three months!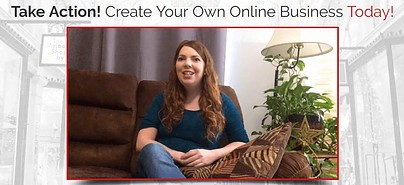 Here she is now advertising on Fiverr as a spokesperson video maker.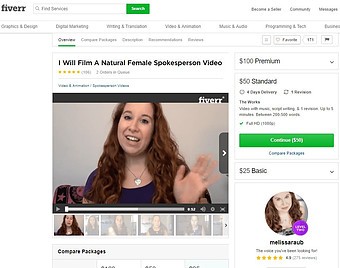 There are more actors in this video but again, you do get what I am saying here…
They are actors, NOT customers of the actual product!
Second: there is the misleading money claim: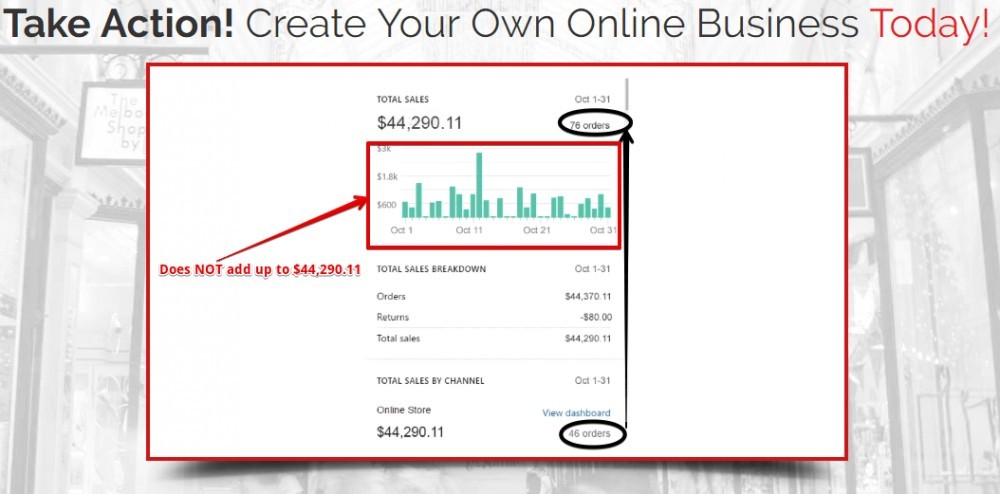 As you can see from the image I took from the video, they claim you can make $44,290.11 in one month.  Well, they haven't been very honest about their claim.
Take a look at the top and bottom orders, they are not the same!  Plus, if you add up the amount of money on the graph they show, the most I could come up with by doing the actual calculation is $18,500.00.
It's very easy to produce fake proof like this and place them in the video for a few seconds so that nobody notices.
But I'm not easily convinced, and I am thorough when I study a new program!
How does eCom Profit Sniper really work?
Basically, eCom Profit Sniper gives you basic training on how to set up a Shopify online store and using dropshipping as a sales strategy.
Most likely, it won't help you make money online because of all the missing ingredients!
It will give you a brief explanation of what is drop shipping and run a Shopify online store, but it is simply not enough to make the kind of money they claim.
There are four parts to the training.  Here are some snapshots of what you can expect:
Part 1 – Introduction
Shopify Setup
Image Hunting
Settings Note Slides
Shopify Settings in Action
Theme Notes Slides
Theme Settings in Action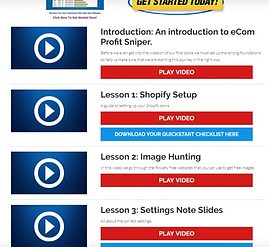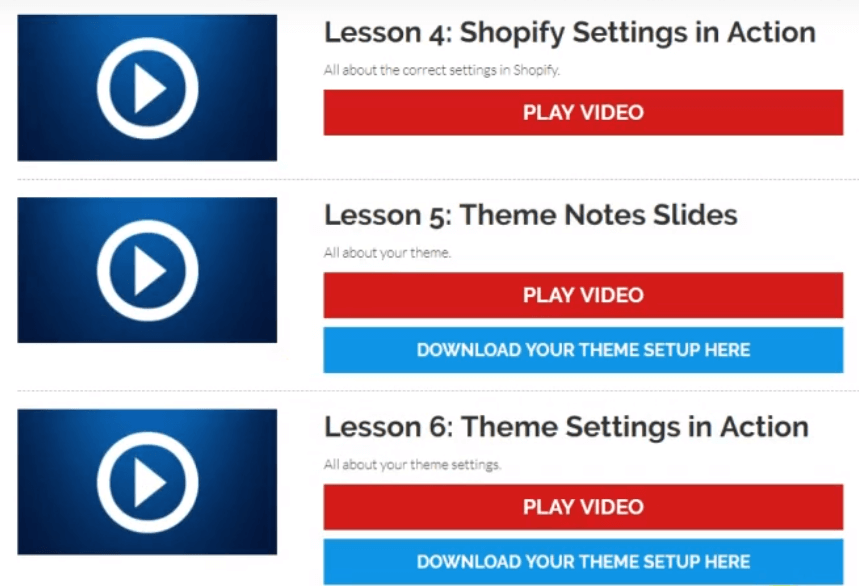 Part 2 – Categories and products
Category Selection Slide
Product Finding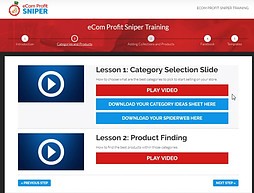 Part 3 – Adding collections and products
Adding Oberlo Extension
AliPay and Oberlo
Collection Creation
Adding Products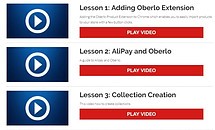 Part 4 – Facebook
Facebook Page
Facebook Post
Facebook Pixel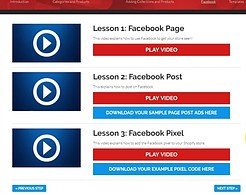 Part 5 – Templates
Discount code
Image Ideas
Link Info
Text Template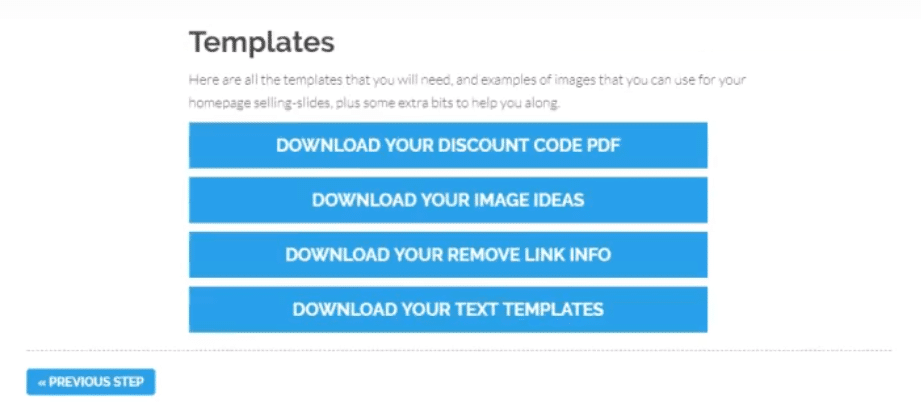 That's it!
All of this is very basic stuff!
The training will give you a rudimentary idea of how to set up a Shopify store.
You will get some training on how to get images and how to find products to sell, setting up an account with AliExpress and Oberlo (A product extension which alows you to import products to your Shopify store) along with a few other elements in the training like setting up a Facebook page, but it is still very basic, nothing very much in-depth.
It doesn't show anything about Facebook ads, which is one very important aspect that is not mentioned anywhere in the training and this is basically how you are supposed to get traffic!
Oh, there is not much about traffic in there either!
Dropshipping is a legit way of making business online.
However, another BIG thing that the video does not mention is that all of the revenues that they claim they are making is Sales, NOT PROFIT.
You can probably make over $40,000 in sales when your Shopify store is properly setup and you have a ton of traffic to it, BUT how much do you have to spend to sell it?
Dropshipping profits depend on the product you are selling.  Usually, any items over $100 will have an approximate profit margin of 30% to 35%.  So, to make $40,000 in profit you would have to sell for over $133,000.00…
There nothing about this mentioned anywhere!
PROS and CONS
PROS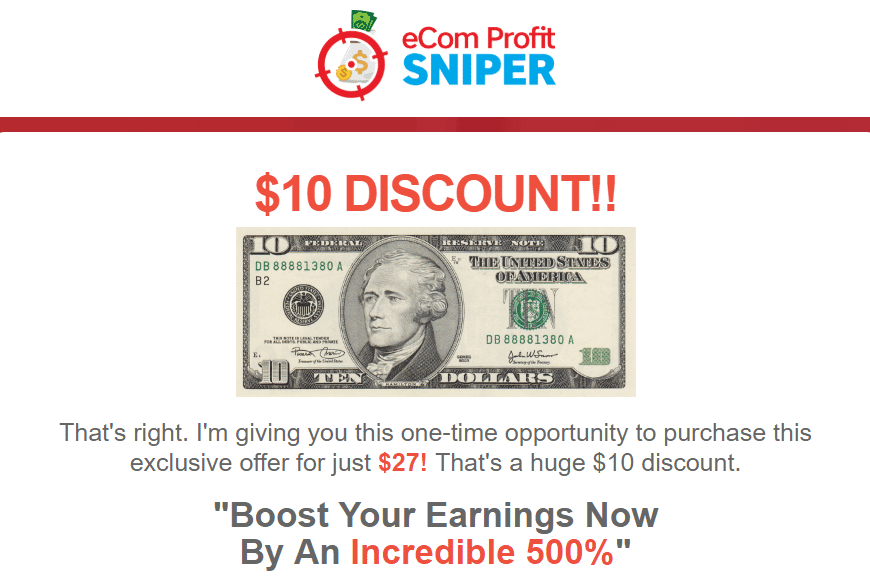 The price is relatively cheap at $37, you can even get a discount of $10 if you try to leave the sales page before the video ends.
Being on Clickbank, you do get a 60-day money-back guarantee.
CONS
The training is very basic. Nothing that someone could not find for free on the internet.
Exaggerated earning claims.  The amount of money they show is NOT profit, but actual sales!
Fake video testimonials.
Is it a SCAM?
I cannot categorize this product as a scam because you do get something for your money.
But there is nothing really here that you can't get for free if you head yourself to Oberlo,  Shopify or Facebook.  
They have plenty of free resources to help you get started without spending any money.
Conclusion
There is nothing in here that says it is not legit, however,  I think you will agree with my verdict!
My verdict is:
I don't recommend it
A lot of programs out there will try to lure you with easy methods to make money fast, but the reality is that most of the time, it's only the guys behind those products that make the money.
If you are still here and read all the way through my review, then you are ready for something different!
However, this method is NOT a get-rich-quick method, but it's a proven honest method.
Anyone who gets the right kind of step-by-step training, tools, and support will eventually make it in the online business world.
If you want to start your own Online Business and you are ready to put in the necessary effort to make it work, there is a platform that does just that.
AND YOU KNOW WHAT? IT'S FREE!
This platform is called Wealthy Affiliate. It is my No. 1 recommendation.
Here is a great little video to give you some insight into how it works
Yes, you read it, it's free to join and it can stay free for as long as you like. NO credit card required!
This platform will also provide you with a free website and the training you need to get your website ready to take in the Affiliate Marketing world.