Is Legit Online Jobs a scam?
I ran into this program the other day and decided to take a bigger look at the whole program in order to decide if it was a legitimate offer or not.
Their website claims that you can make over $9,000 per month using their system.  So, it really got me curious and I had to see it for myself.
It is very attractive and striking to anyone that is being told that they will be able to make 9K a month.
I thought that there must be some kind of miraculous system that works like a charm to make that kind of money.
I got suspicious as there are a lot of scams and get rich quick schemes out there.
---
However, if you are looking to make money online you should skip this program and check out my No.1 recommendation by clicking the button below:
---

Here's my analysis, so let's take a deeper look:
Program:  It's called "Legit Online Jobs"
Website: www.legitonlinejobs.com
Cost: $34.95
The owner Ross Williams starts by sharing his "personal story" that he was once broke and that he too had stumbled on some schemes online like stuffing envelopes, Multi-Level Marketing (MLM) and Investment Programs and that he's been there and done that! And that finally, he came across something that works.
Then he goes on saying that online advertising is skyrocketing and that companies spent 50 billion in 2015 advertising online and that he found "a secret system" that involves " companies worldwide desperately searching for people just like you to type up their ads and post them online, and they'll pay you nicely in return"
Ok by this time I wanted to know why would a company want me to advertise for them? Don't they have their own marketing divisions for that? And why are they so desperate?
Then he goes on "These companies have cash, LOTS of it and they're eager to share it with you".
Yeah right!  Big companies are always eager to share their cash with everybody. ????
When I read that sentence I knew what I was in for…
So, I continued reading "All you need to get started is a computer with internet access. You'll be posting short text ads for companies and submitting them into various online forms".
Hmmm "various online forms" what "forms"? How do I post an online form? What kind of forms?
Isn't it kind of unclear don't you think?  For someone who doesn't have any experience with an online business, it sounds easy probably, even a "dream job".
They are saying it's easy to make money "posting ads online".
Not so sure.  So I took a look inside.
What is the real deal?
I went in and looked at their program. Basically, what they are selling you a very basic course in Affiliate Marketing. Plain and simple.  I'll explain what Affiliate Marketing is later in this post.
There is no "jobs" here, so their name "Legit online jobs" is confusing and misleading because you don't get paid to post ads online by an employer.  What they are saying looks like you would work for someone, but actually, you are on your own as soon as you pay your "fees".
What they provide is a database.  Here's the proof, taken from their FAQ:
But you know what? The listing they provide is already accessible to anybody that has an internet connection.  All you would have to do is log on to an affiliate network (I will explain this a little later) and pick and choose yourself from their list.
Here is the program broken down:
The details
When you look at this picture taken from their website what you see seems to be a simple 3 steps process.

1-Create an account

2-Select companies

3-Start posting

They actually don't give you much more information before you buy.

Let's take a closer look at those steps:

Create an account
Once inside and that you have paid your subscription fee, they teach you how to sign up to an affiliate network.
Wikipedia defines an affiliate network as "an intermediary between publishers (affiliates) and merchant affiliate programs.  It allows website publishers to more easily find and participate in affiliate programs which are suitable for their website (and thus generate income from those programs), and allows websites offering affiliate programs (typically online merchants) to reach a larger audience by promoting their affiliate programs to all of the publishers participating in the affiliate network."
There are a lot of affiliate networks these days like Shareasale, CJ affiliates, FlexOffers and of course Clickbank (which is where Legit Online Jobs is being promoted) just to name a few.
So, your first step when joining their program is to set up an account with one of them, which by the way, you could do on your own very easily by going on the affiliate's program website.
Step two is where I find it very misleading on their website.  They list big companies like Adidas, Burger King, Coca-Cola, and even CNN and NFL?!?
What would CNN or the NFL have to sell that you would place an ad for somewhere?? I have been on affiliate network websites before and let me assure you that these Fortune 500 companies do not offer an affiliate program on any of the networks out there.
Step two leaves you to be on your own, really, going through a list (or a database that they "provide") trying to figure out which program is good, and which one is not.
Step three is "Start posting".  They do provide some tips on where to "post" from their inside training.
Tips like: posting your "ads" on social media, in online forums, "paid" traffic or even starting a blog.  These are all legit ways to promote a product online.  However, what they don't tell you is that you need to know what you are doing.
Start promoting on social media and forums too much and you will be considered a spammer and get banned completely.
You could start a blog, which is a very legitimate way of making money online, but what they don't tell you is that you need traffic, you need people to see your ads and buy them.
You could also use paid traffic, but that is NOT a cheap way to start and you could end up with a lot of advertising money down the drain if you are not an experienced affiliate marketer.
Besides, starting a blog is not just having a website and hoping for the best.  You need guidance, training.
---
====>Check out my No. 1 recommendation here<====
---
Posting ads will not get you any money just by "posting" them.  Affiliate marketing is much more than just posting ads.
This system also claims that you get paid by commission.
Yes, an affiliate marketer does get paid by commission, what they don't tell you is that if it was that easy to place an ad, work a few hours a day and get paid wouldn't everybody jump on this wagon?
We all wish that there would be an easy way to make money like that.



Pros and Cons of Legit Online Jobs
Let me give you my straight and honest opinion: 
Pros:
Not very expensive at $34.95, but they do try to upsell you for an extra $37.00 VIP membership that includes lots of freebies.
60-day money-back guarantee, since they promote their product through Clickbank.
Cons:
Misleading information on their sales page.  There are NO jobs here.
What this program is really all about is getting your money and letting you work the rest out by yourself. They do provide some advice but it is very shallow.
Outdated information from 7 or 8 years ago.  What used to work in 2010 doesn't necessarily work today.
Not updated to reflect today's Affiliate Marketing realities.
Little or no support.  They do claim to have email support on weekdays though.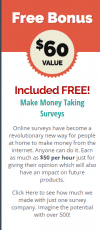 They promote other ways to make money as a "free $60 bonus" that is really not that great like making $50/hr taking surveys!
Seriously? Yes, it is possible to earn a few cents here and there taking surveys but not $50/hr.

They also give you as a free $90 bonus a "make money on Ebay".  There are a few good pointers here to someone with little or no knowledge of how e-commerce works, but you could just do your own research and find everything (in an updated format) on the Internet. So it's hardly worth $90

 They even offer you a "$60 bonus" that they claim is a huge database of "Real Online Jobs

".  This is kind of going against what they claim they are isn't it?   They are just saying that they really don't have any real jobs here and they give you an outdated list of sites that "might" have some job opportunities.  Any search engines can do this for free!
Verdict:
I DON'T recommend it!
It is not worth the money.  What you'll end up with is a few outdated databases that you will have to read and comprehend ON YOUR OWN
What you need to know is that Affiliate Marketing is

legit

!
But it's NOT a job, it's an online business.
It is an honest and true way to make money online.
Before I started my online business, I got scammed quite a few times with offers like this, until I read someone's review about one of them that I was going to give a try and had grown very skeptic from all the shady offers I had bought.
He introduced me to a REAL and HONEST way to make money online called Wealthy Affiliate.
With them, I soon realized what it meant to have a real online business and make money from it.
You should check out my own personal review of Wealthy Affiliate.  It's more than a simple program. It's a community of like-minded people working together to grow their online business.
Or you can access my FREE eBook by clicking on the image below:
I hope I have answered all of your questions, but if you still have questions about Legit Online Jobs, you can ask your question in the comment section below.