Is Performance Dropshipping legit? For today, I'll provide an analysis of whether it is a good use of your time and money or not.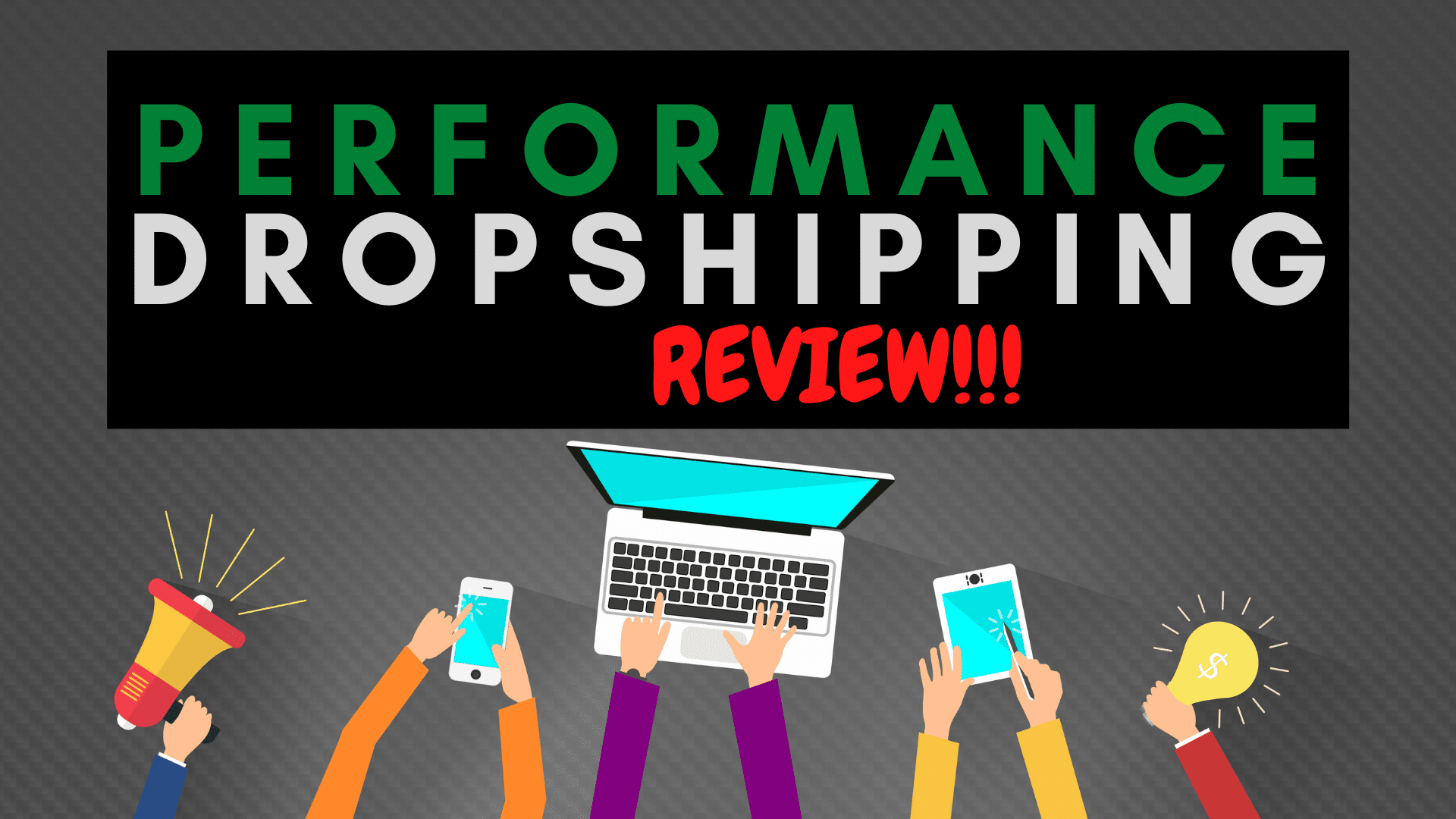 Is Performance Dropshipping legit? Or it isn't worth your while after all?
If you want to know whether Hayden Bowles' dropshipping course is the right one for you, then the article I have prepared for today is especially just for you!
I will provide you with an analysis of the course and help you make a conclusive decision on whether to pursue the program or should you search for a better training course.
But before I start, allow me to have this opportunity to share with you that I am NOT representing Hayden Bowles in any way or promoting any of his digital products. This piece is my honest opinion about the training program.
So without any further delays, let's begin…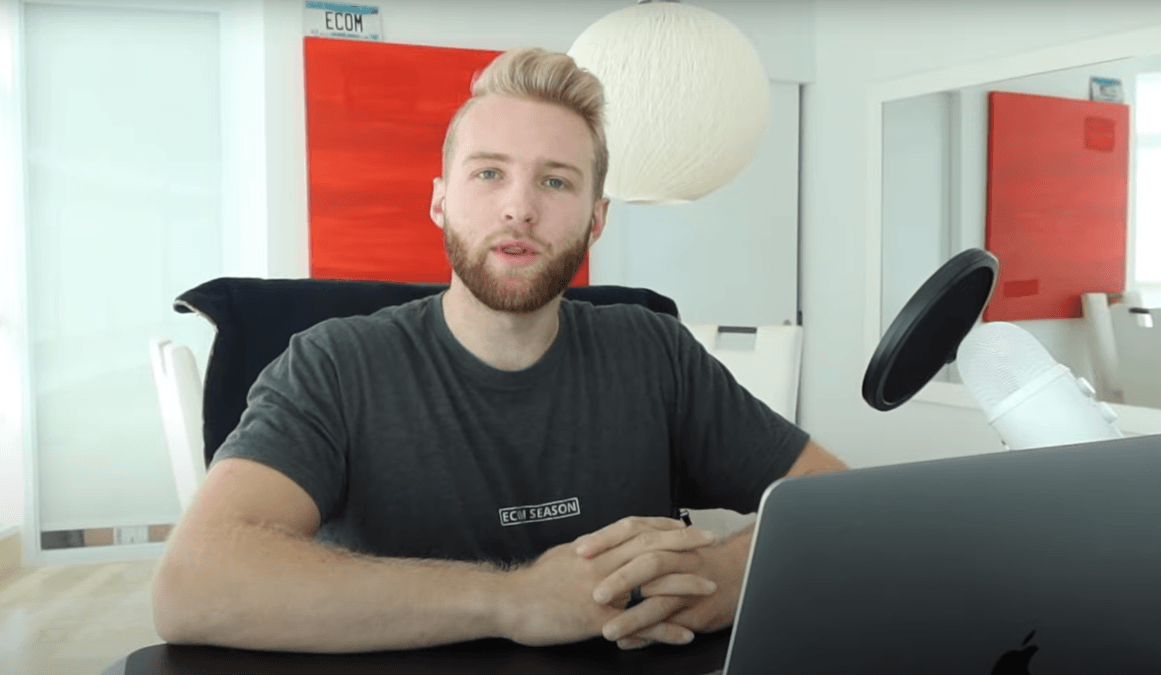 Who is the Creator of Performance Dropshipping?
Venturing into content creation and eCommerce seems to be a popular trend among young people today.
They drop out of school to pursue the lifestyle of the rich and the famous. I'm sure you've heard the story many times by now, right?
Essentially, most of these kids are imitating successful entrepreneurs like Steve Jobs or Bill Gates did in their younger years or just wanting to have the life of their idols, such as Logan Paul and other popular social media influencers.
And such admiration for these influencers shows how Hayden Bowles displays himself to the public.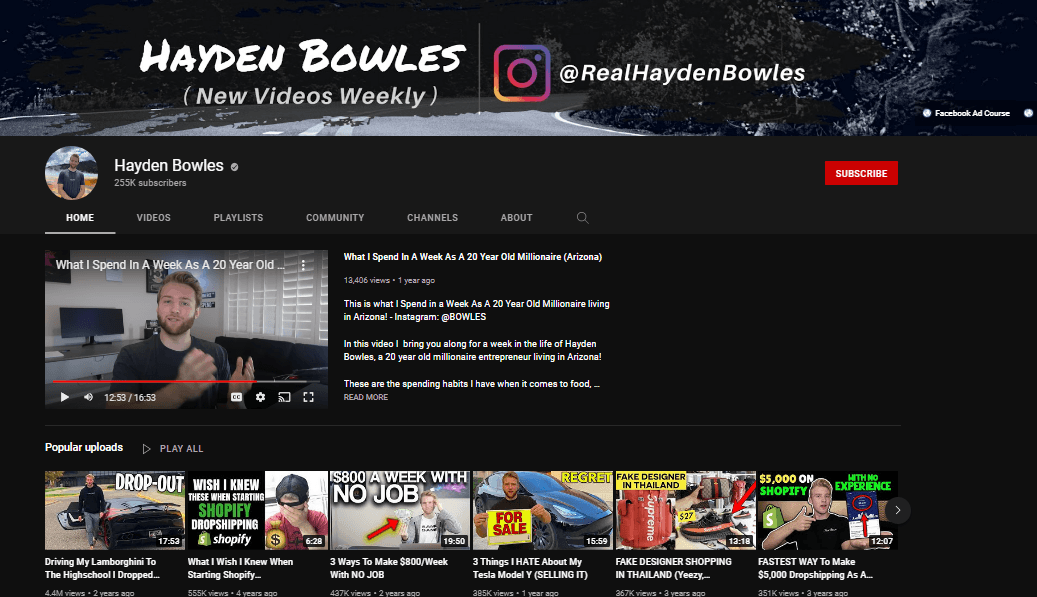 He is a digital entrepreneur who presents himself as an expert in dropshipping. As mentioned, he is also a content creator with over 250k subscribers on YouTube.
And like many influencers, he likes to flaunt his supposed luxurious lifestyle—sports cars, mansions, and other expensive things.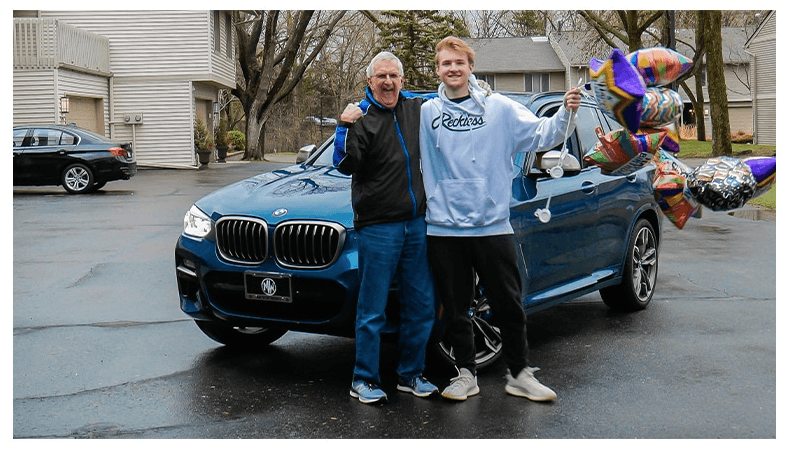 And I say "supposed" because we have no way of proving that majority of his income really came from his dropshipping expertise or from selling training courses. Or, the lifestyle he presents is just rented, and he doesn't really own any properties. It is a common practice in many internet gurus today—they fake their public persona in order to create engagement.
With this being said—is Performance Dropshipping legit? Or is it not a good use of your time and money after all?
Let's continue and learn more about the program…
What is Performance Dropshipping?
As the name of the program suggests, Performance Dropshipping is a training course that's especially focused on the basics of dropshipping and other essentials to the matter.
The entirety of the program is consists of 8 modules with over 50 lessons plus bonus content which includes the following topics—
First Module: Introduction to Performance Dropshipping
Second Module: Store, Research, and Rapid Product Testing
Third Module: Build High Converting Advertisements
Fourth Module: Facebook Advertisements
Fifth Module: TikTok Advertisements
Sixth Module: Scaling Advertisements with a Winning Product
Seventh Module: Transitioning from a Store to a Brand
Eighth Module: Financial Literacy
Bonus Training Lessons
The lessons relayed in the training course are pretty basic, to be honest. And some of the topics in there you can even freely source on YouTube.
I think the only modules that can be beneficial to beginners are the videos about paid advertisements. Such function would greatly help them boost profits once it's set up properly.
I've also reviewed similar online opportunities in the past. Some of the programs include the following—Kindle Publishing Income, The Copy Cure, The Super Affiliate System Pro 3.0, and Elite Traffic Pro 2.0, just to name a few of them.
Or, you see the full list of our reviews by visiting our site here.
How Much is the Program?
If you decide to avail of the training course, then you have to prepare a budget of $343. In addition, there's no refund policy which is a major turn-off in my book.
Aside from the training course, you also have to take into consideration the startup cost of your dropshipping business.
Well, of course, you will not handle inventory in dropshipping, but this doesn't imply that the business is cost-effective in any way.
Also, you may find statements such as starting the business is free, but this isn't entirely true. Like in any business, nothing is really free. And you have to put up capital and invest time into your dropshipping store.
Although Shopify and Oberlo (two of the most popular dropshipping hosting sites) have free trials, it only extends for a few weeks, and then you have to settle for the monthly fees afterward.
Aside from the domain hosting, you also have to take note of paid advertisements, product testing, etc.
Opening up an online retail store can be very expensive. A small investment of $500 won't get you anywhere. And you may have to spend about $10,000 to earn revenues from the business.
Also, you have to account for possible losses during the first periods of your business.
But if you're searching for a low-risk and more budget-friendly eComm platform, then you better check out my top work-from-home recommendation!
Is Performance Dropshipping Legit? Or is it a Scam?
Honestly, I'm not sure how to address this concern.
Either way, I wouldn't take Hayden Bowles' dropshipping training program if I were you.
If you are willing to spend about $300 for his program and don't mind that it doesn't have a refund policy, by all means, you can try out his program and see if it works for you.
Also, you may not find the training beneficial if you have been in the dropshipping business for quite some time now. It may only be relevant for individuals who are new to dropshipping.
What I LIKE about Performance Dropshipping
As I said, I don't really recommend Performance Dropshipping.
But if there's one noteworthy thing about the training program is that it may be a good course for beginners in the area of dropshipping.
What I DON'T LIKE about Performance Dropshipping
Here are some of the downsides of Performance Dropshipping you have to consider—
Expensive!
First and foremost, the program isn't exactly budget-friendly.
It may be a little too high considering the number of free resources you can get from the internet.
No Refunds
Another huge con of the program is that they don't have a refund policy.
To me, this is a deal-breaker because if the business is legitimate and has confidence in their products, then they should not be concerned about the results that their customers would be having.
If you want a more affordable course that can teach the essentials of earning income online, then I highly suggest that you check out my best work-from-home recommendation!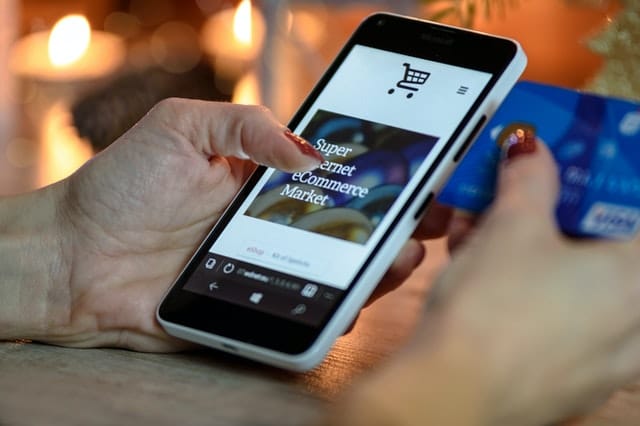 Final Thoughts
I hope my review has helped you in answering the all-important question—is Performance Dropshipping legit? And is it a good dropshipping training program you can avail?
Although I'm not sure of Hayden Bowles' legitimacy and credibility as a digital entrepreneur, I won't waste my money and time on his course.
There are programs that are more affordable and legitimate than Performance Dropshipping.
Don't get me wrong here. Dropshipping can be a good source of reliable income and can provide financial stability if managed effectively.
I just don't feel Performance Dropshipping is right for you—the course is expensive, no refunds, and the lessons are too basic.
However, I also mentioned that the startup cost for this type of eComm platform could be pretty high. Also, the risk is very high, and it would require you to have a lot of patience since you are going to conduct product testing most of the time.
If you are up for the challenges ahead of you, then you can consider dropshipping. But if you're looking for a better alternative that's low risk and cost-effective, then let's continue to the last part of today's review…
How I am Making a Living over the Internet
Affiliate marketing is among the top eComm platforms around due to its potential to help an individual earn reliable income in the comfort of their homes.
In addition, they are very popular for several apparent reasons, such as the following—
The platform is 100% legitimate
Very low risk
It suits all levels of experiences
No upsells of any kind
Cost-effective
The marketer isn't involved with inventory management and shipment
Lastly, your potential earnings are limitless since you can advertise as many businesses as you like
And as you might have already guessed, the primary task involved is to represent a company by marketing its products or services through the content you publish online.
You earn commissions as soon as someone clicks your affiliate links and buys the offerings eventually.
However, it isn't easy as it sounds.
Your posts need to generate quality publications on a regular basis and engaging enough to convince your audience to buy the products of the company you're representing.
If you're a newbie to affiliate marketing and don't know how to start the business, then I have something for you that should put those doubts to rest.
Do you see the highlighted text below?
Give it a slight click, and I'll show you how you can create quality posts that are generating leads and converting them to sales from scratch—
>>HERE'S MY BEST WORK-FROM-HOME RECOMMENDATION!
And to show my appreciation to you just by reading my "Is Performance Dropshipping Legit?" review, I'm giving away my book to help you establish your business in the process—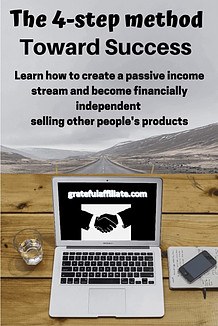 That's just about it!
Thank you for the time!
I hope to see you in the next reviews!
Peace!