Is Printable Profits a scam? Or is it legit? In this article, I'll help you decide whether it is a good use of your time and money or not.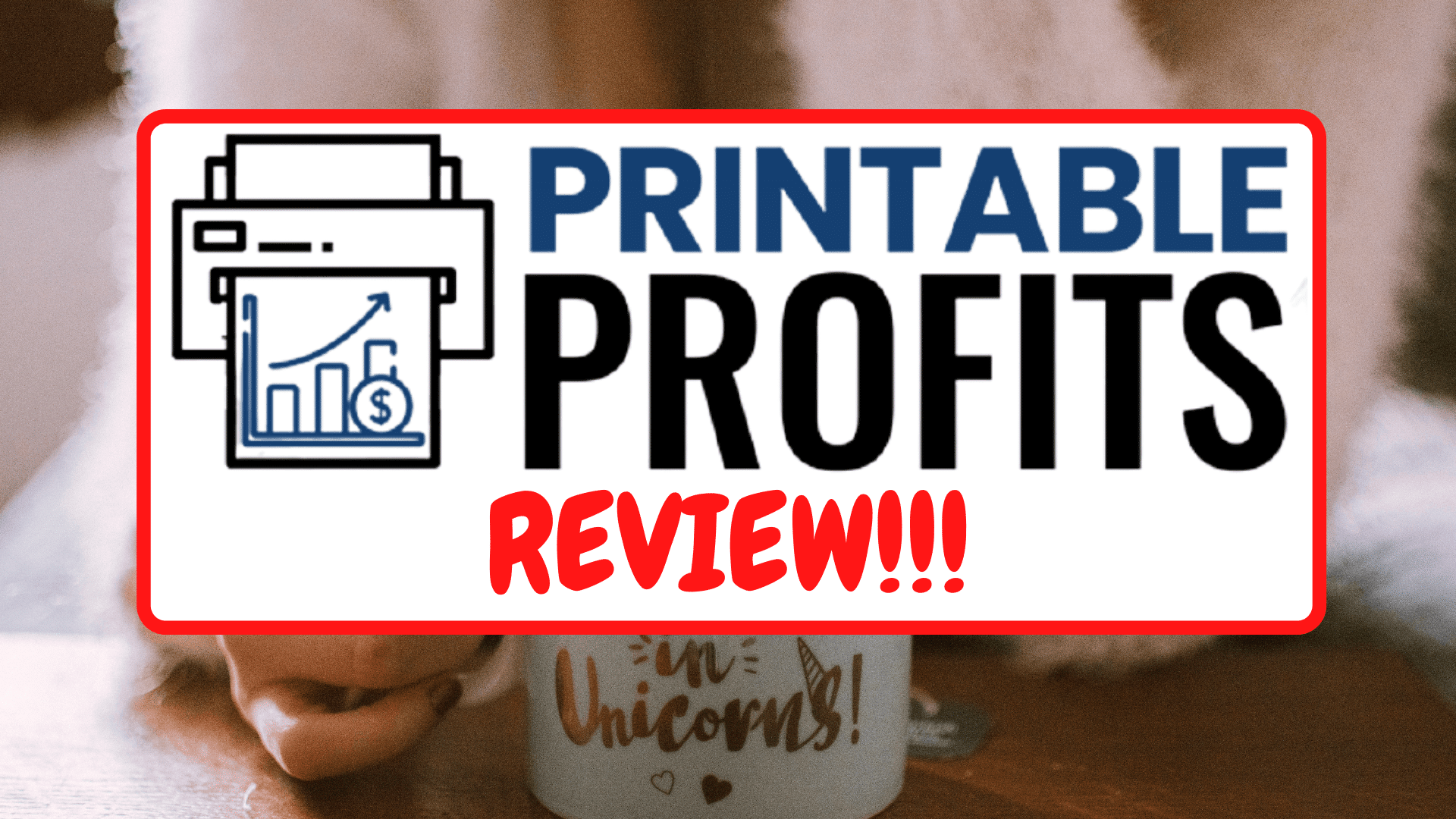 Is Printable Profits a scam? Or is it a legitimate training program?
If you have these worries, then this article is especially just for you!
Print-on-demand is an eComm platform that has significantly boomed in the last few years. And if you're a beginner to this type of business model, then there's a good chance that you have turned to online training courses for help.
And one of the programs that you might have across is Dave Kettner's Printable Profits.
In today's article, I will relay the specifics of the training course and whether it's the right program for you.
But before I begin today's presentation, allow me to have this opportunity to share with you that I am NOT an affiliate or representative of Dave Kettner and in NO way promoting any of his digital products and other online programs.
This content is my unbiased opinion on his Printable Profits training course.
So without any further delays, let's begin…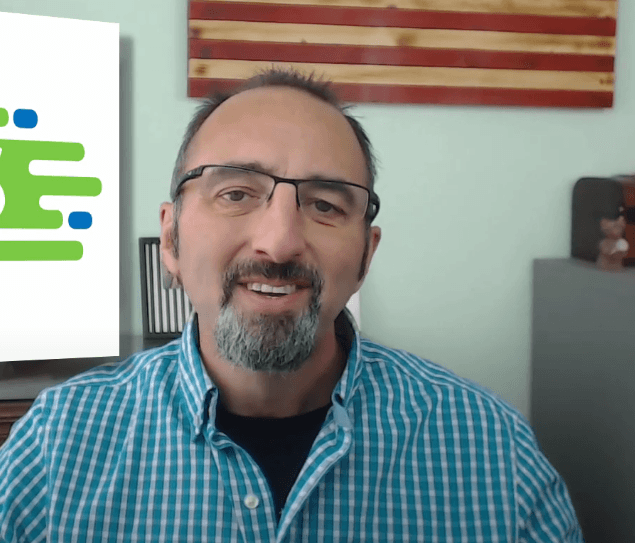 Who is the Creator of Printable Profits?
Dave Kettner is the creator of the Printable Profits training program.
He is a digital entrepreneur and has been in the industry since 1998. He had simple beginnings, which started by developing his own websites and formulating internet marketing strategies.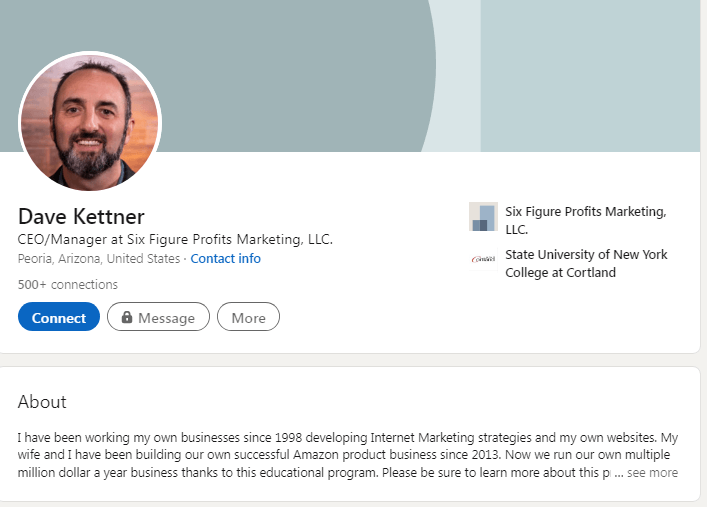 But his big break came in 2013 when he and his wife began selling products on Amazon. Now, the couples have multiple businesses and training courses that are generating six-figure profits, as he puts it in his LinkedIn bio.
Although I feel he is a legitimate digital entrepreneur, I didn't find sufficient information that would support his claims of 6 figures businesses.
He is also running a blog site called DaveKettner.com. His regular posts mostly involve information about internet marketing. In addition, he has a YouTube channel that has about 3k followers.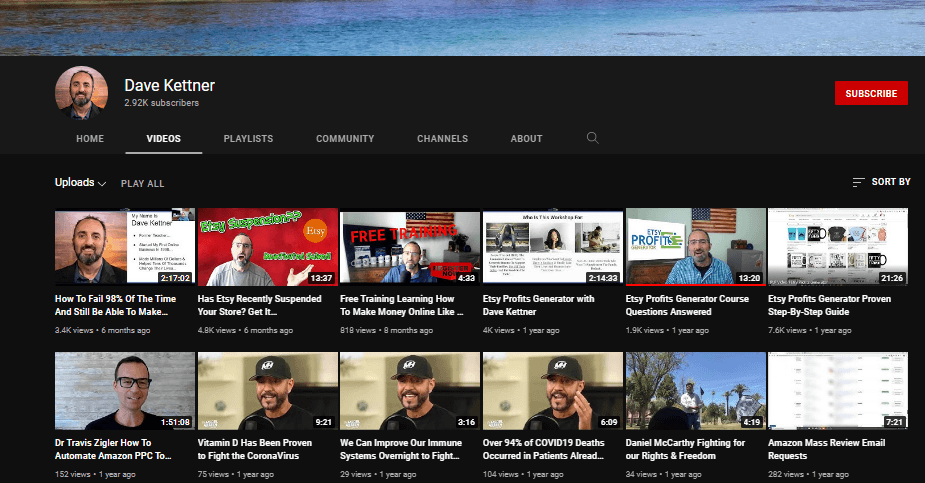 With so little background about him, does this mean he is untrustworthy? Is Printable Profits a scam? Or is it legitimate and a worthwhile investment after all?
Let's continue and learn more about the features of the training course…
What is Printable Profits?
Printable Profits is an online training program that teaches the essentials of starting a print-on-demand business.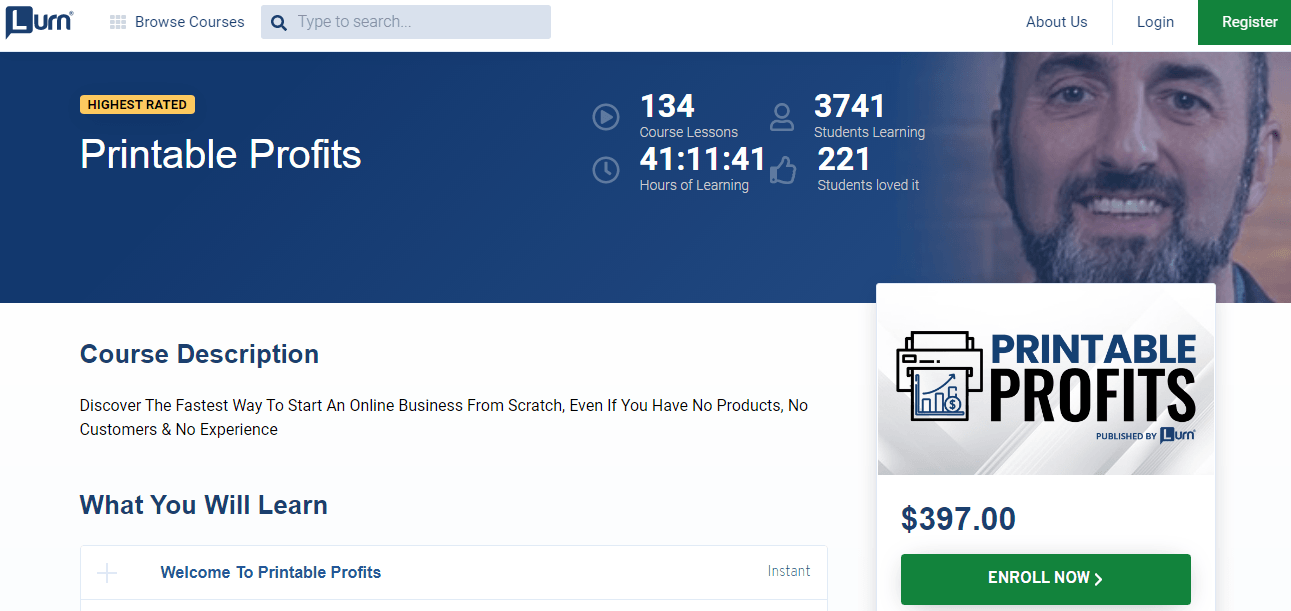 For those who are unfamiliar with the business model, it is where you sell custom stuff like shirts, mugs, pillowcases, tumblers, and the list goes—practically any items that have solid surfaces where you can embed personalized prints.
Anyway, the training consists of eight modules plus bonuses which includes the following—
Discovering Designs that Sells – the first part of the program talks about finding the most profitable niche you can venture to
Creating Your Own Designs – as the title suggests, Dave will teach you how to create your designs. He'll also provide templates to help you develop your own ideas
Creating Products for Dropshipping – in this section, you'll have the opportunity to learn how to test your products first before venturing into dropshipping is selling them
Creating Products for Sale on Etsy – in the fourth module, Dave will share his expertise on selling products on Etsy
Expanding to Other Marketplaces – aside from Etsy, you'll also get a chance to learn to sell your products on other marketplaces
Expanding to Amazon Private Label –the seventh module is all about marketing your prints on Amazon
Taking Your Business to the Next Level – the last training revolves around upscaling your business
I've also reviewed training programs related to eCommerce. It includes the following, and you can check them out if you like—The Copy Cure, YouTube for Bosses 3.0, Fiction Profits Academy, Affiliate Marketing Mastery by Ivan Mana, just to name a few of them.
Or, you visit the site and check the full list of reviews here.
How Much is Printable Profits?
Printable Profits is listed under an eComm site called Lurn. It is an online marketplace that sells training courses in various categories like Amazon FBAs, dropshipping, affiliate marketing, and other eComm platforms.
And if you're interested in trying out Dave Kettner's training course, then you have to prepare a budget of $397!
Unfortunately, they do not offer a payment plan for people who want to take the program but don't have money as of yet.
What makes it worse is that it doesn't have a refund policy!
Honestly, this makes the program undesirable because it disables the client to have their money back if they are satisfied with the results.
Also, most legitimate programs I've reviewed offer at least a 10-day or 30-day refund policy or impose conditions before they return their clients' money.
In the case of Printable Profits, there is none.
If you're looking for a more budget-friendly online course that can teach you how to earn significant income online, then you have to try my best work-from-recommendation!
Is Printable Profits a Scam?
No, there is NO proof that Dave Kettner is attempting to fraud anyone in any way.
I believe that Printable Profit is a legitimate program you can turn to if you're interested in earning passive income through the print-on-demand business model.
However, my only concern with the program is the price and no refund policy.  Such instances might lead some people to the conclusion that it might be a scam, especially if their expectations weren't met.
What I LIKE about Printable Profits
The only noteworthy thing I could gather about the program is its decent training. It has a lot of written and video training, and the Lurn platform is very legit!
As I said earlier, Dave has been in eCommerce for quite some time, and his expertise and experience in the field can definitely benefit someone.
What I DON'T LIKE about Printable Profits
Here are some of the cons of the program that you have to bear in mind—
Expensive Training Course!
First and foremost, the training program is a bit expensive!
This program isn't for you if you don't have the money or are unwilling to spend $397 for a print-on-demand training course.
Also, if you are interested in print-on-demand, you can find lots of resources on YouTube.
Or, if you're looking for a better alternative to print on demand, then you have to try my best work-from-home recommendation!
No Refund Policy
Another factor that makes Printable Profits undesirable in my opinion is that they don't offer a refund policy. As a matter of fact, all Lurn courses have a no refund policy but they do have a 3-day cancellation policy. If you send them (Lurn) an email within 3 days of your purchase to get your payment canceled. All returns will only be credited back to the account used to make the original purchase.
Final Thoughts
I hope today's review has provided you the definitive answer you need in the question—is Printable Profits a scam? Or is it a good value for your money?
Although Dave is a legitimate internet marketer, I'm hesitant to recommend the program to anyone.
In my honest opinion, the cost is too high for a print-on-demand training course. I have nothing against the business model. But if you're looking for a lucrative source of income online, then this eComm platform isn't the best one for you.
Print-on-demand businesses can be profitable if managed effectively. But in general, it possesses tons of challenges that make them unprofitable.
For one thing, the profit margin is low because the cost of goods in this type of operation is high compared to those who are selling their products wholesale.
There's also the quality and order-fulfillment issue. You are creating your own artwork, but you don't have control over the quality of the items and the shipment process.
You have to take note that you're going to work with several suppliers, which means that you have to diligently monitor them to make sure of the quality of your products.
Lastly, the print-on-demand industry has significantly boomed in the last few years or so. This means that the competition in this industry is very high.
If you're looking for a better and much higher source of income online, then I suggest that you resume the last section of the article…
How I am Making a Living at the Comfort of My Home
Affiliate marketing is among the best eComm platforms around. And this is rightfully so because it can indeed provide profitability and stability once the business is set up effectively. 
In addition, they're very popular because of several reasons such as the following factors—
It can be a reliable source of income
100% legitimate
Cost-effective
Very low risk
No inventory management and shipment is involved
But most importantly, your potential income is limitless since you can advertise as many brands as you like
And yes, your main task is to market a brand by representing them through online publications.
You earn commissions every time someone clicks your hyperlinks and uses them to avail of the products offered by the brand you're promoting.
Of course, your success in this field relies on the audience number and quality of engagement.
If you're a newbie and don't know where to start, then I have something for you that should put those uncertainties away.
Do you see the highlighted description below?
Give it a slight tickle and discover how you can create quality posts that are generating leads and converting them to sales from scratch—
>>HERE'S MY BEST WORK-FROM-RECOMMENDATION!
And to show my appreciation to you just by reading today's posts, I'm also giving away my book to help you with your affiliate marketing endeavor—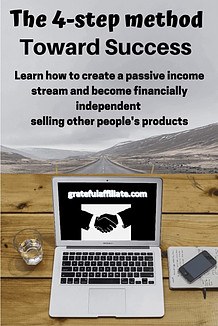 Well, I believe that's just about!
Thank you for reading my "Is Printable Profits a Scam?" review!
Peace!