Like I said in previous reviews, I get a LOT of emails every day.  I browse through them and look for something that catches my eye.  This morning I was looking them and this one caught my attention:
Subject: working from the comfort of your lounge
Firstly CONGRATULATIONS!
The fact that you can read this email
means that as of today you are now in a qualifying country! Today this underground group of profiteers are giving away their proprietary software…It exploits a $150 BILLION Market… So how does this work. The FREE Software builds you your own DONE-FOR-YOU Website.
Then it loads your Website with the HOTTEST-SELLING products from a Marketplace worth $150 Billion.  By copying their unique traffic strategies, you could pull in THOUSANDS of PEOPLE to your sites EVERY DAY… …and have the potential to RACK UP HUNDREDS of Affiliate SALES. Based on my experience, I can't be sure that this site will be live for too long…  So good luck with getting a license!
Of course, I am in affiliate marketing, so a "done-for-you" website sounds like fun, right?  No more long hours of researching, writing and publishing reviews and articles?
Let's see if this program is really all about making huge amounts of money without any hard work.
---
Here is my analysis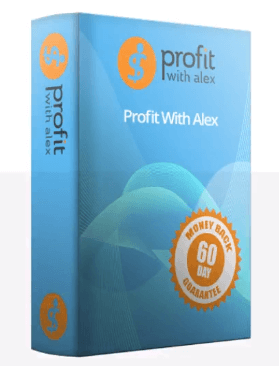 Program Name: Profit With Alex
Website: http://profitwithalex.net
Owner: Alex Goodwin
Price: $37 (with upsells of course)
Intro
There are a lot of sales pages that start like this.  They show news reports bits and pieces about working from home, then they say that there's this BIG secret that nobody know about, which is highly confidential!
The big secret revealed: You can make a ton of money working 20 minutes a day by building websites in under 5 minutes and with only 14 mouse clicks.
Here you are shown that his product created a website in under 5 minutes and then 6 days later he has made a profit of £475 ($639 as of current conversion rate).
He says that he has started building affiliate websites (with an s), so that means that they have most probably built quite a lot of websites if they only promote one kind of item per website, or they have falsified the graph…
I am an Amazon Affiliate so I know how much they pay in commissions. It's between 0% and 10%. It used to depend on how many products you sold in a month, but not anymore.
You now get a % for each product based on the category the product is in.
Amazon Gift Cards, Wine – 0.00%
Video Games & Video Game Consoles – 1.00%
Televisions, Digital Video Games – 2.00%
PC, PC Components, DVD & Blu-Ray – 2.50%
Toys – 3.00%
Amazon Fire Tablet Devices, Dash Buttons, Amazon Kindle Devices – 4.00%
Physical Books, Health & Personal Care, Sports, Kitchen, Automotive, Baby Products – 4.50%
Digital Music, Grocery, Physical Music, Handmade, Digital Videos – 5.00%
Outdoors, Tools – 5.50%
Headphones, Beauty, Musical Instruments, Business & Industrial Supplies – 6.00%
Apparel, Amazon Element Smart TV (with Fire TV), Amazon Fire TV Devices, Jewelry, Luggage, Shoes, Handbags & Accessories, Watches, Amazon Echo Devices – 7.00%
Furniture, Home, Home Improvement, Lawn & Garden, Pets Products, Pantry – 8.00%
Amazon Fashion Women, Men & Kids Private Label, Luxury Beauty, Amazon Coins – 10.00%
All Other Categories – 4.00%
That means that to make his £475($639) profit in a week he had to sell at least £6,786 ($9,120) of product in those 5 or 6 days and that is at a 7% commission.
Which is not impossible if you had an online retail business for a while, had built up confidence and loyal customers and did honest reviews of the products you promote and had TONS of traffic.
However, there is no way on earth that this product can produce this kind of result in such a short period of time with a brand-new website.
Let's take a closer look.
How does Profit With Alex really works?
Profit with Alex is basically a software that you can use to build very simple nice-looking affiliate websites to promote Amazon and eBay products.
When people click on your link they are redirected to eBay's and Amazon's websites, then if they buy, you get a commission from them.
So, it really is a software that you use to do Affiliate marketing, plain and simple.
Although you will be able to build a website within a few minutes like they claim, this will not make you any money.  The website they build is just a duplication of eBay and Amazon website's products with some of their customer's reviews copied on your website.
By doing this, you will never be able to rank on search engines and get traffic.  It doesn't work that way.  You will probably be penalized by search engines for having copied content on your website!
Oh and talking about traffic, in the video they show an "auto traffic generator"
But the reality is that it is NOT part of the program.  Here take a look inside the actual product:
The only traffic methods they give you are these short videos:
Commenting on Blog posts, Forum posting and Facebook groups.
Let me start by saying that commenting on blogs is a way to get known as an affiliate marketer, but there is no way that the people behind the blog will allow you to post product links in a blog, they will just delete your comment.
Forum posting is pretty much the same.  You will be able to post some links, but you must be a proven member of the forum in order to generate any kind of traffic.
Facebook, well we all know Facebook.  When you post something, it stays there for a few seconds then disappear in the multitude of other posts, so you would have to be constantly posting on Facebook, hardly only 20 minutes a day!
So unless you buy ads and pay for traffic to your website, you will hardly have any visitors.  And even then, they are only visitors, you still have to consider the conversion rate of those visitors, meaning, not all of them are going to buy!
To top that off, there is another part missing from the video, which is product search:
So, you are left on your own doing your own research, nothing like he explained in the video, that everything was done for you!
And then there is the fact that it is hosted on their server, so you have no control over what is put up on the website except what the program puts out!  You cannot edit anything.  It is what it is when it's done…
---
PROS and CONS
PROS
Relatively low cost at $37 but of course there are upsells (which by the way I did not check out)
On ClickBank, so there is a 60 days money back guarantee.
CONS
No control over what the website displays, not even the font.
A lot of lies and misleading super-hyped claims on the video
Missing features from the video
Misleading
Very basic training
Rudimentary website
Is it a SCAM?
It depends on how you see a scam yourself, but Yeah, with all of the false claims that the sales video has, I would classify this one as A SCAM.
Conclusion
Bottom line this product is very low quality and doesn't live up to the sales page hype, like most of those automatic, no-work-make-money-doing-nothing products anyway.
And if you do get lucky and make money with it, you are definitely not going to make $637 in 5 days like they try to convince you.
My verdict is:
I don't recommend it of course!!
These kinds of programs are made to lure you in with a super-hyped non-realistic claim to make money without doing much work, then they take your money and run with it.
You are then left alone and confused
If you are still here and read all the way through my review, then you are ready for something different!
Want to learn to actually make money online?
Do you want to leverage the Internet to make money?
Or you want to start, grow and scale an online business?
I do have a solution for you.
However, this method is NOT a get-rich-quick method, but it's a proven honest method.
Do you want to learn about Affiliate Marketing?  Do you want to start right away?
Anyone who gets the right kind of step-by-step training, tools, and support will eventually make it in the online business world.
Start your own Online Business and build it from the ground up.
IF you are ready to put in the necessary effort to make it work, there is a platform that does just that.
And you know what? IT'S FREE!
Yes, you read it, it's free to join and it can stay free for as long as you like. NO credit card required to join!
This platform will also provide you with two (2) free websites and the training you need to get your website ready to take on the Affiliate Marketing world.
This platform is called Wealthy Affiliate. It is my No. 1 recommendation.