Is List Leverage up to what it promises? Every online marketer knows the high value of a great email list. This review tells you what you need to know about this system.
This system has been put together by Matthew Neer a few years ago and he gave it a new twist lately so people started promoting it again. I decided to check it out and see what the fuss was all about.
On the sales page they talk about creating a "large-high-quality email list through leverage very rapidly."
Is it really worth your money or just another one of those low-quality systems or even a plain old scam?
My experience tells me that automated systems are usually not worth the time and money, but let's not get ahead of ourselves here.
Read on and find out what List Leverage is all about!
---
How about a proven method for developing different income sources from your blog. Not a get-rich-quick scheme, but actual state of the art training that works and a way to make money online that uses proven strategies and what works to be successful! I use this method and platform to make money while I sleep!
Click here to find out about My No. 1 recommendation
---
Summary
Name: List Leverage
Website: https://www.listleverage.com
Owner: Matthew Neer
Price: $49/month or $398/year plus other hidden costs
Recommended: No
Overview
Matthew Neer is not at his first attempt here to create a digital product that promises "quick and easy money". Actually this system has been out for a while, but it seems to have gained popularity lately.
I am not a big fan of Matthew Neer and his methods.
Speed Wealth System and Viral Cash App are just two of the digital products I have reviewed from him and they are also very hyped up and selling the "get-rich-quick on autopilot" method. On a positive side though, he does not hide behind a smokescreen, he's a real person and a very successful 7-figure internet marketer.
That being said, I have to say that I am very skeptical when it comes to systems that claim they can do something, or make you money "on autopilot".
I really disagree and despise these systems that create a big hype just to sell their product.
However, I have to say that I don't disagree with everything that is being said in this one.
Building an email list will bring your online business to the next level, that is a fact, and every online marketer knows that "the money is in the list" some will even call it their own private ATM.
So let's dig in and see what is List Leverage.
What is List Leverage?
List Leverage is a traffic generating product teaching you how to become "your own traffic source" and build an email list of targeted buyers that you actually don't have to build yourself. They call this a "viral lead pass up system".
But what is a pass up system?
Well, it's made up so that when you join, the way to make money with it is you have to promote the system itself to others so that they, in turn, do the same. You are actually selling the product you have just bought.
Once you have "convinced" 5 people to join, the fifth lead is given away to your up line. In other words, you "pass up" email addresses to your up line. The same applies to your own referrals, meaning that you get 1 lead from every 5 of theirs. And so on…
The theory of this system is that if your referrals get lots of leads, you will build your email list without any efforts.
In practice, however, if you think about the way the system is sold, everyone should be just "waiting" to build their email list on autopilot.
Therefore, not much should be going on unless one of your referrals would be really killing it, taking massive action and having a lot of success. But why would they do it if in fact everything is supposed to be on autopilot?
So, to describe briefly what is List Leverage?
You join the List Leverage system, then you promote the List Leverage system and you get your referrals to do the same.
Sounds more like an MLM (Multi-Level Marketing) or and even a pyramid scheme to me…
The first thing you need to do is to connect your email autoresponder and the landing page to the member's area, this is a must if you want to take advantage of the full program.
You will have to invest a lot of money on traffic if you want their "pre-built landing page" to generate the conversions needed to get referrals to your landing page.
The system itself promotes that they also provide traffic, but it's part of a traffic exchange platform, which in my opinion, has no quality traffic, therefore the conversion from the traffic sent to your offer is very very low (below 1%).
That is basically the whole system.
---
If you are fed up (like me) of trying these very low-quality systems that promise you riches overnight without ever delivering what they sell, let me tell you how I make money online and how you can take a FREE test drive – No credit card required.
===>Check out My No. 1 recommendation<===
---
What to watch for
Spam and more spam – When you join, you give out your email address, well guess what's going to happen, your inbox will be flooded with emails from other members as well. And I'm sure that not every member joining are all well-intentioned and worry about spamming your inbox…
See, the way the system is set up is that you basically only have to promote the system to supposedly make this work.
When you join and give your email address, in turn when someone joins the List Leverage system with your affiliate link the person you have just referred will get added to your email list and 5 other random ones.
Then when the person you referred (your referral) promotes the List Leverage system too. If they do manage to get their own referral, then, through the link they promote their email list will be included in the 6 slots (at position 6) and yours will also be included (at position 5). And so on. I hope this makes a little sense.
Will not really work as promised – The idea behind this system is to build a huge email list, and once created, it will, in turn, become a huge income potential for your online business. The reality is that your email list will not be as profitable as you may think.
Today's statistics show that the "click to open rate" is very low and most likely, the email you send from within this system will be directed in the spam folder of your subscriber's inbox. Email spam filters are triggered by specific words, phrases, and symbols in the subject line of the email content you send out. If the email is spammy or uses these specific words, not much is going to happen for you.
Extra Costs – You will definitely need more "tools" than just this system to make it work. An email autoresponder is one, paid traffic (paid advertising, pay per click and solo ads) being another, and this will not necessarily mean that the revenue generated (if any) by this system will cover the cost of these extras.
Pros & Cons
PROS
Relatively low cost to join
There is a real owner (Matthew Neer) and not some spokesperson hired to tell a story.
Some potential to build an email list, although the quality of the list is not certain here.
CONS
High advertising cost
Could be perceived as spam
Low click to open and high unsubscribe rate
Low conversion rate
Hyped up and not really what it is sold to be and low value for the money you spend
Conclusion
Although it might seem to be a good idea and method to create an email list without much effort, the actual potential of making money with such a list is not what it seems to be. It is sold as an easy way to build your email list, but in my opinion, this is an exaggerated claim!
A real email list built from your own method will be much more effective than this pass up system, I can tell you that much!
Now to answer the real question, is List Leverage a scam? Well no! It's not a scam.
However, like other systems by Matthew Neer, I am not impressed by this system and it hides a whole lot that is not being told out front. They tell you that you are going to make fast money, but the reality is not what you are being told!
To make money online is not easy, and most people quit before they even start. And with systems like this one, the only ones making money are the creators, no one else.
In conclusion, I do not recommend this system!
My suggested Alternative
Are you ready to make a choice to live the life you always wanted? The life you know in the depth of your being that you were born to live? The choice has always been yours!
If you are ready, you will need a real method to create your online business! One that you will build yourself!
Not some pre-made and copied landing page not worth too much and really hard to monetize!
A few years ago I took a decision and got on board a platform that has made me a successful affiliate marketer!
Affiliate Marketing is simple and very cheap to start. All you need is a computer, the internet and a will to make things happen. When you become an affiliate marketer, you promote other people's products and when someone buys through your affiliate link, you get paid a commission ranging from 1% to 75% depending on what product you promote.
The affiliate marketing industry continues to grow as the online spending increases, and the number of companies investing in their affiliate programs is constantly increasing. To be completely honest, there has never been a better time to get involved in Affiliate Marketing!
But you will need guidance.
When starting an online business you will need three important and necessary elements:
Website(s), Education And Expert Training.
This platform will provide all of it plus all of these advantages: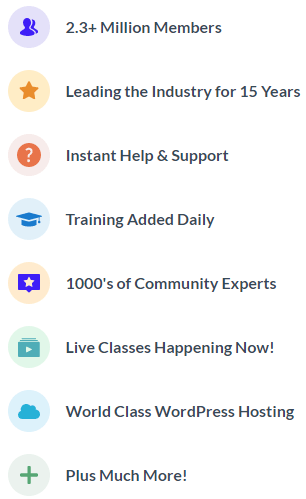 With Wealthy Affiliate, you will get all of this along with my personal support to guide you along the way.
This place won't lie to you and tell you things just to make a sale!
I also want you to have my Free eBook just to thank you for being here on my website:
Click on the image or the button below and get your own copy.
And I will see you on the inside!
As always, if you have any comments or questions, please do not hesitate to use the comments section below!