In today's Money Looper review, I'll provide you with my thorough analysis of the DFY system and help you determine whether it is the right program for you or not.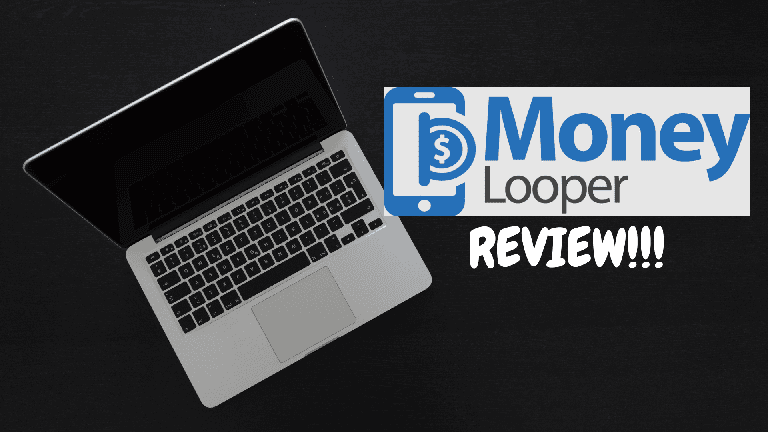 A warm greeting to my Money Looper Review!
I covered this digital program a few years back, and I really don't recommend it because of the many red flags it possesses. You can check out the previous review by clicking this link if you are interested.
If this is your first time hearing about the program and you want to know whether it's a good one to invest in, or you have tried them before but with no success and you want to know if the updates would really help you, then you'd be happy to know that the article I have prepared for today is especially just for you!
But before I officially begin, indulge me for a moment to share with you firstly that I am NOT a representative of the site, and I will NOT earn commissions or gain any benefits if you end up buying them.
This article is my honest review of the site to help you determine if they can indeed help you reach your financial goals in life.
So without any further ado, let's get right into it…
Who is the Owner of the Money Looper Site?
Similar to my previous article about the Money Looper site, they still have not disclosed the developers of the program. They still pose the fictitious name of Mike Dee.
He is not a real person, and there was even no image of him or any reliable background about his credibility. A common observance I have about some of the scam programs I have reviewed in the past, like AffiliSites Pro and Beast Funnels, is that they would either get a free stock image or hire an actor and pose to be their pseudo founder and owner.
Money Looper Site is no exception. The "Mike Dee" fictional character is just a foolish attempt to make their business appear legit.
Also, you have to take note that the ABC news in the introductory video isn't talking about Money Looper. The news coverage is about work-from-home jobs in general!
As the clip progresses, you'll find the topic of people gaining high income on YouTube content monetization. And there was no mention whatsoever of DFY systems! Again, it's their crazy attempt to give them money in exchange for an overhyped but very low-quality program.
Beyond the exaggerated claims, there was no further background about who they are and who are the actual owners of the site.
With this in mind and considering that they make lots of false promises, does it mean that the program is a scam? Or is there any chance that they're legit?
Let's continue with my Money Looper review and learn more about the mechanics of the program…
What is Money Looper?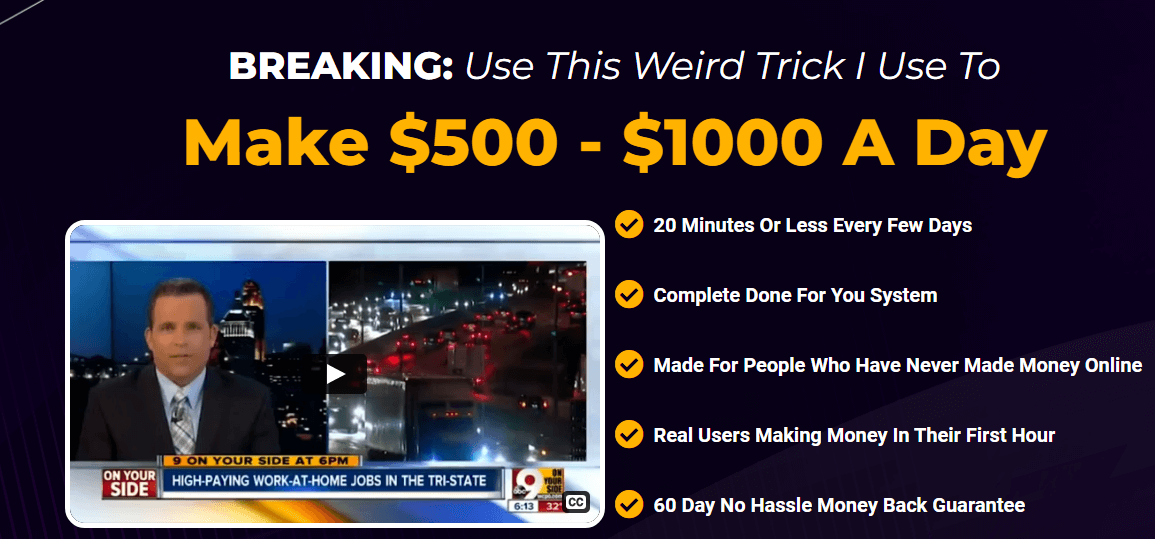 Money Looper is your typical done-for-you system. And nothing really changed since the last time I reviewed the program. A usual practice of many DFY systems as such is that they continually rehash the program whenever the bad reviews about them are starting to pile up.
Anyway, I will use this opportunity as a refresher in order to solidify why the Money Looper DFY system is not for you and why you must continue your search for better alternatives, such as my best work-from-home recommendation!

The primary selling point of DFY systems is that everything is already made for you—premade websites, premade sales funnels, video sales letters, etc. Thus, this is the reason why they are called done-for-you. The concept is that you already don't have to do anything and all you have to do is wait for the money to pour in.
If you have been in the digital marketing business, you know that this isn't exactly the case. Now, you have to take note that prominent search engine sites and social media platforms like Google, Yahoo, Facebook, and Instagram have a strict policy on duplicating materials.
Now, these materials are deemed right away by these platforms as spam and potentially risky to their users.
As a result, it would be very challenging for you to attract any traffic at all, even with the use of paid ads or solo ads. With this being said—generating any high and reliable income is almost next to impossible. So yes, that is that!
What's Inside the Money Looper System and How Does it Work?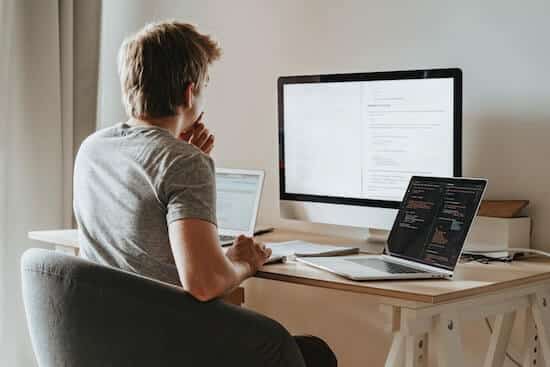 Now, if, for some reason, you avail what the fictitious Mike Dee character offers, you will initially get the following videos as an introduction to the core feature of the program—
Picky domains
Card Pool
TV Ratings
The following are some of the methods he talks about on how you can earn from their program—
First Method: Money Loopholes
After you have been introduced to the main parts of Money Loopholes, you will now gain access to the actual programs—
Picky domains – as the name suggests, you get some domain ideas for a Shopify website. Again, the content of the website is duplicated and not optimized to rank on social media and search engine sites.
Card pool – it's just access to random GPT or paid survey sites like Survey Junkie. Honestly, you can go directly to them instead of paying about $40 to access them.
TV Rating – he claims to help you earn money through a TV survey site called Nielsen. I'm not sure what he's talking about, but it has nothing to do with television. It is just their fancy way of drawing interest in their audience
Can you find these features helping you become financially stable? Of course not, right? The income from GPTs and survey sites alone won't be sufficient to support your lifestyle.
Second Method: Emergency Cash Generator
From the name of the program itself, some of you might have got an impression that you will receive some sort of cash assistance in case of emergencies. Well, if you're one of them, then you're dead wrong.
Emergency cash generator basically refers to another GPT site called CashCrate which I previously reviewed as well. I don't recommend them as well because it basically links you to various GPT and PTC pages which you can pretty much do on your own. You can click the highlighted link if you want to read about them.
Third Method: Craigslist and Clickbank
The third part teaches you how to gain money from two of the most popular marketing platforms such as Craigslist and Clickbank.
Fourth Method: Forgotten Traffic Plans, List Building, and Clickbank
Yes, it's another section on Clickbank. But this time, it also includes lessons on leads and building your sales funnels.
Fifth Method: Facebook Article Sharing
I'm not really sure why this is a thing with Money Looper. In today's generation, I am certain that anybody is familiar with Facebook sharing and using affiliate links as you are sharing the content. But if you are not sure how to do it, you can always turn to YouTube or Google for absolutely no cost to you.
I'm not a fan of DFY systems, as you might have already surmised. And this is because of their overhyped claims and cringey marketing pitches. In reality, they're low-paying and full of upsells.
I have had several of them in the past, and none of them are exactly good, and I do not recommend them. You can check out if you like—MYIGGA, Mastering Online Income, Multiple Income Funnel, and List Leverage, just to name a few of the DFY systems I have reviewed in the past.
Here is the full list of reviews if you like to see the other programs I have covered.
How Much is the Program?
On their landing page, you'll see a list price of only $27. However, this isn't exactly true. Once you have registered for the program and are ready to pay the price, you will soon find out that it's actually $37.
The misleading cost doesn't end there. You also have to account for the upsells, which have a total average cost of $197. As you see, you will end up spending more money than saving anything at all.
If you are looking for a better source of income that's way more budget-friendly and cost-effective, then all you have to do is to check out my best work-from-home recommendation!

Is Money Looper a Scam?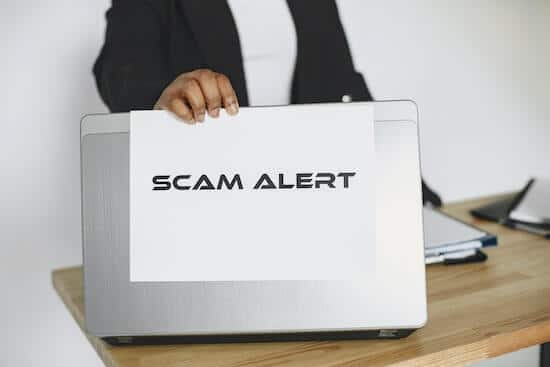 Just like my previous review, Money Looper is heading in the direction of a scam. Although it only has a face value of $37, it's actually $197 when you add up the upsells.
What I LIKE about Money Looper
Money Looper doesn't have anything positive traits that could lead me to recommend them in any way. It's better to search for a better alternative if what you're after is a stable source of income in the comfort of your own homes.
What I DON'T LIKE about Money Looper
Now, the following are some of the things I don't particularly like about Money Looper—
Not Enough Background
They are not willing to disclose and share even the most basic of information about the business, such as its true owners, founders, headquarters, etc.
Fake Owner
Mike Dee is not a real person. It is actually a fictitious name to make the business appear legit.
Exaggerated and Misleading Claims
They make huge claims, but there is no proof of income to support them.
Upsells
There are tons of upsells that will lead you to spend a total amount of $197 instead of just the $27 indicated on their landing page.
Final Thoughts on My Money Looper Review
I hope my Money Looper Review has provided you with the answer you need about the subject matter and whether the DFY system is a good program for you or just another scam you have to avoid.
Overall, I honestly believe that DFY systems are not a good option if you are opting for a stable source of income from home that can help you support your lifestyle.
What makes Money Looper a little worse compared to other programs is its use of exaggerated and misleading claims to generate leads. Plus, they are unwilling to share basic business information that should be available to the public.
With this being said—I am giving Money Looper a rating of a big fat 0 out of 10 stars—

A Better Alternative to Money Looper
Another misconception about the DFY system is that they advertise themselves as affiliate marketing. However, this isn't exactly the case because DFYs are more of referral marketing than affiliate marketing.
For instance, referral marketing rewards existing members through successful invites. On the other hand, affiliate marketing is focused on representing a number of brands that best suit their niche. There is no limit on the number of products and services they can market, while referral marketing is more of a loyalty basis.
The following is a video reference to further explain the mechanics and advantages of affiliate marketing—
If you truly want to learn affiliate marketing, then you have to check out my best work-from-home recommendation!
I believe we've covered sufficient grounds today!
And to show you my deep appreciation for you just by being here today, I'm also giving away my book to help you kickstart your affiliate marketing venture and gain traction as early as possible—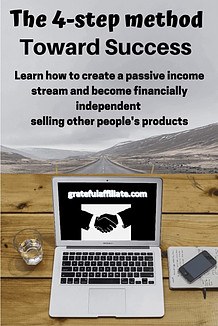 Thank you for the time to read my Money Looper review! I hope to see you in the next topics!
Peace!