If you are on here today is because you probably got an invitation in your inbox, like I have, to try this "new" digital product called Money Looper. You are probably wondering if it's legitimate or not.
From what I understood in the email, it is supposed to help you take advantage of "Internet Marketing Loopholes" and it claims that it will help you make money online within 8 minutes of starting out.
A little fast to start making money don't you think?
So I took the time to review this system so that you can make a sound decision on your own after reading my review.
---
I can say right away, before going any further, that this system is not what it's claiming to be.
If you are looking for a way to make money online, I suggest you take a look at what platform I use to make money while I sleep. 
I have created a passive income stream following their step-by-step instructions.
---

My Analysis:
Name: Money Looper
Owner: "Mike Dee"  This is a pen name.  Nobody has claimed this system as their own, so they are hiding behind a smokescreen!
Price: $37 + $197 upsell
The sales video is pretty much like I anticipated and is like the ones I have seen before.
The first thing I noticed on the sales page was that they claim that this is a "confidential video".
I can tell you right away, that there is NOTHING confidential about it. It is a sales video! Check again in a few days and the video will still be there.
I started watching the sales video. Right away the sales pitch makes it sound like it's so easy that it's really tempting to try it.
It claims that you can make "Huge Automatic Income" using this system.
All you supposedly need is a computer and an internet connection and you are on your way. You will be doing this "Ethically Using other people's effort"
And by the end of the video, the spokesperson says that their name is Mike Dee, but we have absolutely no proof of who this Mike Dee is and I could not find "him" on any search engines or anywhere else on the Internet.
Actually, if you look at the fine prints at the bottom of the sales page you will see a disclaimer that says that Mike Thomas (Not even Mike Dee like in the sales video) is an abbreviated pen name!
In his "story" he says that he has found a bunch of Money Loopholes and that he will show you, for a minimal fee, how to use his secret method of finding them on the internet
Oh, and he promises $70 at the end of the video! But I can tell you right now, there is no money waiting at the end.
It's a simple trick.
At the end of the video, he says that he's going to use $70 to cover your initial fee so he makes you believe that you have a $70 discount.
But what is this Money Looper anyway?
If you think that the sales video will tell you what it is, think again!
All it does is tell you a long story of what it should be doing and a lot of Blah Blah, without ever showing what it is exactly.
So it is a "Buy before you actually know what you are buying" kind of system.
They are good at showing money claims though. But if you look up close, the money claims are from 2009 and 2013!!!
I thought that this was a "new" system!!!!!
How can someone be selling a "new system" and showing revenue from 2009??? That is beyond my comprehension!
The next screenshot is from another affiliate product and the revenues are from 2013:
By this time I had seen enough to know that it was going to be one of those systems that is going to be too good to be true!
Even when you give out your email address, you are brought directly to a ClickBank checkout, there is no way of knowing what you are buying!
---
Fed up with systems that are not worth your time and money?
Check out my No. 1 recommendation to make money online right here
---
The Money Loophole system itself is composed of different kinds of "money-making" ways that they show you.
Inside you will find:
Moneyloophole pickydomains – This is some weird trick where you basically take something from one website and move it to another website and resell it. It says that you could make like 25 to 50 cents per transaction doing this. So you will have to do it over and over and over again before making any kind of decent money. Imagine!
Moneyloophole cardpool – The second "loophole" has to do with taking surveys! He tells you to take surveys like on Survey Junkie, which will pay you in gift cards, then you would resell these gift card! I really don't see how someone could make too much money with that!!! It takes forever to make a few bucks taking surveys!
Moneyloophole nielsen – Nielsen is a global information, data, and measurement company. Using this method (if you sign up with Nielsen) you could probably make like $50 in a year, and have them track everything that you do!
Then there's a bunch of "Emergency Cash Generator" videos:
Basically, these are videos showing again how to make money taking surveys and also using ads on Craigslist in combination with an auction site to generate money.
Then there are videos on traffic, building an email list, and another on why you should be using ClickBank!
There is a "Part 2" which is about "Facebook article sharing".
Here you are supposed to benefit from their system by sharing "already written" articles on Facebook. Now within these articles are ClickBank products ads that will give you a commission if someone decides to click on them and buy. The problem is that these articles are old, outdated, and are violating ClickBank's terms of Service. Most of the links are not even online anymore!
I clicked on a few of them and this is what I got:
Sorry but, you don't need this system to do this! All you need is a Facebook Page and a ClickBank account. You can easily do this on your own with a little research on Google.
You will also get some general information, ebooks, and tools in PDF format about affiliate marketing, email marketing, video marketing, and online business ventures, which are most probably PLRs anyway that you could get anywhere else if you do a little research.
There is not much else in there except a few Q & A and a place where you can send a message to their "support"
Something else I noticed and that doesn't surprise me is that in the sales video, he mentions that he wants you to send him an email as soon as you start making money. He even goes as far as saying that his phone number would be there to text him. I haven't seen his email or phone number anywhere at all!

PROS and CONS
PROS
Being sold on ClickBank you have a 60-day money-back guarantee
The price is relatively low at $37
Affiliate Marketing is a legitimate method of making money online
CONS
Way too many red flags
The owner is hiding behind a pen name
The "Secret" Money loopholes are not really anything but simple methods that will not make much money.
Outdated training and methods
Hyped-up, misleading, and outdated money claims
Conclusion
So bottom line, this system is all about showing you how to make a little bit of money here and there, but nothing in here is a secret, and all you might end doing here, if you decide on trying the system, is lose your $37 if you don't request a refund before the end of your 60 day trial period, which is by the way guaranteed by ClickBank and not Money Looper!
There is also the fact that there is a lot of outdated information, plus the money screenshots, that tells me that this system is a rehash of another older product, and all they did was change the name. Probably because of all the negative reviews they have received in the past.
There was a system that came out around 2009 or 2010 called Mike Dee the Rich Janitor, and from the screenshots that I have shown you, it is most probably the same person behind this system with a different name for the same system.
Is the Money Looper a scam?
Not exactly. You do receive "something" for your money and you do have a way to get your money back.
In this situation, I have to call this one a VERY LOW-QUALITY SYSTEM!
I give it a 1 one 10 just because you can get your money back!
My conclusion and personal opinion are that I don't recommend this system!
At the end of the day, you are better off doing some research on your own, and you will probably end up with better information than this system will ever provide.
Is there an alternative?
Of course, there is.
I have been using a platform to make money online for the past three years, and it has a proven system that anyone can use.
It is also about affiliate marketing, but they teach you "the how and when" in a real and true way.
It is NOT a get-rich-quick method, it is a proven, simple yet powerful way to create your online business the right way, from the ground up!
Wealthy Affiliate will provide you FREE of charge, 2 (two) websites to start your own online business, and you will also have access to 10 free lessons on how to set up your online business.
In order to succeed online you need to put in time and effort, there is NO secret to that.
This platform has over 1.6 million members and these "members" are like-minded people that are more than willing to share their knowledge and expertise with other members. We call it the Wealthy Affiliate Community because it is! When you join, for FREE, this platform will become your home on the Internet.
You will be part of this community, but also an independent Online Entrepreneur.
Take action today and click on the button below to claim your own spot and create your own Online business!!
When starting an online business you will need three important and necessary elements:
Website(s), Education, And Expert Training.
With Wealthy Affiliate, you will get all three along with my personal support to guide you along the way.
I also want you to have my Free eBook just to thank you for being here on my website: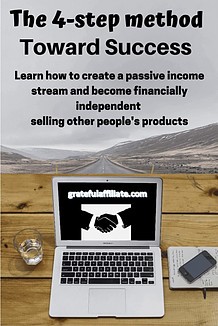 just click on the button below:

---
I hope that you have found my review of value and that you will make the right decision. Don't forget, when you sign up with Wealthy Affiliate, I will be there for you every step of the way and will be your personal coach!
Let's do this together!