If you want to find out about this new system called My Home Cash Club, then you have come to the right place. Take a look inside the member's area before giving out your credit card number.
In this review, I will tell you exactly what you are in for if you decide to purchase this digital product, by going inside the member's area and telling it like it is! No surprises here!
---
I can tell you right away that I don't recommend this system! Actually, I suggest that you stay away! However, if you are looking for ways to make money online, I do have a great method that has been making me passive income (aka – making money while I sleep) and I share this method with you. It's absolutely FREE (NO credit card required) to check out and it's my No.1 recommendation.
Click here to find out about My No. 1 recommendation
---
Summary
Name: My Home Cash Club
Website: MyHomeCashClub.com
Owner: We have no idea. The member's area has an avatar that calls himself "Brian"… That's all I could find as to who the owner really is.
Price: $47 with a bunch of upsells
Score:
 1-star rating just because there is some video training included…
Recommended: NO WAY!
Overview:
This digital product is supposed to be teaching how to Dropship products from the comfort of your own home. When you go to the actual sales web page you get very little information about what you get for the money they want you to dish out except they say you will get an eBook and a course on dropshipping:
Then they say all you have to do is follow a three-step method:
First off, this one is different from the reviews I usually do. It has no sales video, just a static sales web page. Also, it is not affiliated with any of the big names like ClickBank or ClickBetter. It also has very little information about what you would get if you decide to purchase this digital product for $47.
It has its own payment section saying that it has a 90 days money-back guarantee and that all you have to do is to call a phone number or email them at support@myhomecashclub.com.
Well, I called the phone number and, to no surprise of mine, it has a generic message saying they are "busy with other customers" and to leave a message, or to send them an email at support.
Then I went and checked the email at Mailtester.com and this is what I got:
So if you do decide to give them your credit card number, good luck on being reimbursed if you are not satisfied.
My experience with these products is when they are not affiliated with a network like ClickBank or ClickBetter, it is very hard to get reimbursed. They simply ignore you!
Now, let's see what's inside the actual product and find out if it's worth your time and money.
---
If you are fed up (like me) of trying these very low-quality systems that promise you riches overnight without ever delivering what they sell, let me tell you how I make money online and how you could also start your own online business for FREE. ===>Check out My No. 1 recommendation<===
---
What is My Home Cash Club
Well, I was kind of surprised to find out what it is exactly. They tell you that you are going to learn about dropshipping on their sale page and sell you an eBook about it. But once you get inside the member's area, it's a totally different story!
Here is what you will see when you get in:
It's really confusing.
When you get in the member's area, you will see that it's all about Affiliate Marketing!
It has NOTHING on Dropshipping!
These are NOT the same.
I am an affiliate marketer and I don't do any kind of drop shipping so I know that these are very different!
I find it very odd that they say one thing on their sales page and then give you a completely different product when you actually purchase it!
Affiliate marketing is promoting someone else's product and you get paid a commission (sometimes up to 75% of the selling price) when you get a customer to buy that product through your affiliate link. It is usually done on a website, a video, or an ad of some kind.
Dropshipping is more of a brick-and-mortar store model, but in the digital world, where you sell physical products through a website and the vendor (your supplier) sends it directly to the customer. You make money by putting a mark-up from the purchase price to the selling price.
Anyway, as you can see these are completely different business models.
In any manner, let's dig in and see what you will get for your $47.
My Home Cash Club Revealed:
The first thing that popped out was this big white ad about calling your personal coach. And it kept on popping over and over again. I tried calling the number and got a recording that they were not available at "this time"!
I believe that this is Step No. 1 of Phase 1
I would say that this is just a big smokescreen making you believe that you have a one-on-one coach with you. If they ever do answer, I would guess that they would try to convince you to buy some kind of upsell. Nothing more!
But this is just the tip of the iceberg!
I looked up the actual "training" and realized that this is just a cheap and confusing setup.
The first part which is called #1 Business model which is Step No. 2
All they want is for you to sign up for an affiliate account with ClickBank, ClickBetter, and JVZoo.
It's a short 12-minute video about how to sign up and create an account with the three Affiliate Marketing Platforms I've just mentioned. It's actually very simple to sign up with them and you don't need this video to learn how to do it! Really!
The next step is Step No. 3 – #1 missing ingredient
This is another sign-up!
They want you to join MaxVisits.com through their affiliate link so that they can make money from you again!
MaxVisits is a website where you can order traffic to your website.
This is not free! You have to pay a fee to get traffic directed to your website. The prices vary on the amount and the kind of traffic you want. It varies from $12 to $384 USD depending on how much traffic you buy!
If you decide to buy traffic from them you have to consider these facts:
There is absolutely no guarantee the traffic you buy will convert into buying customers, and the quality of this traffic can also be a waste of money…
These "quick fix methods" are not the real way of creating a sustainable online business. They will produce traffic, yes, but will it be worth it? My experience says NO. I tried buying traffic in the past and all it does is increase your "bounce rate" and rarely produce any monetary results, except spending (or wasting) money!
Then they direct you to Phase 2, which are called Advanced steps
This is another attempt to make money with you with their affiliate link.
They want you to join MaxBounty Hosting through their links and "create your own website".
This is what the site is supposed to look like:
However, when I clicked on the green button I got redirected to a gambling site!!
So I tried to enter the URL directly and got this:
There are no video instructions just a few lines saying that websites are an important part of any business.
Conclusion: It's just crap!
Then you are asked to go to Advanced step 2
In this "step" you are asked to join (through their affiliate link again) an email autoresponder called Getresponse.
There is a 2-minute video giving some instructions on how to create your "free" account. However, this is just a trial period. After 30 days you have to choose a monthly plan and pay at least $15 per month.
There is some truth in this. An email autoresponder is a very important part of an online business. However, there is a lot more to say on this subject than a 2-minute video explaining how to set up your account. It's a subject on its own. All they really want to do here is to make money from your subscription and leave you hanging…
Next up Advance Step 3:
For the first time, they have a 23 minutes video on how to set up and how to use:
Okay. First, let me explain what Click.org is.
It's an intelligent tracking and optimization tool that you would use to keep track of people that click on your offers. Click tracking is an important process if you are running ads and you want to know which campaigns work and which one doesn't. From what I understand and from the research I did on this digital product, it is a good way to track your offers, especially if you run email marketing campaigns or Solo Ads campaigns.
Now, my opinion on this is if you are just starting out in affiliate marketing (remember, we are not into dropshipping like the sales page was telling us), instead of spending money on a tracking tool, you should focus on building your online presence first, and creating content that your audience is looking for. Once you become an authority in your niche, then you could look into tracking your offers.
This is just another way for the creator of this supposed training to make more affiliate money. Click.org does have an affiliate program that pays people that promote them and join them through their affiliate link, and it pays well too. That is the only reason that they created a 23-minute video, not to help you but to make money.
Phase 3
This phase is what they call the VIP section.
The first set of video training is called WordPress training video.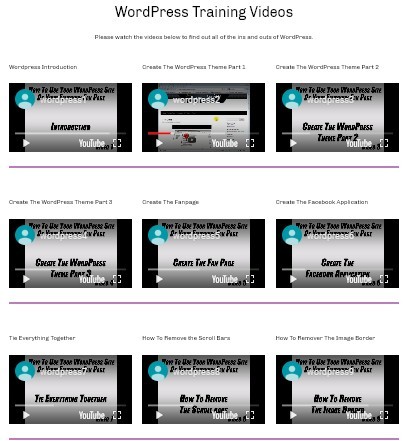 There are 9 videos all ranging from 2 to 9 minutes long.
I started looking at the first one and realized that this "training" is something the creator of this system bought. Most probably a PLR that was slammed on here. The worst part is that it's showing outdated (FROM 2015!!!) training on how to create a WordPress website within a Facebook fan page??
I realized right away that it was not even worth the time watching it, so I skipped to the next section:
Affiliate Marketing videos
Again here is a good example of a poorly arranged system using outdated videos from 2015 that are just PLRs!
The next section has a ton of videos (28 in all) and is called Facebook training videos
I checked the first video and of course the same thing here again. All videos are from 2015.
NOTHING WORTH WATCHING! and not even worth showing here!
The next 2 sections Website Traffic Training and EBay traffic training are, you guessed it, PLRs from 2015!



So there you have it, folks, the whole system is outdated training on affiliate marketing stuffed with affiliate links for the creator to make money. Which is the only person who will make money with this!
PROS & CONS
PROS
There are absolutely no pros on this one. It's pure crap!
CONS
Nothing about what the sales page talk about (drop shipping). It's an outdated and disorganized affiliate marketing course!
Unrealistic money claims
False scarcity, this page has been online for years now!
No money-back guarantee! You pay and forget about your hard-earned money! No way of getting it back if you are not satisfied!
Outdated videos from 2015 and broken links that don't work!
Fake "One-on-One Coaching"!
Conclusion
There is absolutely nothing good to say about this "system". It' just a bunch of PLRs slammed together on a membership website. It's full of affiliate links to make more money for the creator and nothing of value to whoever buys this digital product!
STAY AWAY!
That is my advice to you! It's really not worth your time and/or money!
How about a Method that works?
I have been in your shoes! I have tried a bunch of cons and rip-offs like this one only to waste my time and lose money.
But it's not hopeless!
There are legit ways to make honest and real passive income online!
Almost 4 years ago, I found a platform that teaches affiliate marketing the RIGHT WAY!
I use it every day and I am making money "while I sleep". Affiliate Marketing, when applied the right way, with the right method, works!
The best part about the method I use is that it takes very little capital to get started. Actually, you can test out the system with a Starter Account, absolutely FREE.
No credit card is required!
You will have access to video and text training that works, a free website to get you started, and a community of over 1.4 million other members that are part of the helpful and creative community!
When starting an online business you will need three important and necessary elements:
Website(s), Education, And Expert Training.
With Wealthy Affiliate, you will get all three along with my personal support to guide you along the way.
I also want you to have my Free eBook just to thank you for being here on my website:
Click on the image or the button below and get your own copy.

As always, if you have any comments or questions, please do not hesitate to use the comments section below!