Welcome to my Secret Online Goldmine review! For today's topic, I'll talk about whether they're a good investment or a scam that you should avoid!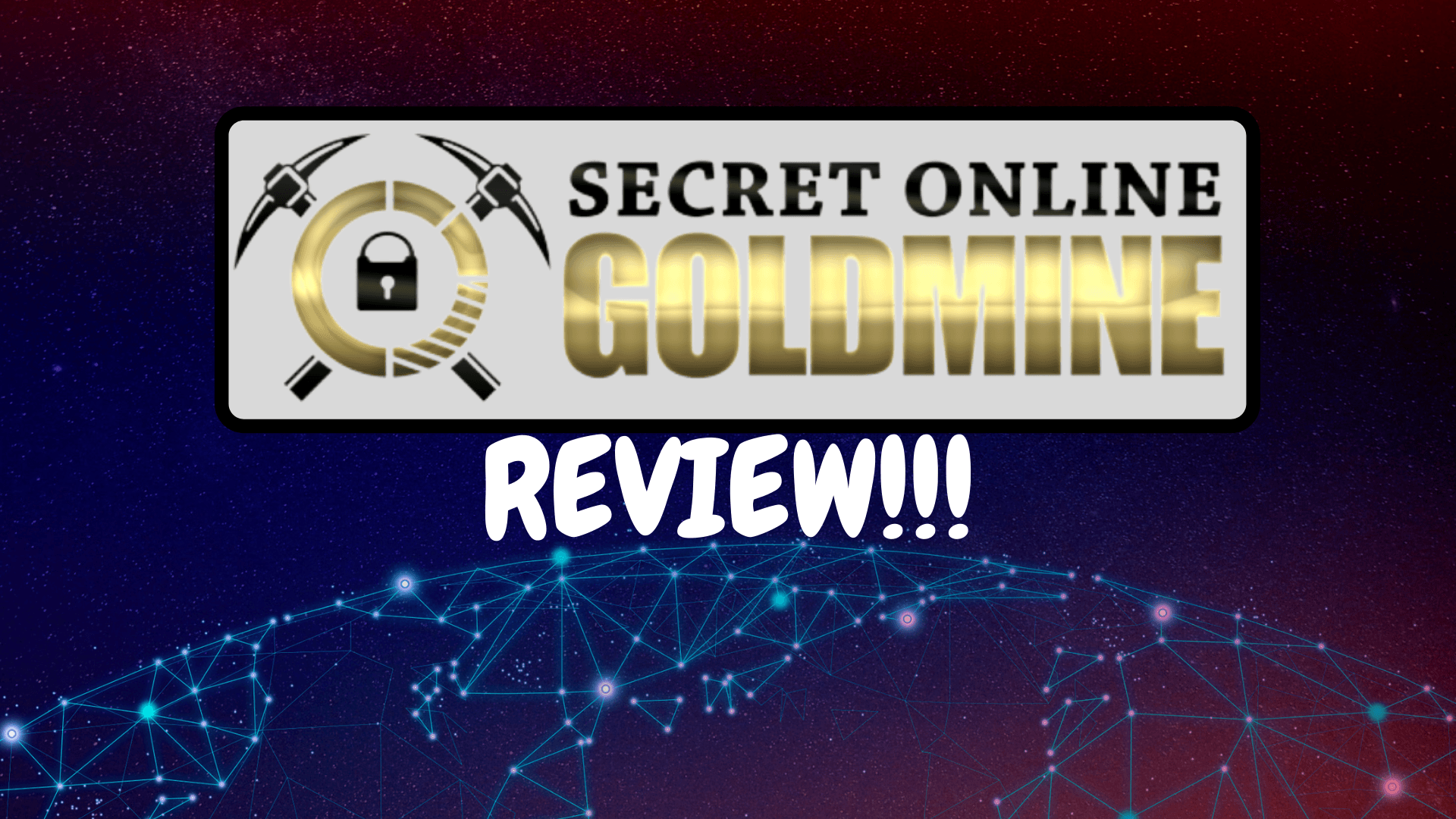 Welcome to my Secret Online Goldmine Review!
You might have stumbled on this particular program due to an email you received this morning.
Although the program suspiciously feels like a scam right off the bat, it might have still caught your attention and led you to want to know more if it's indeed legitimate or just another scam.
If this is the case, you definitely have come to the right place!
In this article, I will help you determine whether the program is legitimate or just another scam that you have to avoid.
But before I begin today's topic, allow me to disclose with you that I am NOT a representative or affiliated with Secret Online Goldmine or in NO way promoting any of their digital products.
Today's content is my unbiased and honest take on the program and whether they're even worth your while!
So without further ado, let's begin today's topic…
Let's Meet the Creators of Secret Online Goldmine
Like any bogus program, Secret Online Goldmine starts off with their fake founder—April Collins.
Yes, she's not real!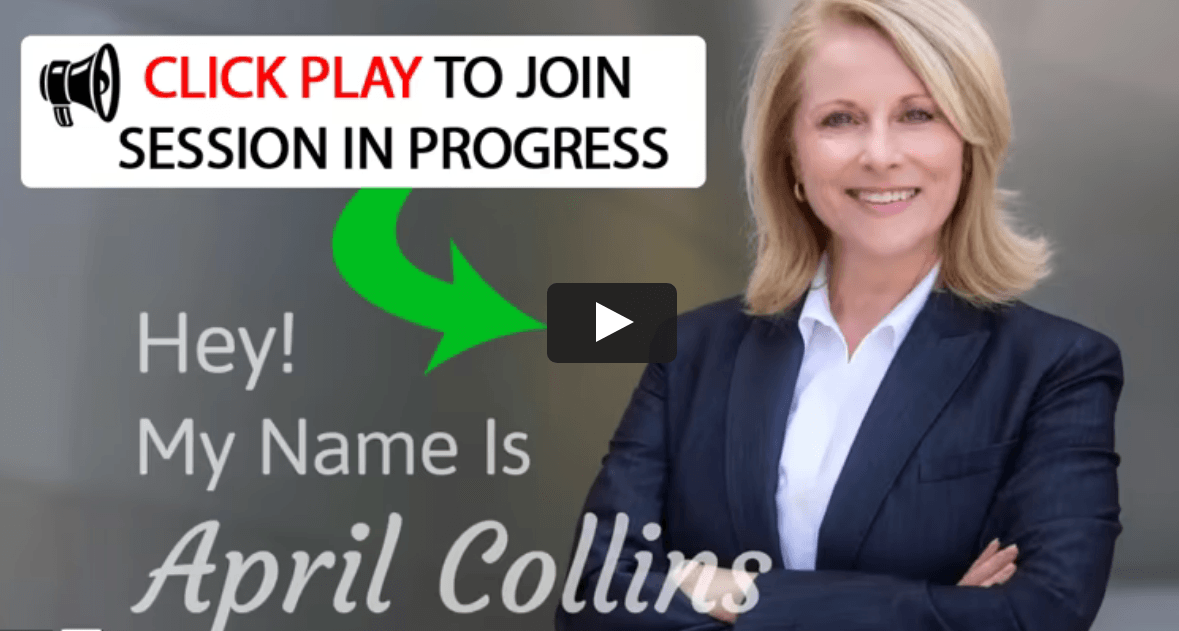 The image you see on their landing page is a stock photo as shown below—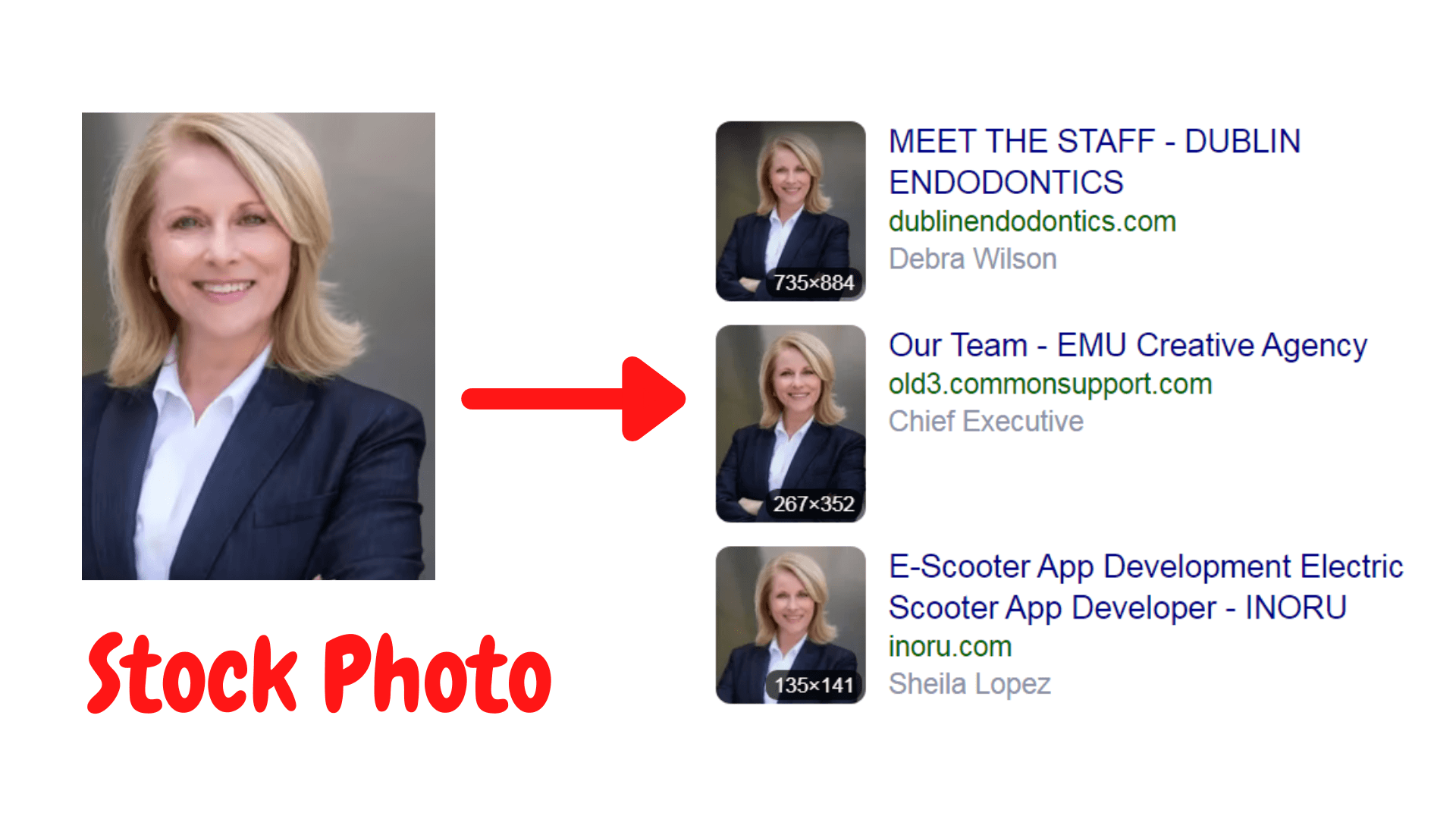 So yes, this is an obvious huge red flag!
If they're a legitimate business operation, then there should be no reason not to be transparent with their true founders or current owners.
But their secrecy doesn't stop there!
The creators of the program are also unwilling to disclose even the most basic of information about them, such as the date of inception, parent company, or even its headquarters.
Of course, there are some things that they have to conceal to protect the corporate interest, but do they even have to hide such basic information from the public? How can a potential client verify the credibility of the business if such data are not present?
However, I checked their IP address and found out that they were established over two and a half years ago, on February 21, 2019—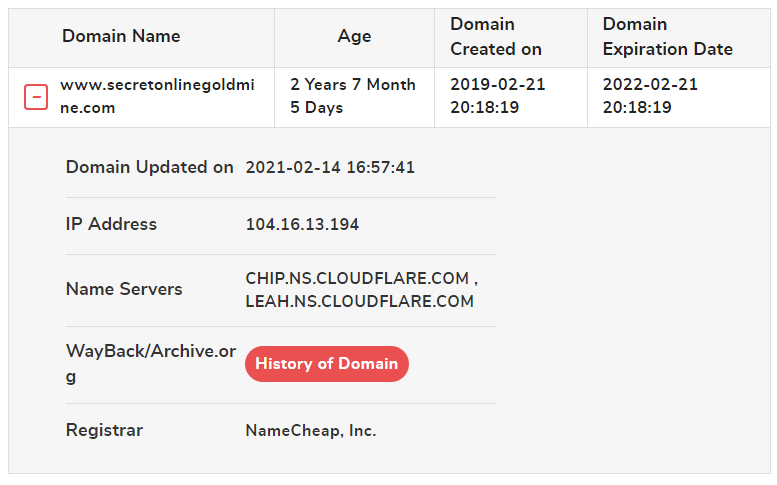 Also, according to their domain, their headquarters is in Newark, New Jersey, the United States.
However, I don't trust the results entirely because they are using a VPN (Virtual Private Network) connection as shown below—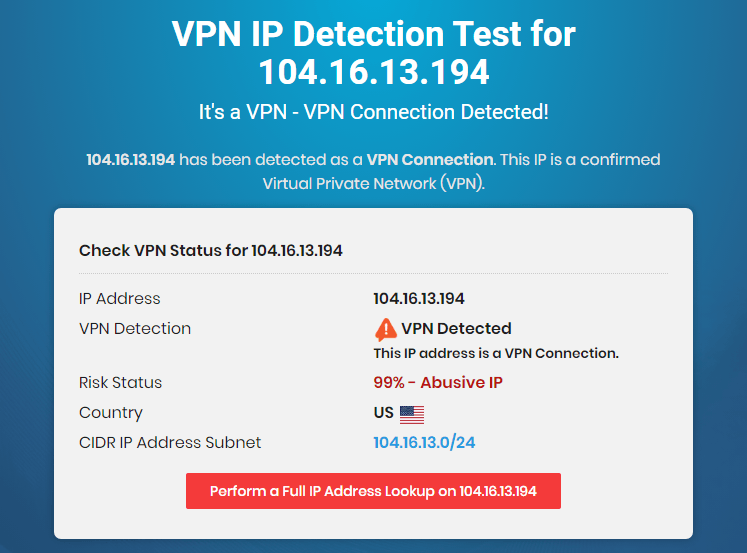 Such technology is utilized to conceal the identity of the IP address holder of the user. A VPN is reasonable if you're a private individual in protecting your interest as you browse the internet.
However, it doesn't make that much sense if you're a company selling products and services to the public.
If you're interested in knowing how the program works, then let's continue with my Secret Online Goldmine review and find out…
What is Secret Online Goldmine?
The video sales letter of Secret Online Goldmine is a typical presentation that you would normally see in a scam program. They promise great returns in just a matter of a few hours or a day without stating what the business opportunity is.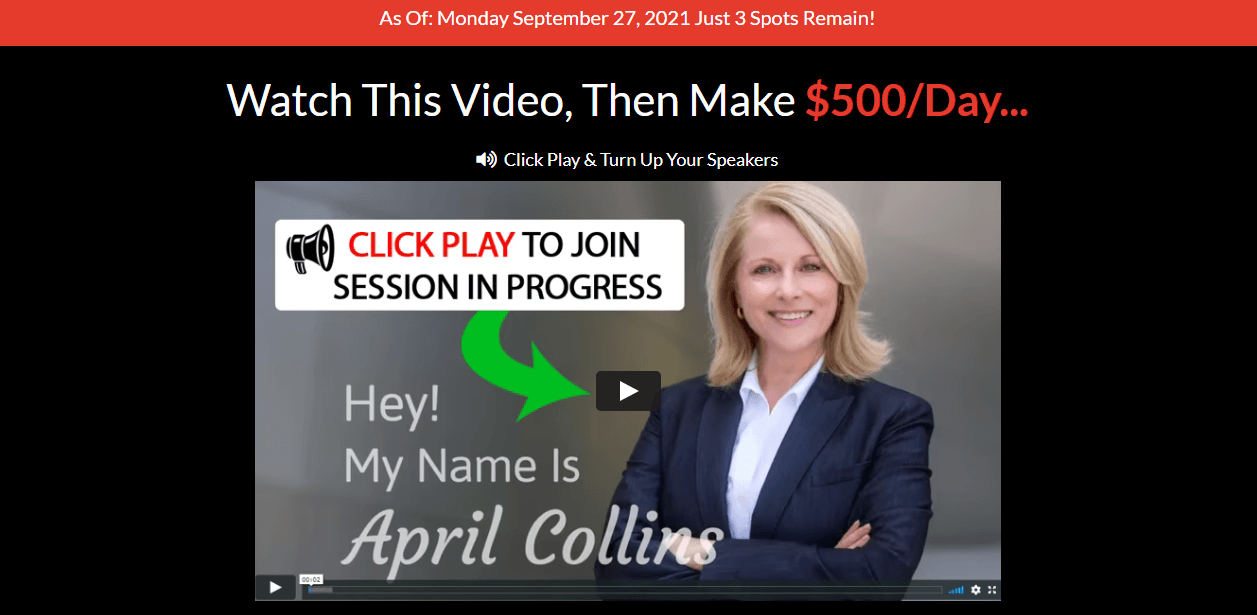 The way the bogus owner pitched the system is that "you can become financially independent as easy as one, two, three"…
However, their claims are very misleading, and in reality, it is not as easy as they promise!
It involves setting up your affiliate marketing account, selecting a landing page, setting up (buying) Clickfunnels, finding Clickbank products, and of course, email marketing.
And you have to take note that your success in this endeavor requires work and constant attention to make sure that your business is up and running.
But don't get me wrong here. Affiliate marketing is a legitimate eComm you can venture into.
And because they're very popular nowadays, many scammers are taking advantage of their fame as well leading you to believe that it's so easy it's like striking it rich and finding a goldmine.
The concern with Secret Online Goldmine is its shady business practice. Would you put your trust in anybody who is not upfront and even tries to mislead you into buying their program?
Besides, there are many legitimate programs around that will definitely deliver the results you have in mind.
And if you are looking for a much better alternative, then you have to check out my best work-from-home recommendation!
How Much is the Program?
The cost of Secret Online Goldmine on their landing page is $47. Initially, the program seemed to be affordable. However, what they don't tell you is that there are following upsells after you have signed up with the program.
With this being said—you'll end up spending more instead of saving money.
I also reviewed several related programs in the past that have suspicious business operations. You can check them out if you like—Paying Social Media Jobs, Quantum Accelerator Success System, List Leverage, Infinity Processing System,  or Myigga, just to name a few.
Or, you can check the full list of reviews here and see whether you are approached by any of the programs listed on the site.
Is Secret Online Goldmine a Scam? Here are the Red Flags You have to Take Note Of…
Here are some of the facts why you shouldn't invest your hard-earned money in Secret Online Goldmine—
Get-Quick-Rich Scheme
First and foremost, Secret Online Goldmine is essentially a get-quick-rich scheme.
The way they presented their sales pitch was scammy right off the bat. They provide you empty promises, fake business information, and bogus testimonials.
No Income Disclosure Statement
Despite being in business for over two and a half years, the company failed to provide an income disclosure statement on its site.
If their program is as amazing as they claim to be, then where are the proofs that they are indeed providing what they guarantee?
Not Accredited by the BBB
The BBB (Better Business Bureau) is among the agencies that most potential clients turn to in helping them check the backgrounds of the business they're prospecting.
Although not having a BBB doesn't necessarily indicate that the business is an outright scam, it does greatly affect the decision-making of any potential clients.
Fake Owners
Providing a made-up owner is a huge red flag and makes them highly suspicious.
It's simple, really—if they're a legitimate business, then there should be no reason for them not to disclose their true identity. Does it make sense?
Bogus Testimonials
Nowadays, it is very easy to get testimonials from paid actors through freelance platforms like Fiverr and UpWork.
Although I wasn't able to locate the freelance accounts of the actors, I have managed to find some of the programs that they have promoted—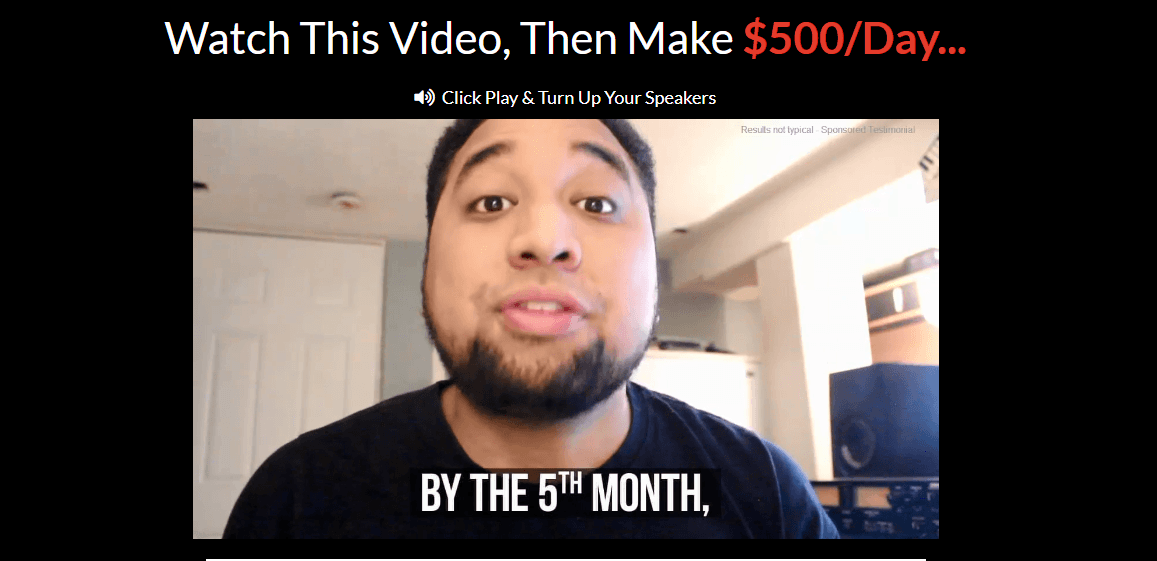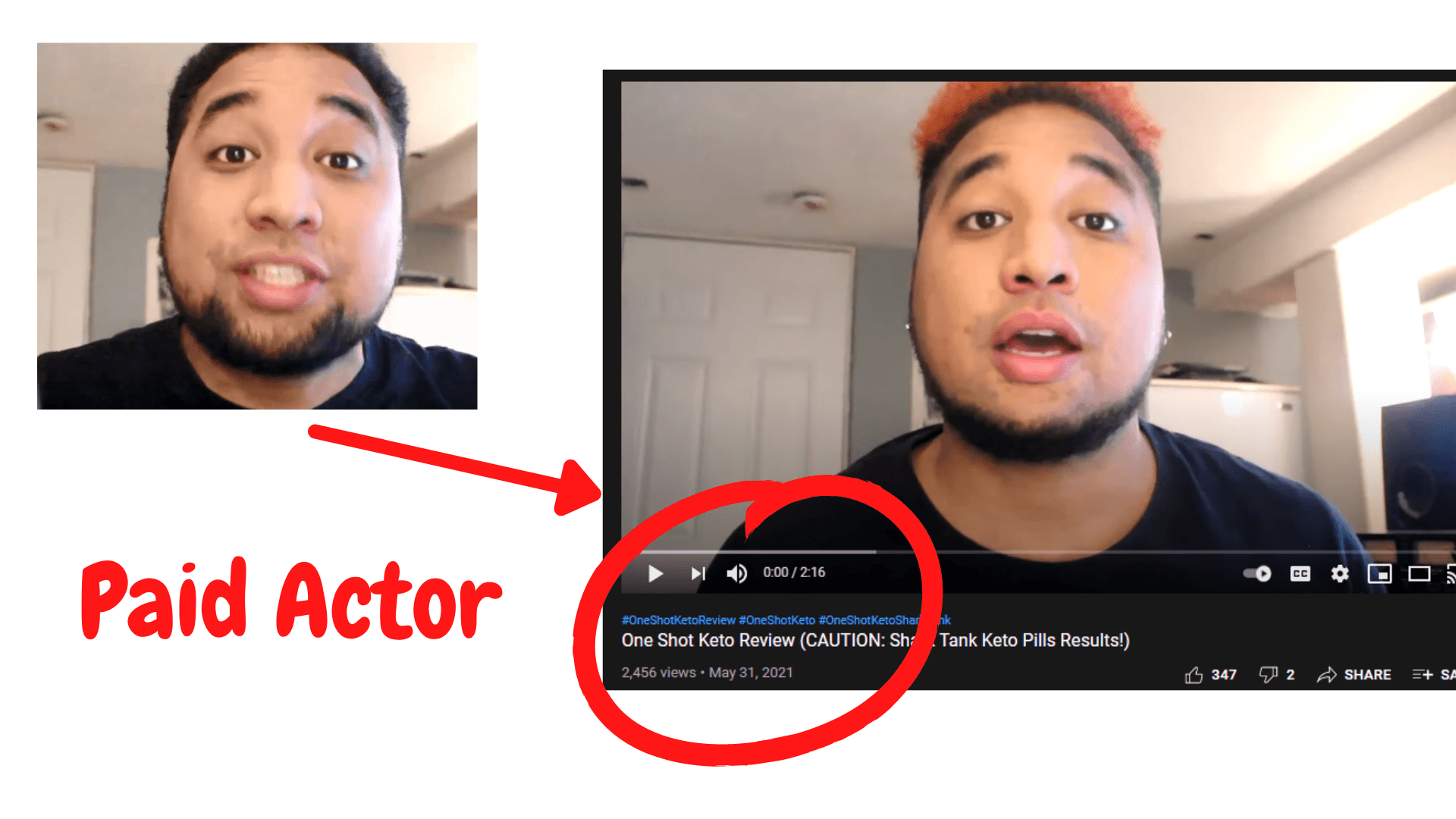 Here is another example: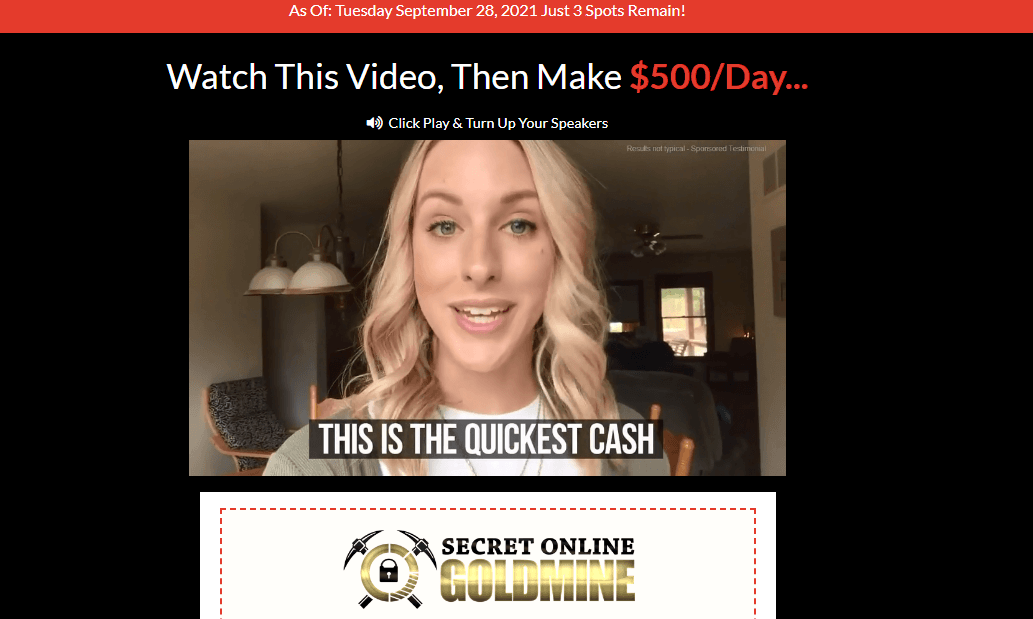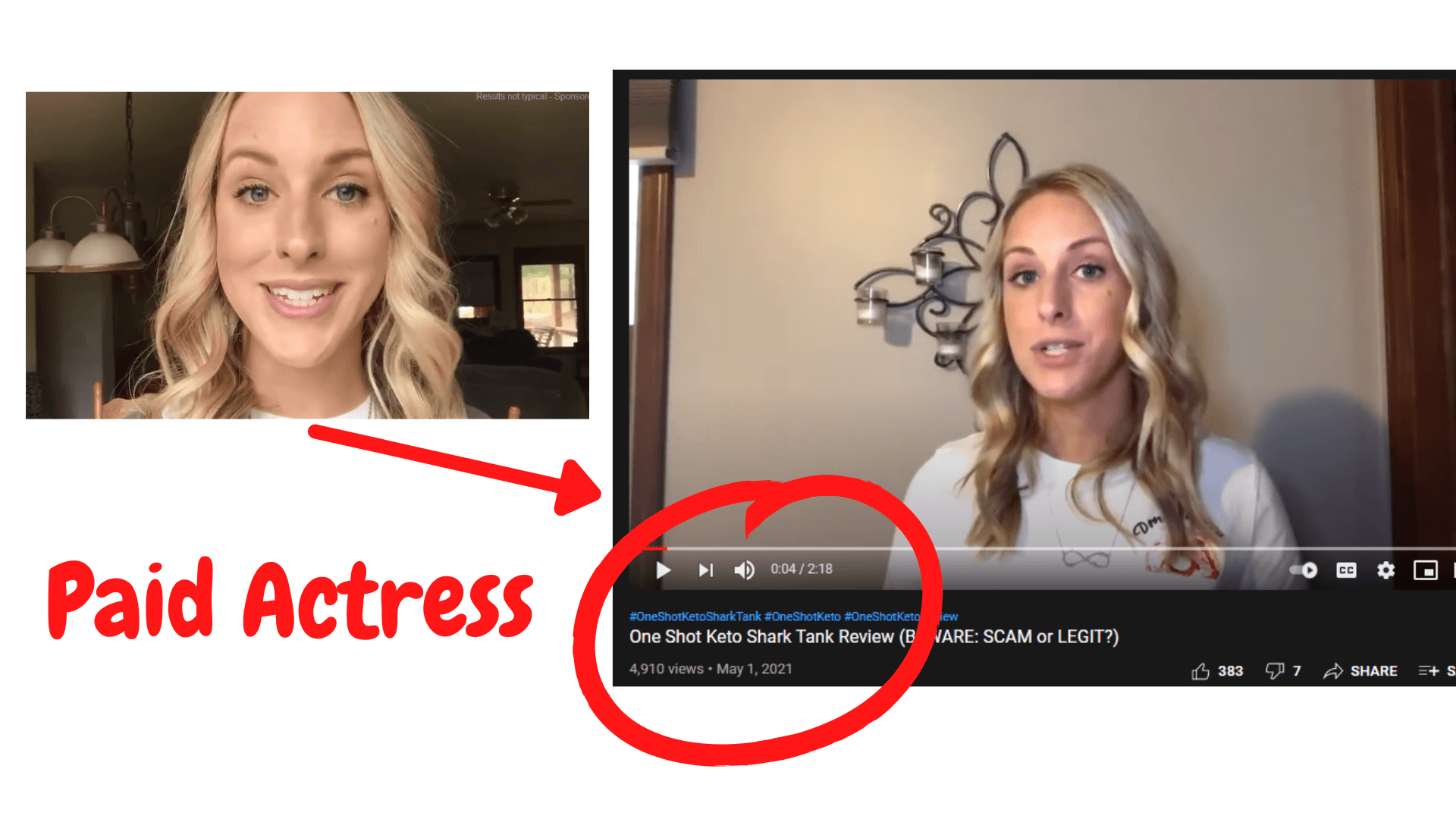 Upsells
After you have registered for the program, you will get more expensive upsells, which lead you to spend more than save any money.
What are the Positive Traits of Secret Online Goldmine (if there are any…)
I did not find anything positive about the program that could lead me to recommend them to anyone.
I do believe that Secret Online Goldmine is a scam that you stay away from at all costs. And it would be better for you to save your money for more legitimate programs.
And if you're looking for a much better alternative, then you have to check out my top work-from-home recommendation!   
Final Thoughts: Secret Online Goldmine Review
I hope my Secret Online Goldmine review has provided you with the information you need to help you determine why they're not a good program to invest in.
Although it is only worth $47, I still don't recommend them in any way. As mentioned, they offer upsells, which would, in turn, make you spend more instead of saving money.
In addition, the modules included in the program are subpar that may have been obtained from a PLR (Private Label Rights) site.
Let's continue to the last section of today's review, and I'll show a better option…
How I Earn Income Online
Affiliate marketing is probably the most profitable source of income online for many apparent reasons, and many newbies to digital entrepreneurship are turning to them because of the following factors—
100% legitimate
No Upsells
Low risks
Cost-effective
You're not directly involved with inventory management and parcel delivery
Most importantly, potential profit is unlimited because you can promote as many businesses as you wish.
And yes, your main responsibility is to represent a brand using your content online or social media influence.
And then, you earn commissions every time someone uses your affiliate links to buy the products or services offered on the landing page of the company you're promoting.
Of course, your success in this type of endeavor depends on the quality of traffic being driven into your site.
And if you're new to affiliate marketing and have no idea how to start your business, then you no longer have to worry any further!
Consider giving the highlighted description below a slight tickle and discover how you can create a stunning website that's generating leads and converting sales—
>>HERE'S MY TOP WORK-FROM-HOME RECOMMENDATION!
But that's not at all!
To help you a little further, I am also giving away a FREE EBOOK on how you can effectively utilize affiliate marketing and earn money even while you're asleep—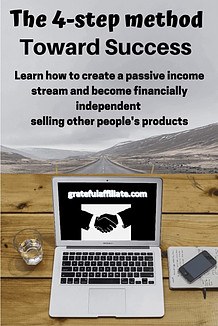 Thank you for the time and effort in reading my Secret Online Goldmine review!
I hope to see you on the following topics!
Peace!