This is an honest review about Smart Dollars Club so that you can see for yourself what is really going on in the background here!
If you are this web page, it's because you are looking for the truth about this digital product called Smart Dollars Club and to find out if their sales page is real or fake. Does it actually work?
---
If you are looking to make money online, making money while you sleep like I do and start for FREE then I have a solution for you!
Click here to find out about My No. 1 recommendation
---
Summary
Name: Smart Dollars Club
Website: https://earn.smartdollarsclub.org or smartdollarsclub.net (There are more variations as the creator of this product change the URL frequently, but they are all from the same creator/owner)
Owner: Unknown and hidden
Price: Free (Well not really)
Recommended: NO
Score: 0 out of 10 (Nothing here worth your while)

Overview

There is a long and a short version of my review.
If you are looking for the short version then here it is:
You should avoid this scam! It's a "too good to be true" filthy lie!
It's nothing more than a lie and there are no payouts for filling out surveys! Especially if you expect to get paid up to $300 per day just for taking surveys.
Authentic sites like Swagbucks and Inboxdollars pay just a few pennies per survey. That is a reality!
---
If you are fed up (like me) of scams and schemes that promise you riches overnight without ever delivering what they promise, let me tell you how I make money online (and while I sleep) and how you could also start your own online business for FREE.
===>Check out My No. 1 recommendation<===
---
How does Smart Dollars Club really work?
This infographic from their sales page is supposedly what you should expect if you give them your email:
They say that once you've given them your email address you qualify for customized & exclusive offers with the best earning potential.
And they guarantee $300+ daily with paid surveys, exclusive deals, and part-time work offers.
Notice I highlighted the last sentence: "exclusive deals and part-time work offers".
This is where things get very "shady" to say the least.
For the purpose of this review, I gave them my email address to find out what kind of "exclusive deal they would offer.
Here is the email I received:
So I clicked on the red button "Join the club" and was redirected to this web page:
They say you can win an iPhone XS by answering 3 questions. I tried multiple times, and no matter what answers I would give, I would always have "the right answer" and end up on this other website:
I seem that I could get an iPhone XS for $3…hmm, not so sure about this one! If you read the fine prints here is what it says: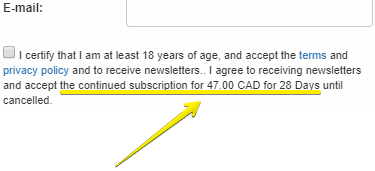 So you give them "all" your personal info and your credit card number and they charge you for some bogus membership. You'll end up paying for a membership on one of those gambling sites. What about that $3 iPhone XS? Don't hold your breath waiting for it!!! As if you could get a free iPhone, these guys have no scruples!
For this "offer" the URL was lotto24.com. But it changes every time you click "join the club" from the original email.
Needless to say that I did not give them any of my personal info!
So I then went back to the original email and click on the "join the club" button and three times in a row I got this message from my Norton subscription:
Well, that is NOT cool! Good thing I am well protected! Thanks, Norton!
I finally got another "Exclusive offer" and this time it was this gambling site:
This time they want $10 to be able to "play" on their gambling site!
I think by now, you get the idea!
Every time you get redirected to one of their offers, you have to create another account! And these sites are all very suspicious in nature, asking you for your credit card number for a few bucks, making you believe that you have won the jackpot, but this is VERY far from the truth!
That is how these people make money. They grab your personal information and then resell it in batches. And they also make a commission if you do "purchase" one of their supposed deal!
Not to forget that your credit card number is now in their possession and they can drive your balance through the roof pretty quickly!
If you decide to go ahead and "play" with them, I wouldn't be surprised that you would end up losing A LOT more than a few bucks that they are trying to make you believe.
As I have shown you, The "Smart Dollar Club" promise is a LIE!
No one is making money except the people that are behind these very shady websites!
The links that they send you to can also wreck your computer with malware and viruses! Once they are on your machine, they can really get you in trouble!
And by the way, my (spam) email folder is now flooded with emails from them!
But don't worry, I used an email account that I have been using just for that purpose. I did not give them my real email address!
By now, you have a good idea of the kind of scheme these guys run!
Hopefully, if you did join, you have done the same as I did and you have given them an email that is NOT related to your personal information like a bank account or your PayPal account.
If you did, I would definitely change all my passwords right away!
PROS & CONS
PROS
There aren't any good things to say about this scheme!
CONS
If you join, and you give them your personal information, especially your credit card number, you there is a high possibility that you will lose money, NOT make some!
Your personal information will be jeopardized and most probably resold numerous times over.
You will be spammed like crazy.
It's NOT safe!
It's NOT what they say it is, I call that a scheme!
Everything they say on their sales page and email is FAKE!
Conclusion
We all want more money, but unfortunately, you will not make any money here!
This is definitely a dishonest scheme!
My advice is to STAY WAY AND AVOID!!!
All they want is your personal info so that they can resell it and also make affiliate commissions through their "Exclusive links".
There is nothing good to say about this! You will waste your time and lose money. Period.
These scammers have no scruples and they will go to any lengths to grab your personal information and make money with it! The Internet is full of this kind of crap!
Alternative Method
My bet is that you were looking into this "make money while doing surveys" thing to create some kind of extra revenue for yourself and/or your family.
I can confirm that authentic survey sites like Swagbucks will pay you with gift cards to take online surveys, and they will never pay the kind of money you were told here. It is actually very little for the time you have to spend!
My personal opinion on this is that taking surveys is a waste of time. If you compare how much time you need to spend to actually make a few bucks, it definitely not worth it! And don't forget that there is a threshold that you have to reach prior to getting paid. So you will not get your gift card and/or cash until you have reached that threshold.
I know someone who uses Swagbucks (for fun) and she was able to get a $10 Amazon gift card in about 2 months.
See what I mean?
You can and will get paid eventually, but is it worth your time?
I can tell you that was in your shoes a few years ago. I got scammed out of some good money, trying one crappy system and program after another, and yes I even tried taking surveys!
It wasn't until I ended up on a website like this one that I figured out how I would spend the next 3 (almost 4) years!
I got introduced to Affiliate Marketing!
This is NOT a get-rich-quick method, and I'm not promising you that you will make $300/day right away, BUT making $300 per day is VERY possible with it, as long as you are ready and willing to learn and apply the methods needed to achieve success!
I joined a platform back then called Wealthy Affiliate!
This place won't lie to you and tell you things just to make a sale!
The main thing here is that I truly believe that being honest works the best. All those who believe otherwise, well Karma is going to respond eventually!
When I joined Wealthy Affiliate, I did for FREE and used FREE resources until I got convinced that it was a great place to gather all of my tools and create a REAL business.
That was in January 2016. I haven't looked back since!
Here's a brief outlook of what you get when you join:
When starting an online business you will need three important and necessary elements:
Website(s), Education and Expert Training.
With Wealthy Affiliate, you will get all three along with my personal support to guide you along the way.
I also want you to have my Free eBook just to thank you for being here on my website:
Click on the image or the button below and get your own copy.
And I will see you on the inside!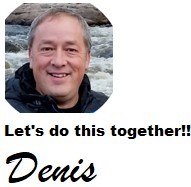 As always, if you have any comments or questions, please do not hesitate to use the comments section below!