Is The Commission Code legit or is it a filthy scam?  Take a look inside the system and find out for yourself right here.
If you are here on my website today, it's because you have decided to do your due diligence and find out about this offer you have received either through email or whatever else methods they have used to send you to their "sales page".
First, I want to congratulate you.  Most people don't take the time to check things out before giving their credit card number.  You, on the contrary, have done so and you won't regret your decision.
The Commission Code says on their sales page that you can make up to $1,266.75 per day with ClickBank "instantly today".  What kind of system is this to claim that you can make that much money on your first day?
Let's find out if this is even possible, shall we?
---
Before we jump into my review, if you are in a hurry, I can tell you right away that I do not recommend The Commission Code system.  If you would like to learn how to earn money online using the same system I have been using for almost 5 years now, which enabled me to generate awesome passive income streams, then check out ==>My No.1 Recommendation<==
---
Summary
Name: The Commission Code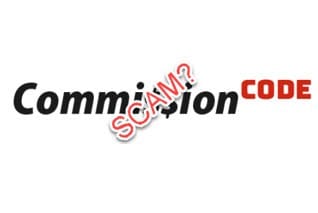 Website: http://www.thecommissioncode.com/
Owner: William as the narrator calls himself…
Price:  $9 now and $47 per month thereafter.
Recommended:  No

Overview of the sales video

The sales video is very typical of the hundreds of low-quality systems I have reviewed in the past. It's a fairy tale…
They all have a similar storyline – A guy (In this case William as the narrator calls himself) who was down on his luck, his mom got sick, he was basically broke and hopeless. Then one day out of the blue, he meets one of his long lost cousins "Simon" who gave him a cheque for $40K.  The cousin had been doing millions of dollars in online commission by selling other people's products,  and he wanted to "give back".
To make a long story short, "William" asked his cousin "Simon" if he could "get in" on his secret and Simon replied that "anybody could profit using his method".
William then pretends that he learned everything there was to become a pro "in just one evening" (Yeah right!), and now, after two years he's "rich" and wants to share his wealth with this system, so he created The Commission Code system.
That is the basic story of the sales video.
However, even before I looked at the actual system, I  uncovered a bunch of red flags in the sales video that tells me that this system is NOT what it pretends to be!
Here they are:
Red flag No. 1 – Hyped up and exaggerated money-making claims
While watching the video, I couldn't pass up this claim that says that you only need 10 minutes per day to be successful.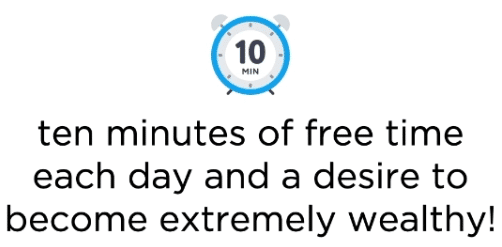 I can confirm that this is NOT true!  With the years of experience I have, there is NO WAY that 10 minutes per day is enough!  You will need much more than that just to use either the free or paid methods that they suggest inside the actual system!  They lead you to believe that you can become rich without any work, which is not the way things work!
As they say, if it sounds too good to be true, it usually is!
Red Flag No. 2 – Fake Testimonies
As I watched the sales video, I recognized these "actors" from other similar sales videos and I did not have to do a lot of research to find them on Fiverr.
This guy says that he made more than $500,000 in the past 6 months and that he moved his family to a much bigger house.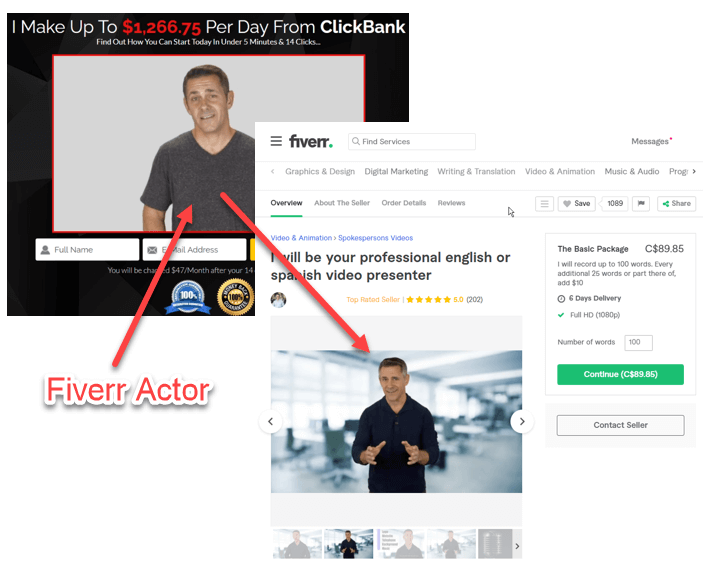 As you can see nothing could be farther from the truth. The only money this guy made was the $89.85 he charged for this acting gig!
And this guy, well he only talks about "this site" and says he's now driving a new BMW…He doesn't even mention the system's name!  It's a generic video!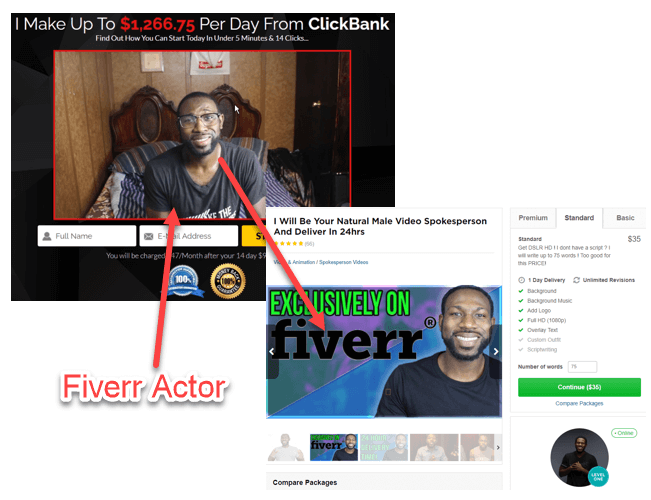 Like the last one, he made a few buck recording this video and that's it.  Nothing true in his "testimony".
Red Flag No. 3 – The owner is hiding behind a narrated rehashed video
In the Sales video, the narrator says his name is William, but we have no clue who this person is or if in fact, it's even a real person because he/she doesn't show his face or identifies himself/herself.
These low-quality product creators/owners use a pen name just to sell the system.  The main reason is that once the frenzy is over, and the system has run its course, they either use the same system and change its name to something similar or start over anew.
The reason I say it's a rehashed video is that I have seen so many of these videos that this one is all too familiar and has the same storyline I have heard before.  And also the fact that the Fiverr Actors have been used in similar systems that I have reviewed before
Done-for-you systems are not worth your time or money, and this system is not worth $10,000 like they pretend.
My experience trying these done-for-you systems is pretty much the same from one system to the next.
They all say that "you don't need anything else" and that you will be making a fortune working a few minutes a day…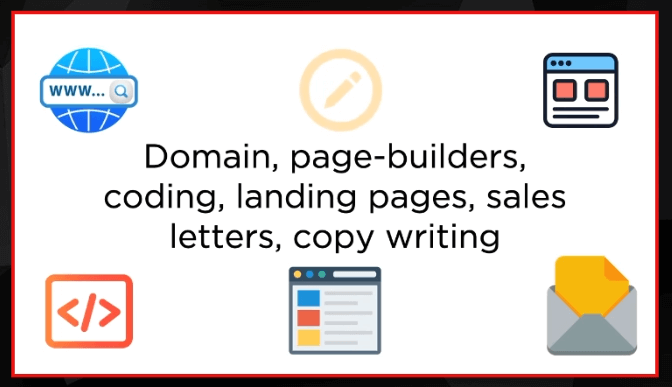 The harsh reality is that pre-built pages/landing pages are considered "duplicate content" by search engines (Google, Bing, Yahoo, etc.).
Why?  Because everyone who buys the system and starts using the pre-built webpages uses all the same content.  I have written a review on a similar system not so long ago called Passive Profit Pages, and this system looks and feels the same.
I should quote a well-known website here: moz.com
They have a very good explanation of what duplicate content really is:
Duplicate content is content that appears on the Internet in more than one place. That "one place" is defined as a location with a unique website address (URL) – so, if the same content appears at more than one web address, you've got duplicate content.
I have reviewed hundreds of systems in the past years that are very similar to this one.
Lately, I have reviewed The Click Wealth System and Passive Profit Pages, and I can tell that this system is based on the same methods.
Another system I have reviewed is the Perpetual Income 365 that uses comparable methods (with the monthly fees included) as The Commission Code system.
Enough said about the sales video, let's see what the system looks like, shall we?
---
If you are exasperated (like me) with trying these very low-quality systems that promise you that you will be rich overnight, without ever delivering what they sell, let me show you how I earn money online while I sleep (and while I'm awake) and how you could also start your own online business for FREE. ===>Check out My No. 1 recommendation<===
---
What is The Commission Code and how does it work?
Now that I have enumerated all the red flags I found, I should at least tell you what it is that you will get if you decide to buy the system.
The Commission Code claims that it teaches you Affiliate Marketing.
Actually what you will be doing when (and if) you join is a method that has been around for years, which is to promote the "make money online niche" by recruiting others to the system itself.
As I started to analyze the system, I was able to figure out right away that it's just a copy of other related products with a few nasty twists.  I went back to the Passive Profit Pages review from a little while back and figured out that this is the same creator.  And it's basically the same song and dance.  The exception this time is the "Recurring" monthly fee of $47.00!
In a few words, I can describe the system as this: you purchase traffic and send it to the offer they have prepared for you.
After clicking on the big yellow button "Start Now" button, and purchased the front end product, I was redirected to multiple upsells of the system.
They are:
1 – Commission Code Pro – ($197 with a down-sell of $147) – Another sale video with more fake testimonies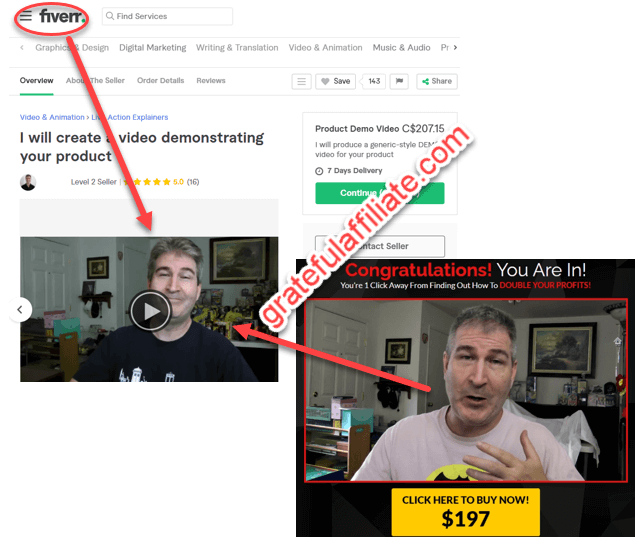 The commission Code Pro sells for $197, and it's supposedly composed of 5 ready to use out-of-the-box plug and play sales campaigns that are going to "double" your conversions…
2 – Commission AD ATM – This upsell sells for $146 with a down-sell to $96.  In the sale video, William claims that his cousin Simon knows someone from the senior level management at Facebook and got her to "pull a few strings" and now they are making thousands per day.  I have yet to purchase this upsell to tell you what it is exactly, but from the rest of the system, I will not waste $146 to find out…
3 – Commission Code X –  The most expensive upsell at $297!  Based on targeted traffic.  Finding targeted traffic can be difficult and expensive but this upsell promises to provide traffic and get you to generate $15,050.00 in 4 days.  What the sale video doesn't say is how much you are going to have to spend on that "bought" traffic in order to get that kind of results.
Needless to say, I did not purchase any of the upsells.
---
The actual system
Once you get into the actual system, here is what you will find: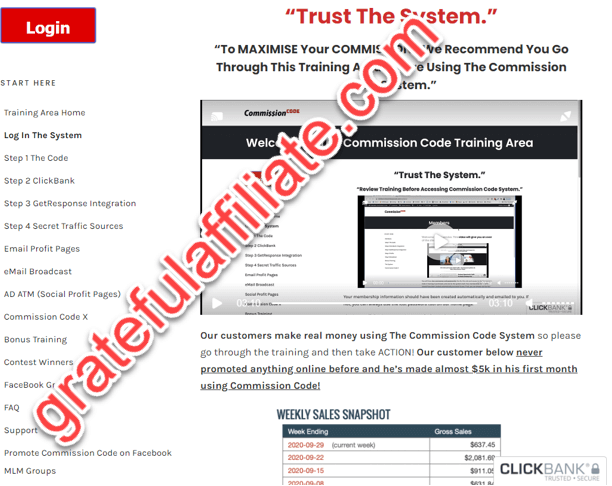 This not the system per se, these are videos that will teach you how the system works and a step-by-step method to set up your pages.  You must set these up in order for the system to work.
Step 1 is to tell you that you need to "log in" to the actual system, that this part is just a first step.
Step 2 is to create a Clickbank account
Step 3 is to create a GetResponse account
Step 4 gives you multiple websites where you can "purchase" traffic.
The rest are short videos explaining the basics of the system.
The main menu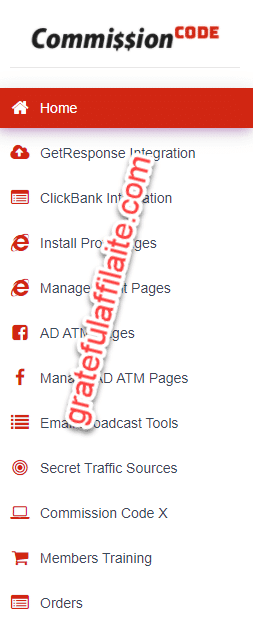 On the main menu, you get to Integrate your GetReponse and ClickBank accounts into the system taught by short videos.
You also get 2 pre-written done-for-you landing pages and you must publish them through this system in order for them to connect to the autoresponder (GetResponse) and ClickBank accounts.
The rest of the menu is for the upsells (That I did not purchase)
So there it is.  The whole system is basically two landing pages.  You need to purchase traffic to send your audience to these landing pages and when they take action (click on the link provided on the landing/squeeze page), you get a "customer", a commission paid by ClickBank, and a new subscriber to your email autoresponder (GetResponder).
The system itself is okay, and for someone that has no knowledge of creating a landing page, using autoresponders, and monetizing ClickBank, you could generate some sales with some purchased traffic.  Will you make a profit after purchasing all that traffic?  That's another story…



PROS
An Ironclad 60-day money-back guarantee by ClickBank.
However, don't get caught up in the recurring charge of $47 per month that they will begin to charge you
after ONLY 14 days!
CONS
Pre-written pages are the same copies for everyone using this system making them "duplicate content".
They are in the make money online niche, what if you want to promote something in the health or sports niche?  Well, you can't with this…
A $47 recurring fee for what?  To keep using the system to promote it to others so that they can in turn do the same.
You will need a hefty solo ad budget in order to generate any kind of traffic to these pre-written pages.
Hyped up and exaggerated income making claims on all the sales videos!  No one can make that kind of money working only 10 minutes per day
Fake testimonies from Fiverr actors
Conclusion – Is the Commission Code a scam?
The Commission Code is not a scam.  It is however what I call a low-quality system.  It has a lot of limitations and you will be using the same pre-written landing/squeeze page as everyone else, which makes it (as I mentioned earlier) duplicate content.  In Google's book, that is a no-no!
The sales videos are filled with unrealistic money-making claims, fake testimonials, and the owner/creator is not showing his face which makes it pretty shady in my personal experience and opinion.
Therefore, I DO NOT recommend it!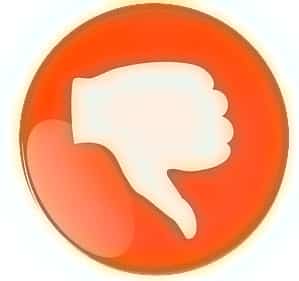 Would you like a real system, that produces real results?
While The Commission Code system does "teach" some aspects of affiliate marketing, the approach is the same as I have seen so many times, and the method they use is NOT going to get you the results they promise, I've already established that.
About 5 years ago, I was in your shoes.  I tried all kinds of different systems, and I was scammed more than my share.  I almost gave up, until I decided (as you did today) to check things out for one of these "promise-you-to-be-rich-without-any-work" systems and ended up on a review that brought me to a very different platform than what I was used to.
When I first joined them, I was amazed at how much information and tools were available right there under one "roof" so to speak.  It did not take long for me to realize I had found my "home" on the Internet.
Wealthy Affiliate became my second home simply because it wasn't limited and unstainable like all the systems I had seen before.  Overall, my opinion is that it's an amazing platform and an amazing community of like-minded members thriving to help each other succeed.
If you are new to affiliate marketing, you will learn what you need to succeed in their step-by-step training courses.  If you are an experienced affiliate marketer, you can still benefit from their web hosting, keyword research tools, and much more.
The affiliate marketing industry is growing exponentially and online spending has increased dramatically since the beginning of the pandemic. The number of companies investing in their affiliate programs is constantly increasing. To be completely honest, there has never been a better time to get involved in Affiliate Marketing!
But you will need guidance.
When starting an online business you will need three important and necessary elements:
Website(s), Education, And Expert Training.
With Wealthy Affiliate, you will get all three along with 

my personal support

 to guide you as you advance in your online journey.
I also want you to have my Free eBook just to thank you for being here on my website:
Click on the image or the button below and get your own copy.
And I will see you inside!

As always, if you have any comments or questions, please do not hesitate to use the comments section below!