Is The Copy Paste Money System real? Can you copy and paste and make $1000's just working 30 minutes per day? Read on and find out!
If you are here on my website today, it's because you have decided to check things out before buying in this offer that you probably received the same way I did, through an email subscription. I do get a lot of these offers and I always analyze the whole system before giving anyone my credit card number.
I want to congratulate you because unlike most people, you have decided to do your due diligence and you won't regret your decision.
The Copy Paste Money System says in their sales video that you don't need any experience or any special skills and in 20 to 30 minutes a day, you could make up to $5,000 per day!
I have yet to see the kind of system that can produce that kind of results!
But let's not get ahead of ourselves and let's see what this system is all about
---
If you are in a hurry and want to know my honest opinion right away, I can tell you that I DO NOT recommend The Copy Paste Money system to anyone! Actually, you should close your browser's page right now and never go back to that website. I can honestly say that it is not worth your time and money!
However, if you are interested in earning money online with a real method that actually works and that I have been using for the past 5 years now, and has enabled me to generate money while I sleep (and while I'm awake of course) then go check out –>My No.1 Recommendation<–
---
Summary
Name: The Copy Paste Money System
Owner: unknown
Price: $47
Overview of the Copy Paste Money System sales video
Again, another very typical sales video for a very low-quality system. It is filled with empty promises, exaggerated money-making claims, and a ton of fake testimonies.
I uncovered a lot of Red Flags during the sales video and I expose them
It starts with some "testimonies" of people saying that this CopyPasteMoney system made them thousands in just a few days. Then the narrator says that his name is Chris and that you better hurry because there are only a few "limited spots available" to "get in" this incredible deal. Or is it?
Red Flags and more Red Flags
As I began to watch the sales video, I was reminded of a lot of similar and probably related digital products I have reviewed in the past. I have reviewed hundreds of them and they seem to be all using the same sales stratagems… They are more interested in making a quick sale than helping anyone make money online. There are a lot, I mean a lot of these kinds of systems out there, but with my experience, I am able to spot them easily. Here is what I found:
1- Fake/False Scarcity
Well first of all, there is NO scarcity!
No shortage whatsoever that limits the available "spots"! This is a simple sales tactic to get people to act quickly.
Check next month and those "limited spots" will still be there!
2- False/Very Exaggerated money making claims!
The next thing they show you is a "screenshot of some kind of "dashboard" where it says that the owner/creator has made 1.4 million dollars so far this year with this system: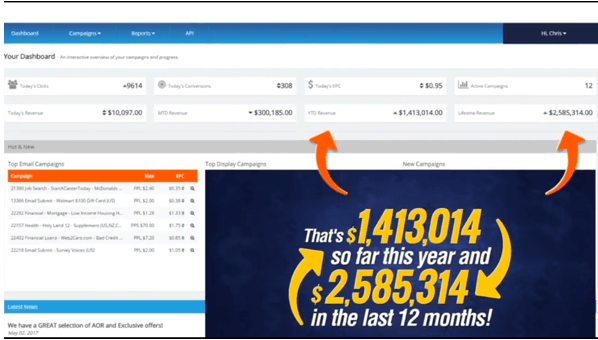 And, if you take your calculator and divide $1,413,014.00 by 365 that makes $3,871.27 per day!
To make that kind of money with a $47 system is simply ridiculous! There is NO WAY that this can be replicated by anyone with any cheap systems.
They even pretend to have over $4 million in the bank: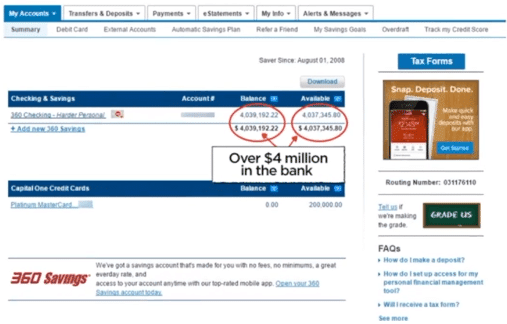 I can tell you right now, these images can be easily altered with any cheap image manipulation software to reflect any amount…
Here is the proof.
It took me approximately 30 seconds to alter the above image to say $300 instead of $4 million: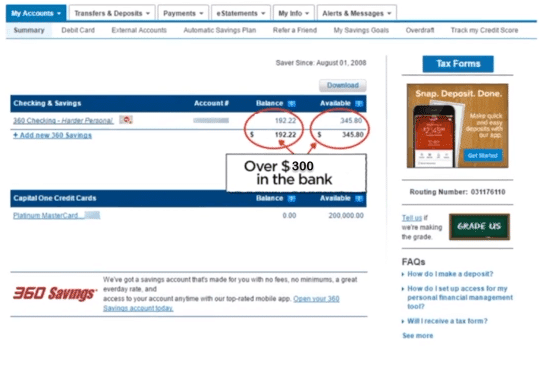 As you can see, the amounts on these screenshots can be anything they want. They put huge amounts just to get people to think it's possible to earn millions with a $47 system!
3- Rehashed and old system
I also took a closer look at the image from the video and look what I discovered: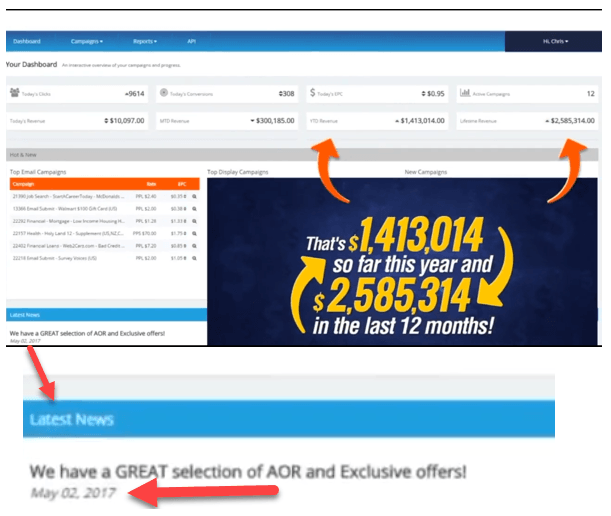 The image is a little blurry, but we can clearly see that the date is May 02, 2017.
That tells me right from the start that this is a rehashed system.
The creator just changed the name and called it The Copy Paste Money System.
4- False dream
Then you will be shown some nice images of yachts, etc. And the narrator says this:
They lead you to believe that with a $47 system, you will be a millionaire in no time… Which is typical of these low-quality systems. Think about it for a moment, if it was this easy to become a millionaire, everybody would be buying this system and going for it!
They make it sound so easy: Copy & Paste and become a millionaire…
Sorry to burst your bubble but it does NOT work that way!
5- Fake Testimonies and lies!
Then there are the tons of "testimonies" within the sales video. Well, they are ALL actors!
I did a little research and found that most (if not all) of the numerous testimonies in this video are fake. They have been hired by the creator to tell a fairy tale story on how they made huge amounts of money with this system.
Here are a few of them: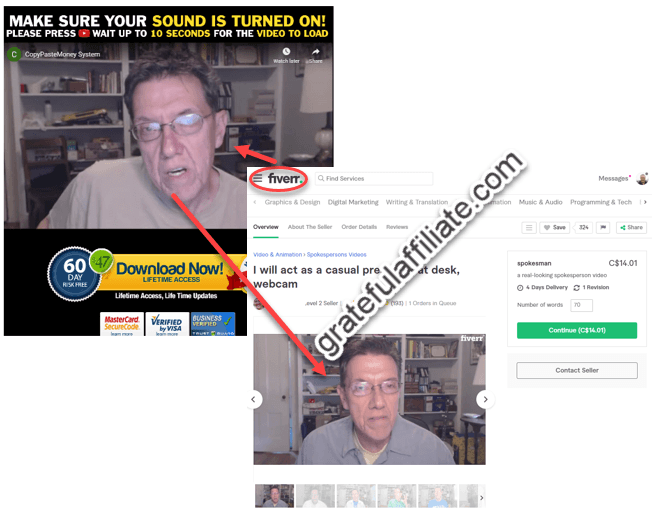 This guy is one of the first we see during the sales video and shouts out to "Chris" saying that this program just works! As you can see, he's a Fiverr actor, and so is everybody else.
Here's another example:
Later in the sales video, this guy (Jim as the narrator calls him) says that he was down and out on his luck and that things were not going well financially. That is until he watched "this video" and tried this system and within a week he had made $2,278.00. Not only that! Within 6 months, he supposedly has made $94,066.16. all because of "Chris" and his system…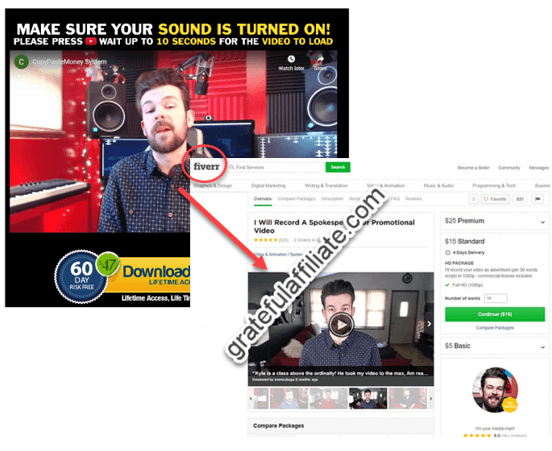 As you can see here, this guy made $15 or $25 for his acting gig, nothing else!
He was paid to tell a filthy lie!!!
And all of the testimonies are from actors, all of them, I could have put up more examples, but by now you are aware that these "testimonies" are just lies!
The same goes with all the PayPal money "Proofs". They are all invented and created with stock photos. Here is a sample of what I mean: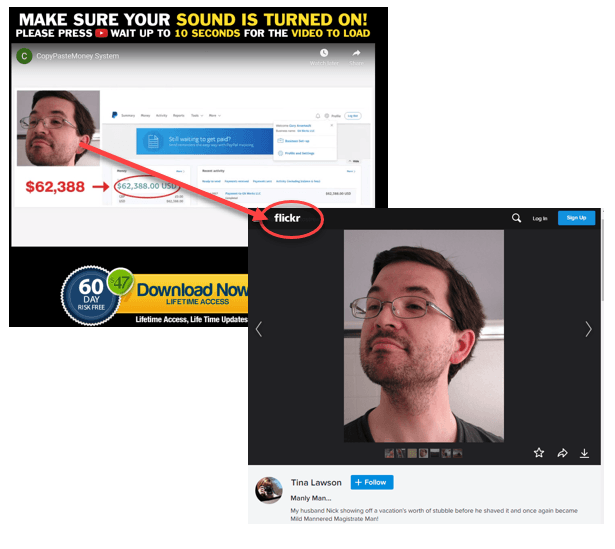 As you can see, this person that the narrator calls Gary, supposedly sent in a text and then shows a "PayPal account" with $62,388 in it…
AGAIN THIS IS A LIE! They took a stock photo and created this "screenshot" of Paypal pretending to show real results, but it's ALL FAKE!
If you read at the bottom of the Flicker.com screenshot, Tina Lawson took this picture in 2006 of her husband Nick!
As I said earlier, any image manipulation program can fabricate this sort of "proof".
6- Very shady and suspicious payment system!
I say this because l clicked on the big yellow button "Download Now" to see where it would lead me. I got to this checkout page:
The URL is https://lpbestcheckout.com and it looks like this: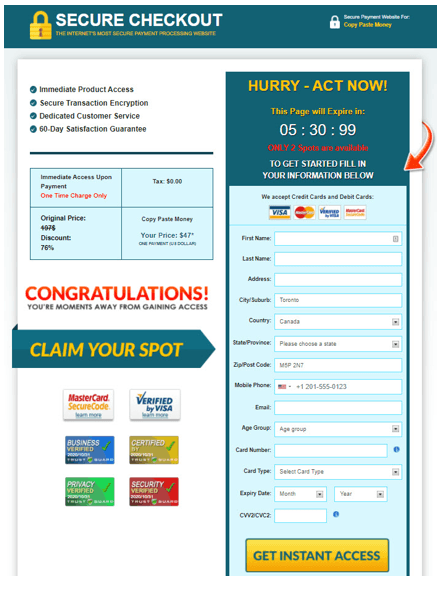 As soon as I saw the checkout, I immediately recognize it as one that I had searched about before.
The difference this time around is that the URL was not what it used to be. I double-checked on www.urlvoid.com and the results confirmed what I thought. They changed the URL of a very shady and suspicious checkout system. I say this because the URL https://lpbestcheckout.com is only about one month old: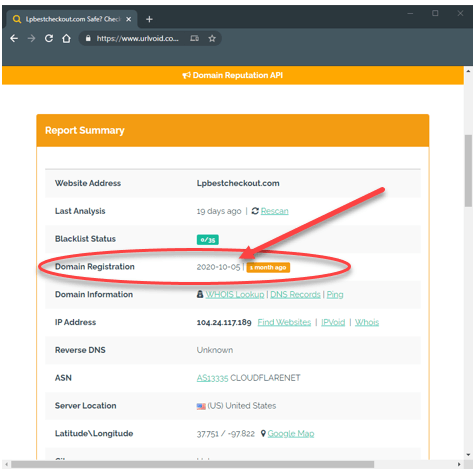 Also My Norton LifeLock does warn me when I try to click on anything within that page:
To give you a perspective of my reasoning here is that this same "checkout" used to be under the URL securecarts.pw for a review I did in the past about the Job Quitter Club: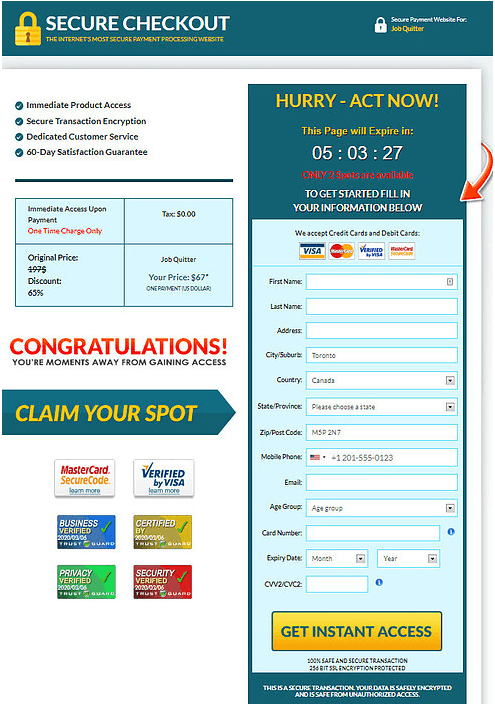 Back then, I did some research and found out that this "checkout" site was not to be trusted. There were a lot of complaints and the site ScamDoc had this to say about it: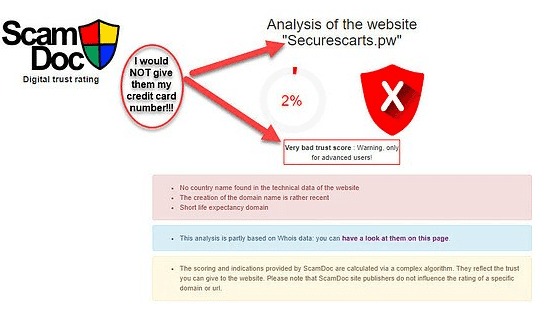 ScamDoc.com is a web tool that evaluates websites' trust and reliability. As you can see this "secure" checkout is not really secure or at least not very trustable! I would NOT give them my credit card number!!!
After a little more digging, I found that both Securecart.pw and lpbestcheckout.com are owned by a company called Markenark Holdings Limited. A company based in Cyprus that has several other low-quality sites…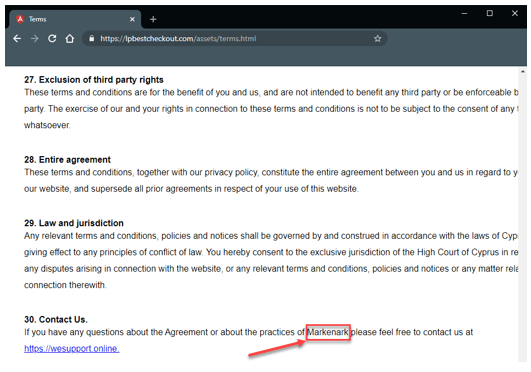 7 – Buy before you try kind of system
One thing I despise about these systems is the fact that they tell a fairy tale story on how you are going to become rich and make thousands within the first day or so, but they never reveal what you are buying. So it's like buying a "pig in a poke".
Unless you give them your credit card number and hope for the best, you will never find out exactly what you are buying.
All they say is that you do not need any experience "to do this" and you will be generating thousands per day!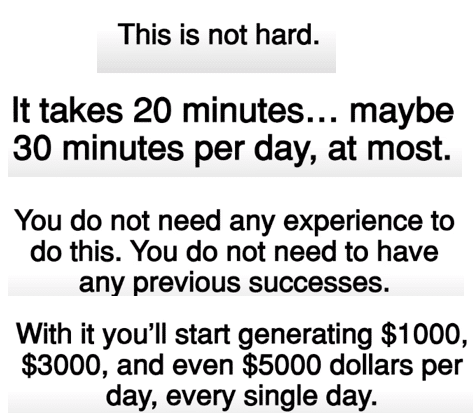 I can tell you from experience that an online business cannot and will not work that way, no matter what kind of claim they tell. These screenshots are just filthy lies to get you to sign up and to get your hard-earned money. Nothing else.
If you ask me, they described their systems very well themselves right in their own sales video: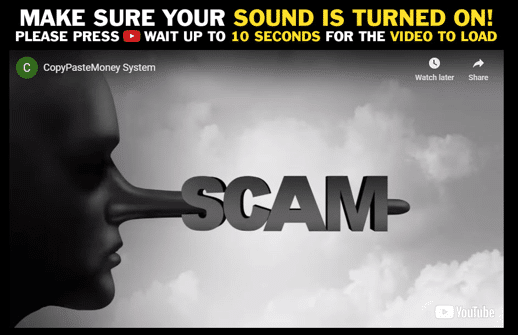 ---
If you are fed up (like me) of trying these very low-quality systems that promise you riches overnight without ever delivering what they sell, let me tell you how I make money online and how you could also start your own online business for FREE. ===>Check out My No. 1 recommendation<===
---
What is The Copy Paste Money System?
Full Disclaimer: Obviously, with the numerous red flags I have uncovered during my research on this system, I DID NOT purchase it!
If you watch the video to the very end, there is nothing that is being said about what the system is at all. The only clue we get is that you only have to work 20 to 30 minutes in a day to make $5,000!
This is completely ridiculous!
There is NO WAY that this is true! All the testimonies and screenshots are fake and these people are actors reading a script. And if you notice, nobody says anything about what it is. It's all a BIG mystery!
Stop and think for a minute, if this system was this great and would enable anyone to make $5,000 per day not doing anything (or whatever they say working 20 minutes a day), don't you think that it would sell for more than $47?
I can tell you with certainty that if you give them your credit card number, you might as well kiss your money goodbye because you are NOT going to see your $47 again…
What they will provide
I have bought and seen so many of these kinds of systems in the past that I can tell you that they will most likely provide a few short and useless training videos and a bunch of PDF documents.
Maybe some predefined or done-for-you landing/squeeze page which is the same copy that everyone that buys the system uses, so it becomes duplicate content. The search engines like Google and Bing hates duplicate content.
---
Pros & Cons
Pros
A 60 day money back guarantee?? (We're not so sure about that claim due to the reputation of the checkout page)
Cons
Fake/False Scarcity
Fake/Very exaggerated money making claims
Rehashed and old system
Selling false dreams
Fake Testimonies and lies
Very doubtful payment system
Owner hiding behind a narrator, calling himself "Chris"
Fake Bank account screenshots
Buy before you know what you are buying
Conclusion
Obviously, with all the red flags that I have exposed in the sales video, I DO NOT recommend The Copy and Paste Money system!
I actually call it has it is: A filthy scam!
Stay away and DO NOT give them your credit card number.
How about a method that is true and honest?
As we already established, The Copy & Paste Money system has no credibility and is plainly just lying to get people to sign up so they can "take the money and run" leaving you with a broken ego and less money in your pocket.
I started my online business back in 2015. I tried multiple systems like this one, and let me tell you that copy and paste systems are just plain scams. I have been taken for a few rides of my own and learned from my mistakes.
Fast forward to today, and I now have multiple passive income streams and I earn money 24/7 365. That is the beauty of the Internet, while you sleep, someone on the other side of the planet is awake, that is why I earn money while I sleep, and also while I'm awake.
The advantage of having an online business is that once you create some passive income streams, and they remain active, you can earn from them over and over without having to do anything else besides the initial effort of creating it.
I use affiliate marketing as my main method of earning money online, and while it is a bit overwhelming at first, once you get the hang of it, it is one of the easiest and cheapest ways to create yourself some online passive income!
I have learned everything I know about affiliate marketing through a platform like no other one on the internet. It's more of a community of like-minded people helping each other succeed.
I first joined Wealthy Affiliate in 2016 and I have no plan of leaving them anytime soon.
They provide a STEP BY STEP Task-Oriented Training that will enable you to learn, while you create your own online business.
The best part for you right now is that you can test-drive the whole platform absolutely free, without any obligations whatsoever and you DON'T need a credit card to access.
You can get a starter membership for free to day by clicking on the button below. All you have to do is provide an email address and choose a user name. That's it and you are in.

When starting an online business you will need three important and necessary elements:
Website(s), Education And Expert Training.
With Wealthy Affiliate, you will get all three along with my personal support to guide you along the way.
I also want you to have my Free eBook just to thank you for being here on my website: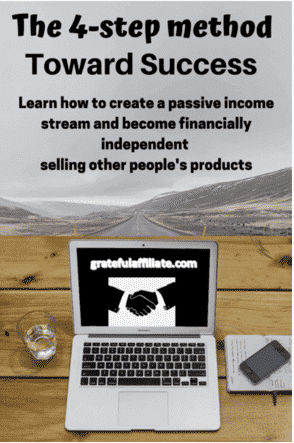 Click on the image or the button below and get your own copy.