Welcome to my The Ethereum Code review! This article will help you determine whether this platform is legit or a scam that you should avoid.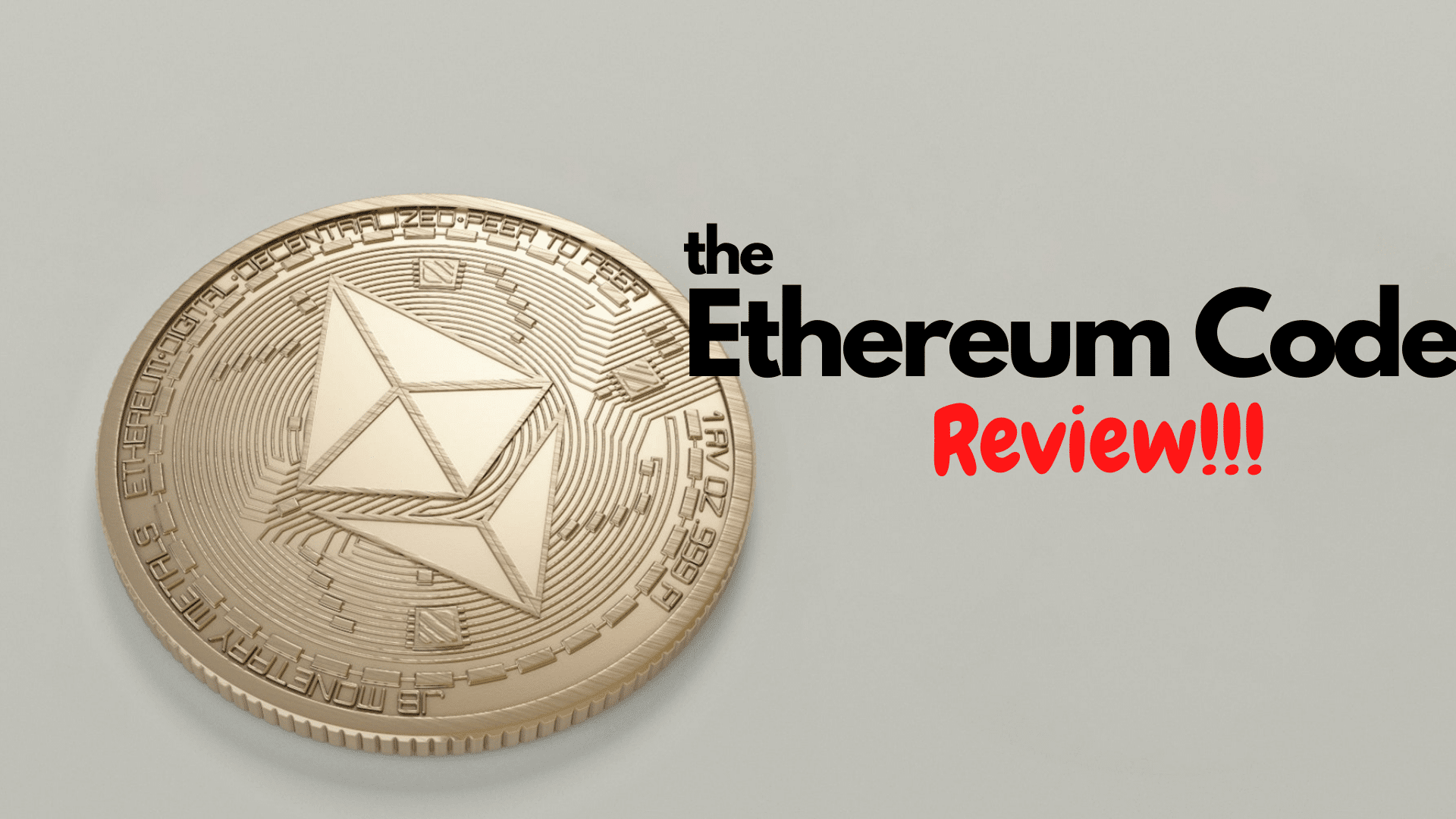 Welcome to The Ethereum Code Review!
The Cryptocurrency market has been in existence for many years now, and it is only these past few years that it has boomed when celebrities and influencers have started promoting them.
Although Bitcoin is legitimate in some sense of the word, it is still unregulated and very risky.
This may be the case—many investors are still getting on the crypto bandwagon, hoping to double their wealth and achieve the luxurious lifestyle of the rich and famous.
And to help them achieve their goals, most of them turn to "trading" applications that are supposed to generate a prediction based on the market trend.
In today's article, I'll present a review of one example of such a program called The Ethereum Code. I'll particularly discuss its specifics and help you determine whether they're worth your while or not.
But before I begin, allow me to disclose first that I'm NOT a representative of the program and in NO way marketing any of their upsells. This article is my honest opinion and unbiased take on The Ethereum Code.
So without further ado, let's begin…
Who Created The Ethereum Code Program?
Like many crypto scams I have encountered in the past, the founder(s) of the program have not shared their true identity with the public.
Instead, they have used pseudo names, fake pictures, and dummy social media accounts to somehow show to the masses that they're legit.
In this case, The Ethereum Code program poses a guy named Jad Baker as their founder and owner.
In the video sales presentation, they show an Instagram profile of this so-called "Jad Baker." However, I tried searching for the account they've presented but to no avail. It's no longer existent.
And then, I conducted a reversed image search of the pictures and found that they are indeed stock photos, as I suspected.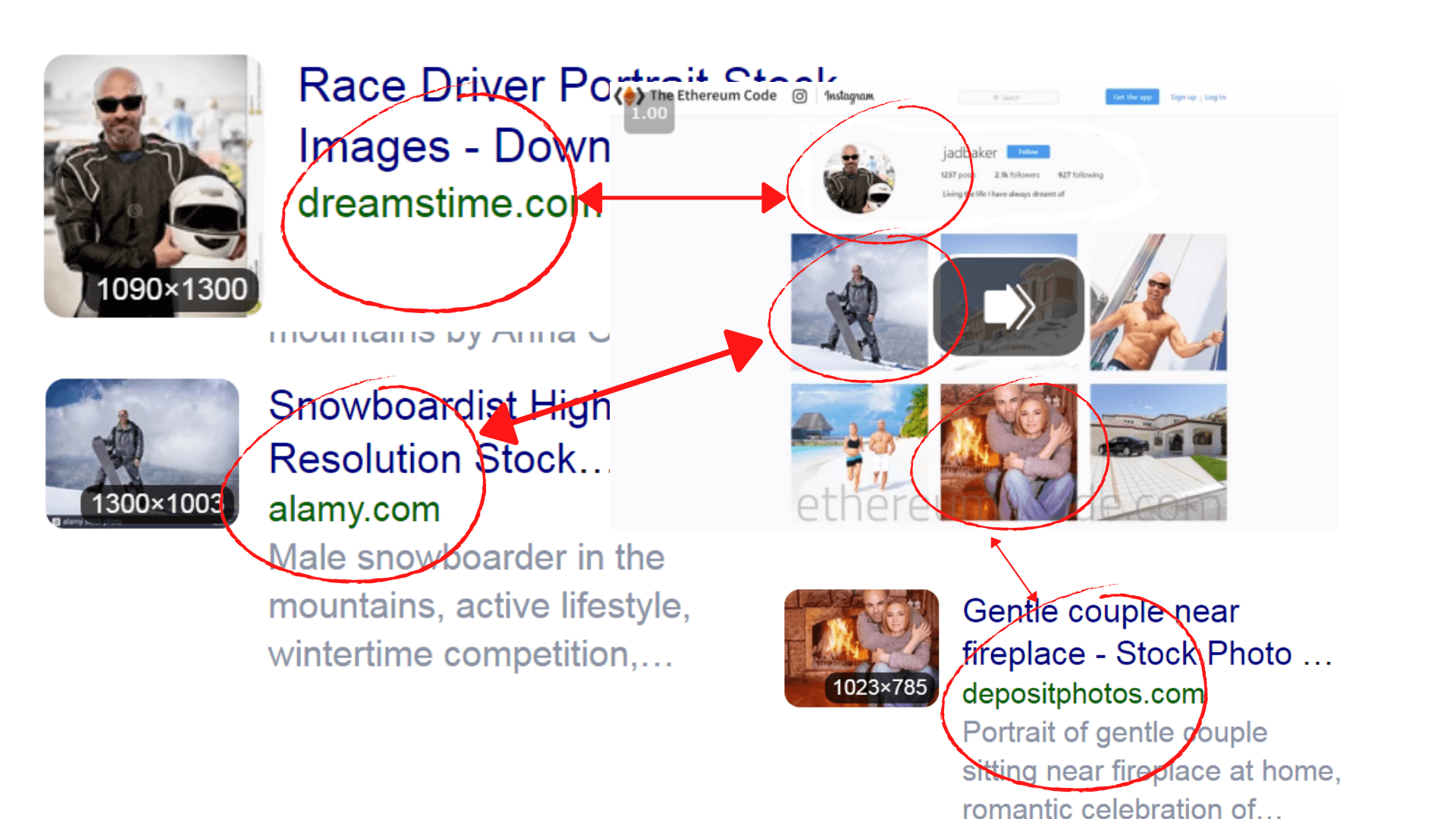 It's pretty apparent to me that they have browsed various sites for male stock photos with similar features and created a fictional person.
Such a factor already raises a huge red flag. If their operation is legit, then why would they even have to fake the identities of their owners?
What is The Ethereum Code?
The Ethereum Code is marketed as a crypto trading bot. What this indicates is that the program is supposed to make the trading task for you.
As its name implies, its focus is on the type of cryptocurrency called Ethereum.
Also, trading bots usually work by making trades on your behalf according to your preset preferences. These types of software are supposed to free you up with such tasks and automatically generate income for you.
This may be the case—you have to remember that the crypto market is not constant. As sophisticated as the software is, you may still not accurately predict the market trend, and there's the likelihood that you'd lose money in the end.
What I am saying here is that constant supervision is still a necessity to be successful in this type of investment. Trading bots sort of lightens the load, so to speak.
Although trading bots are legitimate, it doesn't mean that all of them are the same. I strongly believe that The Ethereum Code is a scam because of its misleading claims, bogus business information, and unwillingness to disclose its founders.
How Much is the Program?
At the beginning of the video presentation, they claim that the software is free. However, you have to account for the initial investment you have to make.
In the crypto trading market, the required initial investment is at least $250. You also have to take note that such a type of investment also requires higher investment to yield higher returns.
Aside from the money you have to put into the crypto market, you also need the skill and experience to succeed in cryptocurrency.
Even with the presence of the trading bots, you still have to preset your preferences which rely on your expertise in the field.
If you're looking for a legit and less risky source of income that's less risky, then you better try my best work-from-home recommendation!
Other Background Information about The Ethereum Code
In addition to the bogus founder, there's no more information about the program. Thus, I used their URL to somehow get a glimpse of their background.
As you see from below, the site was established only established recently—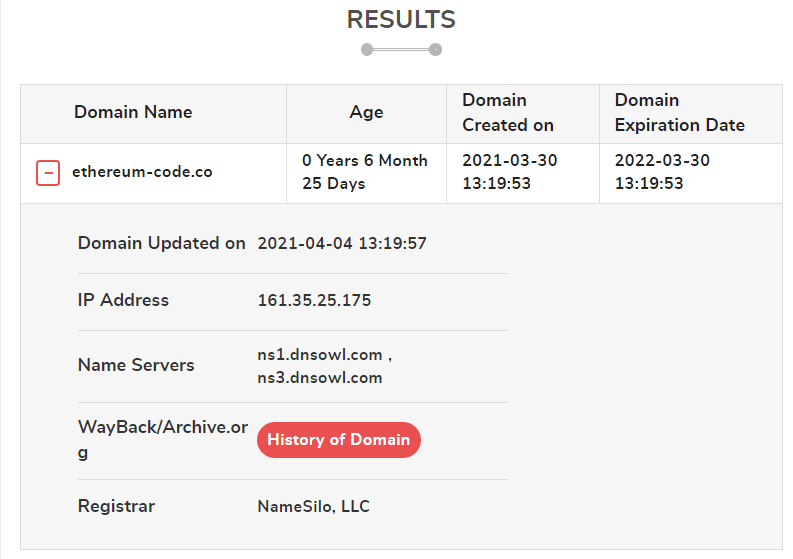 They have several domain names, but the site above is the only working page they have. So, we can't say for sure how old the site is.
Anyway, based on their IP address, the domain is registered in Frankfurt, Germany—

And it appears that the place indicated is where the site is really situated because they aren't using a VPN like many scam sites I have reviewed in the past.
Some examples include MYIGGA, Infinity Processing System, Auto Income Sites, and List Leverage, just to name a few of them.
Or, you can visit the full list of reviews here.
However, this one factor is only a minor positive trait and doesn't cancel out the many red flags it possesses.
Let's continue with my The Ethereum Code review and find out how the red flags of the investment scam…
Is The Ethereum Code a Scam? Here are some of the Red Flags…
Below are some of the red flags you have to watch out for—
Misleading
Don't be fooled by any statement saying "As Seen On," and then it's followed by some logos of prominent news agencies. First of all, it is not pertaining to the cryptocurrency market as a whole and not to the program alone.
This technique is very well used by many scams in misleading people that they are legitimate.
Also, earning significant income and attaining success immediately in cryptocurrency may not be possible, especially for newbies in the field.
Fake Owners
As mentioned at the beginning of the article, Jad Baker is a made-up name. And the true identities of the founders of the program weren't revealed.
Fake Testimonials
In addition to the fake owners, the testimonies you see on their landing page are also bogus—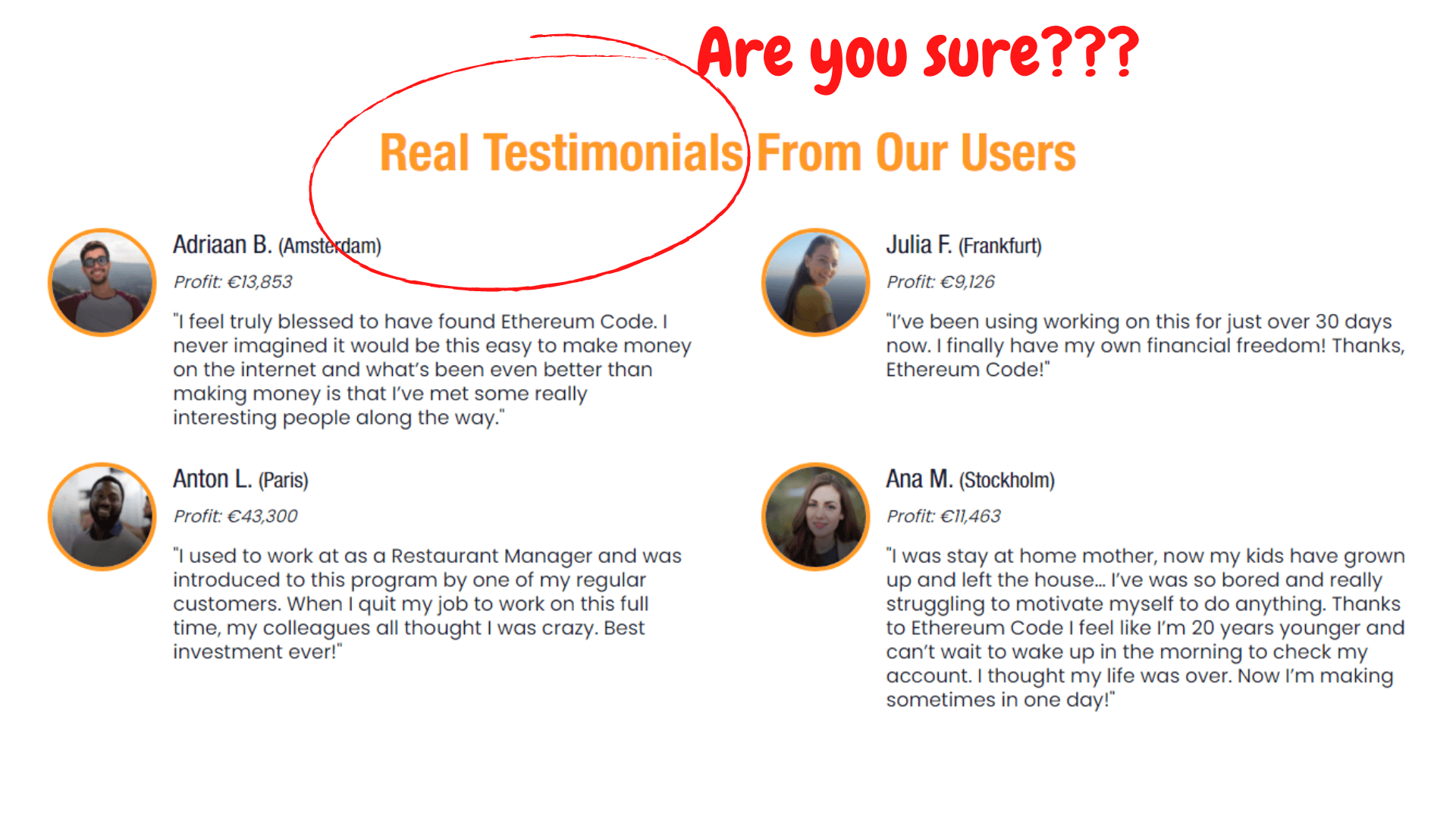 The images are stock photos as seen below—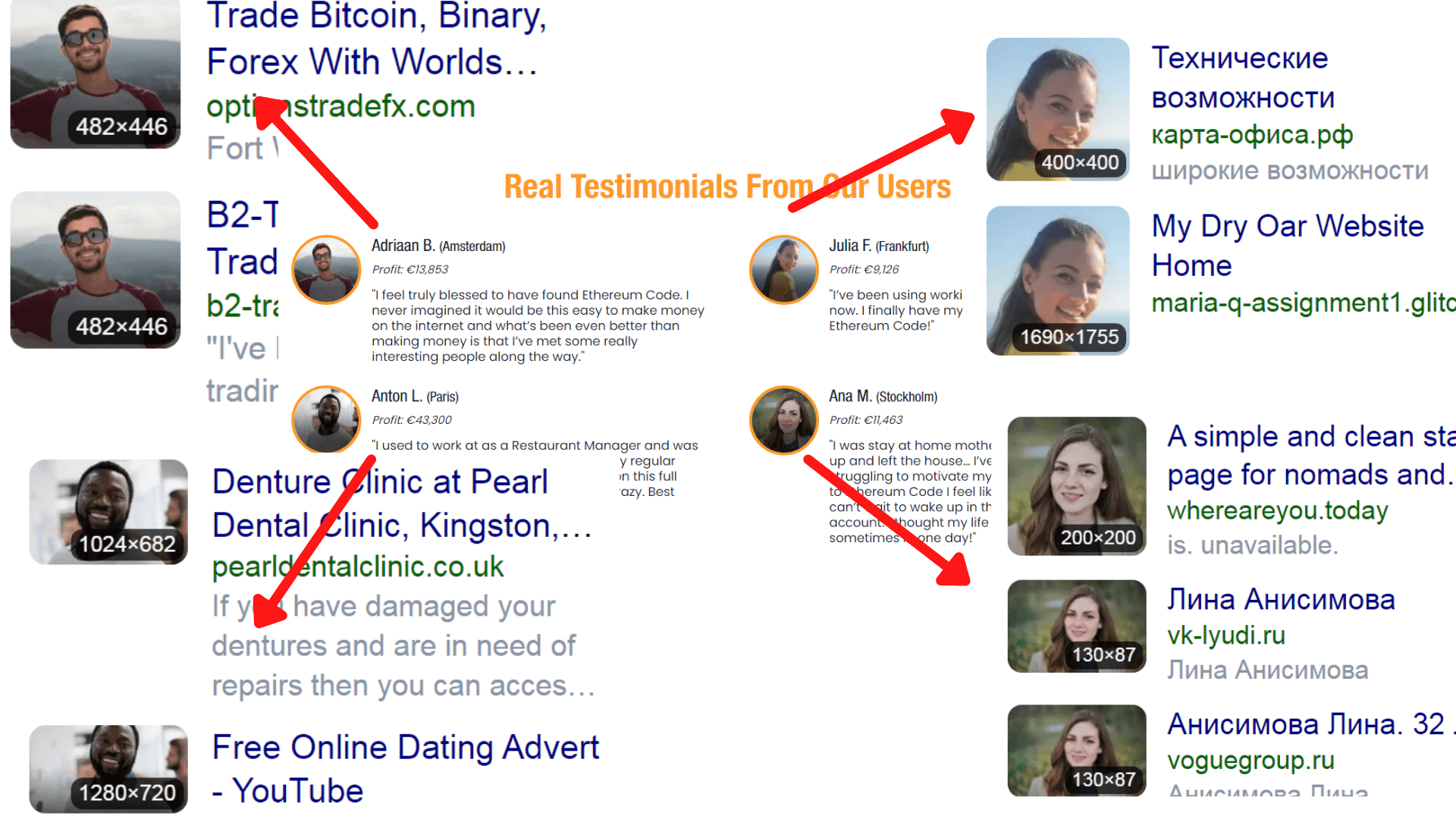 Positive Traits of the Program (if there are any…)
There's nothing positive about The Ethereum Code software.
If you are into crypto trading, there are lots of more legitimate trading bots that could potentially help you in the market.
I happen to review several crypto programs in the past. You can check them out if you like—OPM Wealth, Secret Online Goldmine, Bitcoin System, and Z Code System, just to name a few of them.
Or if you're looking for an income opportunity online that's less risky and budget-friendly at the same time, then you have to check out my best work-from-home recommendation!
Final Thoughts: The Ethereum Code Review
I hope my The Ethereum Code review has provided you with the essential information you need in determining whether the program is worth your while or not.
As I repeatedly emphasized, the program possesses many red flags.
Would you trust any business that is untruthful about their identities?  They even go as far as faking their owners and testimonies to mislead you into believing that their operation is legit.
The Ethereum Code is a scam that you have to stay away from. As I said, there are more legitimate crypto trading bots around if you are into Bitcoin.
But let's continue to the last section of the article, and I'll show you a better income opportunity online…
How I Achieve Financial Stability over the Internet
When we talk about income opportunities online, the first thing that comes to mind is affiliate marketing.
And many newbies to digital entrepreneurship are turning to this amazing eComm platform for many apparent reasons, which includes the following factors—
100% legitimate
Cost-effective
Very low risk
No inventory or delivery management involved
Potential profits are limitless since you can market as many brands as you like
As you might have already known—your main objective as an affiliate marketer is to market products through your online publications.
And then, you earn commissions anytime someone engages your affiliate links and use them to buy the business' offerings.
Of course, your chance of succeeding in this business model relies on the quality of traffic that's being generated to your posts.
It may seem daunting at first, but you don't necessarily have to worry about the matter if you're new to affiliate marketing and have no idea how to begin.
And if this is the case, then I have the perfect answer for you to ease all your doubts.
Consider giving the highlighted description a soft tickle and discover how you can create posts that's generating leads and converting sales—
>>HERE'S MY BEST WORK-FROM-RECOMMENDATION!
And to show you my appreciation just by being here, I'm also giving away my free eBook to aid you to kickstart your affiliate marketing endeavor—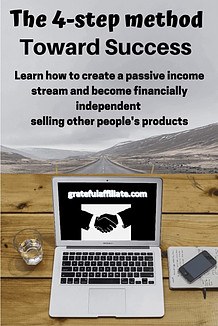 I believe that's just about it!
Thank you for rendering your time in reading my The Ethereum Code review!
I hope to see you on the next topics!
Peace!