Can you replace your job's salary in the next month by making $100-$500/day working less than 30 minutes/day? This Job Quitter Club Review reveals all!
It really does sounds like this is a way out like this is your ticket to freedom from the rat race! But is it really?
In this honest review, I will reveal the truth about this system and let you in on their "top secret" method
---
However, before I expose the truth about this system, what if I told you that I can provide you with a "REAL" method of making money online without all of the hype and lies that the thousands of systems out there are telling you.
It has helped me create a passive income stream, and I now make money while I sleep!
Click here to find out about My No. 1 recommendation
---
Summary
Name: The Job Quitter Club
Website: https://www.job-quitter.club/
Owner: "Richard Harper".  This is a pen name as I show in this review!
Price: Although the Video says they do not charge you for joining, then talks about the price is $49, when you go to the check out it is $47. This is really confusing and tends to be very suspicious!
Score: 1 out of 10
Recommended: NO
Overview
This is a system that promises you to make a boatload of money using a "passive income" method.
Right away I can spot this one as fake because of all the red flags I spotted in their sales video!
Red flags after Red Flags
I believe that this system is just a rehash of a system that came out about 2 years ago called "The Job Quitter System" which looks pretty much the same… I even found the following in the "Terms and Conditions" of The Job Quitter Club stating this:
It's not even for The Job Quitter Club, but for a different system called Private Cash Sites. They even took the same document from another system (of their own creation) and slammed it in this one!
I did a review on Private Cash Sites a couple of months ago and that system has not impressed me then either, so we are most probably dealing with the same creator(s)!
From the video and the sales page, we can deduct that "Richard Harper" is just another name that they took and are rehashing the same system over and over again.
In the video he presents himself as Richard Harper with his 2 daughters:

This is completely FALSE! The image is a stock photo taken directly on Shutterstock:
So as you can see Richard Harper DOES NOT EXIST! It's just a lie (or a pen name as they call it).
And the same goes for the house and cars that he shows off in the video. They are all stock Photos!
I found the house on multiple websites. Here is an example:
I found the image of the same house on a website called Fancy.com
The cars are also on multiple websites… Again stock photos!
And the bank account!
Let me show you how easy it is to manipulate images with software and put in the amount and the names you want!
I used a cheap software that I use to create this screenshot in less than a minute:
The screenshot they show in the video has been created the same way (with photoshop maybe) so you get the point!
They use these screenshots to make believe that this is what the system will generate for you, which is very far from the truth!
And of course, in the sales video, he goes on telling a sad story about how he (Supposedly Richard Harper) went from Rags to Riches! These cheap and low-quality systems all use this tactic!
This is just another way to play with people's emotions by trying to connect with their own situations and feelings.
Then, of course, he found this great "new way" of making money online by promoting someone else's product and earning a commission when a sale is made.
He had found Affiliate marketing!
This is NOT a new thing, by the way, I love Affiliate Marketing, my whole online business is based on this method!
But there is something he says that I'm not convinced is ethical or even possible. He claims that he can piggyback on super-affiliates and earn money on autopilot.
Any time I hear autopilot, I grind my teeth!
There is NO such thing as an autopilot system, it simply does not exist!!! Yet these guys promote autopilot methods like it was the next best thing since the invention of the wheel!!
And if you ever decide to go through with this and want to purchase the system, you will be greeted with this checkout page:
This checkout is hosted on the URL "Securescarts.pw", so I did some research on this and here is what I found:
ScamDoc.com is a web tool that evaluates websites' trust and reliability. As you can see this "secure" checkout is not really secure or at least not very trustable! I would NOT give them my credit card number!!!
---
UPDATE MAY 2021
I decided to check this one out one more time since it has come back in my spam mailbox.  Well, they have changed their checkout system!
Now it's called Simple Cash Concept.  I believe that this is a personal checkout site that the creator(s)/owner(s) have created themselves and decided to part away from Securescarts.pw
HOWEVER, Be aware of the fine prints!!!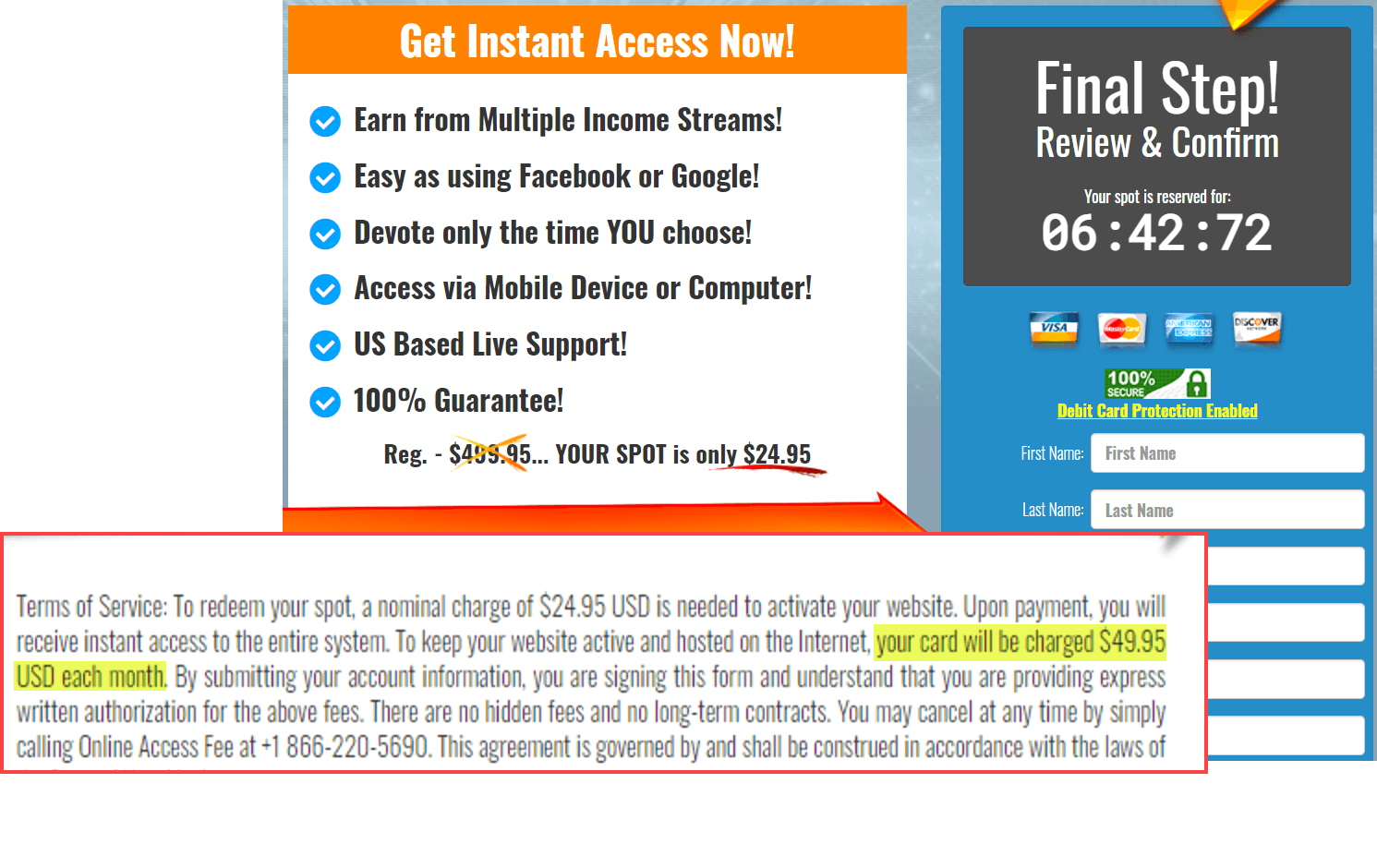 If you ever decide to give them your credentials (phone number included – so expect your phone to get spam calls as well) you will be charged $49.95 (or $24.95 if you try to click away from the website) AND a MONTHLY FEE of $49.95.
I also tried calling the Online Access Fee number and got a generic message to call back during business hours?!…
So, be very careful here!  You could end up paying a lot more than you would expect!!!
---
If you are fed up (like me) with trying these very low-quality systems that promise you riches overnight without ever delivering what they sell, let me tell you how I make money online and how you could also start your own online business for FREE. ===>Check out My No. 1 recommendation<===
---
What is The Job Quitter Club?
Full Disclaimer: Obviously, with all the red flags I have uncovered during my research on this system, I DID NOT purchase it!
If we take into consideration what the creator(s) of this system had previously published, we can deduct that this system will resemble the same crap they were selling on their previous versions of the system.
The sales video (if you watch it until the end) is full of false promises. They say that if you watch and follow until the end you should be making money right away! Yeah Right!
They give you a little bit of information during the sales video that the system is based on Affiliate Marketing (Which by the way, is the same method used in Private Cash Sites).
I cannot argue that fact, Affiliate Marketing is a very profitable method and the cost to get started is low!
He goes on to say that due to his financial situation, he could not afford to use advertising to promote any kind of affiliate products, and this is when he found a "free loophole"
He claims that he watched how the big names, the "super-affiliates" were doing it and he figured out how to "piggyback" onto their platform, products, and systems. He says it's a "new secret system" and it can be set up in about 30 minutes.
Right then I knew that this system wasn't worth my time. When these "promoters" of automated systems claim they have a new secret method and that things can be set up to work automatically, they are just using an old sales trick, that doesn't even make sense.
He claims he made money in his first 12 hours. It's not impossible to make money in your first 12 hours, but he doesn't say how much it cost in advertising to make that money.
There are also the 2 testimonies given by a man and a woman who claims they changed their lives with this system. However, I have seen enough fake testimonies in my past review to spot them, and these 2 are actors, they read a script.
That's it! They don't say what it is that they did, they just claim that they are working from home…
OH, and of course, you have to join today if you don't want to lose your spot! Another old sales trick. Check next week or even next month, the sales page will still be there!
And even goes as far as saying that they were selling this system for $1,495 and their original students made that money back in a week!
AS IF!!!! Then why would they sell it for $47 (or $49 as he says in the sales video)? It makes NO sense!!!
What they will provide
I have seen and bought so many systems like these that I can tell what you will get:
– a few videos
– some PDF documents
-maybe a landing page that would be used by every other person that buys the system, so it would be a copy and Google hates copies!
Pretty much worthless, not even the $47 you would pay for it.
The worst part and what I despise from these kinds of systems is that they don't tell you what the system is.
You have to buy before and find out after, which makes no sense to me! It's like buying a pig in a poke!
PROS & CONS
PROS
Money-back guarantee??? Well, they claim that they provide a 60-day satisfaction guarantee?? Does this mean your money back???
With what I found out about the "secure" checkout, I would be surprised they are really reliable…
CONS
Obviously, all the red flags identified!
Fake owner – screenshots taken on the web (Shutterstock)
Fake bank account screenshots
Unrealistic money claims – False promises of making $500 per day
False scarcity – making believe that the system used to cost $1,495 and now is only $47 but will disappear and you will lose your chance if you don't buy right away!
Fake and generic testimonials
You must buy the system to find out what you get
Conclusion
I believe that The Job quitter club is a scam, because even though they are providing some training for your money – they are very deceptive in what they claim, plus the fact that this is a rehash of another crappy system!
I can say this: "Getting rich overnight with the kind of systems that claim you can make $500/day by working 30 minutes a day is 99.99% fake and the only ones making money are the "creators" of these systems. No one else!

I do not recommend this system to anyone!

Especially with their shady checkout system. Give them your credit card number and your phone number and you should expect some spamming on your phone and you might be in for a surprise if you decide to ask them for a refund if you are not satisfied!
A real alternative
I have to say here that the base of this system, which is affiliate marketing, is a real method for making money online, one that is very easy to start for that matter!
This industry continues to grow as online spending increases exponentially every year, and the number of companies investing in their affiliate programs is constantly increasing.
The best part:
There is no need for big investments.
If you have the will to work hard, an internet connection, and a laptop, you're all set to make it work.
And there are FREE methods to get traffic to your website, but you will need a base foundation first and you need to learn what to do exactly.
Nobody wakes up one morning and knows all this stuff.
I was in your shoes not so long ago, and I searched high and low for some miracle system, only to get burned every time.
That is when I found the right platform! One with a community of 1.4 million other members thriving to help each other succeed!
Let me introduce you to
To be completely honest, there has never been a better time to get involved in Affiliate Marketing!
Building a business online, and a website can be monetized in many ways.
But you will need guidance.
With Wealthy Affiliate you get: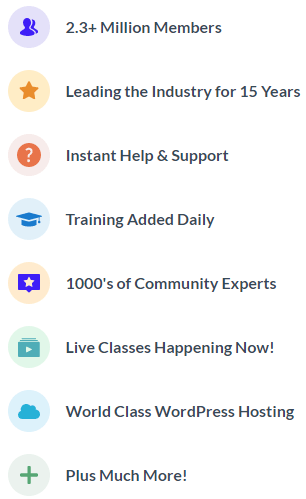 The best part: You can take a FREE test drive, NO obligations, NO credit card needed.
When starting an online business you will need three important and necessary elements:
Website(s), Education And Expert Training.
With Wealthy Affiliate, you will get all three along with my personal support to guide you along the way.
I also want you to have my Free eBook just to thank you for being here on my website:
Click on the image or the button below and get your own copy.

As always, if you have any comments or questions, please do not hesitate to use the comments section below!