The big question: What to sell online to make money.

This is the biggest battle for someone who wants to start a successful business online. It involves finding the right product, service or training.  Most people that are ready to start their own business online have no or little idea what to sell online or where to start.
What you must first understand, is that the form has little importance, especially when you start.
Let me make it a little easier for you. You must specifically sell a CONCRETE RESULT. A result that will solve a problem that your prospects are looking online to solve.  This is called a "Niche".
That's why, it is PRIMORDIAL when you want to launch a "Niche" for a product, a training or a new service to ask yourself what your prospects & customers really want.
Blogging or selling online?
It depends on your personality and your long-term goals.
Blogging involves a lot of hard work and hours initially because you need to build a following, an audience first.
And don't expect to make money right away, it takes time and your potential customer need to know and trust you first.
The beauty in blogging is that once you start getting momentum, once the traffic starts to show up on your site, the growth of your online business is limitless, and the profit margin is very high.
Money made from blogging is almost pure profit.  You don't have much overhead, no physical inventory and you don't need much more than a computer and a website.
Selling a product online involves a little less work, you don't need as much traffic to start making money selling your own goods and the payout per sale is higher, but you must invest some money into it in order to sell something.
Either way, you will need some guidance, some training
Here is a graph that demonstrates the progress curves of both business models.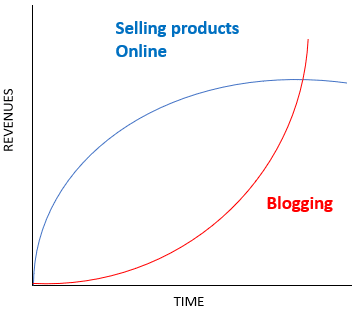 So, Should I Start A Blog or Selling Products Online?
If you have little or no budget to start selling products online business or if you don't know what business you want to start with, I would advise that you start a blog and get yourself known in your "Niche" and create a website promoting affiliate marketing products within your niche.
If you want to build on a solid base, get an audience to your blog, all while learning your way up the ladder step by step and create a passive income, Wealthy Affiliate is my recommendation.
Blogging will eventually, with experience, make you an expert in your field, without having to worry about carrying inventory, customer support or importing goods from overseas etc.
Blogging is also an excellent way to get your ideas out there and establish yourself as an authority, being a helpful problem solver for your potential customers.
When I first started, I had no idea where to start.  Then I found the platform called Wealthy Affiliate.  
It is the best and most advanced training platform on the Internet, to learn how to make money online using affiliate marketing.
First, you need to have an actual website and own your own domain, this is absolutely required.
Then you need to learn how to run your website.  Wealthy Affiliate is using today's best platform available for blogging which is WordPress.
Then you need to scale your website as an authority in your niche so that you get traffic, and eventually affiliate sales.
But money aside, blogging is an incredible way to express yourself, help people doing it and to build an audience.
With Wealthy Affiliate, you will learn how to use WordPress, get a domain for your website, and learn all there is to know about Affiliate marketing, all within this wonderful community of over 1,000,000 members.
The best part is that it's FREE to join and there is no credit card required or any obligations.
They will even give you 2 free websites when you join and a 10 lesson free training.  But don't just take my word for it, go and check it out for yourself.
Like I stated earlier, building a legitimate money-making blog doesn't happen overnight. There is a lot of work involved, but once you get the motions rolling, the sky is the limit.
If you want to see how I make money online, click on the link below and create your Free account, no obligation, Credit Card required!
---
I also invite you to check out my Free ebook:  The 4-step method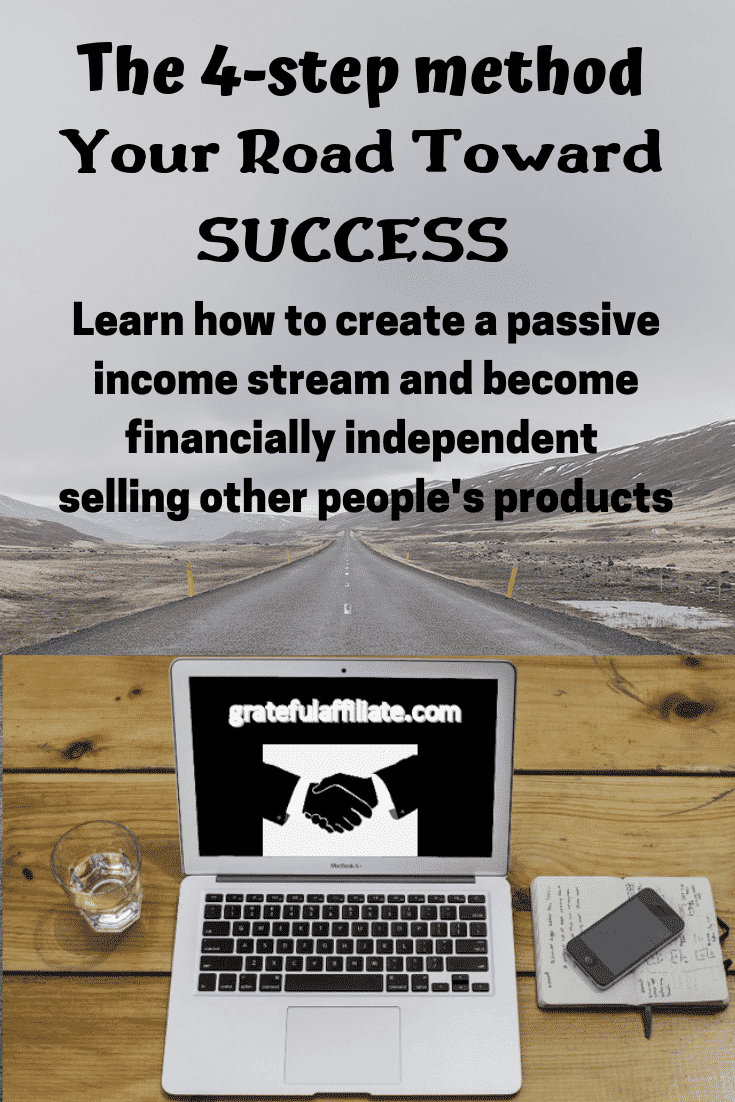 In this guide, I explain the basics of Affiliate Marketing and how to create your own online business!