Want to know the truth about Zendyx Affiliate system? Just read my honest review and find out what is the real deal!
Zendyx Affiliate System is an affiliate marketing program that claims to show you ways to make money online through the ClickBank affiliate program.
I stumbled across Zendyx Affiliate system through an email invitation that claimed I was a "winner" and that I had been randomly been selected to take part in this new money-making program.
Their claim to make $1,200 per day is very bold, to say the least, but is it possible? Let's see…
---
I will tell you right away that my favorite method of making money online is NOT Zendyx Affiliate System.
Click here to find out about My No. 1 recommendation
---
Summary
Name: Zendyx Affiliate System
Website: https://www.zendyx.com/zendyx
Owner: Mark Evans (Or so they say – I couldn't find anyone by that name that claims to own this digital product)
Price: $39 plus multiple upsells
Score:
   Only because you can ask for your money back!
Recommended: NO
What is Zendyx Affiliate System
Overview
On the sales page, the narrator starts by saying "discover the shocking truth to make up to $1,000 per day" and even talks about making over $100,000 per month spending only half an hour per day. I'm sure that this bold claim in itself would have caught your attention. Well, you're not alone. Just six years ago I would have had the same reaction and jumped on board!
However!
It's very easy to find stock images on the Internet of luxury houses and fancy cars and put them in a cheaply made narrated video to make you believe that it's what this system will bring you, and I don't blame you for believing it, they make it sound so easy…
The fact is, when it sounds too good to be true, it usually is! Especially the part where you only have to work 30 minutes per day. That is absurd!
What is Zendyx affiliate system?
According to the sales video, it's a digital product that will teach you to become an affiliate marketer and promote ClickBank products, especially the Zendyx Affiliate system.
Affiliate marketing is a great method of making money online! It involves promoting someone else's products and earning a commission when you make a sale through your own affiliate link.
It is a very legitimate method of making money online and it is also my favorite method!
Now, ClickBank is one of the biggest names out there. It's an affiliate network that gathers thousands and thousands of digital products into one digital space. They are the middle man between the vendor (the product creator) and the affiliates (the one that promotes the vendor's product).
What worries me about this system is the lack of transparency and honesty!
They say in their sales video that "you can make over $1,000 every single day"
Although this may be true in certain cases, for example, a professional affiliate marketer that has years and years of experience and is promoting hundreds of digital products could make $1,000 in a day, that is not impossible.
But for you to make $1,000 per day with this system and make the kind of money they show in the video is simply a big fat lie! They show you nice screenshots of their Clickbank's account with thousands made each day:
However, did you know how easy to manipulate these figures on the Clickbank website, to make you believe that they are making that kind of money? Here is proof in a short video from one of my mentors:
As you can see, the figures shown in the sales video may be all false!
But that's not all I found fishy about this system.
Remember those testimonies from people making thousands every day?
Well, they are FAKE too!
Look at this:
Here is the original testimony of a man saying that he makes thousands with this system:
And here he is offering his spokesperson services on Fiverr:
And here is another of the fake testimonials from the sales video:
Again here this guy says that he made $1,332 commission in just one day thanks to Zendyx, but guess what…FAKE:
Here he is on Fiverr offering his acting services as a spokesperson:
Why would a system hire actors to tell fake testimonies if it was so great?
I'll tell you why, it's to make you believe that it's true, where in fact there is nothing true in the whole thing!
I have seen these kinds of sales videos hundreds (if not thousands) of times since I started reviewing affiliate marketing systems and this one is NO different.
They play with people's emotions, lure you in with a sales video full of lies and a cheap entry price, only to bombard you with upsells after upsells, saying that you need this and that to make this system work!
They show you vacation homes and luxury cars just to enhance that emotional hook!
Only to end up with either a PDF document and/or a few videos showing nothing more than what you could find on your own either through a Google search, or even a website like Udemy
---
If you are fed up (like me) of trying these very low-quality systems that promise you riches overnight without ever delivering what they sell, let me tell you how I make money online and how you could also start your own online business for FREE. ===>Check out My No. 1 recommendation<===
---
I do not see a future for anyone with this system.
It also surprises me that ClickBank allows such a system on its platform. They have been better at screening these lately, and this kind of product has been seen on another platform called Clickbetter instead. So it might be taken down because of the high refund volume…We'll see!
FULL DISCLOSURE:
Needless to say, I did not purchase this system for the obvious reasons enumerated above. I have enough experience to know when the sales video is full of lies, then the system will not live up to what it's promoting, that is a certainty.
PROS & CONS
PROS
You do get a 60-day money-back guarantee if you buy the system and you are not satisfied, that is about the only thing I found that is a pro for this system
CONS
False scarcity – They say on their sales page to hurry because the system will be removed at midnight, which is another lie. Check again next week it will still be there!
Fake Clickbank screenshots – The video we have included here shows you that it's very easy to manipulate data and create fake screenshots. It can also be easily done with a regular image manipulating software such as Adobe Photoshop.
Fake testimonies – As we have shown in this review, there is nothing true about anything these "actors" have said in the sales video. They were paid to say what the creator of the system wanted them to say.
Emotional triggers – pictures of vacation homes and luxury cars are just there to make you believe that this system will bring you those, when in fact it's just playing with your emotions to get you to click and buy their system.
Multiple upsells – If you do decide to buy the system, they will not stop at $39. They will then try to make you believe that in order to really make $1,000 per day you will need to purchase another product, then another, and another so you could end up dishing out hundreds and hundreds of dollars in the process!
Conclusion
As I stated earlier, I don't see how anyone (besides the creator) could benefit from this system and my advice is to stay away!
I see these kinds of systems come out every day and I have reviewed quite a few of them like:
CB Moneyvine; 10-Minute Payday; Home Cash Club;  and Instant Cash Solution just to name a few…
They try to make believe that this is the next best thing to inventing the wheel, when in fact all they do is sell empty promises!

Now the question on everyone's mind: Is this a scam?
Well, the definition of a scam is a dishonest scheme or a fraud. In this case, it is quite close to what the dictionary tells us. However, you are getting "something" for your money, so it's not quite what a scam (taking money from an individual without providing anything in return).
I will leave this one up to you…
I can honestly say that I consider this type of system as "VERY LOW QUALITY" instead.
How about a "Real" Method?
As I said earlier, I'm an affiliate marketer and I have been doing this for the past 4 years now.
Prior to using affiliate marketing as a business model, I was like you, going from one scam to the next always looking, searching and getting burned (and losing money) in the process. And let me tell you I was disappointed many many times!
Affiliate marketing has changed all of that, and now I make money while I sleep!!!
The affiliate marketing industry continues to grow as the online spending increases, and the number of companies investing in their affiliate programs is constantly increasing. To be completely honest, there has never been a better time to get involved in Affiliate Marketing!
That is just ONE facet to building a business online, and a website can be monetized in many ways.
But you will need guidance.
When starting an online business you will need three important and necessary elements:
Website(s), Education And Expert Training.
With Wealthy Affiliate, you will get all three along with my personal support to guide you along the way.
Why don't you give it a Free try!  You can create a free starter membership and have access to the whole system for a full 7 days.
NO credit card required, no commitment from your part.
Just take the system for a free test-drive and find out for yourself how this community of over 2 million members can make a difference in YOUR life!
I also want you to have my Free eBook just to thank you for being here on my website:
Click on the image or the button below and get your own copy.
And I will see you on the inside!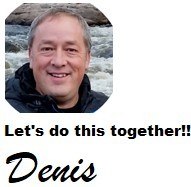 As always, if you have any comments or questions, please do not hesitate to use the comments section below!