PrizeRebel is a popular online survey platform that pays users for completing surveys, watching videos, and completing other tasks. However, with so many scams on the internet, it's natural to wonder if PrizeRebel is a legitimate way to earn money online or just another scam.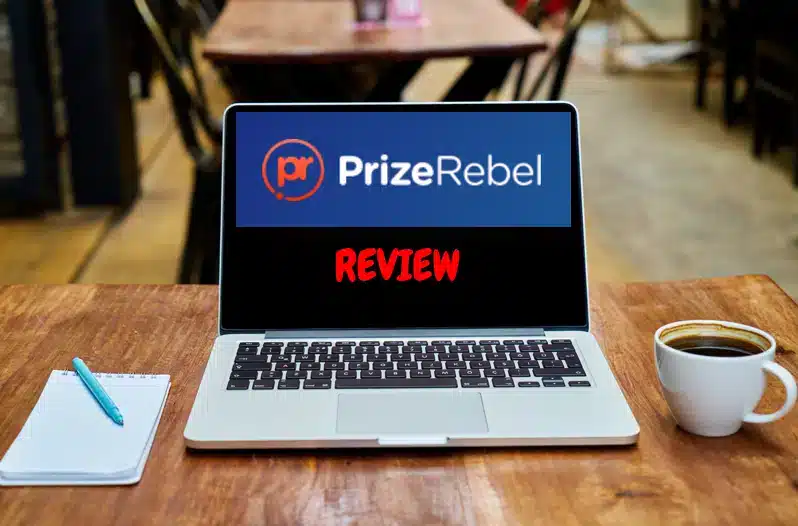 GPT (Get-Paid-To) and PTC (Paid-to-Click) sites are a source of easy money, so to speak. But they are not the best option if you are looking for a high and stable income. In any case, if you are only looking for extra cash to boost your budget, then doing GPT tasks is a good idea nonetheless.
And if you have been searching the internet for legitimate GPT sites, PrizeRebel is likely among the ones you have came across. If you are particularly interested in knowing whether PrizeRebel is legitimate or just another scam, then the review I prepared will provide you with the answers you need.
For today, I will share with you my thorough analysis of PrizeRebel and help you determine if they're worth your while or not.
But before I begin, allow me to have this moment to disclose to you that I am NOT an affiliate of PrizeRebel, and I will NOT earn any forms of commissions if you decide to sign up for their program after reading this review.
So without further ado, let's get right into today's discussion…
Who Developed PrizeRebel?
Unfortunately, there's not much information about the founders or current owners of PrizeRebel. However, what was only shared over the internet is that they are founded in 2007, and most of the memberships are within North America and Australia.
They claim that already provided a reward amount to $25 million dollars over the span of its 16-year existence. However, there is no way for us to verify such a claim since they do not have an income disclosure statement to back it up.
Anyway, a GPT site not disclosing important information about them is not something new, and it doesn't necessarily mean that they are a scam. Some of the GPT sites I reviewed that do not share corporate information turn out to be legit.
So, is the program offered by this GPT site legitimate or just another scam to avoid?
Let's continue with this review and learn more about the program…
What is PrizeRebel?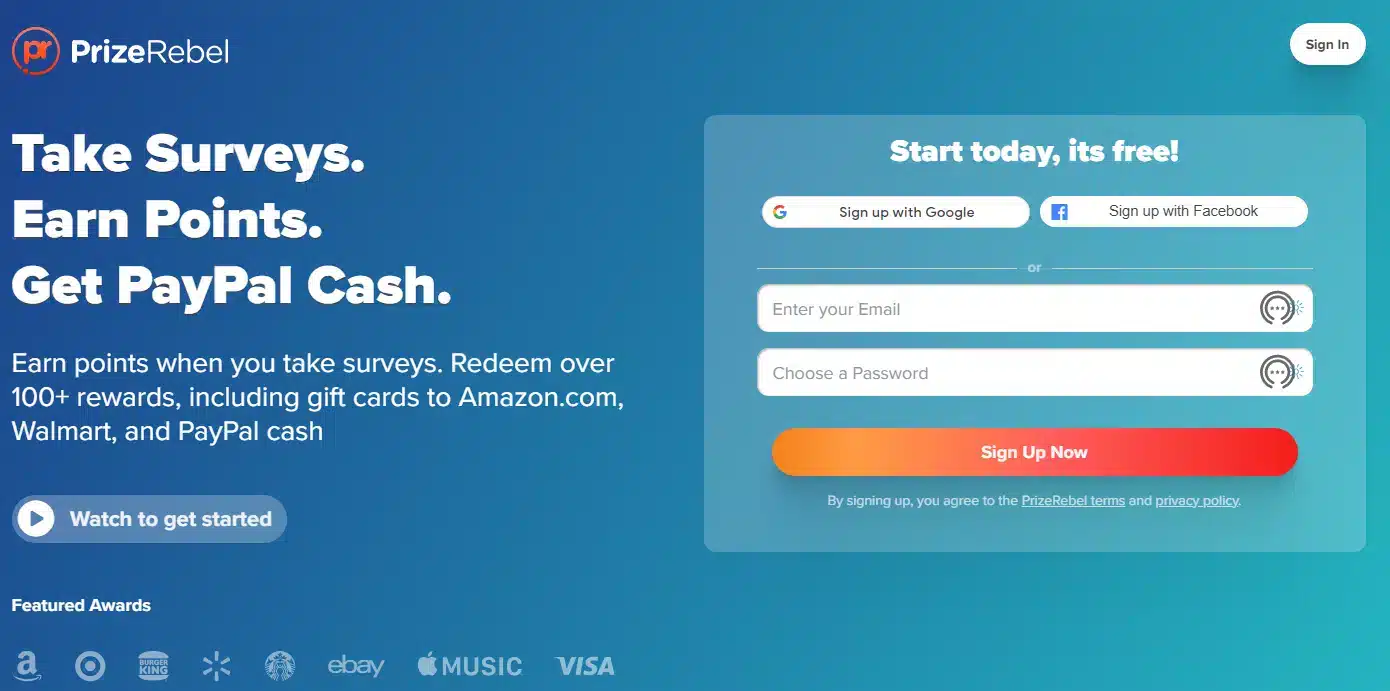 As you might already know by now, PrizeRebel is a GPT site that rewards members with cash or gift cards for taking on simple tasks like paid surveys, watching ad videos, playing games, etc. They also compensate in the form of referral commissions for inviting your friends and family members into the program.
In general, the tasks available on GPT sites are easy and each task won't even take longer than five minutes to accomplish. However, as easy as they may appear, it is also not the most lucrative. The amount for each task is so small that you might even find it extremely challenging to break into the $10 mark in a week!
If you are looking for alternatives but still the same kind of GPT websites, some examples are Swagbucks, Survey Monkey and Fusion Cash.
However, if you are looking for a source of income online that will help you pay the bills or support your lifestyle, then doing GPT tasks are not the best option for you.
RECOMMENDED- If you are looking for a platform that will enable you to create a profitable and sustainable online income, then you should check out my best work-from-home recommendation!

How PrizeRebel Works?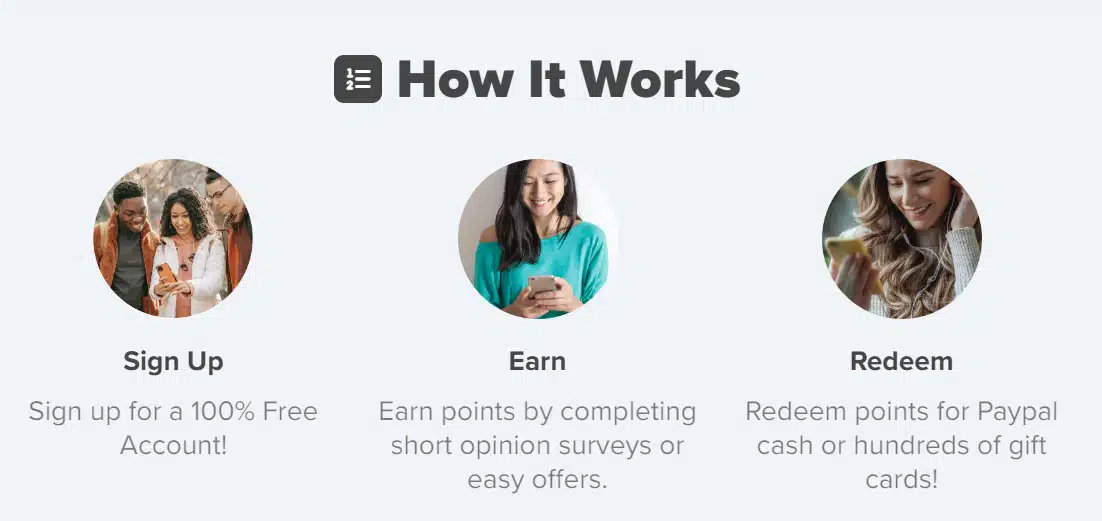 The mechanics of GPT sites are relatively straightforward. Usually, and in general, it involves signing up for the membership, selecting the tasks you want to take on, and receiving your rewards once the withdrawal ceiling has been reached. Again, as easy as the tasks are, the payout is not very high.
The completion time for each survey varies, but most surveys take between 5 and 20 minutes to complete. The time it takes to complete a survey depends on the number of questions and the complexity of the questions.
Anyway, the summary of the GPT tasks that PrizeRebel offers are as follows:
First Option: Paid Surveys – The survey questions are usually straightforward and easy to understand. The questions are designed to gather information about the user's opinions and experiences. Users are encouraged to answer the questions truthfully and accurately to ensure that they qualify for the survey rewards.
Second Option: Paid Offers – the task involves the member interacting with certain advertisements
Third Option: Get Paid to Play Games – you receive rewards by playing beta games and providing your thoughts and experience about the application
Fourth Option: Get Paid to Watch Videos – they reward you for watching three video ads that are at least 30 seconds long each
Fifth Option: Daily Challenges – The challenges are usually simple tasks such as completing a certain number of surveys or watching a certain number of videos. Users can earn bonus points for completing the daily challenges.
Sixth Option: Raffle – you earn extra points by participating in the site's daily raffle entries
Seventh Option: Lucky Numbers – they also provide extra points for buying lottery tickets and picking your four lucky numbers
Eighth Option: Free Contest – it is a contest among members that provides winners with extra points
Ninth Option: Invite Friends – PrizeRebel has a referral program where users can earn points for referring friends to the platform. Users can share their referral link with friends and family, and earn points for each person who signs up using their link.
You also have to take note that a dollar is worth 100 points, and they have a point threshold of $5 or 500 points before you can withdraw your money through PayPal or gift cards.
How Much is the Membership Fee for PrizeRebel?
Like any other GPT site, registration for PrizeRebel is free. However, you have to bear in mind that you are providing your personal information to them, which means that they now obtain the opportunity to sell your data to third-party entities that they can use to promote their products and spam your emails and contacts.
RECOMMENDED – If you're looking for a platform that can give you a steady and higher income without spamming you with emails, you need to check out my top work-from-home recommendation!
Is PrizeRebel a Scam?
NO PrizeRebel is NOT a Scam! It is a legitimate GPT website!
Also, below is what other people are saying about the legitimacy of PrizeRebel:
What I LIKE About PrizeRebel
Here are things I really like about PrizeRebel's offering:
You can join for free!
You can choose to be paid in cash instead of just gift cards.
The minimum amount you can withdraw is low.
What I DON'T LIKE About PrizeRebel
Now, below are the things I don't like about PrizeRebel:
The tasks available on PrizeRebel don't pay much.
The platform is not available in all countries.
Some paid surveys have high qualification standards, making it difficult for some people to qualify.
Final Thoughts
In short, PrizeRebel is a real way to earn money and rewards online. It has been around for over 15 years and has paid out millions of dollars in cash and gift cards to its members. PrizeRebel lets you earn points by taking surveys, completing offers, watching videos, and referring friends. You can cash out your points for as little as $5.
While PrizeRebel will not make you rich, it can be a good way to earn some extra cash or gift cards in your spare time.
PrizeRebel has a community of over 9.2 million members who have received over $19 million in cash and rewards since 2007. However, PrizeRebel is not as big as sites like SurveyMonkey, for example, which has paid out over $300 million.
In conclusion, PrizeRebel is a solid paid survey site that lets you earn money and get rewards online. Just remember, it's not a substitute for a full-time job or an online business.
So with this being said, I am giving PrizeRebel a final rating of 7 out of 10 stars:

Discover a Reliable and Lucrative Option
Affiliate marketing is a great way to make money from home.
Many people choose it because it's low-risk and you don't need much money to get started (less than $500 will have you up and running a full online business in no time!). Plus, you don't have to worry about storing or shipping products. Best of all, you can earn a lot of money by working with multiple companies and promoting various products.
If you're serious about succeeding in affiliate marketing but don't know where to start, I have a suggestion based on my own experience.
Since 2016, I've been using a complete training platform that has helped me create a very successful online business. This platform has led me to earn money even while I sleep, thanks to the passive income chances I've implemented through their helpful training and help.
This training platform gives you all the tools, resources, and support you need to build a thriving online business.
You'll learn important skills like choosing a money-making topic, making high-quality content, getting your website ready for search engines, and using social media to bring in visitors and so much more!
Are you ready to start your own online business journey and tap into the power of affiliate marketing? Don't miss this opportunity to learn from a proven platform that has changed my life.
Click the link and find out how you can start building a successful online business today!
>>HERE'S MY BEST WORK-FROM-HOME RECOMMENDATION!

And to give you my gratitude for being here with me today, I am also giving away my book for free to help you jumpstart your business—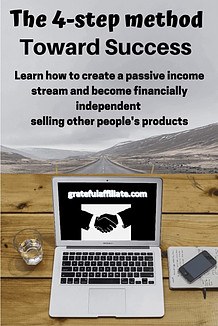 Peace!