Super Affiliate System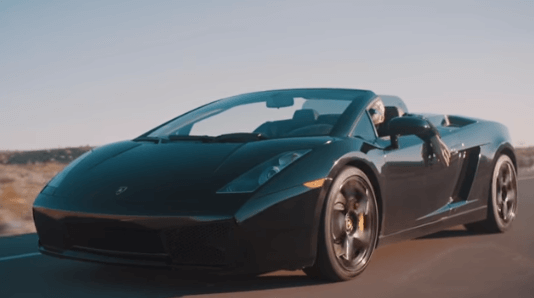 Here we go! Another one of those flashy videos where the guy promoting his program and flashing all of his toys and luxury items.
I stumbled on this program while trying to find a product to promote on ClickBank.
Their claim was undeniably very attractive, so I had to check it out for myself. I clicked on the link and got sent to a sales page.
---
If you are looking for a way to make money online, click on the link below and find out how I do it.
You can start today for FREE – No obligations or credit card required

---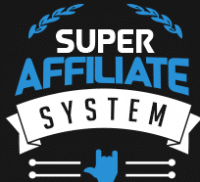 My Analysis
Program Name: The Super Affiliate System.
However, the program that they sell is "The Internet Jetset Online program"

Website: http://johncrestani.com
Owner: Pendragon Labs LLC, 2017 – John Crestani
Price: $47 now and is it $47 per month or $97 per month? It depends on where you look: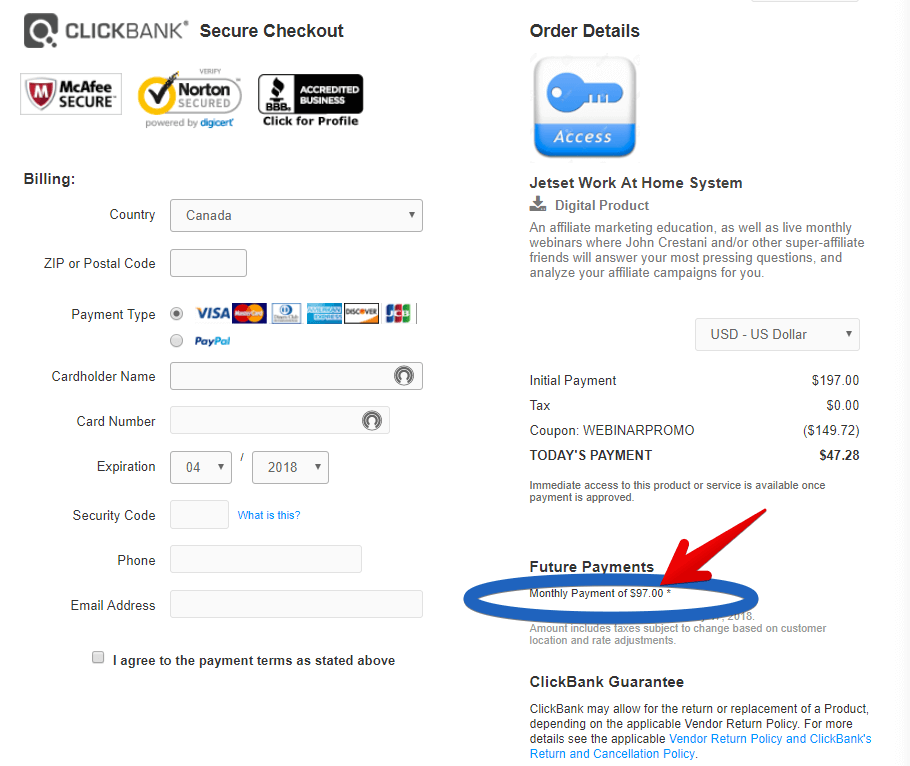 As soon as I saw the ClickBank secure checkout page and the monthly price that I circled was not $47, I started to be a little skeptical.
Is John Crestani's program really worth it or is it a rip-off?
If you are like me, you have seen these videos all over YouTube and even Facebook.
He advertises his webinar on how to make money online and live the laptop lifestyle.
Since I am a very big fan and an avid blogger, the laptop lifestyle is really my kind of thing.
I was very curious about what I could learn from his program and I decided to take his webinar and see what I could find out for myself.   I was willing to go through the whole thing even though I had found a lot of mixed reviews about him and his program.
To make this a long story short, after going through his webinar, which is an hour and a half long, the bottom line here is he goes through the basics of affiliate marketing using Amazon.
Does he over promise? Well yes!!
On the advertising page of the webinar itself there is this claim that "If you can spare 60 minutes a day, you can earn as much as $50,000 per month".
Hmmm, probably possible if you are a very advanced Affiliate Marketer and that you have a TON of traffic to your website(s).
He is a very good salesman, I cannot argue that fact. He does make a lot of statements during his webinar that makes a lot of sense and is truthful.
He talks about how he struggled before he made it "to the other side". From rags in 2011 to $3.9 million in revenues in 2016.
And he also shows some of his students that have also made it big. And it all looks very legit.
One thing that caught my attention and made me realize that this guy did make it big using affiliate marketing is when he said
"The easiest thing I ever did was to make $1,000,000. The hardest thing I ever did is believe I could do it".
This is so true for anyone who is aspiring to make it BIG with an online business!
The webinar itself
During the webinar he gives out the actual basics of Affiliate Marketing by going through 3 modules:
Select a niche, use a marketing system to generate visitors and create a Funnel to convert visitors into sales.

He recommends going with Amazon, by looking up what product has a high search volume.
He says that we should pick a product that has at least 5,000 searches a month.
This is where I got a little disappointed.
He says that out of those 5000 searches, you should get approximately 33% of them to visit your site and click on your "link".
HOW??? How do you get all of those clicks to your website???
He doesn't say, he goes on to another step of his step by step process.
The rest of the process is making a video and do a review of the product and again 15% (out of the air apparently) will click on your YouTube video.
He says to always promote an item that makes at least $40-$50 commission per product. With Amazon's commission rate that's at least a $1,000 product! (Forget about promoting small stuff)
Then, with his calculation, he calculates from the original 5000 searches, that you end up with 240 clicks on your link with a 20% conversion, which makes $2,400/month for 1 product review???
Remember when I said he oversells?
I guess it's all possible, but HOW do you get the traffic to your website??? I would say if you are an authority in your niche and have a lot of traffic already, but not someone who is just starting!
Then, about half-way through the webinar, the sales pitch comes in to promote his $47 now and $47 per month course called Internet Jetset Online program.
There is a "free traffic machine" in there. That will probably help, but as you will see a little later in the description of the product, he is teaching you how to pay for your traffic with ads, which of course is a great method of getting traffic to your website fast!  But you will need a hefty budget to do so!
And are there any upsells? Definitely. And it is very much oversold!
---
Want to learn how I make my money online while I sleep? Check out my No. 1 recommended system ===>right here!<===
---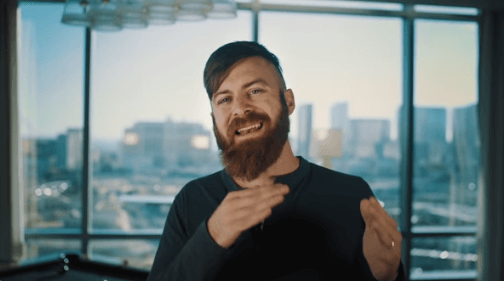 So, what is the Super Affiliate System (or the Internet Jetset program)?
It's a basic 12 weeks step-by-step Affiliate Marketing course.
There is over 50 hours of video training and is divided into 12 different modules. Its main goal is to train the "newbie" of Affiliate marketing, and it does a good job doing so. The course will take you through all the required steps of building an affiliate marketing business.
Modules Include:
Basics of Affiliate marketing
Choosing your Niche
Tools and Software to use
Landing Pages
Facebook ads
Google Adwords
Advanced Facebook Ads
Overcoming Failure
Copywriting techniques
Advertising
Scaling your campaigns
So as you can see, for someone just starting Affiliate Marketing, the course is pretty complete to get you started.
You also get access to an Active community of like-minded people doing the same thing.
You also have access to Monthly Live webinars
There are other courses in the upsell that costs $187, but I did not get into them.
Is it a scam?
From my analysis and from what I have seen here, this program is definitely NOT a scam.
It is legit and has some value for the beginner and the advanced Affiliate Marketer.
However, like a lot of programs I have analyzed, the traffic part will be costly and if you don't have any traffic to your website, you have no potential customers, therefore no sales.
There are methods to get free traffic to your website, however, I did not see anything about SEO here.
Pros and Cons
PROS
For both the beginner and the advanced affiliate marketer, the courses are well-made and are easy to follow.
He does mention the important part, that this is NOT a get-rich-quick scheme and anyone who has tried their hand at affiliate marketing know that it requires effort and work to be successful.
Pre-built templates for ads and landing pages
John Crestani has really made well for himself and has been featured in magazines such as Forbes and Business Insider. He has experience and he really knows his stuff.
Solid 60-day money back guarantee with ClickBank
CONS
Oversold – Especially the webinar. Although his claims may be feasible, it is NOT the average amount of money a beginner can make doing Affiliate Marketing and is used to lure the beginner into the program.
Confusion in prices per month. Even though the webinar says that it is $47 per month after the initial $47 when we look at the fine prints of the payment page we see that the price per month is $97 per month??
Conclusion
Even though this is a legit program, I am not convinced that it is the best way to start an Affiliate Marketing business.  Especially if you have a tight budget.  To follow this system you will need a hefty advertising budget in order to get any kind of traffic to your offers.
At this point, I will let you decide if it's for you or not, however, since I did not buy the system, I will not give it a thumbs up or down.
I decided to pass on this one mostly because of all the upsells and the confusion in the monthly price.
Why?
Because I know a better and a cheaper way (It's actually FREE) to get a step-by-step training you need to get your online business started and have your own Affiliate Marketing website.
What do I recommend?
The Wealthy Affiliate University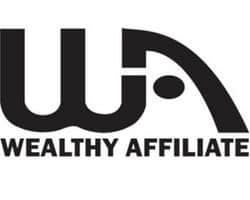 You can join this platform, which is more a community of hundreds of thousand like-minded people, for FREE.
And they will give you 2 FREE websites to start and the first 10 lessons of the training needed to get you going right away.
NO GIMMICKS, NO OBLIGATIONS, NO UPSELLS, NO CREDIT CARD REQUIRED!
Click on the button below and provide an email address, that is all that is required to have full access:

---
I also invite you to get my FREE guide "Work Online From Home And Make Real Money"
This method is how I make my money online, so click the link below and get my free guide:

When building an online business you need these three essential elements: Expert training, websites, and Education.
With Wealthy Affiliate, you will get all three along with me as your personal coach.
And I will see you on the inside 🙂
Please feel free to leave your questions or comments below in the comment section, I will be very happy to reply.