I stumbled on this program while looking for something else, and the sales video caught my attention.
In the first few seconds of the video, the narrator claims that some people, with no previous online experience, can make from $1,500 a day, sometimes up to $3,500 and even up to $8,000 a day.
Imagine that!!! $8,000 a day, that ends up being $2.9 million dollars a year!!!
Wouldn't that be sweet! However, I have high doubts that this is just a big hype!
Let's find out what Wealth Academy is all about.
---
If you are already suspicious and want to skip ahead, I can say right away that I do not recommend this program and that I advise you to stay away.
If you do want to know how I make my wealth online, I invite you to check out my method by clicking on the button below. It will bring you to a new tab and it will explain how I make real and honest money online!
---
The Analysis
Program Name: Wealth Academy
Website: https://wealthacademy.click
Owner: "Richard" No last name? No way of knowing who is behind this program!
Price: $24.95 with upsells of course
Intro
In this "new" program, I found that the sales video is very similar to older programs I have seen before. They tell the same story. It's about someone who loses their job, they can't support their family anymore until they meet an "old friend" who has a secret method that has solved all their money problem and is now making a boatload of money with this very secret method. Even while they sleep!
What did stand out from the rest of the ones from today's online programs trend is the fact that the narration is sub-scripted only! No images, no bank account screenshots, nothing, just plain text all the way.
If you are here, it's because, like me, you thought that the money claims the narrator tells are way too good to be true. So, it's a good thing that you took the time to research this program before you actually bought it!
Scams and very low-quality programs to make money online are coming out every day.
It's a common thing to see these programs selling their "get-rich-quick" method. So, let's find out if this one is any different.
Is Wealth Academy worth the try?
I watched the sales video in its entirety and here is my opinion:
First, who is this Richard? When a program does not reveal who the real owner is, that is my first red flag.
We have no idea who the owner is or if the sad story he tells on the sales video is real.
His sad story starts by him being laid off and that he was worried about being broke and living on the streets, and then 10 seconds later he says that he was buying one online course after another to no avail, until he ran into his "old-co-worker – Mike" who had made it in the online business, and showed him how to do the same with his "secret way" called Affiliate Marketing.
Well, wasn't I surprised! I have been in business for years using Affiliate Marketing and I never made $8,000 in a day! So I continued listening to his story to see what I have been missing all along!
Turns out that I already knew that he was only hyping his story to sell his program, but I finished the video anyway
So, my second red flag is the money-making claims. These "Get rich quick" programs are pretty much all the same. They use people's emotions and tell them how they too struggled until they found this "secret" method of striking it rich. The narrator (let's call him a narrator since we have no idea who is really talking…) says that people that have no experience are making up to $8,000 per day using their system "for just 2 hours a day at your computer"
The third red flag I found is the all-done-for-you "autopilot income" system he talks about. Sorry, but that kind of system does not exist. This is just another tactic to get you in and pay up front, without even knowing what you are buying.
The fourth red flag is "Hurry, this offer can be gone tomorrow" another tactic to get people to be rushed in before it's too late. Let me tell you that if you check next month, this offer will still be there.
---
Weary about all the red flags? Want a real method that is NOT a get-rich-quick scheme? Then check out the way I make money online by clicking the button below:
---
What is Wealth Academy?
Basically, it's a program that teaches you Affiliate Marketing using Amazon as an affiliate.
I will be completely honest with you here. I did not purchase the program.
I have seen a lot of these programs in the past and with all the red flags that came up within minutes of watching this sales video, obviously, I did not waste my time and money purchasing something that has no value to me.
I did, however, research the product, and this review is based on my personal opinion from the research I did.
I will say this right away though. It is NOT a scam.
I would call this one a "training that you can find anywhere on the internet for free" or a lot cheaper by going on Udemy.
They have thousands of training for as low as $9.95 that will teach you a lot for the small price. The best part, you don't have to pay for upsells to get access to all the training.
So, to get back to Wealth Academy, you do get some training for your money. But as soon as you pay the first $24.95, you will be taken to upsells after upsells to gain access to "better or faster ways" to make money with this program. This is typical for every hyped-up programs I have seen before!
Here is what I found:
First off it looks a lot like other programs I have reviewed in the past like The AZ code and The AZ formula.
They will show you how to market products from Amazon and earn a commission from it by using strategies and methods that they enumerate inside their training. You will be taught the basics of affiliate marketing and how it works.
There are also sections about how to get traffic to your website using different methods from social media with Instagram, YouTube, Facebook, Snapchat and Twitter.
The thing about Amazon though is that it is very possible to make money promoting their products since it is the biggest store online and it has a very reliable reputation.
However, to make $8,000 per day in your bank account, at their highest paying commission rate (which is 10%), you would need to sell approximately $80,000 in products per day!
Here is a breakdown of the actual commission rates that Amazon pays out to its affiliates:
1.0% for video games and game consoles
2.0% for televisions and digital download games
2.5% for computers, computer components, DVD and Blu-Ray
3.0% for toys
Amazon tablets and Kindle devices: 4.00%
4.5% for paper books, healthcare, personal care, sports, kitchen, car, and baby products: 4.50%
5.0% for digital music and video downloads; grocery items, handmade items or musical instruments
6.0% for headphones, beauty products, musical instruments, business, and industrial supplies
7.0% for clothes and accessories, Amazon TVs, Amazon Echo products and jewelry
8.0% for furniture, lawn and garden, home improvement, pantry and pet products
10.0% for Amazon fashion items and Amazon Coins
Most other categories will earn affiliates a four percent (4%) commission, while Amazon gift cards and wine do not pay any commission.
So, to bring it back to reality, if you do promote a product on Amazon, you will most probably end up in the 4% range, meaning that in order to make $8,000 in a day in commissions, you will need to sell for $200,000 in Amazon products in a single day!
Not impossible BUT VERY UNLIKELY!
Again, I'm not saying it's impossible, but really, with a new website? You would be lucky to sell $80 a day (which would bring you about $3.20) when you are just starting out, and you would have to promote your website as heck to get the traffic needed to sell the promoted products, so all the money made would go in promotion…
So basically, yes you will get some training on how to get an Amazon Affiliate account and promote their products, and you may even make some money with it. But I can assure you that you will NOT make $8,000 per day just starting out! It just doesn't work that way and can call that claim a plain lie!
Pros & Cons
PROS
Low price at $24.95
60 days money back Guarantee because it's sold on ClickBank
CONS
The income making claims are very unrealistic and way too much hyped!
It will take a LOT of traffic to your website in order to be able to make the kind of money they claim that you can make.
Upsells will set you back at least $300 if you buy them.
All the red flags!
Conclusion
Do I recommend this program?
I will let you decide. What I did here was brought in my own personal experience with these kinds of programs, so it is now up to you!
I personally did not even try it because of all the reasons I enumerated in this article.
And well…All the red flags!
My alternative
I have been online for over 26 years, but only started using the Internet as a money-making method about 5 years ago, and I have been a victim of programs like this often. However, I found a real and honest way to build an online business from the foundation up about 3 years ago. They have thought me how to create a lucrative website to make money online. It doesn't matter what you have as experience, this platform is so much more than just a training platform, it's a community!
If you want to make money with Affiliate Marketing, this place will show you the way, without the hype of these low-quality programs.
They will tell you the real thing.
It is NOT a get-rich-quick method.
However, once you have the foundation of your online business set up and have published your high-quality content constantly, things will start to grow, and it will keep on growing.
It's a matter of consistency and continued effort, just like any other brick and mortar business out there.
Click on the link below and start your own online business for FREE (NO credit card or obligation) and get 2 FREE websites along with the training to get you going also FREE.
What are you waiting for go and check it out, click the link below!
I will see you on the inside!
---
May I also offer you my FREE eBook – The 4-step method Toward Success.
Just follow the link below and follow the instructions.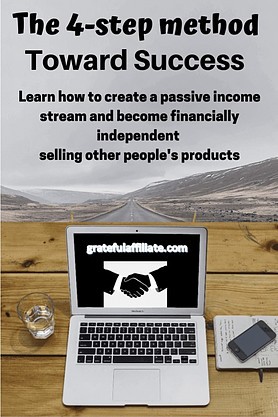 ---