Is 5 Step Formula legit? Or is it worthwhile a DFY system you can invest your time and money in? In this article, I'll help you decide if it's the right purchase.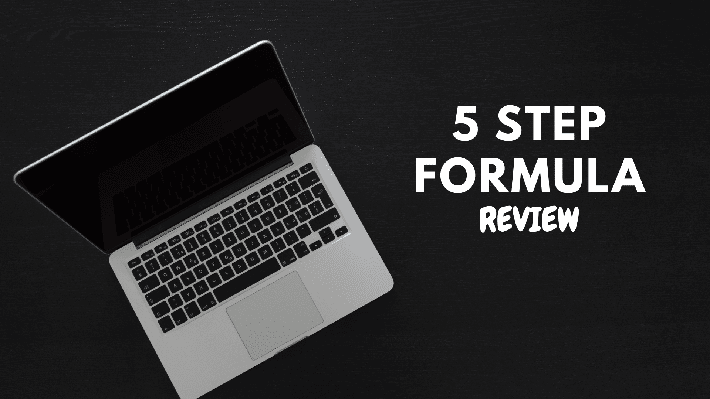 Is 5 Step Formula Legit? Or is it another DFY scam that you have to avoid at all costs?
If you have these concerns about the program, then you'd be happy to know that I will be covering this issue in today's discussion!
With so many get-quick-rich schemes over the internet, it is really challenging to distinguish legitimate programs from those that are just trying to get money from you and scam you.
So is David Humphries' done-for-you system just another one of them? Or is 5 Step Formula legit after all?
For today, I will provide you with the basic features of the program and share with you my personal insights to help you decide if they're worth your while or not.
But before I begin, allow me to have this moment to disclose first and foremost that I am NOT an affiliate of the 5 Step Formula, and I am in NO way promoting any of his programs aside from the one I am reviewing today.
So without further, let's begin today's article…
Who is the Creator of 5 Step Formula?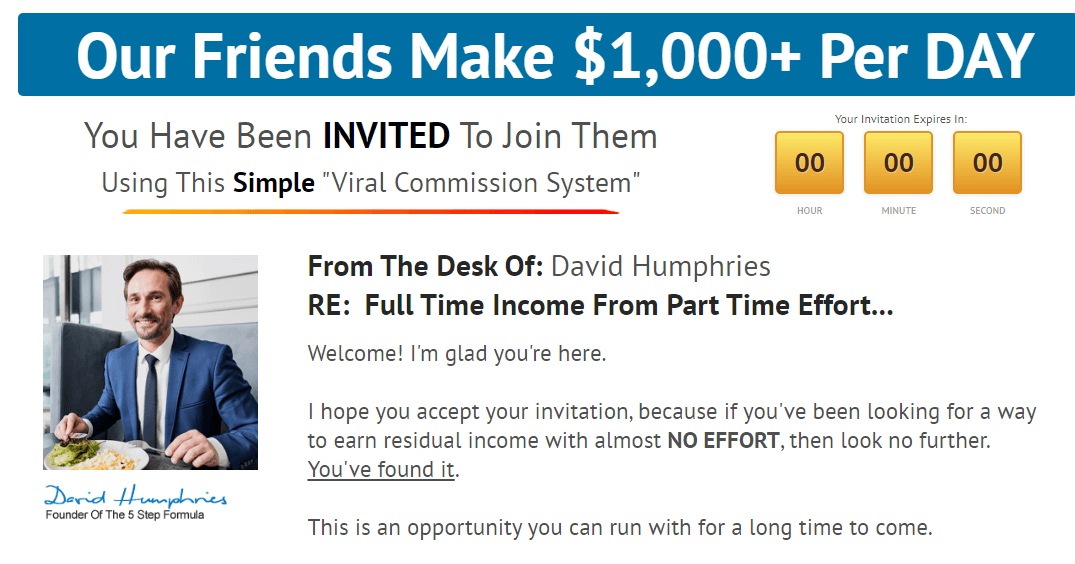 On the landing of the 5 Step Formula, they pose a man named David Humphries as the founder of the program. However, this is a lie because the man in the image is a stock image, as you can see below—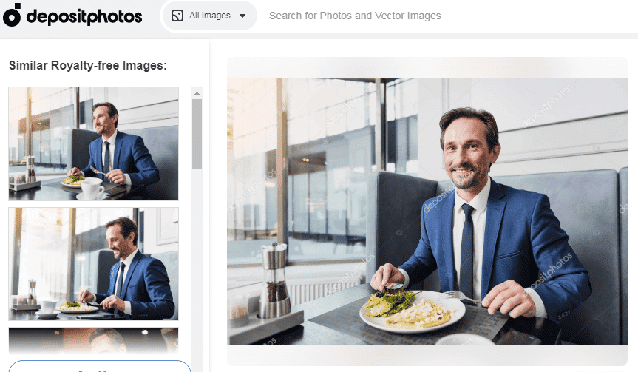 At the bottom of the website's landing page, it is stated that the site is currently operated by Explodely, LLC. The company is listed as an advertising and marketing consultancy company, and it is relatively new. According to my research, their certificate of incorporation was only filed on May 2, 2022, and their application is still in process.


I also checked when the site was published, and I found that it is indeed new and was only established on March 24, 2022.

And it is also stated that their base of operation is at 1317 Edgewater Drive, Suite 4648, Orlando, Florida.
With this information in mind—the founder of the company was not disclosed. According to my sources, the representative of Explodely is Mohamed Aboul-Ezz. However, I did not find any information over the web.
The use of a fictitious person and unwillingness to disclose essential credentials about the company is immediately a red flag in my book. And this is the case because if you are a legitimate operation, then there should be no reason not to share genuine info about your entity. Does it make sense?
Anyway, does this mean that the program is a scam? Or is 5 Step Formula legit and good use of your time or money after all?
Let's continue and learn more about the program…
What is the 5 Step Formula All About?
The sales pitch of 5 Step Formula in their video sales letter is vague, which repeatedly mentions overhyped claims like the money you'll be earning through their system.
If you avail of the program, you'll soon find out that it is a done-for-you system. If you are not familiar with a DFY program, they basically provide you with an already finished website and a set of premade materials and templates that are supposed to help you in your marketing campaigns.
The potential of a DFY might seem an enticing prospect to engage with, but let me remind you that although the process is relatively straightforward and easy, you are basically getting the same content as every other members of the program.
Now, you have to take note as well that prominent search engine sites like Google and social media platforms like Facebook and Instagram have a strong restriction on content with duplicating nature, which is what you are going to get with a DFY system…
They see such content as spam and potentially harmful to internet users. They (The search engines) filters them out, which makes it almost impossible for anyone to generate any traffic at all using the DFY system.
As a result, their promise of high income pretty much goes out of the window.
Quality engagement and quality content is the lifeblood of digital entrepreneurship. And without this important element, it is very unlikely for you to generate leads and convert sales.
DFY systems are not considered quality content by search engines and you will most likely waste your time and money.
If you are looking for a better source of income that can deliver significant income and reliability, then you have to check out my best work-from-home recommendation!

If you're still interested in how the 5 Step Formula works, then let's continue to the next section…
How Does the 5 Step Formula Works?
The DFY process is pretty straightforward. As I mentioned earlier, it only involves you getting your referral links and posting them online since it would be extremely difficult for you to generate organic traffic through your site.
Anyway, if you're curious on what are the 5 steps they are talking about, here they are—
First Step: 7 Figure Strategies – I believe it's the registration process
Second Step: Your Cash Account – it's where you setup your account
Third Step: Your Traffic Account – they said it's where you are supposed to set up your traffic account, but you'll basically receive your referral links
Fourth Step: Your Money Links – again, the description is unclear. They only mention that you decide where to direct your traffic, as they put it
Fifth Step: Run Your System – the supposed automation process when you press the button "go."
As you see, these types of internet marketers use big and spammy words on their titles like "7 figures," "cash," or "money" to make it appear that their operation is legit and lure people into buying the low-quality program.
I also have reviewed a lot of done-for-you systems in the past, and I don't recommend any of them because of their misleading nature and low-income potential.
Some examples are as follows—Googlix, VIP Bot Club, AffiliSites Pro, and Beast Funnels, just to name a few of the DFY reviews I have covered in the past. But you can read the full list of reviews I have published if you like by clicking this link.
Or you can check out my best work-from-home recommendation if you are looking for a source of income that delivers a higher source of income and is more reliable.

How Much is the Program?
The front-end cost of the program is only $7. Plus, they tell you that they do not have an upsell afterward. However, I find this very hard to believe.
I have experience with many DFY systems that say the same thing, but you will soon find out that they have several upgrades, which you'll have to pay for in order to gain access to some of the program's features.
If you are not familiar with DFYs, the so-called "upgrades" is just a fancy word for "upsells."
I also find it odd that the purchase comes with a 60-day refund policy. I am aware that it's a huge plus factor, but the 60-day refund policy is too extensive if you ask me.
Is 5 Step Formula Legit? Or is it a Scam?
The company is relatively new. Thus, I am giving them some slack, and I wouldn't go as far as saying that it's a scam as of yet. But again, I have a lot of experience with DFYs, and most of them provide low-quality features, and the potential income is extremely low.
With this being said—I believe it will be best for you to just refrain from engaging in the program.
What I LIKE about 5 Step Formula
I did not find anything positive about the DFY system that would lead me to recommend them.
What I DON'T LIKE about 5 Step Formula
The following are some of the disadvantages of the 5 Step Formula that I managed to gather—
Low-Income Potential
In general, DFY systems are extremely low. Therefore, if you are looking for a high and stable source of income, then the 5 Step Formula is not a good choice for you.
Bogus Founder
As mentioned, the founder of the company is bogus, they are unwilling to share any important information about them and are hiding behind a fake stock photo.
Fake Testimonials
In connection to the bogus founder, I'm also expecting that the testimonials are also faked. The company is new, and I find it hard to believe that they were able to find that many customers.
They are not freestock images, and the next possible thing is that the images are stolen from social media platforms which are indeed to be. I tried searching them by name on major social media sites like Facebook, Instagram, LinkedIn, etc. And it appears that all of them are made-up names.
And then, I reverse searched the images and found that two of them were stolen from various blog sites and social media sites like Pinterest. Some examples are the following—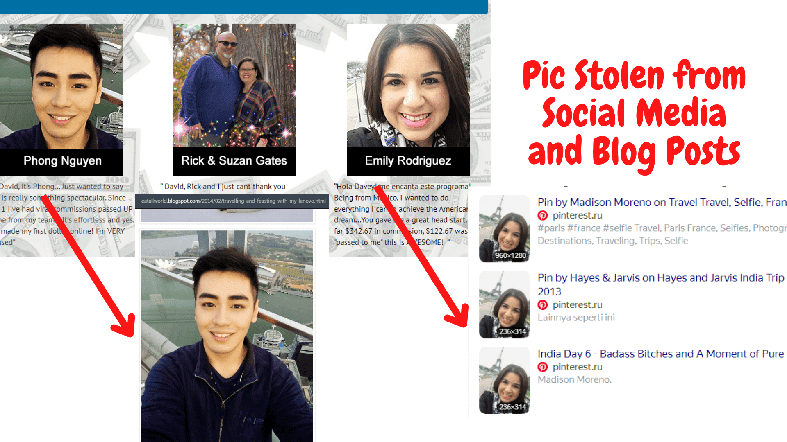 One image, in particular, appears to be a blogger of eatallworld.blogspot.com with the penname of Azizka Waglono, as you can see below.
Two of them are even reused in another DFY system called the YouTube Secrets—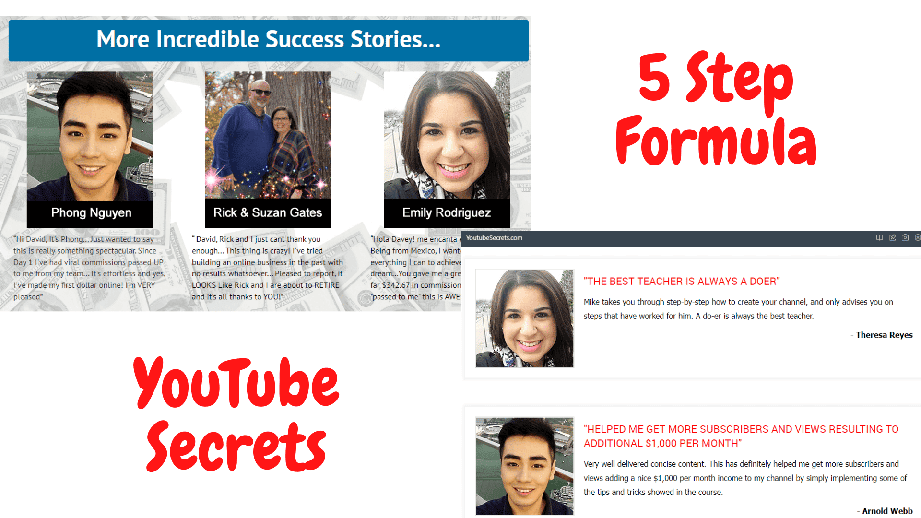 Final Thoughts and My Personal Ratings
I hope my review has provided you with the insights you need about the DFY systems and provided you the answer you need to the question—is 5 Step Formula legit? And why they may not be the best option for you if you're after a stable income.
Many digital marketers selling DFY systems advertise their offering as an affiliate marketing program. However, this isn't exactly the case because DFY is more of referral marketing than affiliate marketing.
Referral marketing and affiliate marketing are two different models. For example, the key difference between the two is that referral marketing is more focused on a single brand and other programs attached to it.
In referral marketing, you are being rewarded by successfully inviting someone to buy their product or services.
On the other hand, affiliate marketing is concentrated on representing third-party brands. And then, you earn commissions when you are able to effectively engage with your audience, which makes them into clicking your affiliate links and purchase the products or services eventually.
Unlike referral marketing, you can basically promote as many businesses as you like that best represent your niche or advocacies. Therefore, your potential income is basically unlimited if you take it into perspective.
With this being said—I am giving 5 Step Formula an overall rating of 2 out of 10—

A Better Alternative to 5 Step Formula
If you are looking for a program that can truly help you with affiliate marketing and take full advantage of its many benefits, take a peak at this video reference of the basics of affiliate marketing—
If you wan a legit method of doing affiliate marketing, then you have to check out my best work-from-home recommendation!

I believe we've covered sufficient grounds here!
And to show my appreciation just by reading my "Is 5 Step Formula Legit" review, I'm also giving away my book to help you kickstart your affiliate marketing endeavor—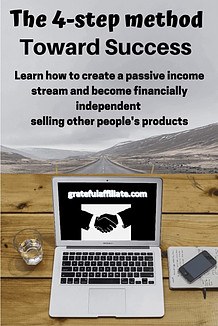 Thank you for the time and effort, and I hope to see you on the following topics!
Peace!