In today's 90 Day SEO Review, I will share with you my thoughts on whether the program offered by Matthew Woodward is worth every penny or is it a scam that you should avoid.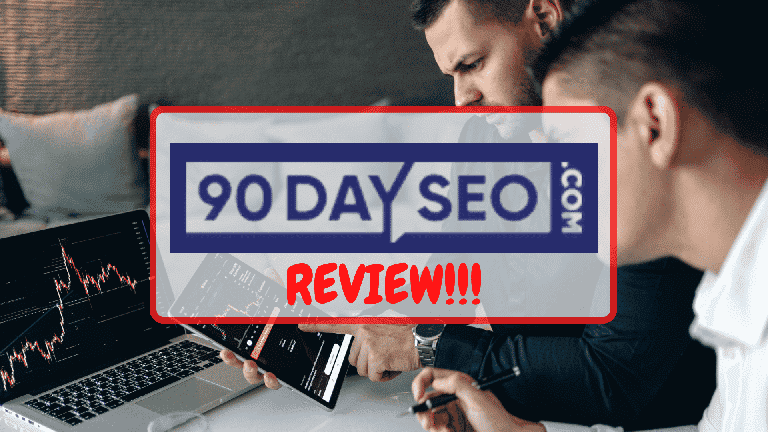 A warm welcome to my 90 Day SEO review!
SEO (search engine optimization) could either be your ally or enemy. And this is the case because optimizing your content and site can help you improve your online visibility, and your competitors can also use it against you in order to boost their rankings as well.
No matter what the case may be—diligence and effective management is the key to allowing your site and content to maintain a high rank on search engine and social media platforms.
And probably the most popular ways people turn for help is through video tutorials and training courses. Unfortunately, not all programs are legitimate and could really help you with your goals.
So is Matthew Woodward's 90 Day SEO the same as any training courses you'll find around?
In today's discussion, I'll share my thoughts and findings on the specifics of the program and its advantages and disadvantages in order to help you determine if they're the right one for you or should you search for better alternatives?
But before I start, allow me to disclose that I'm NOT an affiliate of Matt, and I will NOT earn any commissions if you decide to purchase their offering.
So without any further ado, let's begin…
Who is the Founder of 90 Day SEO?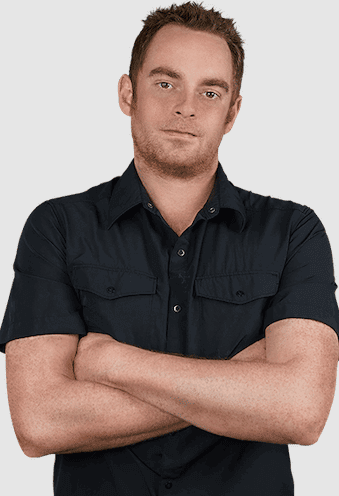 Matthew Woodward is a digital marketer and internet guru who is based in the United Kingdom.
There's little information about Matthew Woodward when you search about him and credentials over the internet. However, I managed to find that he started publishing tutorials and case studies on business growth way back in 2012.
But before 2012, he began his internet marketing in 2006 as a shop manager for NEW computers. And then, he progressively worked his career up and became a data analyst for Dextra Solutions until 2008.
In addition, he also served as the online marketing department head for 2020 Mobile Group until 2009.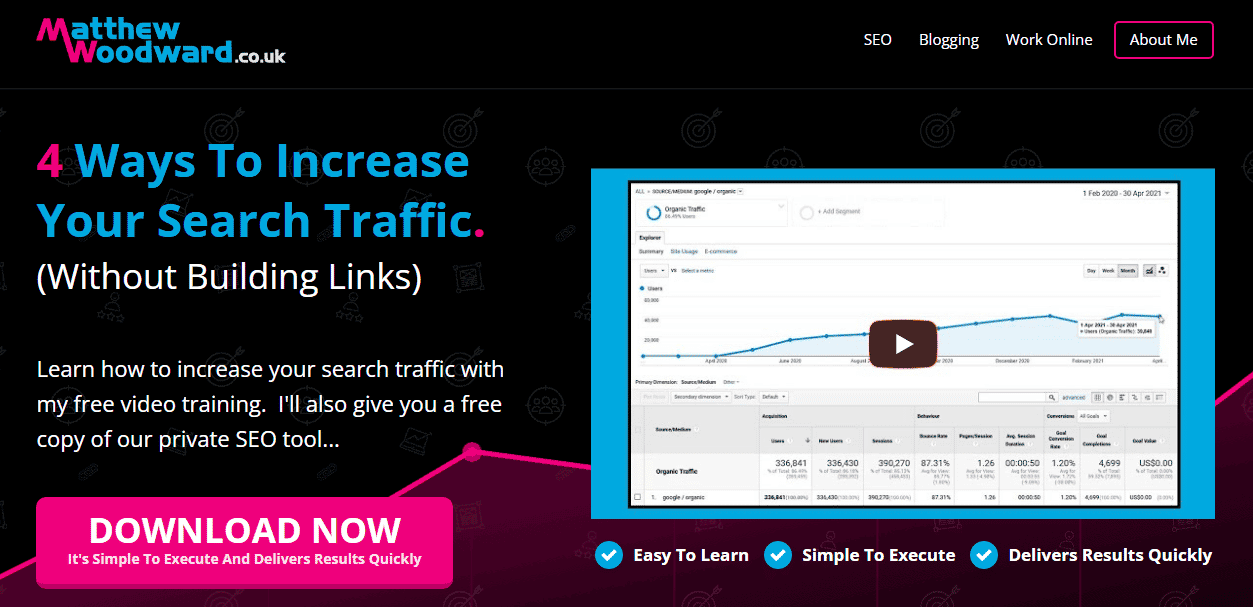 In the following years, Matt launched his blog called MatthewWoodward.co.uk, which is claimed to have won multiple awards. Now, I am still verifying what the awards are, and I will update this article as soon as I find credible information about the matter.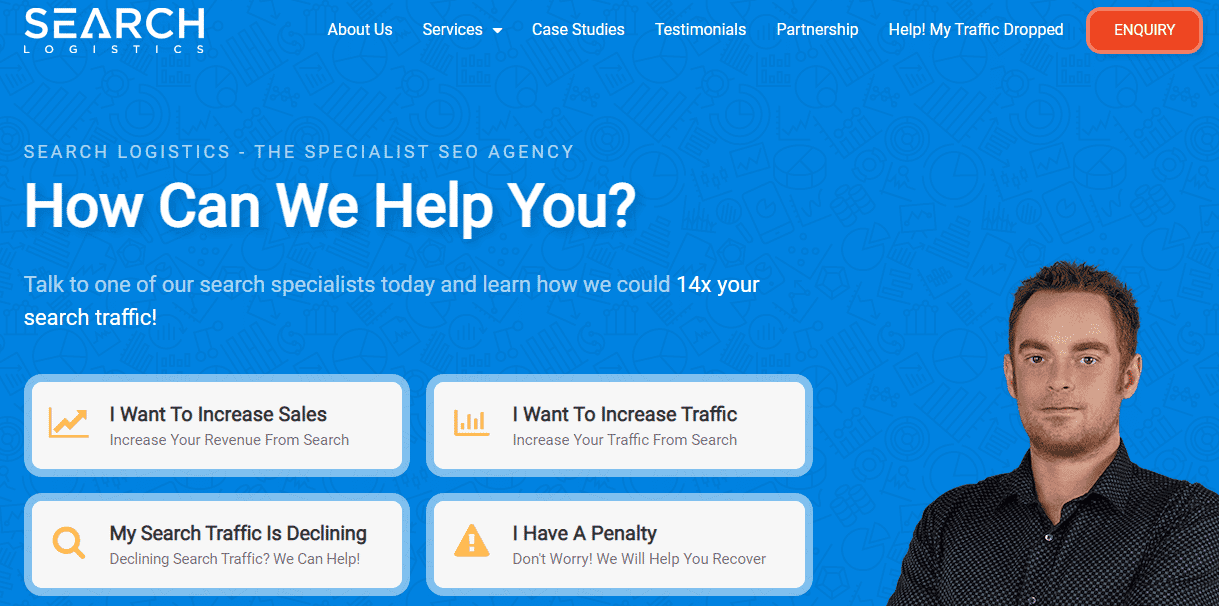 Aside from his blogs and the 90 Day SEO training course, he is also the founder of Search Logistics, which he established in 2014. The site primarily offers SEO services and strategies to entrepreneurs and businesses around the world.
From this perspective alone, you may surmise that he is a legitimate internet guru. However, do these small pieces of information alone speak for the quality of his programs?
Let's continue with my 90 Day SEO review and learn about the training course…
What is the 90 Day SEO Training Program?
You can pretty much tell what Matt's program is all about. As the name suggests, it is an online program that provides SEO training. In addition, you can also tell that the result that they are guaranteeing is an improvement in lead generation within 90 days.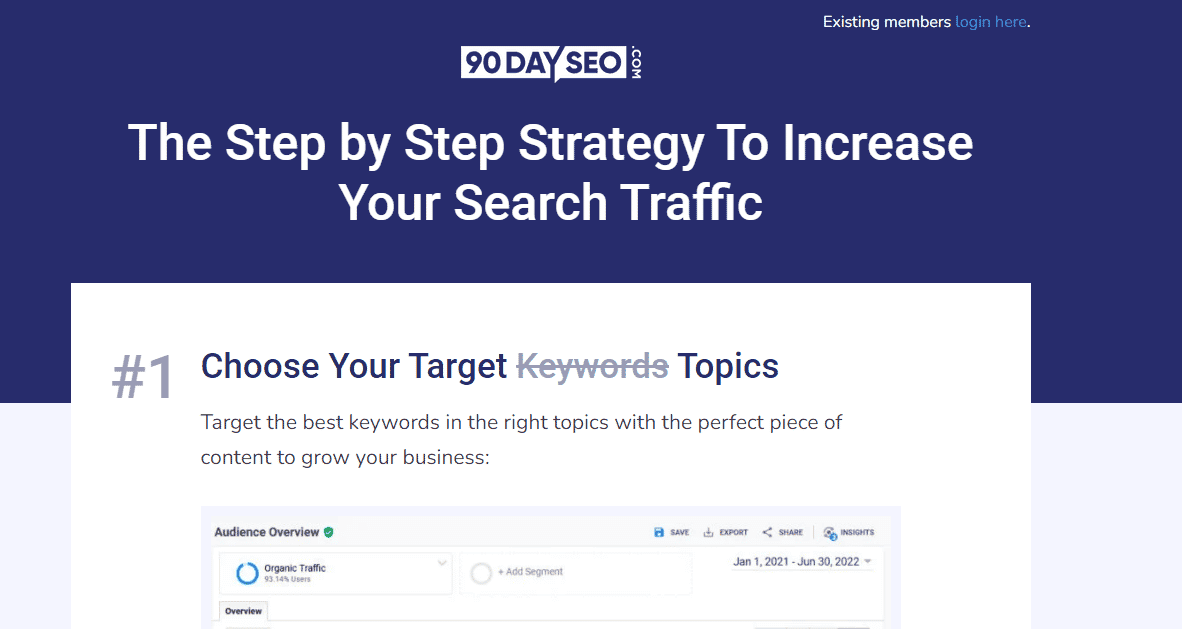 However, in reality, it doesn't really have to take 90 days for you to improve site traffic once you have effectively optimized your site and publications. Also, there are many resources you can employ to help you boost traffic aside from the course offered by Matthew Woodward.
Plus, a huge issue with the program is that it is super expensive! If you don't have enough spending money and you're trying to save, then this course may not be exactly for you.
You should try my best work-from-home recommendation if you're looking for a source of income online that's cost-effective and extremely affordable.
Anyway, since you are here, you must be interested in how the training works and what the lessons are included in the program, then resume reading to the next section…
What's Inside the 90 Day SEO Training Program?
The 90 Day SEO training program is composed of nine main topics such as the following—
First Module: Research Topics Not Keywords
Researching for keywords that can optimize your content is extremely crucial in attracting traffic to your site. However, Matt adds that you have to research topics first before you can find the right focus keywords.
Second Module: Establishing Concrete Foundations
In the following section, you will learn the basic foundation of optimized content and site that generate leads and convert sales.
Third Module: Complete On-Page SEO Optimization
Now, the third part of the training is dedicated to tackling common on-page SEO issues in optimizing your content and site.
Fourth Module: Content Planning for Profit
Firstly, Matt teaches you to research topics that best fit your niche and could offer you the most profitable opportunity. You will also receive strategies and ideas that produce positive results.
Fifth Module: Creating Excellent Content
In the next part of the program, you will learn how to create content that's SEO-friendly and could easily rank on search engine sites and social media platforms.
Sixth Module: Instant Traffic Strategies
Some of the explanations I have read about the sixth module of 90 Day SEO are complex and hard to comprehend. However, the main gist of the lesson is about creating engaging publications that should draw more audience.
Seventh Module: Link Building Strategies that Work
In this section, Matt will share his two personal link-building strategies that have worked for him. He will also give you insights on how to create persuasive replies that should encourage conversation between you and your audience.
Eighth Module: Building Topical Authority
Now, you'll learn how to scale your business by building topical authority, so to speak. Matt will also show you the way the process of boosting relevance.
Ninth Module: The Quick Win Finder
In the last module, you'll receive Matthew's copy of the quick win finder Google sheet that lists his formula for success. He'll also share how you can repeat the process.
How Much is the Program?
If you're interested, you can avail the 90 Day SEO training at a price of $997. Now, that's expensive and indeed not for people who are under a tight budget.
They have a 30-day refund guarantee (no questions asked) and they also have a three-month installment plan of $397.
This may be the case—it still feels highly impractical considering the number of free resources online and the number of more affordable options that can deliver equal or superior results.
If you're looking for a budget-friendly program that's less risky and suits all levels of experience, then you have to check out my best work-from-home recommendation!
Is 90 Day SEO a Scam?
No 90 Day SEO is not a scam. It's a legitimate training course on lead generation. However, the term "90 Day" is a bit misleading, in my opinion. Although generating reliable traffic is possible in the specified amount of time, you may have to spend a huge amount of money to somehow gain some leverage.
I'm sure that most people would like to save money and rely on a cost-effective platform. You will still earn money, but the progress wouldn't be as quick as those who are spending tons of money. But the good thing here is you don't have to incur large expenses, and your site and content will still generate income eventually.
What I LIKE about 90 Day SEO
Now, below are the positive things about 90 Day SEO—
Beginner-friendly
The program comprises the basics of content monetization, which makes it an excellent choice for newbies who are starting from scratch.
Legit Digital Entrepreneur
Matthew Woodward is a legitimate digital entrepreneur.
What I DON'T LIKE about 90 Day SEO
The following are some of the disadvantages of 90 Day SEO—
Expensive!
First and foremost, 90 Day SEO is expensive.
Not Comprehensive
Yes, the program is relevant to beginners, but it may not be as useful if you're a seasoned digital marketer. You may use the program as a reference, but it is pricey, and as I repeatedly emphasized.
Final Thoughts on My 90 Day SEO Review and Ratings
I hope my 90 Day SEO review and analysis of Matthew Woodward's training course has provided you with the information you need and helped you determine if they're the right one for you or not.
Although I didn't find reasons to believe that 90 Day SEO is a scam, I don't recommend them either. It is expensive and may not suit people who are trying to save money.
With this being said—my personal ratings on 90 Day SEO is seven out of ten stars because of the price—

If you're looking for a better alternative that's more budget-friendly yet can deliver high-quality training, then you have to check out my best work-from-home recommendation!

I believe we've covered sufficient grounds here!
And to show you my gratitude just by being with me today, I'm also throwing in my book for free to help you kickstart your digital marketing endeavor—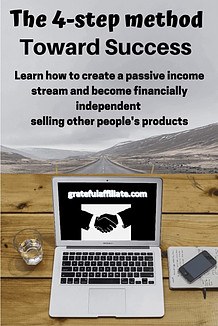 Thank you for the time to read my 90 Day SEO review, and I hope to see you on the following topics!
Peace!