Is Commission Hero a Scam? Or are they a good training program that's worth your while and can they help optimize your content and site that's generating leads and converting sales?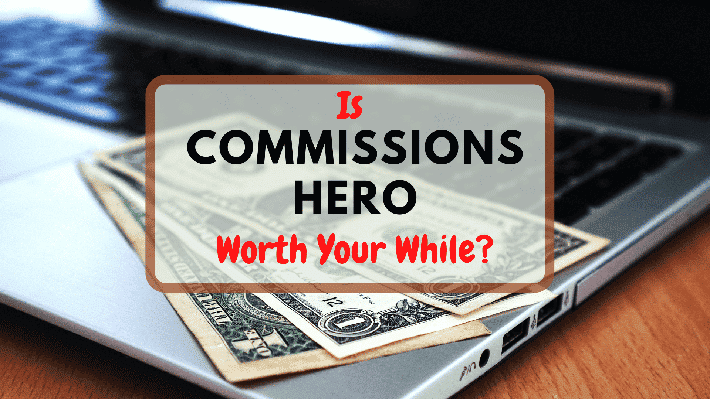 So the main question here is "Is Commission Hero a scam? Or is it a quality and worthwhile training you can engage in?"
Although affiliate marketing has been around since the late 90s, it only gained significant popularity in the past few years or so. It is where you promote certain products or services via your content online for commissions.
It may sound easy and straightforward, but the process is a little more complicated than it appears to be. You have to optimize your content to comply with the SEO guidelines provided by search engines and social media platforms.
With this being said—many aspiring digital entrepreneurs turn to these so-called internet gurus for help. Unfortunately, while not all of them are legitimate, others are outright scams.
So is Commission Hero a scam? Or can you fully trust the program?
In today's review, I will provide you with my analysis of the training course and help you determine if they're the right program for you or not.
But before I begin, allow me to clear the air first that although Robby Blanchard and I share the last name, I am NOT related to him whatsoever. And I am NOT representing or promoting any of his programs.
I will NOT benefit or earn any commissions if you decide to avail of Commissions Hero or any programs under his name.
So without further ado, let's begin today's discussion.
Who is the Founder of Commission Hero?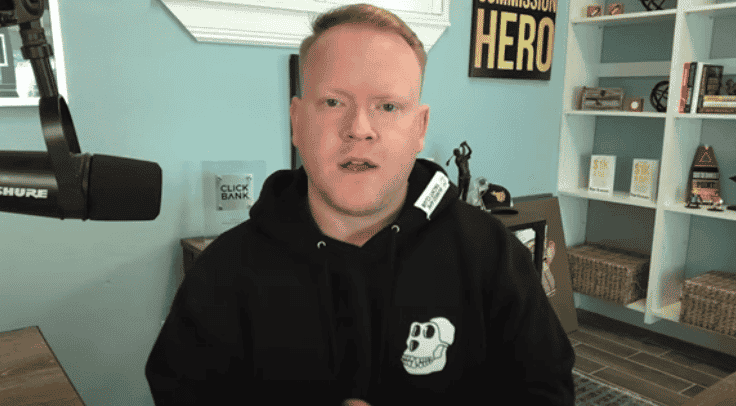 Commission Hero was the brainchild of Robby Blanchard (again, we're not related). If you are not familiar with the name, then one important piece of information you should know about him is that he is fifth (5th) on Clickbank's top digital entrepreneurs as of July 2022.
By referring to this credential alone, you can immediately surmise that he is legitimate. In addition, he still has his brick-and-mortar business—CrossFit Reach Gym, which is located in Acton, Massachusetts.
He is also a holder of an Exercise and Sports Science degree which he obtained from Fitchburg State College. In his LinkedIn profile, he also stated that he is currently pursuing his MBA degree.
With his accolades in sports sciences, he was unable to make his business prosper as he expected it. So he turned to other sources of income. And one of them is eCommerce, such as affiliate marketing which he claimed provided him a significant amount of money.
He is, after all, among the top sellers in Clickbank, so maybe it's all true. With so little information about him, it is a little challenging to verify his credentials other than Clickbank.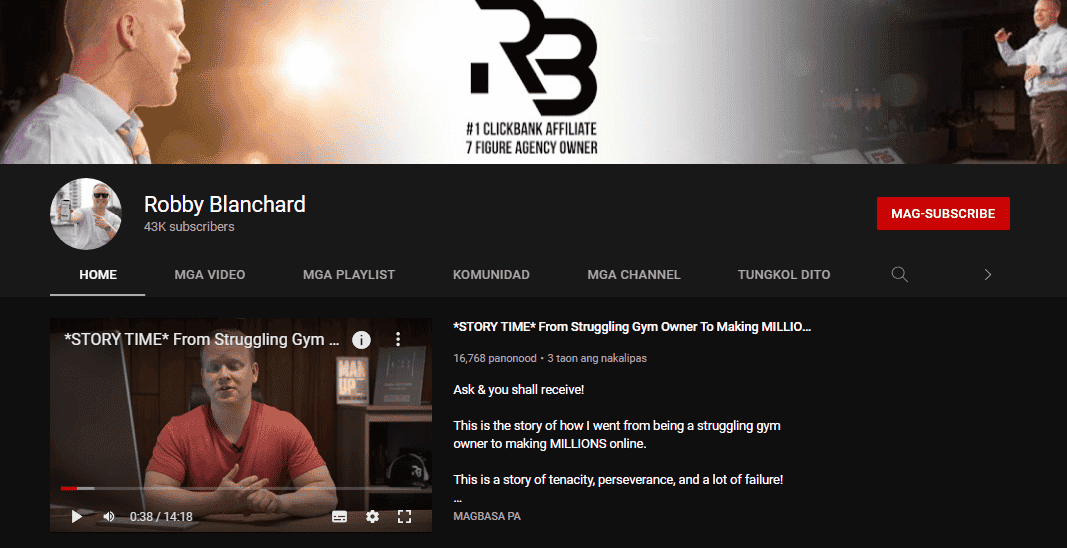 Anyway, he also has a YouTube channel where he publishes topics on anything about the subject matter of "making money online." The channel has a decent number of subscribers and generating four digits as of the time of this writing—
It isn't that impressive if you ask me. But social media isn't his area of expertise, right?
With this being said—does this mean Robby is a trustworthy fellow you can rely on? Or is Commission Hero a scam after all?
Let's resume and learn more about the program…
What is Commission Hero?
As you might have already known, Commission Hero is an online training program that provides affiliate marketing lessons. Robby's course particularly focuses on how you can utilize Clickbank, and Facebook Ads to create an effective sales page to help you earn commissions.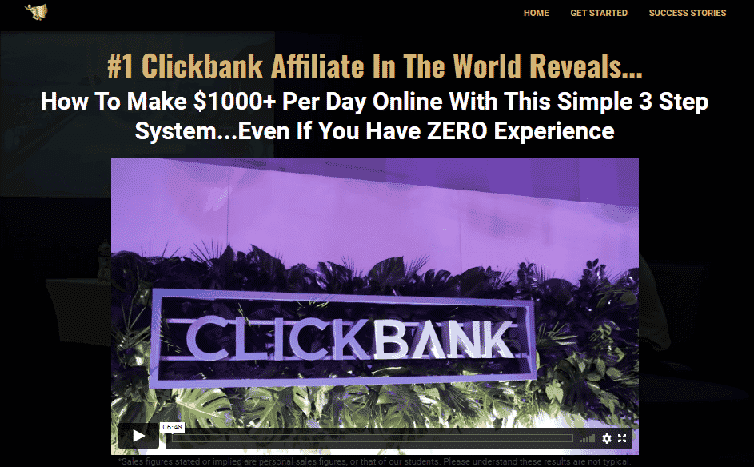 Affiliate marketing has been around since the internet was widely commercialized in the 90s. However, this source of income became extremely popular at the end of the 2010s.
And the reason why they are gaining this much attention is that they're cost-effective and beginner-friendly—no matter what your level of experience is, you can earn high profits in affiliate marketing as long as you have the determination to succeed.
However, it is not as easy as it sounds, as I mentioned earlier. Assuming that you have the skills to create content, the next consideration you have to bear in mind is you have to optimize your content in order to boost your online visibility.
Once you effectively tweaked your online publications, it should improve leads and sales conversion in the process.
However, a huge drawback of Robby's Commission Hero is its price. It's about $1,000, which I will believe to be way overpriced. In addition, the expenses for the program aren't the only ones you have to concern yourself about.
You have to consider the cost of web hosting, paid ads, and other essential marketing tools. Although you can basically spend $0, you need to put up some capital to improve your chances of succeeding in this type of income opportunity.
The average startup cost is about $500 to $5,000, plus another $500 for the tools you will need.
If you're looking for a training course on affiliate marketing that's way more affordable but can deliver equal or superior results, then you have to check out my best work-from-home recommendation!

What's Inside the Program?
Below is a summary of the nine modules inside the program—
First Module: Getting Started with the Commission Hero Training Course
Basically, the initial section of the training begins with explaining what you can expect from Robby's Commission Hero affiliate marketing program.
Second Module: Choose the Right Offers for Your Niche
Now, the first parts of the training involve helping you choose the set of products and services that best represents your niche.
Third Module: Finding Your Ad Image
Now that you have the products you're going to promote, you need to determine the advertisement images you will use to market them.
Fourth Module: Setting Up a Landing Page
The fourth lesson of the Commission Hero program is dedicated to how you can properly set up your website's landing page. However, you have to remember that only the basics are included, but the lessons on optimizing your site were not clearly discussed.
Also, ClickFunnels will be part of the training which would cost you an additional expense of $100 per month.
Fifth Module: Setting Up Your Facebook Account
As the name suggests, the fifth module is all about setting up your site's social media account on Facebook. This, to me, is relatively basic. But if you are not sure how to set it up, you can always go to the tutorials on YouTube. It's free, and you don't have to spend a single dime.
Anyway, the second part of the fifth module is setting up your Facebook Ads platform. Again, this isn't free, which will cost you recurring fees to allow your ads to be seen and prioritized in the said social media application.
Sixth Module: Setting Up Your Facebook Pixel
Now, the next section involves teaching you how to optimize your Facebook profile by using specific codes that will help you track your clicks and conversion by embedding them on your landing page.
Seventh Module: Tracking Your Campaign
In the following section, you will learn how to track your site's performance by using the information gathered from your Facebook Pixel.
Eighth Module: Scaling
In this part of the training, Robby will share his insight on scaling your affiliate marketing endeavor.
Ninth Module: Ninja Tactics
Now, in the last section of the training, Robby will share his personal tactics on how you can optimize your content for it to generate leads and convert sales.
Other Notable Features
The following are additional features that each member will benefit from—
Access to their exclusive private Facebook group
Customer support
Access to their affiliate program
Snapchat training
Email marketing course
Access to weekly live Q&A session
Rolodex of Contacts
Another Exclusive access to Robby's Facebook Insider Group
I also have reviewed several affiliate marketing training courses in the past, and you can check them out if you like—Super Affiliate System Pro 3.0, Affiliate Dojo, SAS Affiliate, and Simple Affiliate System just to name a few of them.
Or you can visit my website for the full list of articles if you want to see more of the reviews I have covered.
How Much is the Program?
If you're interested in availing of the Commission Hero training course, then you have to prepare a one-time payment of $997. So that's a total savings of $3!
They also offer a two installment plan of $597 per payment which would cost you over $1,000.
There was no indication that they have a refund policy, but based on the other articles I have read about, a refund policy used to be stated on his site, but for some reason, it was taken down.
I'm not sure if the products have upsells, but still, based on the other reviews of the program about Commission Hero, Robby teaches how you can leverage upsells.
As you see, the program is potentially costly in addition to the basic expenses of affiliate marketing. As good as the program may be, I honestly feel that Commission Hero could be impractical considering the number of free resources online and more budget-friendly affiliate marketing training programs around.
And if you are indeed looking for an affordable online course on affiliate marketing that can deliver equal or even far better results than what Robby promised, then I highly suggest that you check out my best work-from-home recommendation!

Is Commission Hero a Scam?
Well, no. Commission Hero is definitely not a scam.
As I discussed earlier, he is among Clickbank's top sellers. If you are among the top people on the said platform, then you must have an impressive credential, and it's unlikely that you are out there scamming other people, right?
However, does commission hero work? Here's what other people's opinions are about the legitimacy of the Commission Hero—
So is Commission Hero worth it?
Here's another take on it!
What I LIKE about Commission Hero
The following are some of the positive notes about Commission Hero—
Robby Blanchard is Legitimate
I believe Robby Blanchard is the real deal since he is among the top sellers in Clickbank—a popular and trusted affiliate marketplace.
Quality Training
The program offers quality training on affiliate marketing.
Excellent Support and Live Q&A Sessions
I also believe that Commission Hero offers an outstanding support system, access to a private group, and other essentials like the Q&A sessions.
What I DON'T LIKE about Commission Hero
Now, below are the disadvantages of Robby's Commission Hero—
Great but…
I think the program is of great quality, but it may not be as useful to beginners because it is apparently not a step-by-step process. It lacks the basic topics of affiliate marketing which may render it difficult for beginners to comprehend.
Concentrated on Clickbank
Clickbank is not the only affiliate marketing site around. And some popular example is JVZoo, Amazon, Share-A-Sale, etc.
Some Clickbank Products are Either a Scam or Garbage
Yes, Clickbank is the most popular and trusted affiliate marketplace around, but unfortunately, not all products listed on their site are legit. Thus, you still have to exercise due diligence in researching the digital product you are prospecting.
Final Thoughts and My Personal Ratings on Commission Hero
I hope my article has provided you with the answer you need to the question of—is Commission Hero a scam? Or is it a good program you can rely on?
Although Robby Blanchard is a legitimate digital entrepreneur, my only concern with the training program is that it is way too expensive and impractical, especially for those who don't have the money to cash out $997.
Even if they offer a two-installment plan, it is still freakin' expensive! In addition, they did not state if there were any refund policies.
With this being said—my personal rating for Commission Hero is 7 out of 10—

Are You Looking for an Alternative to Commission Hero?
If you're indeed looking for a better option that's way more budget-friendly compared to the offering of Commission Hero yet provides high-quality lessons on affiliate marketing, then you can try the training I personally use—
>>HERE'S MY BEST WORK-FROM-HOME RECOMMENDATION!
I believe that's just about it in today's "Is Commission Hero a Scam?" review!
And to show you my appreciation just by being here today, I'm also giving away my book for free to help you kickstart your affiliate marketing endeavor—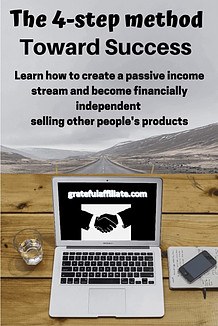 Thank you for the time and effort!
And I do hope to see you in the next articles!
Peace!