Is Affiliate Dojo a scam? Or is it legit? For today's topic, I'll help you determine whether they're a good investment or should you avoid them?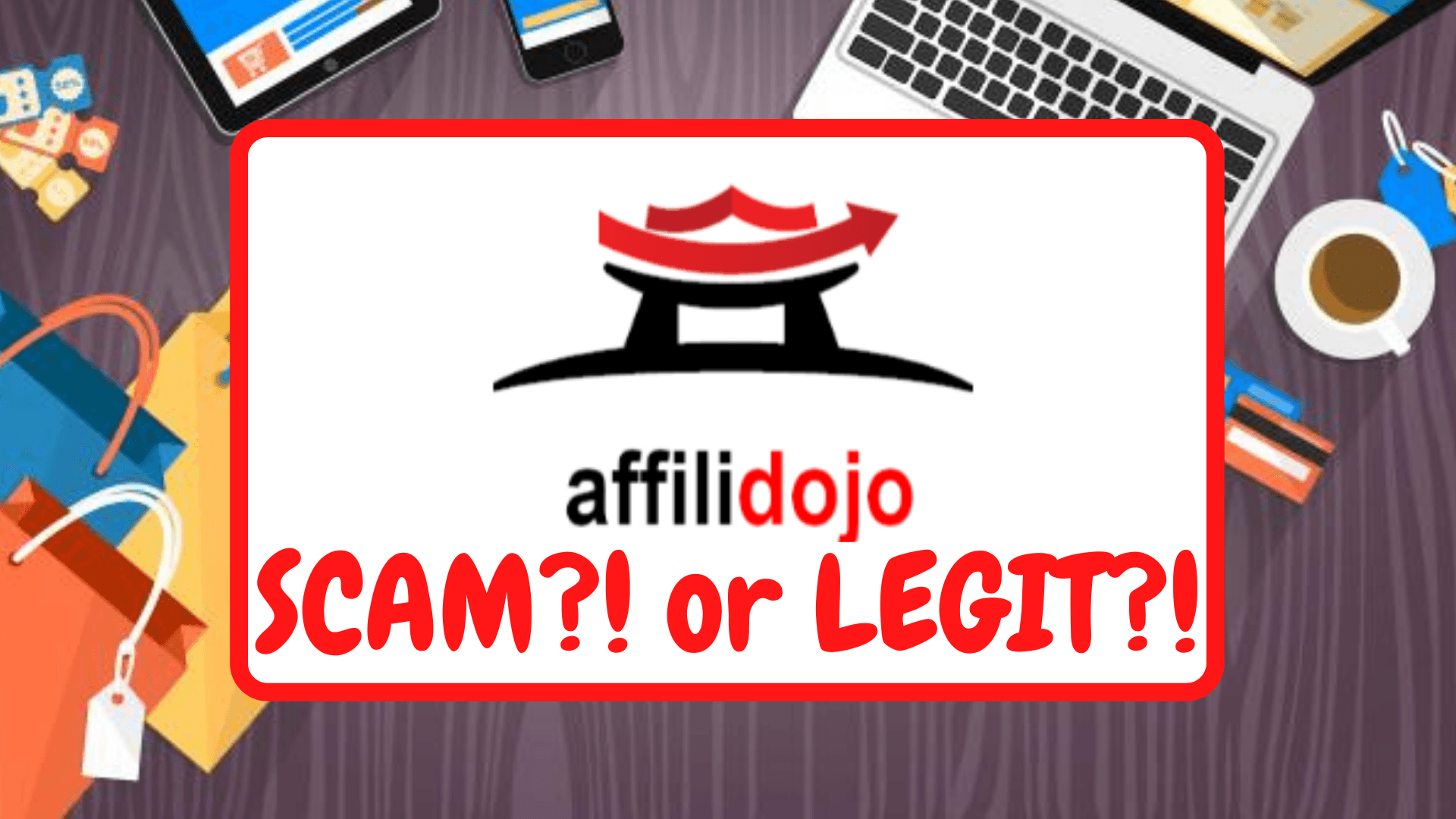 ---
Product Name: AffiliDojo
Website: https://affilidojo.com/
Price: $7??
---
When I'm looking into a program, the first thing I refer to is the business's basic identity and backgrounds, like its founders, current owners, or date of foundation.
If it's a legitimate program, then there's no reason for them not to disclose such information. Does it make sense?
They have to bear in mind that I am essentially investing time and money into whatever they are offering. Thus, transparency is of extreme importance to me as a client.
A program I came across the other day called Affiliate Dojo lacks these vital elements. Still, it is placed on a visually pleasing and professional-crafted landing page which is unlike any other scam sites I've reviewed.
But bear in mind that anybody with intentions to mislead has the capacity to construct such websites given that they have the skill to do so.
In this article, I will provide a thorough analysis of Affiliate Dojo and whether they're worth your time and money.
But before I begin today's topic, allow me to disclose that I am NOT an affiliate of Affiliate Dojo and in NO way promoting their program. This content is my honest and unbiased opinion based on my research.
So is Affiliate Dojo a scam? Or are they legitimate after all?
Without further ado, let's begin…
Who created Affiliated Dojo?
As mentioned earlier, none of the basic corporate information is openly shared with the public.
In fact, what you'll only see on their website is the advertisement promoting the program and why funnels are advantageous.
Also, no tabs for terms and conditions, refund policies, income disclosure statements, contact, about us, etc., can be found on their page.
This is a huge red flag because more than the promise of high returns, the company's credentials are important to me, especially if money is involved.
I've also signup to their website in the hopes that they will provide more information about them. But all I received is an email from a guy named Vita Vee telling me to wait for the program to arrive.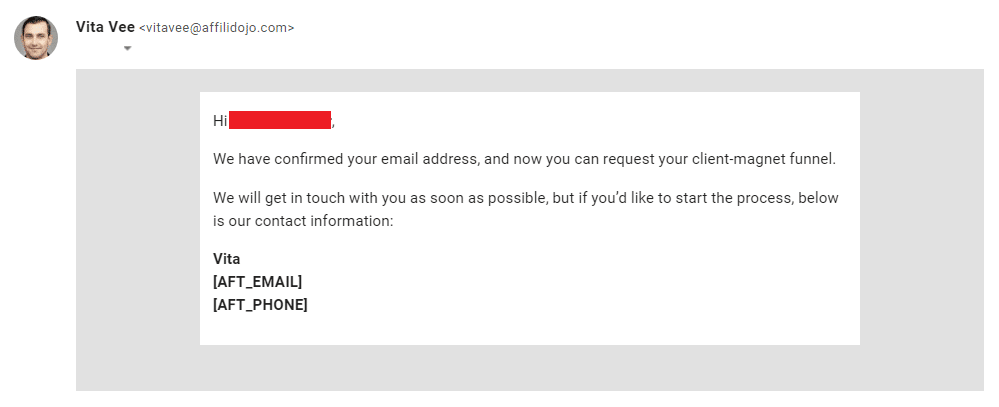 But I was a little bit suspicious about the profile picture used in the email, so I reverse image search the image.
I found out that the image is a stock photo from Pixabay, as shown below—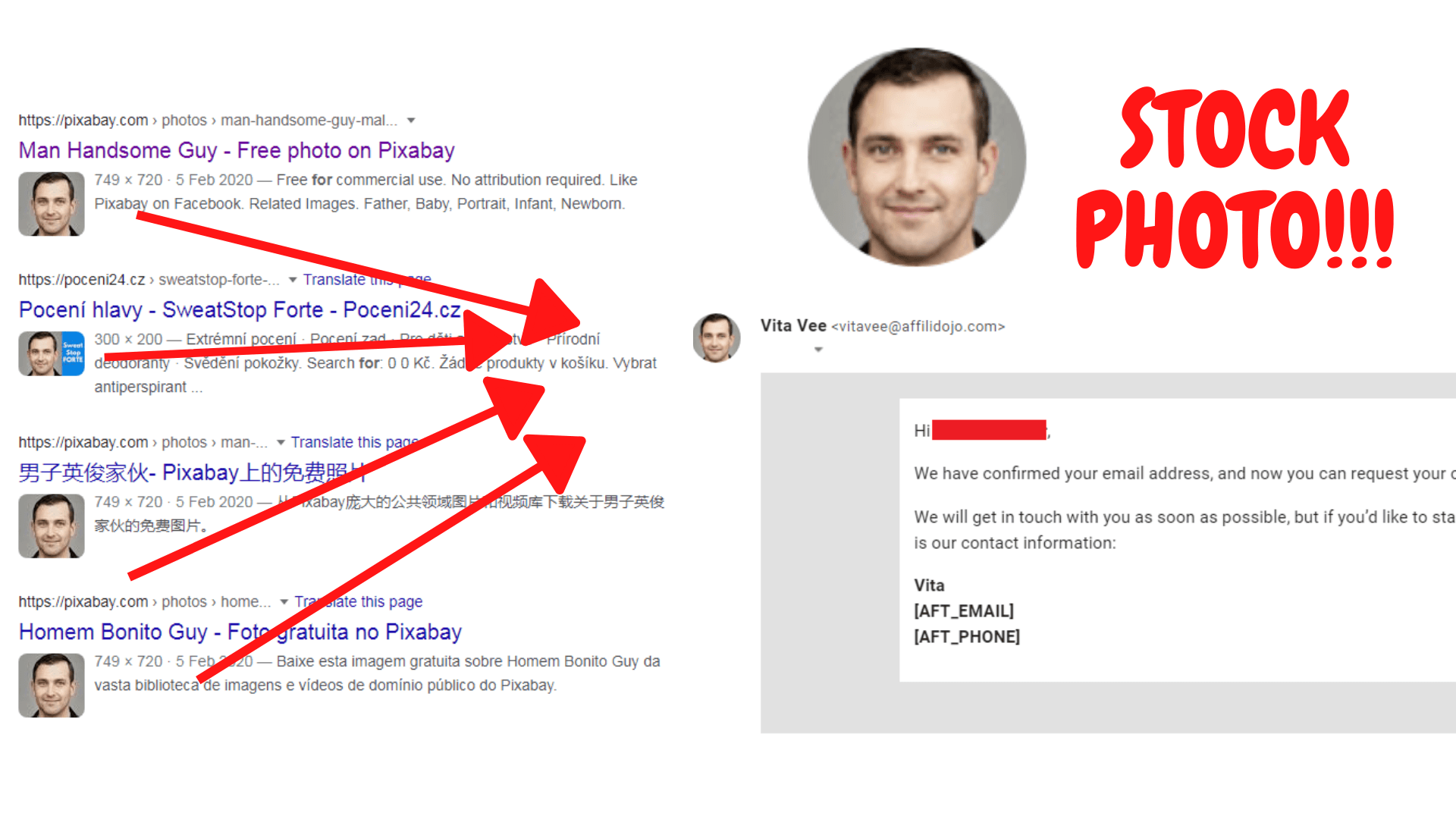 Also, it's been days now, and no offer or program was sent to me as they've promised.
Nonetheless, I believe that program isn't worth your while because of the several red flags I found, and it would be best if you rather turn your attention to more legitimate programs.
---
If you're looking for a legitimate source of income online, then you have to check out
>my best work-from-home recommendation! <
---
What is Affiliate Dojo?
Affiliate Dojo is an income opportunity online that is supposed to help individuals take advantage of affiliate marketing.
And to fully optimize affiliate marketing, it is said that they will also provide you pre-made funnels according to their sales pitch.
Aside from the advertisement, that is just pretty much it.
I checked their domain age to get a good estimation of when Affiliate Dojo might have been founded, and below is what I was able to gather—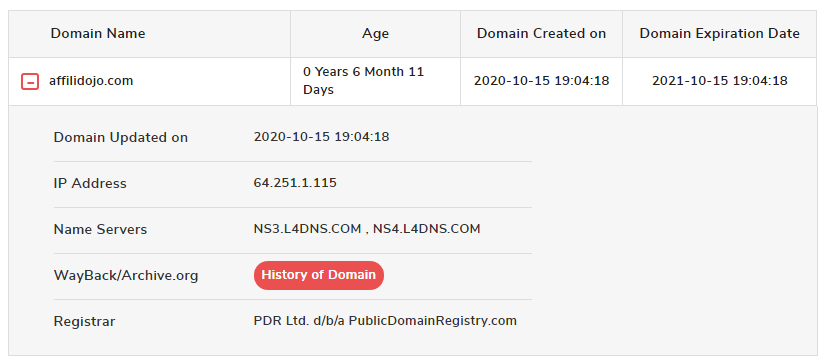 As you see from the data above, they are only six months old.
And according to their IP address, their geolocation puts them in two different states, New York and Florida, as shown below—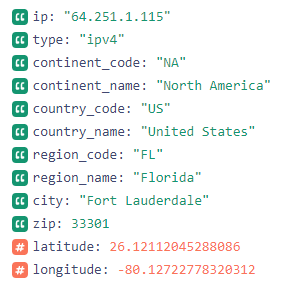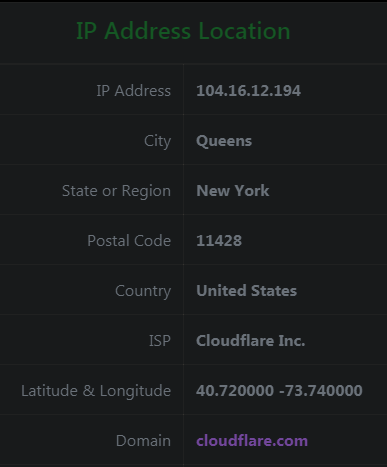 However, such an instance is expected because they are apparently using a VPN—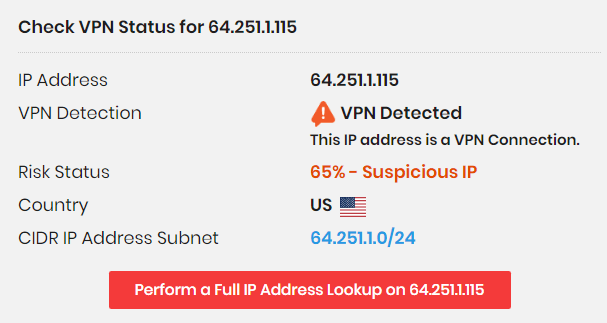 A VPN's (Virtual Private Network) primary purpose is to conceal the identity of the users of an IP address. And using one does make sense if you are an individual trying to protect yourself as you browse around cyberspace.
Of course, you may have to hide some areas of their business' identity to protect corporate interest. But do you even have to hide even the most basic of information like founders, date of inception, terms and conditions, etc.?
To me, this is a huge red flag if you are in the trade industry—may it be eCommerce or brick-and-mortar.
Anyhow, I followed up and with the email I was sent and I was redirected to this "Supercheckout"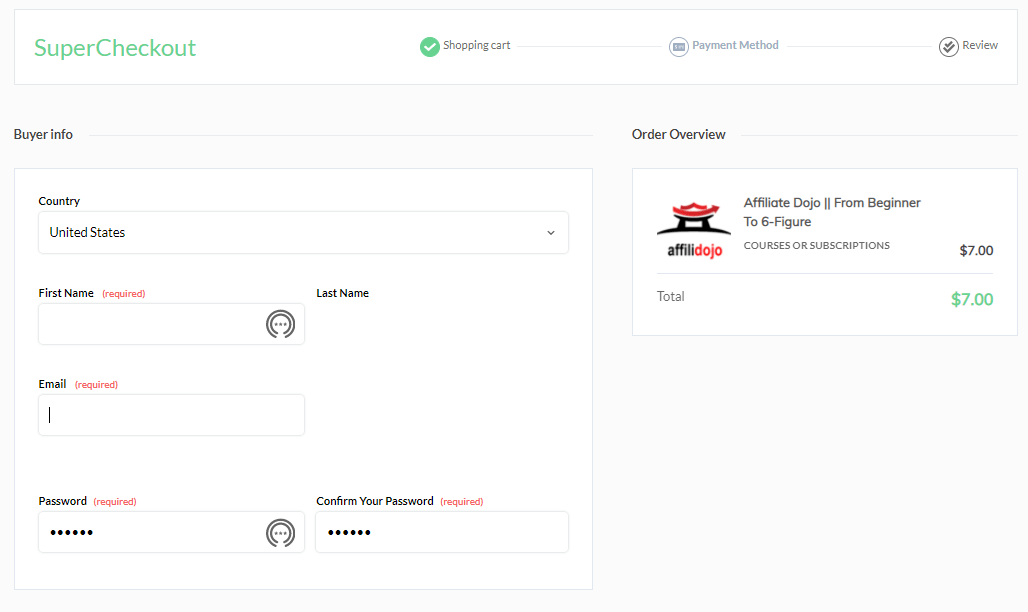 As you can see, it's not going anywhere, there is NO "purchase here" button or anything, so it's just a dead-end!
With this being said—is Affiliate Dojo a scam? Are they still worth your time and money?
Let's continue and find out more…
Is Affiliate Dojo a scam? Here are the red flags…
The way their business model is structured appears to be more like a scam than legitimate. Here are few red flags you have to take note of—
Concealed business identity
If a company is operating a legitimate business, then there should be no reason not to be transparent in regards to their basic information, as I pointed out earlier.
As a potential new client, it matters to me where I am putting my money because how can I trust you if you can't even share your basic information. Does it make sense?
Fake identities
The photo used in their email is fake and a stock image from Pixabay.
Again, faking parts of the businesses' identity makes them less credible, and I tend to stay away from them.
No real value is taught
Affiliate Dojo is similar to the past programs I've reviewed, like the Secret Code System, 98 Unlimited, and Auto Income Sites, where there are no values are taught.
What they offer instead are pre-made contents where all you have to do is to attach the links and other contents on online platforms or social media sites.
Most products may not give you the freedom to innovate since everything is already prepared for you.
It might be a Ponzi scheme
Without any real value to offer, you are left with pre-made content that you have to sell in order to gain commissions.
Now, this setup kind of reminds me of a Ponzi scheme that disguises itself as a program that offers an opportunity for affiliate marketing and funnels.
The program will promise you high returns that would bring you closer to your financial freedom dreams for a small investment.
But the catch is the pre-made content you are going to sell is intended to sell their programs, and then you have to recruit new clients into the system, so you earn commissions.
Genuine affiliate marketing doesn't work this way! Affiliate marketing allows your creativity to run wild, and it also enables you to choose the products you want to represent.
---
If you're looking for a more legitimate income online, then you have to check out my top work-from-home recommendation!
---
Pros
I didn't find any reason to believe that Affiliate Dojo is legitimate in any way.
It would be best to search for other income opportunities that can help you achieve your financial goals.
Cons
Affiliate Marketing and Funnels are not taught
Fake identities
Basic information is not openly disclosed to the public
It might be a Ponzi scheme
Final thoughts
I hope today's content has provided you the answer you need in answering this all-important question—is Affiliate Dojo a scam?
As I emphasized earlier, the program that they offer seems to head in the direction of a scam because of the major red flags I've gathered.
For one thing, I wouldn't entrust my money and put effort into something that lacks credentials and highly shady marketing tactics.
Also, you don't get to learn anything here since everything is pre-made. It's hard to sell any products that you don't believe in.
Let's continue to the last section, and I'll present you with a more legitimate program that'll teach you the essentials of affiliate marketing…
How I earn income online
Affiliate marketing is one of the hottest eCommerce platforms today, alongside dropshipping.
And it is the best source of income online compared to other eCommerce platforms and money-making schemes that you can find on the internet for few apparent reasons, and it includes the following—
No risk
It suits all levels of experiences
It is free, to begin with
No upsells
It is a great and reliable source of income
And most importantly, income is unlimited because you can market a brands' products or services as many as you wish
Does it sound amazing?
And yes, your main task as an affiliate marketer is to promote a brand using a personalized affiliate link provided by the company you are going to represent through your online content or social media influence.
You'll earn commissions every time someone engages the link. And then use it to buy the products or services offered on the company's landing page.
Of course, your success in this type of business model relies on the quality of traffic being driven into your site.
If this is your concern, then you no longer have to worry any further! I got your back!
Tickle the description below, and I will show you how you can create a stunning site and social media contents that are attracting a lot of traffic from scratch—
>>CLICK HERE AND DISCOVER MY TOP WORK-FROM-HOME RECOMMENDATION!
Sign-up for a free Starter account today and get instant access to ALL essential elements to start your online business (and my personal support) for a FULL 7 days!
NO credit card required! 
I also want to offer you my free e-Book just for being on my website