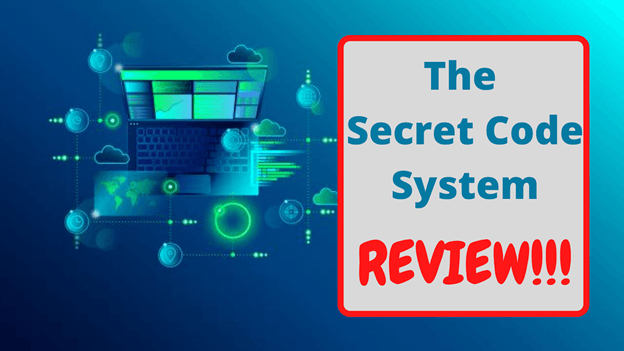 ---
Name: The Secret Code System
Webiste: https://thesecretcodesystem.com/
Owner: "Jay"
Price: $47 or $37 if you try to end the session, they give you a $10 discount
---
If you want to learn how I receive daily commissions and I earn money while I sleep then click on the following link: My No.1 recommendation for earning money online
---
As you're looking for a legit source of income online, I'm pretty sure that you have come across many money-making schemes that promise you financial independence in just a matter of a short period.
If you dig even further, I bet that you may have noticed specific patterns like keywords, gimmicky terms, website structure, over-the-top acting from their supposed testimonials, and the list goes on.
And one of those suspicious programs that you might have encountered is called The Secret Code System.
And for some reason, it might have caught your attention, and you wanted to know more about how the system works and if they're legit in any way.
If you want to know whether The Secret Code System is legitimate or just another scam, then you have come to the right place!
For today's topic, I will present you with a thorough analysis of the system and it will help you determine if they're worth your time and money or if they are just another scam that you should avoid…
But before I start, I'd like to disclose that I am NOT an affiliate of The Secret Code System and not advertising them in any way. This article's content is my unbiased opinion based on the data I've gathered from my research.
So with that out of the way, let's begin discussing today's "The Secret Code System review"…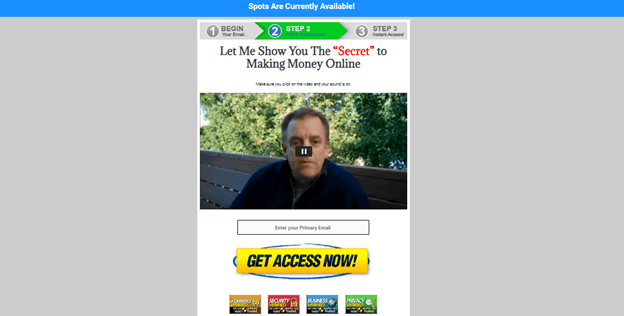 What is the Secret Code System? And who founded the money-making scheme?
There is no conclusive information in regards to the business' background. All we know is that the program is supposed to have been founded by a person named Jay (no last name), as stated in the video presentation.
Unfortunately, that is all the information he disclosed. He has not shared the date of its foundation, current owners, co-founders, or CEOs, if there are any.
The good news is that I have my ways of finding out the background of a specific business.
He mentioned that his name is Jay, and below is his photo—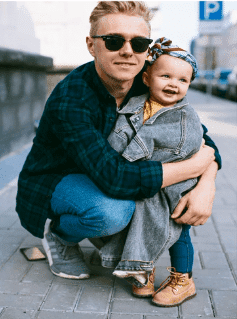 But by performing a reverse image search I found out that the photo is a stock image from Pexels as shown below—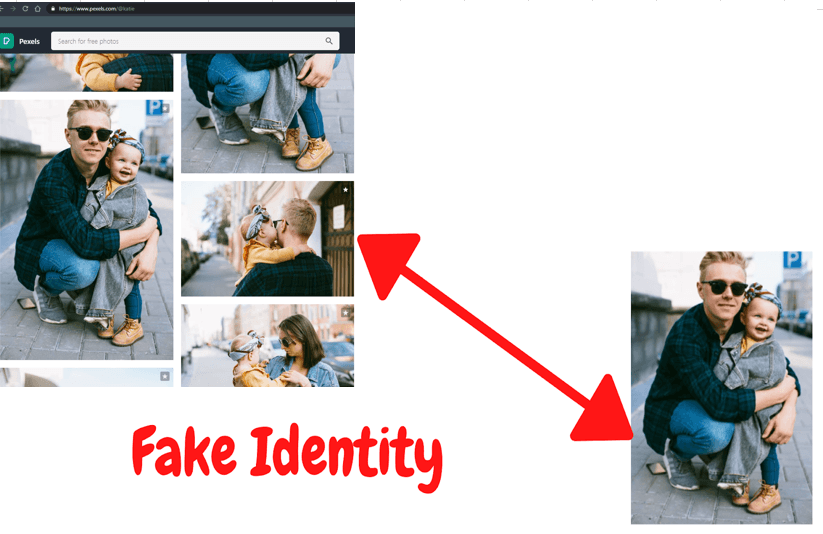 And then, I analyzed the website and determined that it's only four months old—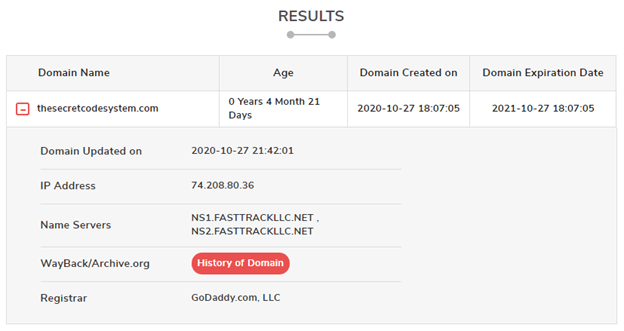 Based on their IP address, it places them in Wayne, Pennsylvania—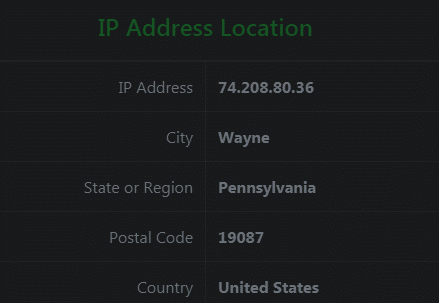 However, I am a bit suspicious with the IP address location because they are apparently using a VPN as indicated below—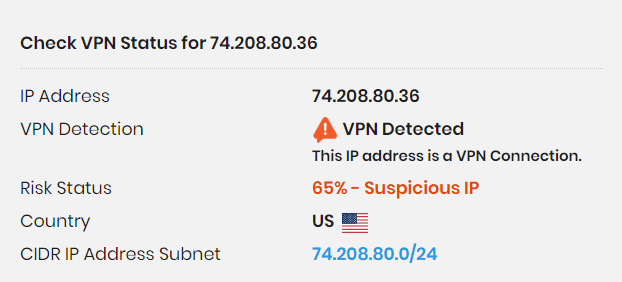 A VPN masks the IP address holder's identity, making it impossible for you to determine their background.
Such an instance is a huge red flag right off the bat! Why do you even have to conceal your company's identity if you are a legitimate business?
You may give the excuse of corporate privacy, but this is not the case! If I am going to entrust you with my money, you have to be honest up front.
With this lack of information, does it make them an outright scam?
Let's continue with the Secret Code System review, and let's find out…
How does The Secret Code System work?
There was also no mention of the specifics of how the program works.
The sales pitch mainly consists of outrageous claims, bogus background stories, and a fake notification that rings randomly—in which he insists on being his earnings as the presentation progresses. – Yeah right!!!
But what stood out to me is his statement which implies earning passive income online without exerting that much effort.
Two of the most profitable eCommerce platforms these days are dropshipping and affiliate marketing.
But the way he describes the programs it sounds like affiliate marketing. But we don't get the confirmation.
Somewhere in the video presentation, he stated that his program isn't a get-rich-quick scheme, but he is apparently trying to mislead potential new clients. He mentioned that it's easy, and you can essentially earn high passive income even in your sleep or "with just a few clicks of your mouse."
In fact, he will show you fake notifications that he's earning $50 plus every 30 seconds as the sales pitch progresses.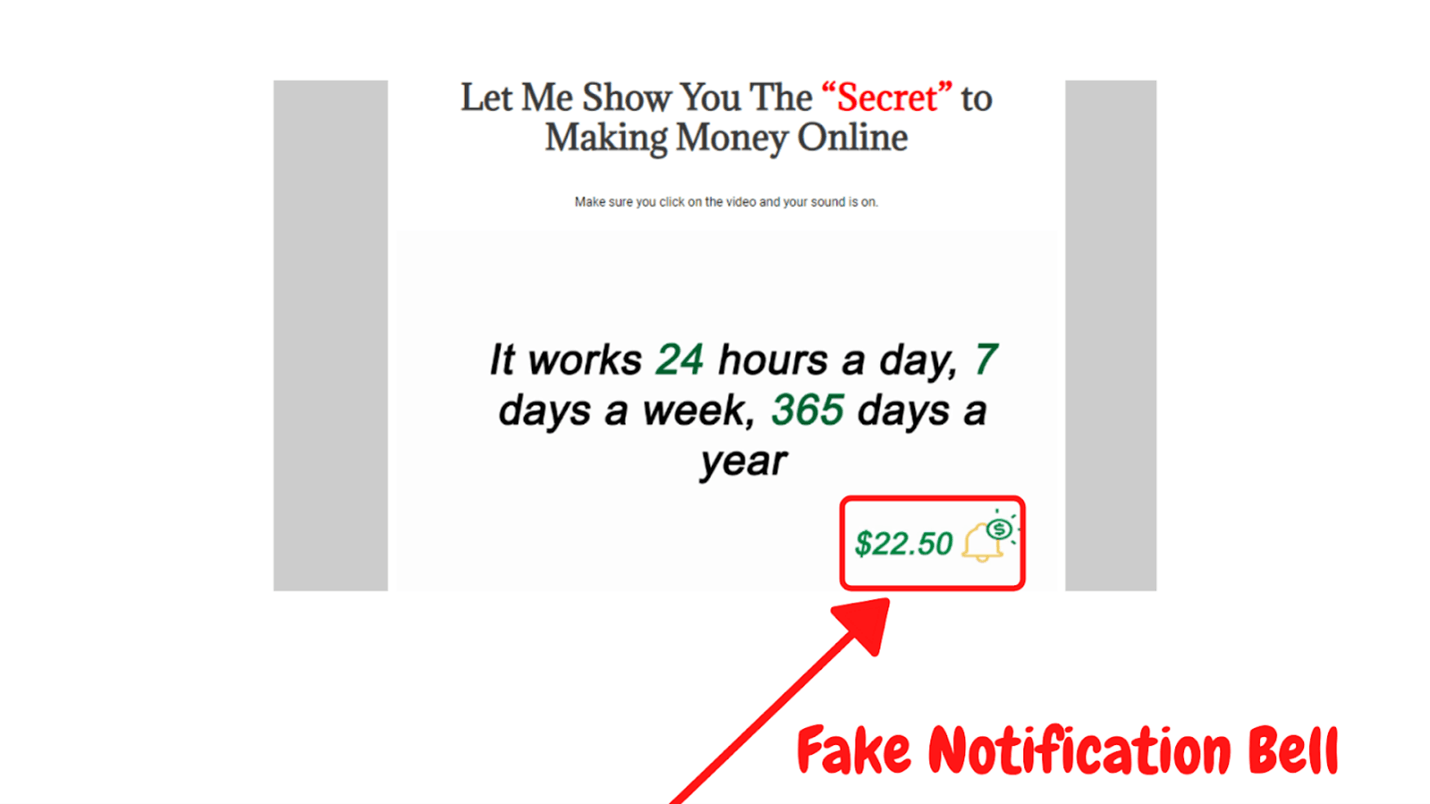 He will then hype you with fake testimonies and copied videos to persuade you to buy their program right away.
You have to realize that success in affiliate marketing doesn't happen right away.
It's a process.
And you would go through periods of trial and error before finding your winning formula and earning any significant and consistent income.
You need to check out my best work-at-home recommendation if you're looking for a legitimate way to learn the right method for affiliate marketing.
In the next section of my "The Secret Code System review," I will talk about the red flags of the program and why you should avoid them…
Is the Secret Code System a scam? Here are the red flags you have to take note of!
Fake owners' identity
As mentioned at the beginning of the content, the identity of the supposed founder named Jay is deeply concealed.
We are not even sure if the video presentation's voice is authentic or just a person hired from Fiverr.
But one thing we are sure of is that the photo he has provided is not him as presented earlier. And not being honest with your true identity is definitely a huge red mark.
Basic business information was not disclosed
As I repeatedly emphasize, the Secret Code Systems' founder is not upfront and seemingly unwilling to share even the most basic of information with the public.
This is extremely suspicious because how can a potential client trust you if you are not honest with them. Plus, they are using VPN, which takes away their reputation a little bit more.
Also, I find it hard to trust any website if there's not much time and effort put into establishing their online site.
Observe how some of the common scams' websites around the globe are structured the same way. Here are examples of the scam programs I've reviewed in the past—The Copy Paste Money System, Auto Income Sites, Myigaa, and The Commission Code just to name a few of them. Notice the similarity in the webpage structure, refund policy, sales pitch, etc.
But one particular system is very similar to this one and I found that it seems that they are from the same creator. This one is called The Home Business Package.
The products images are also very similar: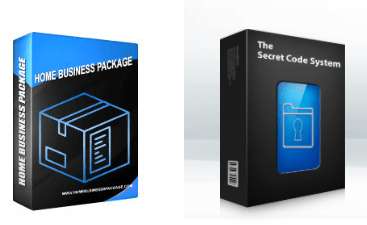 Fake Testimonials
At the beginning of his sales pitch, Jay says that he did not pay any actors to promote his program.
Even if he's telling the truth in some aspect, he sure used a lot of stock images for his testimonials and outright copied video clips from other programs.
Such an instance doesn't make any difference to content that has paid actors in it, right?
Just check these exhibits below—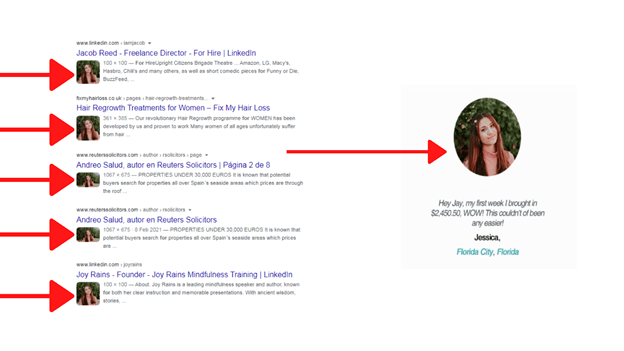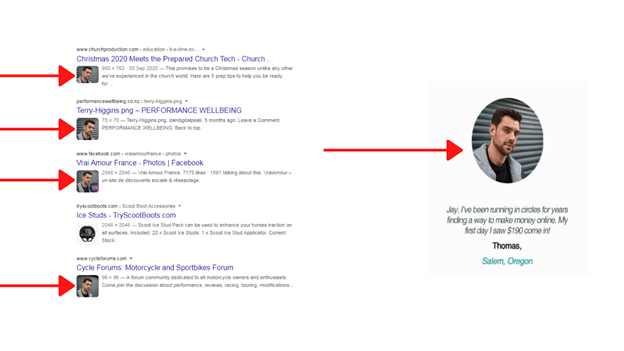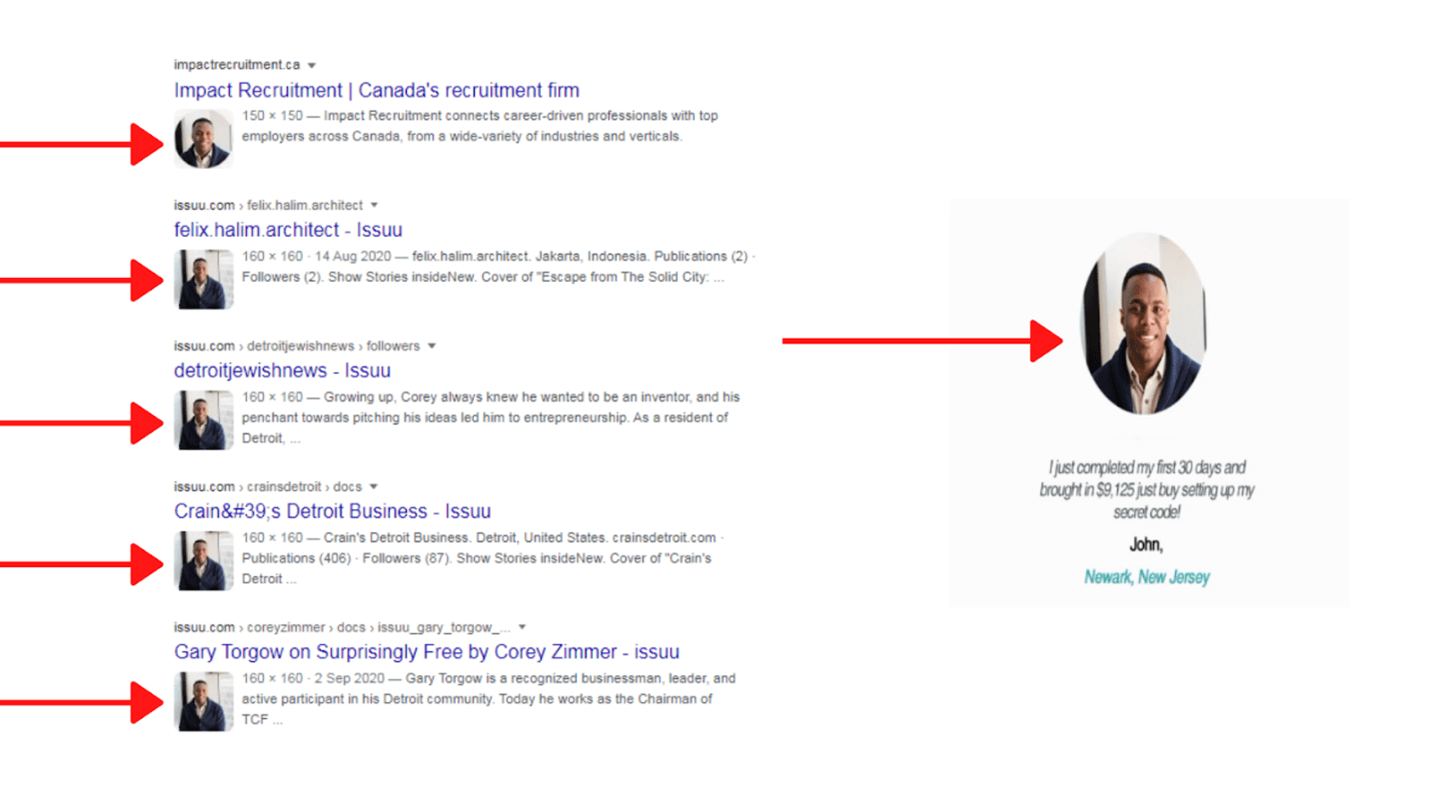 Remember the testimonial videos?
Have you heard anybody mentioning "The Secret Code System" or Jay's name?
There is none, isn't it?
Well, the reason is that the video has been used in many scam programs in the past. Some examples include Your Dream Website, Massive Internet Profits, Clone My Sites, and Profit with Our Sites.
Below is a video presentation I found on YouTube, and it is from a program called Fast Home Sites—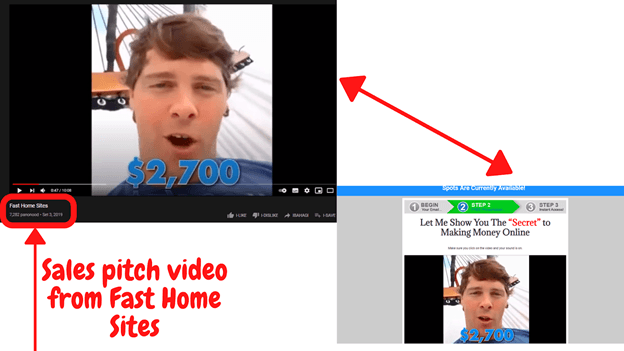 You can check the full video clip here.
No income disclosure statement
If you're claiming that you have many people through your so-called system, it is only appropriate to show genuine proof that you have done so.
Aside from authentic testimonials, you have to add income disclosure statements to show your legitimacy. In which that Secret Code System don't possess.
Instead, he shows you bogus bank accounts or earnings, and then he'll tell you that it's real. But as far as I am concerned, it doesn't prove anything! Nowadays, you can easily fake these documents and claim that it's genuine.
Odd Upsells and Upgrades
If you've been in the affiliate marketing industry long enough, you will find that his supposed upsells are a little strange and doesn't seem to make sense—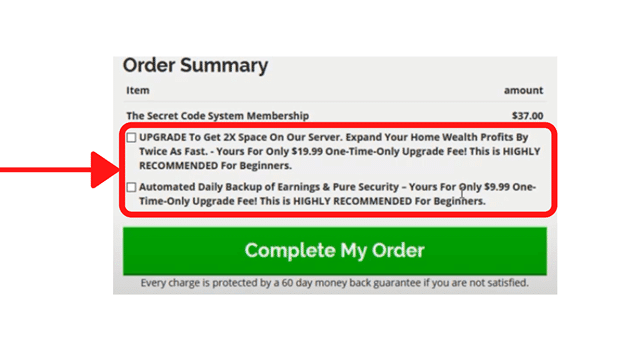 For one thing, a newbie in affiliate marketing may experience difficulty in traffic and managing site performance most of the time. In general, eCommerce takes time and patience before you can achieve your goals.
The next one is a tool that claims to provide a backup of your earnings. You have to bear in mind that you can easily access your earnings on any affiliate marketing platform and print them without having to pay for this service!
Lastly, security should be part of the deal and not a separate item.
---
If you're looking for a more legitimate and accurate lesson on affiliate marketing, then you have to check out my top work-at-home recommendation.
---
Fake scarcity tactics
Fake scarcity is a common strategy marketer employ to put pressure on potential customers into buying the program right away.
No support whatsoever
I looked up the email they provide for support on email checker and here is the result of my research:

So no use trying to reach them for any kind of support, the email will not go anywhere.
---
---
The Secret Code System Review: Final Verdict
I hope that "The Secret Code System review" has provided you sufficient information about how it works and helped you in determining why it is not a good program to invest your hard-earned money.
With this many red flags, I believe that they are a scam that you have to avoid at all costs.
I give it a big thumbs down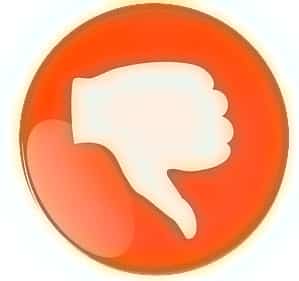 From the website's structure, fake testimonials, and how they hype you persuading to avail their program spells scam or at the least, a very low-quality system.
If you're looking for a legitimate way of earning income online, then let's continue to the last section of this article…
How I earn passive income online
When we talk about eCommerce for beginners, two of the most prominent business models in the fields are dropshipping and affiliate marketing.
In fact, these two are the most searched topics online in regards to earning income online.
But drop shipping is only second to affiliate marketing because it is much easier to setup.
In addition, affiliate marketing is a better option than any passive income-generating schemes online. And this is so because of few apparent reasons, which include the following—
It possesses no risk!
It is free, to begin with!
It is a higher and more reliable source of income!
It is guaranteed that there are no upsells!
Probably, its most important characteristic is that income is unlimited because you can basically promote as many businesses' as you want!
And yes, what you'll essentially be doing is to market services or products using an affiliate link provided by the brand you're going to promote.
You will then advertise the brand through your online site or social media account. Commissions shall be earned anytime someone engages your affiliate link and use it to purchase the products offered on the landing page of the business you are marketing.
Of course, your success in eCommerce will depend on the traffic being driven into your online site.
If you're new at all this or already have an idea of how the business model works but struggling at the moment, then I have an excellent solution for you!
https://www.wealthyaffiliate.com/a_aid/1fd5abe5/campaign/newcampaignapr/data1/SecretCodeSystemOnce you join the platform I use that has helped me create passive income streams, you'll have confidence, clarity, and a plan that'll help you leave doubt in the dust…
Click the description below, and I will show you how to create a stunning website that's attracting a lot of traffic from scratch—
>> CHECK OUT MY BEST WORK-AT-HOME RECOMMENDATION HERE!
I also want you to have my Free eBook just to thank you for being here on my website: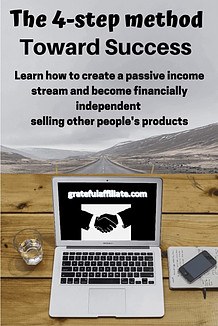 Click on the image or the button below and get your own copy.