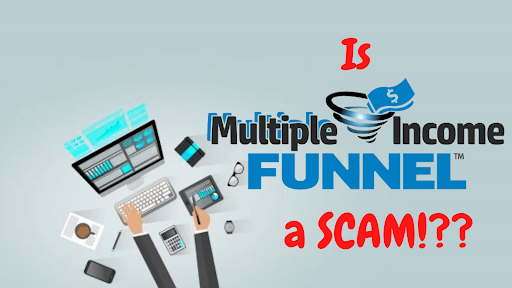 Name: Multiple Income Funnel
Webiste: https://www.multipleincomefunnel.com
Price: $49 per month
---
The gurus in the affiliate marketing industry is so saturated that it is very difficult to distinguish the fake ones from the genuine ones.
Stash of cash, Lamborghinis, mansions, and a luxurious lifestyle are the oldest trick in the book used by many so-called gurus to hype you and entice you to buy their supposed life-changing products!
But you have to take note that most of them are faking a lifestyle and lure you into believing that you can have the same lifestyle just like them.
If you have enough budget, you can easily rent an expensive car or mansion and tell your audience that you actually own them!
And sadly, some of us do believe and fall into such traps.
For today's topic, I will present you with one example that you may want to avoid. It is an affiliate marketing system called Multiple Income Funnel that has been put up by an online entrepreneur and social media influencer named Mack Mills.
But before I begin, I'd like to disclose that I am NOT an affiliate of Multiple Income System and in NO way promoting their product. This content is a review that entails my unbiased opinion about the affiliate marketing system that they offer.
So is Multiple Income Funnel a scam? Or are they legit?
---
If you want to learn how I receive daily commissions and I earn money while I sleep then click on the following link: My No.1 recommendation for earning money online
---
Who is Mack Mills?
Mack Mills is an online entrepreneur and social media influencer. Unlike other so-called gurus out there, he is actually up-front about what he is selling, which is an affiliate marketing system.
In Multiple Income Funnel's sales pitch videos, he claimed to have made a fortune with his system.
But is he actually truthful in every word he says in his promotional video? At least he's not hiding behind a smoke screen like most of the systems I review…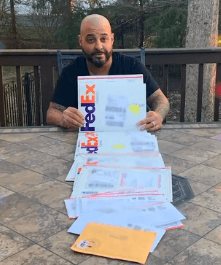 I've dug a little deeper and found out that Mack Mills has several aliases that include Mack Zidan and Mack Millions.
He was also involved with several other online income opportunities. And one of them is a Multi-Level Marketing company called Empower Network that sells online products like blogging packages and various training programs.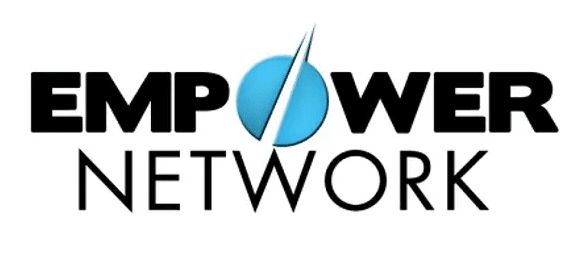 His Empower Network days were even shown in his promotional video for Multiple Income System.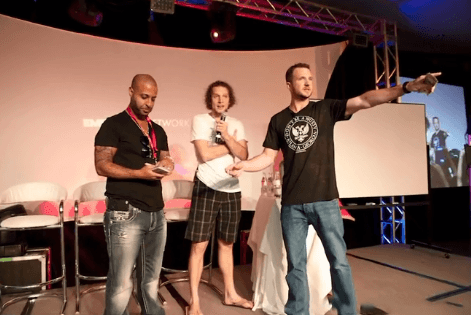 On his left side is Empower Network co-founder David Wood.
He also promoted Aspire Digital Altitude that the Federal Trade Commission took action against in 2018. It was alleged that they have attempted to mislead their audiences with misleading claims.
As of today, he is also associated with other eCommerce platforms such as—
OPM Wealth
Easy1Up
Traffic Authority
Textbot AI
Daily Income Method
All of which are funnels or upsells from Multiple Income Funnels. I will be talking about each of the upsells in the later section of the article.
Also, it's to be noted that these upsells weren't mentioned in the sales pitch, leading you to believe that you're only buying an affiliate marketing system.
With this being said—is Multiple Income Funnel a scam?
Let's continue and find out more…
What is Multiple Income Funnel?
Besides the fact that Mack Mills founded Multiple Income Funnel, no additional information was provided about the program and how it works during the sales video.
There was even no mention of where it is currently headquartered or when it was incepted. But according to their domain age, it suggests that it was established about 11 months ago.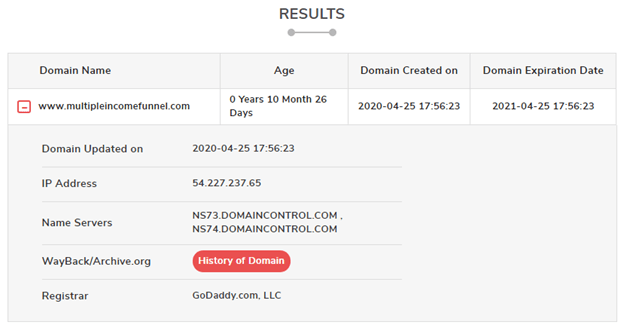 The first time I've listened to the programs' sales pitch, I thought some parts of the video were faked and copied from another creator. For one thing, the presenter sounded like a voice actor, and I didn't saw Mack Mills talked even once.
But as I searched the web, it appears that Multiple Income Funnel is indeed Mack Mill's program.
However, the problem with it is that it is not what you expect it to be.
It won't teach you the basics of affiliate marketing.  It essentially works by promoting the same program to other people, and then you will earn commissions anytime someone buys the program.
You won't be providing any real value to your customer. As you see, your main job is to—
Create (or buy through most probably solo ads) traffic by promoting the product
Attract potential customers into buying the system
Persuade them to recruit new customers
In perspective, it's kind of an MLM or pyramid scheme disguised as an affiliate marketing system. You earn commissions when you recruit new people into the program, and their recruits attract new members, and the process goes so on and so forth.
I also reviewed other income opportunities online. One of them is very similar to this one and is called My Income Club.
I also reviewed other income opportunities online. You can check them out if you like—Auto Income Sites, Myigaa, and Clickearners, to name a few of them.
Upsells
As I mentioned, you will also be funneled to other programs he is involved in once you signed up for Multiple Income Funnel. It includes the following programs—
OPM Wealth
Easy1Up
Textbook AI
Traffic Authority
OPM Wealth
OPM is short for "Other People's Money". It's kind of unclear what OPM Wealth offers. But they mention that they provide tools that are supposed to help its clients to earn income without the need for investing any money.
It may sound great, but it doesn't really work as advertised?
How it works is through loans. And after your loan is approved, you will be asked to join their program by purchasing bitcoins that would cost from $2,000 to $27,000.
Easy1Up
Easy1Up is a program that is supposed to provide educational courses in eCommerce. Like Multiple Income Funnel, you earn commissions anytime your recruits are making sales.
And if you buy this program through Mack Mills, he and his upper level receive commissions as well.
Textbot AI
The program is supposed to generate automated leads to provide steady income. You must pay a $100 fee to get in.
Again, it is not as automatic as you might have expected because you still have to recruit people (to pay their $100) to earn income.
Traffic Authority
Traffic Authority sells eCommerce training, marketing tools, and strategies that are supposed to help you drive traffic.
Traffic is of extreme importance in eCommerce, right? So you might say that they would be helpful in some way.
So what's the problem in signing with them?
Their packages start from $220 to a maximum price of $8,397. You have to realize that you don't have to pay this much for traffic.
---
If you're looking for a more legitimate and cheaper way to improve your traffic, then you to check out my top work-at-home recommendation!
---
Is Multiple Income Funnel a scam? Here are some red flags you have to take note of
Below are some of the red flags you have to take note of and the reason why you shouldn't entrust your money with Multiple Income Funnel.
Upsells
Once you become a member, you will be directed to its funnels, as discussed earlier. Of course, Mack Mills and his upper lines earn high-ticket commissions if ever you avail the business packages.
Misleading Claims
As mentioned, Mack Mills promises an affiliate marketing system. At first sight, you might think of it as what the word literary means.
However, this isn't the case because most of your commissions will be coming from the newly recruited members' purchases. And as long as your recruits are generating sales, you will receive commissions.
There are no real products here. You'll have to sell their products to earn commissions.
You have to realize that this is not how affiliate marketing truly works. I will explain this in detail in the last chapter of the content.
Aspire Digital Altitude
As presented in the earlier parts of the article, Mack Mills was also involved with Aspire Digital Altitude. They are a program that offers a training system that is supposed to help you succeed in eCommerce.
You can watch Mack Mills' promotion video of Aspire Digital Altitude here.
However, the program was shut down by the Federal Trade Commission on February 08, 2018, because it was confirmed that they're operating a pyramid scheme, according to the agency. (1) (2)
Pros
I didn't find any positives about the program, and I believe it is in your best interest to avoid them and search for other opportunities.
Cons
You will be funneled to more expensive and high-ticket programs.
There are no products offered. What you'll basically be doing to earn significant commissions is through referrals.
He promoted Aspire Digital Altitude that the FTC shut down due to pyramid scheme allegations.
Final thoughts
I hope this review has provided you the definitive answer to the all-important question—is Multiple Income Funnel a scam? And why you shouldn't invest your hard-earned with them.
You won't be getting real value with their program. As I repeatedly emphasized, it primarily yields passive income through referrals and not promoting products or services.
Let's continue to the last section of the content, and I'll show you want to learn how affiliate marketing really works…
How I earn income online
When you search for top eCommerce business models online, you'll find that two of the most prominent results would be affiliate marketing and dropshipping.
Dropshipping is a good business model to venture into, but they are more time-consuming, stressful, and requires additional capital, especially during the product testing and advertising phases.
On the other hand, affiliate marketing is the better source of passive income online than any money-making schemes around for few apparent reasons, and some of it includes the following—
It's free, to begin with!
There are no risks involved!
No upsells!
It generates higher income!
It is more stable!
Most importantly, it can generate unlimited income because you can essentially promote as many businesses as you desire!
Yes, your main task is to market a brand using a personalized affiliate link provided to you.
You will promote the products or services that the brand offers. And then, you'll earn commissions anytime someone uses the link you've provided and avail of the products or services afterward.
Of course, the success of such an endeavor depends on the quality of traffic driven into your online site.
If this is your concern, then you no longer have to worry about it!
If you're a beginner and have no idea where to begin or struggling at the moment, then I have the perfect solution for you!
Slightly tickle the description below, and I will show you a step-by-step process on how to create a stunning website that's driving a lot of traffic even if you don't have any experience—
>> CHECK OUT MY BEST WORK-AT-HOME RECOMMENDATION!
And for being on my website I would like you to have my free e-book