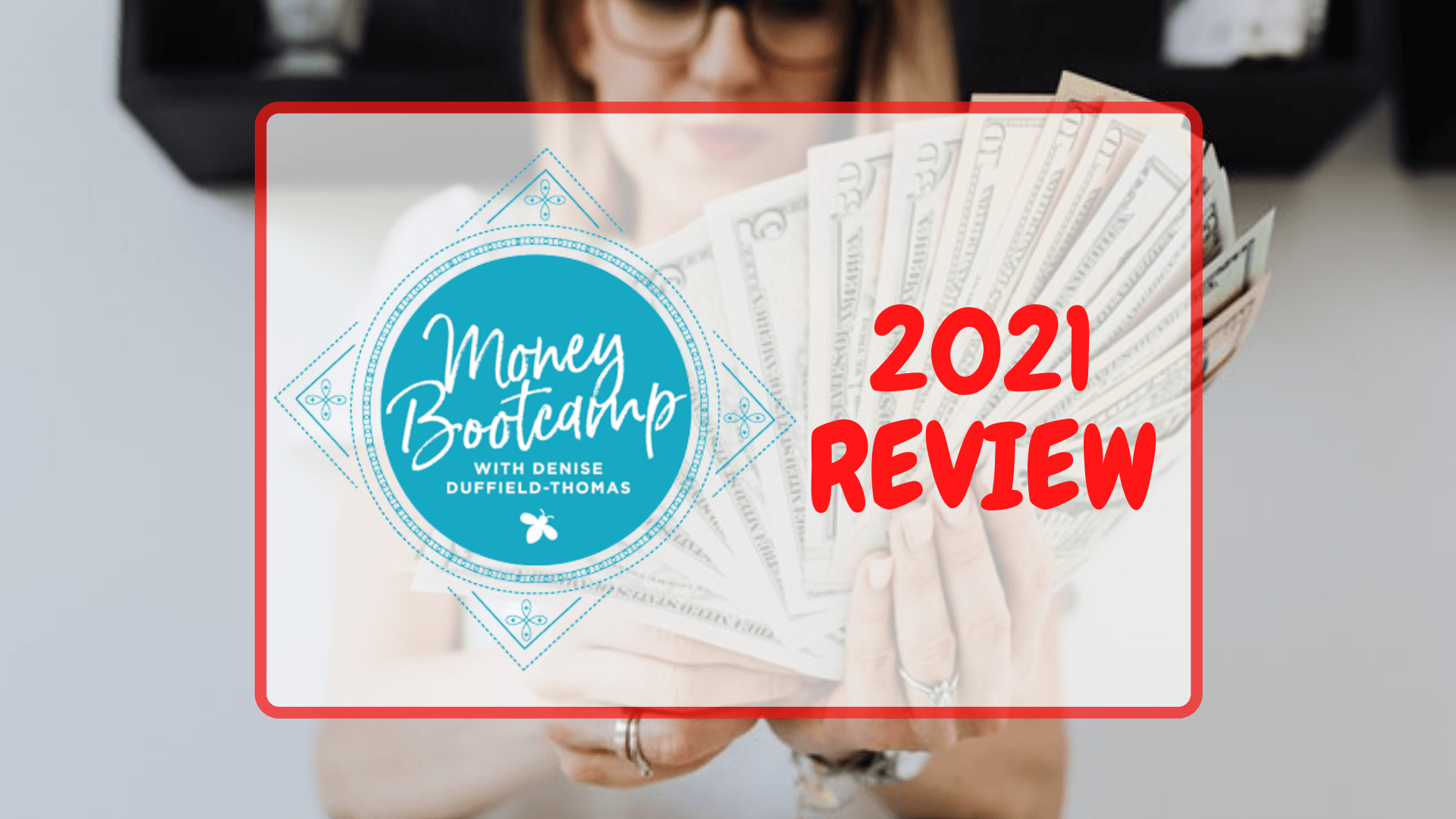 ---
Name: Money Bootcamp with Denise Duffield-Thomas
Webiste: https://www.denisedt.com/bootcamp
Price: Between $400 and $2,000
---
Welcome to my Money Bootcamp review!
If you're here, then you may probably want to find out the legitimacy of the program. Is it a scam? Or, is Denise Duffield-Thomas' program a worthwhile investment of your time and money?
If this is your concern and you want to know the answer, then you have come to the right place!
Money Bootcamp is a life coaching program that specifically aims to help you achieve your financial goals in life.
For today's topic, I will provide you a thorough analysis of the program and help you determine whether you should avail of their life coaching services or not.
But before I start with today's topic, allow me to disclose that I am NOT an affiliate of Denise Duffield-Thomas's Money Bootcamp, and I am in NO way promoting the program. This content is my honest and unbiased opinion about the program.
So with that out of the way, let's begin my review of the Money Bootcamp program!
Who is Denise Duffield-Thomas?
Before I begin discussing what Money Bootcamp is and its mechanics, allow me to introduce its founder first.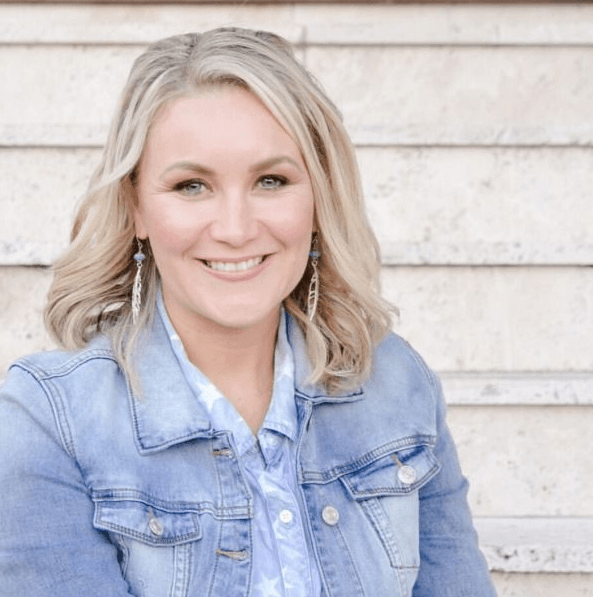 Denise Duffield-Thomas is a self-made millionaire life coach that also goes by the nickname of "Lucky Bitch." Yes, I know, the name is kind of off-putting. However, the name was used as the title of her book that bears the same name.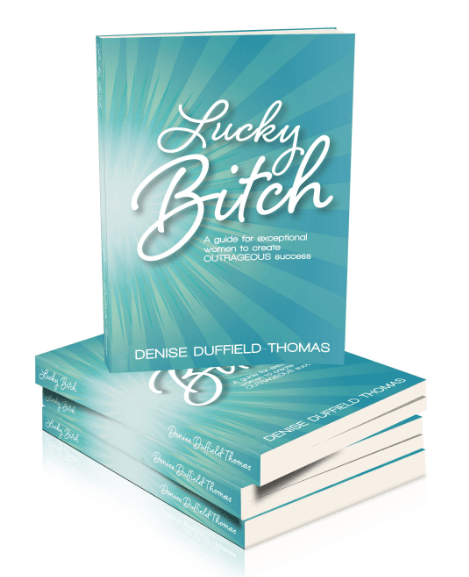 Her book "Lucky Bitch!" was published in September 2011 and has undergone several revisions, as she puts it.
Before Money Bootcamp, her first coaching program was called "The Inspired Life Formula." It offers basic coaching services to clients that are in need of some sort of motivation in their lives.
Her first program runs for six weeks and contains elements such as weekly assignments and live coaching calls or sessions.
I won't be relaying her whole success story. You can check her entire story for yourself here.
With that being said—let's continue with my Money Bootcamp review and find out more about the program Denise Duffield-Thomas offers…
What is Money Bootcamp? And how does it work?
I wasn't able to conclusively identify the businesses' date of inception, but their domain age suggests that they were founded on October 05, 2014.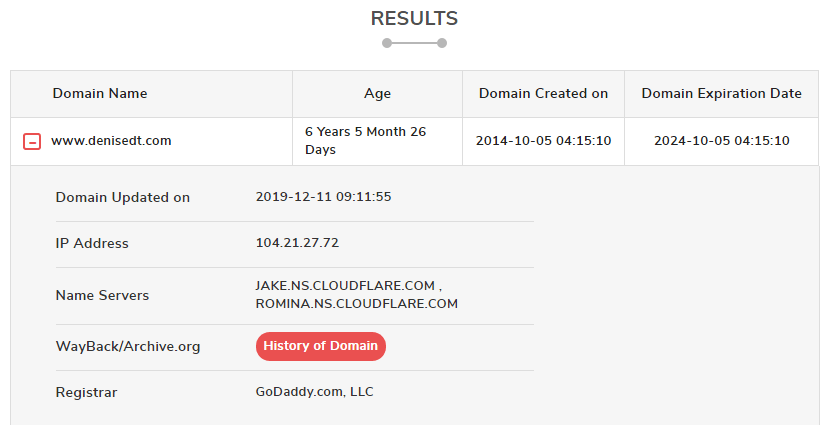 Again, Money Bootcamp with Denise Duffield-Thomas is a life coaching program that focuses on personal development and improving yourself financially.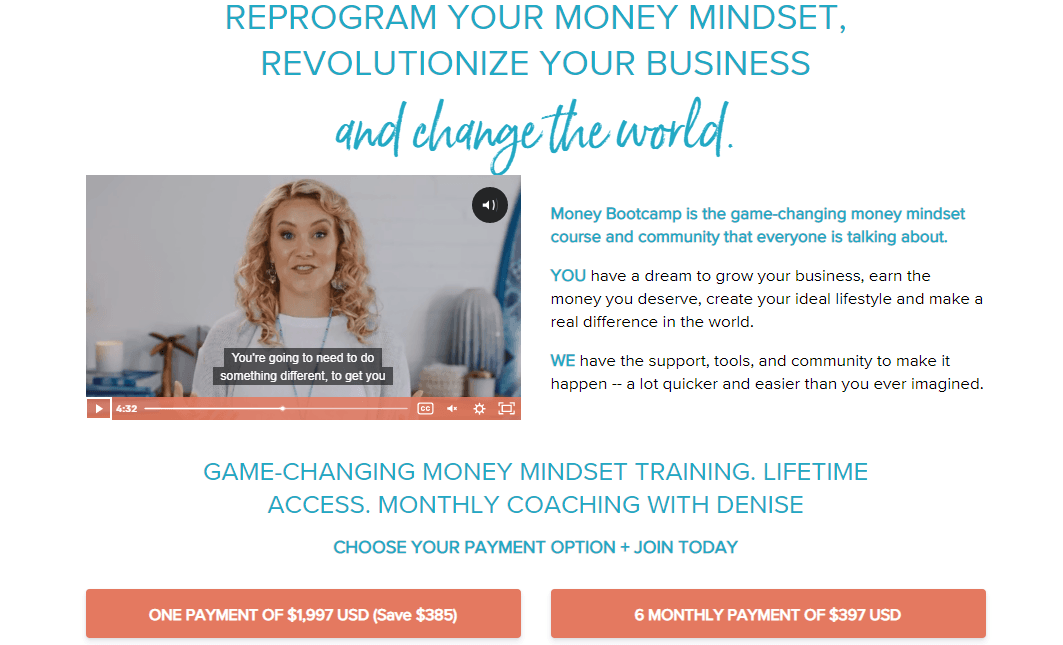 Her program is a six-part course that includes the following modules—
First module: Get free and clear with money
Second module: Develop your lucky bee million mindset
Third module: Define your money plan
Fourth module: Big ripples, big results
Fifth module: Dealing with other people's crap
Sixth module: Integration and Celebration
And to give you a better perspective of how they work, refer to the explanation below—
Get free and clear with money
The first part of her course will entirely revolve around creating a mindset about manifestation and financial abundance.
Denise particularly shares her philosophies on money and then attempts to explain your relationship with them.
Develop your lucky bee million mindset
The second module is just the continuation of the first module.
For this part of the course—she discusses the ethical boundaries of running a business. And then, she'll attempt to explain the negative feelings that come your way as you make business decisions.
Define your money plan
Now, she'll guide you on how to create goals. And then, Denise motivates you to be consistent by providing you her idea of the Law of Attraction and how much money you can earn.
However, not all individuals could be inspired to move forward just by showing them their potential income. You also have to present how to make money!
You can get inspiration for an affordable cost through books or free content on YouTube! Your loved ones and friends can also give you the boost of motivation you need.
Big ripples, big results
If you think you had the sufficient inspiration you need, this part of the course again involves mindset and motivation.
For this topic, Denise talks about the Law of Attraction more extensively.
Dealing with other people's crap
It's a typical subject matter in the self-help genre where they teach you how to deal with the important people in your life and other external distractions as you move towards your goals.
These topics are something you can learn from popular literature like "The Subtle Art of Not Giving a F**k" by Mark Manson and "Don't Sweat the Small Stuff" by Richard Carlson.
Integration and celebration
For this section, we go back to the topic of manifestation.
Again, she teaches you the process of manifesting and attracting abundance in your life.
At this point of my Money Bootcamp review, you might be feeling that the program doesn't seem to offer any real value. However, I'm sure that she's an inspiring individual and a person that could somehow motivate you in some way.
But you have to take note that you also have to formulate a plan in order to be successful in business and not just mindset or manifestation. That won't work, and I guarantee you that!
---
If you want to know how to establish a successful business online, then you have to check out my best work-at-home recommendation.
---
I also have written other topics on online income opportunities that you may check out. It includes topics like MYIGAA, Auto Income Sites, and Secret Code System.
Is Money Bootcamp a scam?
I did NOT find any reason to believe that this system/program is a scam, but $400 to $2,000 is quite a bit of money. It is way freakin' expensive! I will never spend that much money on something I can learn from a book or the internet for free. I say it's not worth it! But that`s my personal opinion.
With that in mind, I don't recommend anybody to invest in them as well. You don't have to pay this much to have the right mindset! I agree that having the proper perspective as you start your business is essential. But I find the cost of the program too expensive! Again that's my personal opinion.
If you're looking for inspiration or motivation to move forward with your business, then there are way cheaper options to do so.
For one thing, you can buy entrepreneurial books that would only cost you less than $15. Some of the books that I personally recommend are The Everything Store, Influence, Elon Musk biography, Steve Jobs, This Is Marketing, etc. There is a ton of very valuable information available for a lot less.
Also, you have to bear in mind that building a business isn't all about mindset. Most of the time, it requires time, effort, and capital to keep the business going.
What you need is a business plan and the commitment to follow-through in order to succeed!
If you want to know more about creating a solid online business, then you have to check out my best work-at-home recommendation!
Pros
If you do have the means to buy this system and follow it through, it might and probably will provide value to some people. But I say that it is still overpriced. You can find tons of books and information about the law of attraction on the internet for a much lower price.
Cons
It is expensive for a self-help program
As I repeatedly emphasized, it feels like there's no real value here. It's all about motivation and structuring your mindset.
The refund policy is only for 14 days and comes with a set of conditions.
Money Bootcamp Review: Final thoughts
I hope today's topic on Money Bootcamp's program has provided you the information you seek about them.
Some individuals may find Money Bootcamp as worthwhile. And if this is the case, then I am happy for you! By all means, continue with her program if you find it of value.
But as I said earlier, my point is that the price range of her program is just way too expensive. You may take her program and still won't experience any change afterward.
You will feel inspired for a moment during her motivational speech and then feel despondent after the facts of life hit you again. We often put the responsibility in other people's hands, but the reality is that we are accountable for our own lives.
If you want to learn how to earn reliable income online, let's continue to the last section of this article…
How I earn income online
Affiliate Marketing is the best source of income online for several apparent reasons, and some of the notable traits include the following—
It is free, to begin with!
The capital needed is very affordable!
No risk!
Guaranteed no upsells!
And most importantly, it yields unlimited income since you can market as many products or services as you like!
Yes, what you'll basically be doing is to promote a brands' products or services through your website or social media account if you're an influencer.
Of course, your success in affiliate marketing depends on the quality of traffic being driven into your online site.
If this is your concern, then you no longer have to worry any further!
If you're a newbie and have no idea where to start, then I have the perfect solution for you!
Tickle the description below, and I will help you establish a website from scratch that's driving lots of traffic—
>> CHECK OUT MY BEST WORK-AT-HOME RECOMMENDATION HERE!
Well, I believe that is just about it!
To thank you for your time in reading my Money Bootcamp review, I am offering my e-book for Free!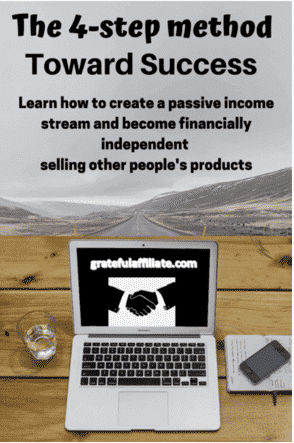 Just click on the link below and get your copy

Peace!