You have been wondering about this "opportunity" to earn money online called Clickearners and you want to know if it's legit or not? Well, you came to the right place. In this honest review, and through my research I will expose all of my findings to let you decide if this "system" is for you or not!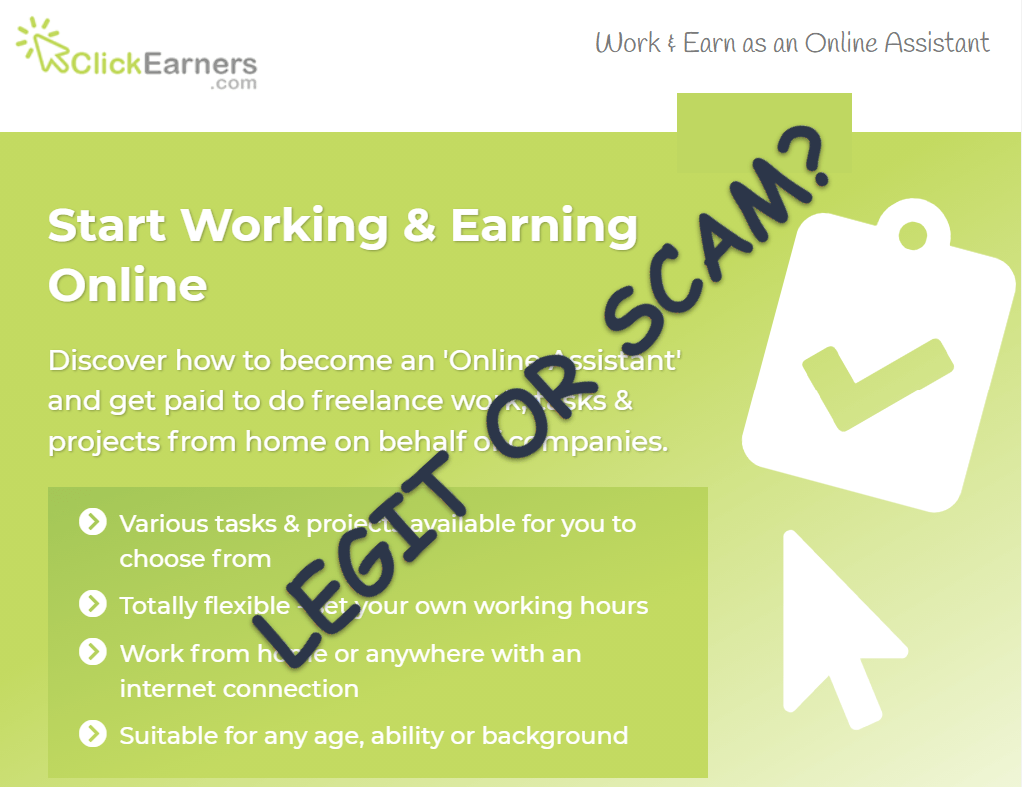 ---
From what I understand, and through my research, I found out that Clickearners.com has been online for a while now (Since June 2018).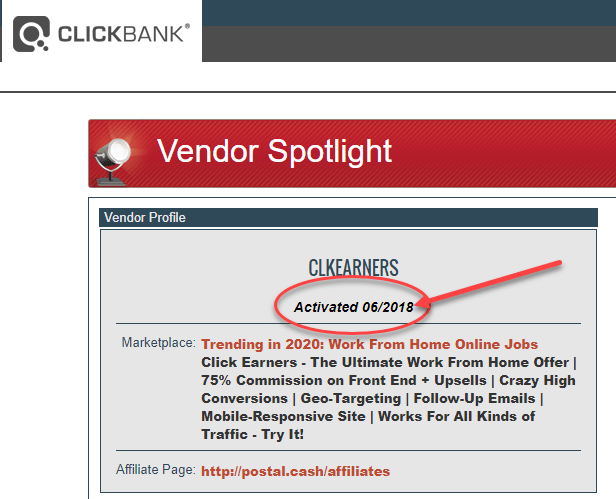 However, it has become more popular lately because of the increase in people looking to find a "work from home" opportunity like freelancing. The creator(s) of this system has taken advantage of the current world pandemic situation to get this system out there again and they have been promoting it as a "new" opportunity, which is far from the truth.
As you can see on their website, it says "Work and Earn as an Online Assistant" and if you look at their website, it seems that this is an easy method of earning (up to $25/hour) doing a multitude of various freelancing tasks like data entry, customer service surveys, etc.
However, if you take a closer look it clearly says that you get paid to do freelance work, tasks, and projects from home on behalf of other companies NOT them!
Then they list a whole bunch of services that you could be doing as shown below:
At first glance, it does sound really really easy, and they also say that it only takes seconds to register with them and even say that you can get paid up to $25 an hour.

Everything looks great at first look, BUT if you go at the bottom of the page all of a sudden you see that it is actually a ClickBank product.

If you don't know what ClickBank is, it's a global affiliate marketing website, probably the biggest in the world. It's an affiliate marketing marketplace where you can go and find digital products and sell these products all over the world through your affiliate link. They are simply middlemen between product vendors and affiliates.
My question here is what does Clickbank has to do with a freelancing website? It makes no sense whatsoever!
Clickearners claim that it's for anyone who wants to earn money online (up to $25 per hour) for doing the tasks we mentioned above but as I will show you, it has nothing to do with earning money as an online assistant.
---
If you are in a hurry, I can tell you right away that I don't recommend this system. If you want to find out what is my No. 1 recommendation, then click on this link—> My No. 1 recommendation
---
Is Clickearners.com a legit method? How does it work exactly?
The first thing you will have to do in order to move forward with this product is to register right? Well, as soon as you register you will be asked to pay a fee to access the system.
Say what?
Why would you pay to access some free resources that already are on the Internet? They claim it's because they "don't take a percentage of your earnings"!
Wow, I sure hope not!!!
The problem here is that most (if not all) of the freelancing websites they will direct you to are readily available for free all over the Internet if you take the time to do a little research on your own.
Did you notice that I put "direct you to" in bold? That's because that is all that they will provide for your membership fee —> Direct you to other (free) websites that you will have to register with, in order to do these tasks.
So basically, Clickearners.com is just a front to sell you a Clickbank product, to enrich the owner(s)/creator(s), and nothing else!
They claim that it's for anyone who is willing to become a virtual assistant
While the tasks themselves that they "direct you to" are legit and they will probably enable you to make a little money, I can assure you, you will NOT make $25 per hour.
You might make $1 or $2 per hour at the most. So it's a very meager salary for the time you will have to spend.
As an example, the survey sites pay a few pennies per survey you take. So it takes a lot of them to make "some" money.
The fact remains that once you pay for the membership, you will discover that there are NO jobs inside. They will provide links and resources on how to find freelance work! That's it!
This is very typical of a very low-quality product! They slap on a few PDFs and some links and then charge a fee to access crap basically
I have done hundreds of reviews in the past about similar ClickBank products, and most of the "make money online" products they sell are money wasters, very low-quality digital products, and/or outright scams. Here are a few examples:
So who is clickearners.com for? Actually I would say no one since the only persons that are going to "earn" any money with this system are the owner(s) / creator(s), which are by the way hiding as we have NO clue who he/she/they are!
Pros and Cons
Pros
The only good thing I could find about this system is the fact that you can get your money back within 60 days of your purchase because it's sold on the ClickBank platform.
Cons
-Clickearners.com is nothing more than a front for a digital product sold on ClickBank. It has no value to anyone looking to become a freelancer other than providing links that are already available for free all over the Internet!
-They use fake testimonials to lead you to believe that this system is actually helping people earn money as a freelance assistant. These are NOT testimonials, anyone could write what you want to ear and that is what they are doing here! There is NO proof whatsoever that these are real!

-Scam Adviser Do not recommend them either, they have a very low trust rating and they are branded as a scam: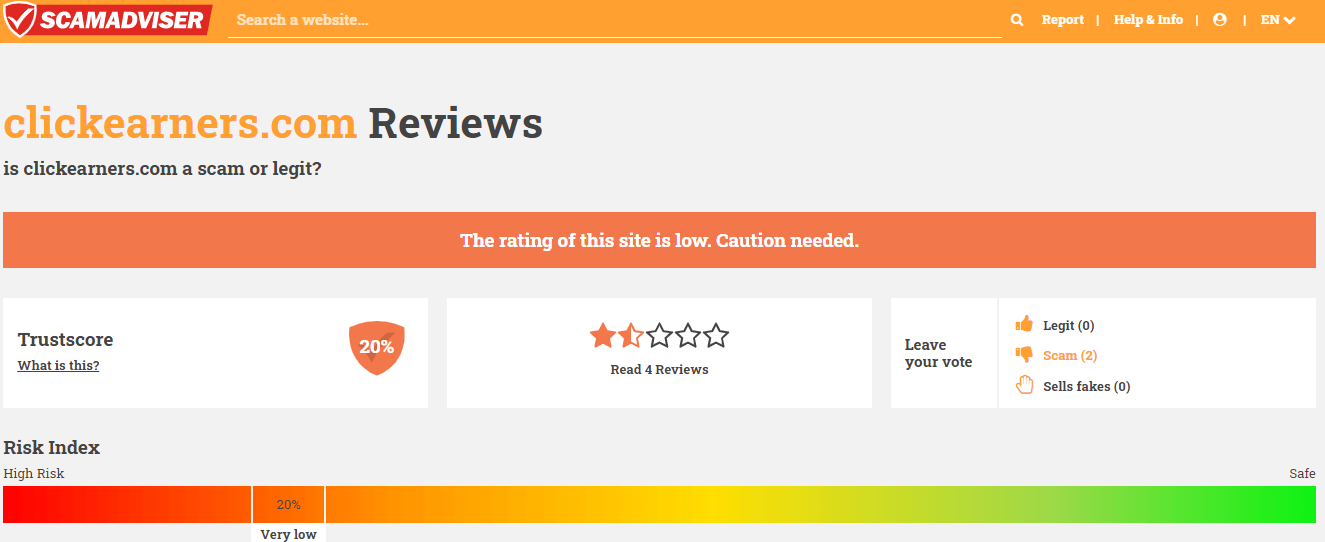 Here are some testimonies:

As you can see both of these customers got NOTHING after paying for their subscriptions.
And it doesn't just end there, TrustPilot has more complaints about Clickearners.com on their website as well: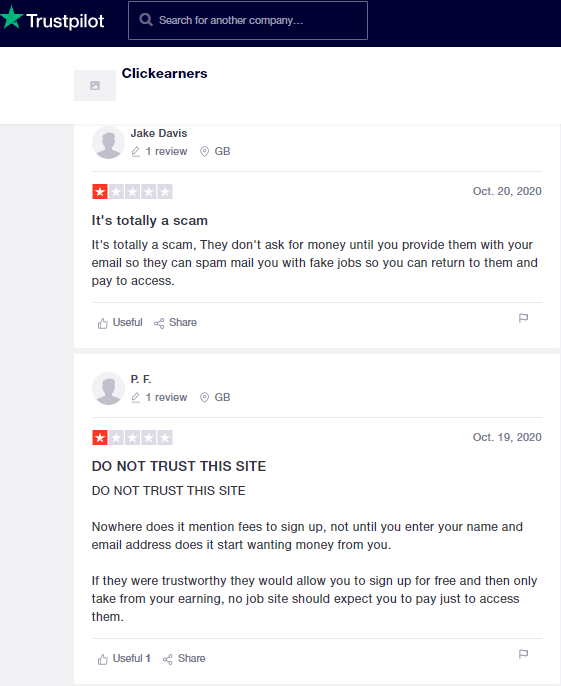 Conclusion
So basically what you can expect if you do join Clickearners.com is to lose your hard-earned money and spam emails filling in your inbox. My suggestion here is to STAY AWAY, and just like P.F. says in his testimony: DO NOT TRUST THIS SITE!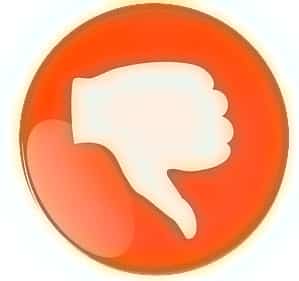 Based on my research and a lot of obvious reasons enumerated in my article, I will classify this digital product known as clickearners.com as a very very low-quality product.
The only reason I don't classify it as a scam is that it's sold on ClickBank and you can request your money back with 60 days of your purchase, and ClickBank is good on its word for that.
How about a platform that will actually teach you how to create your own online business and earn passive income daily!
Back in 2014-2015, I was like you, going from one crappy system to another (just like clickearners.com) without ever resulting in anything but wasting my time AND losing money!
I almost gave up! That is until one day while doing my "due diligence" like you just did, and checking a digital product that was promising me to get rich overnight, and I ended up on a platform as I had never seen before.
The first thing I liked about it was the fact that I was able to become a member and check things out for free and WITHOUT using my credit card to access it.
If you are interested in finding out what it is exactly, they provide a starter membership where they give you full access to the "premium" membership for a full 7 days, Two 10-video and task-based pieces of training and unlike clickearners.com, you don't have to pay to access the free content.
They will also provide you with a free website to start your online business right away, without wasting any time finding a place to host your website, they provide top-notch hosting and security!
The lessons will teach you everything you need to know to start your own affiliate marketing business and enable you to create a sustainable online business that generates passive income daily!
I joined 5 years ago and I haven't looked back. I owe my online successes to Wealthy Affiliate!
The affiliate marketing industry has seen exponential growth in 2020 as online spending increased tenfold because of the world pandemic.
The number of companies investing in their affiliate programs is constantly increasing and to be completely honest, with the 4.4 billion people online as of January 2021, there has never been a better time to get involved in Affiliate Marketing and get your piece of this gigantic money pie!
The best about all of this is that affiliate marketing is just ONE facet to building a business online.
A website can be monetized in many many ways.
But you will need guidance.
When starting an online business you will need three important and necessary elements:
Website(s), Education and Expert Training.
With Wealthy Affiliate, you will get all three along with my personal support as your mentor to guide you and get you going right away.
And the good thing about this free test drive is that it's

Since you don't have to use a credit card to access the platform!
What are you waiting for?
You have nothing to lose and an online business that will generate passive income for years to come to gain!

I also want you to have my Free eBook just to thank you for being here on my website: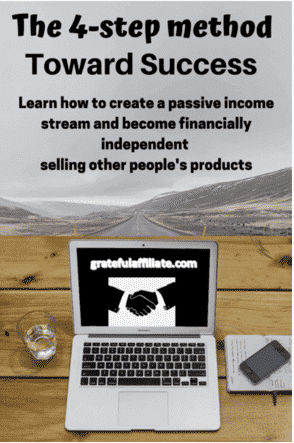 Click on the image above or the button below and get your own copy.

I will see you inside!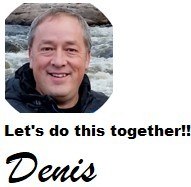 As always, if you have any comments or questions, please do not hesitate to use the comments section below!