Welcome to my Simple Affiliate System review! For today, I'll help you decide if this platform is worth investing in or not.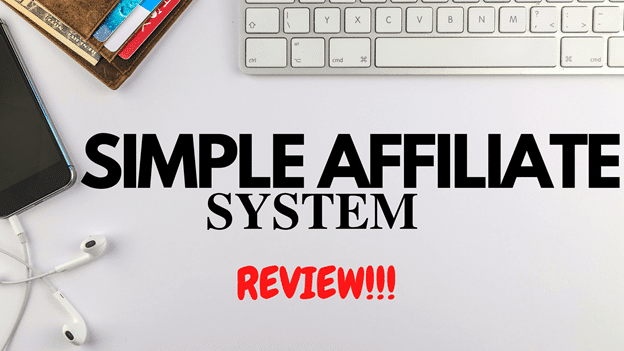 Earning a steady income at the comfort of your home is an enticing prospect, especially to the younger generation.
And with so many programs claiming that they have the magic formula in helping you to be more financially independent, it could be a challenge to find the true ones that can indeed help you achieve your goals.
As you browse the web for answers, Simple Affiliate System is probably one of those that you have found making huge claims, such as helping you earn $100,000 per month.
You might've heard—if there's something too good to be true, then it's likely not to be true. And despite the scammy sales pitch of the program, it might have still caught your attention for some reason.
Is Simple Affiliate System among the scam sites you have to avoid? Or is it legitimate, after all?
In this article, I'll provide you with the answer to this question and help you decide whether they're worth your while or not.
But before I begin today's discussion, allow me to share with you firstly that I am NOT an affiliate of Simple Affiliate System, and I will NOT benefit in any way if you decide to try the program yourself. This discussion is my honest review of the program.
So without any further ado, let's begin…
Who are the Creators of Simple Affiliate System?
The program did not disclose its true founders or any individuals who currently own it. They only provided a bogus one that goes by the name of "Tim."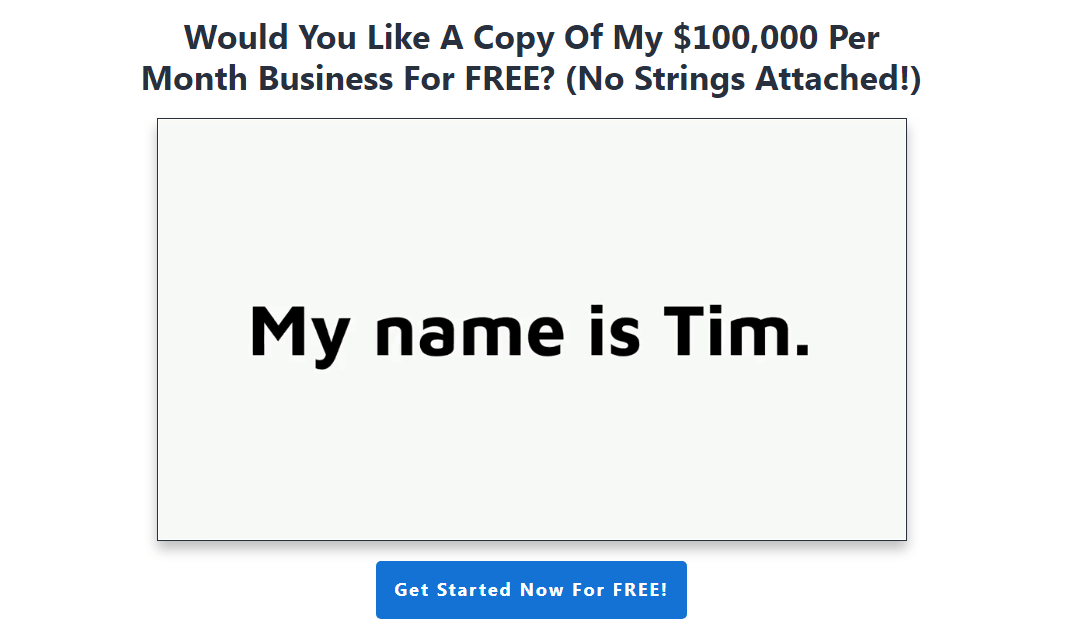 This is a huge red flag right off the bat in my books. For one thing, if you are a legitimate business, then there should be no reason for them to share to the public their business identity.
In addition, they have failed to disclose other basic information about the business, such as the date of foundation, headquarters, contact info, etc.
Despite this instance, the site was only established recently, as their URL address suggests—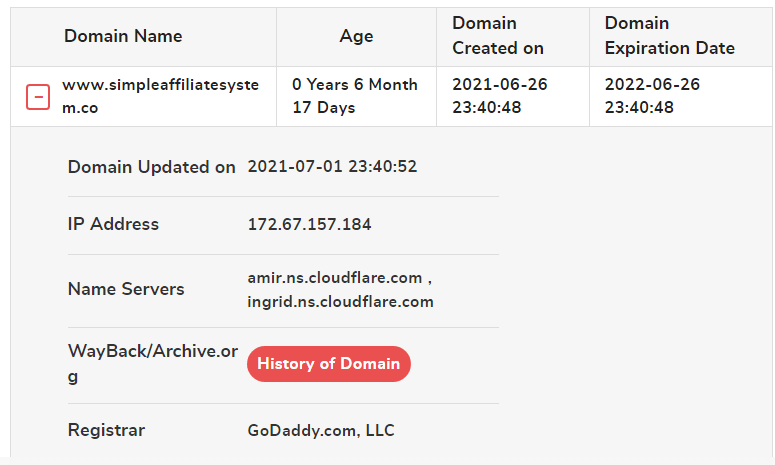 I have also managed to find that the site is currently headquartered in San Francisco, California, as shown below—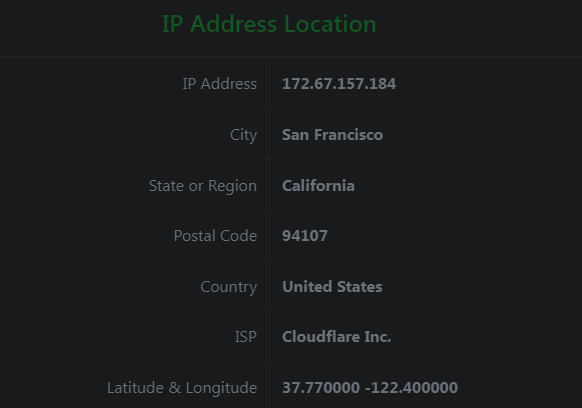 However, I am a little skeptical of the information because most of the scams I've reviewed in the past that are using a VPN are shown to be located in San Francisco as well.
The primary use of a VPN (Virtual Private Network) is to basically make your identity safe as you are browsing the web and accessing restricted sites in your area.
This technology is reasonable for private citizens as they use the internet. However, it may not be that logical if you're a business promoting products to the public because it makes them appear that they're trying to hide something.
Again, allow me to reiterate that if they're a legit operation, then there should be no reason for them to be open to their audience, right?
So does this mean that they're a scam?
Let's continue with my Simple Affiliate System review and find out the answers…
What is the Simple Affiliate System?
The sales pitch is full of blabber-blabber and senseless statements in the early parts of the video clip.
And then, the bogus founder presented his program as unique and revolutionary, which he even called "Customer Flipping." Whoever had this idea has probably watched too many HGTV or Lifetime shows.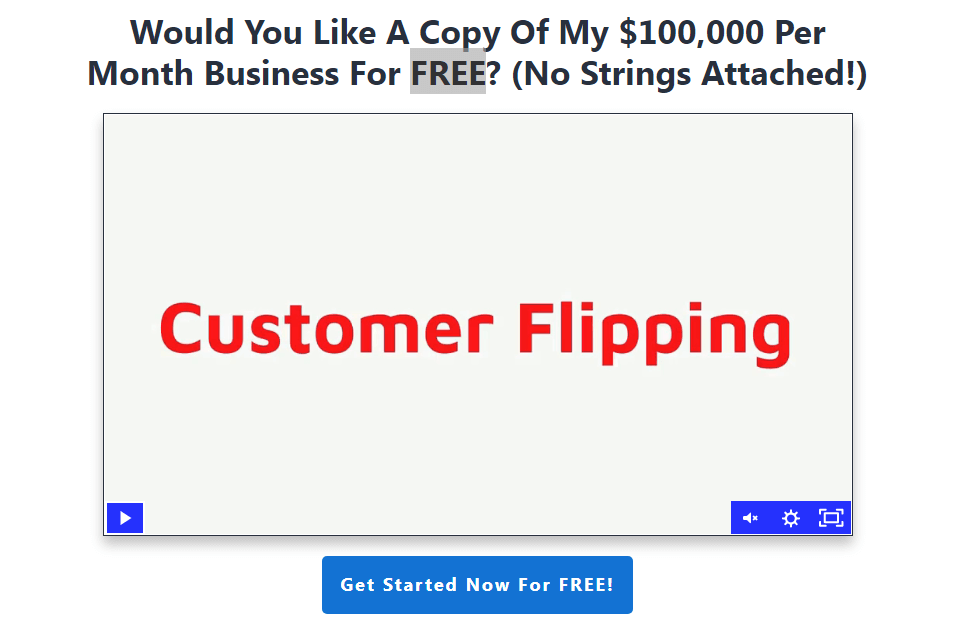 Anyway, his so-called "Customer Flipping" is not a revolutionary method he invented. It is just a classic done-for-you system!
The scheme essentially gives its newly recruited members pre-made templates, content, and sales funnel. And the only thing left for them to do is to promote them using their social media accounts or any related means.
They advertise that you no longer have to put in that much effort to the business. Such a setup is indeed an enticing prospect, especially to people who are new to income opportunities online.
However, you have to remember that generating traffic to your content is not as easy as it sounds.
The truth is that most people who invest in a done-for-you scheme either barely break even or lose money. In fact, you may notice that most businesses promoting this scheme don't show you any income disclosure statement, while others will show you fake statements and made-up luxurious lifestyles as supposed proof of the effectiveness of the program.
Simple Affiliate System is no different from other scams of similar nature I've reviewed in the past. They will promise you prosperity, but in reality, you won't receive any value from them.
You can check out my previous reviews if you like—Auto Income Sites, MYIGGA, Infinity Processing System, and Mastering Online Income, just to name a few.
But if you're looking for a better deal and an income opportunity you can do at home, then you have to try my best work-from-home recommendation!

How Much is the Program?
The one positive thing about the Simple Affiliate System is its price which will only cost you $4.95.
Also, the program is offered under Clickbank, which means that consumers are protected by a 30-day money-back guarantee. This allows you to refund your $5 if you are not happy with the program.
It may appear to be a sweet deal, but based on my experience with these types of schemes, they are loaded with upsells that require you to buy a certain program before it gives you access to a particular feature of the program.
Is Simple Affiliate System a Scam?
Although the price of the program is apparently extremely low-cost, I still think they're a waste of your time and not worth your while. Plus, they might have upsells that would lead you to incur more expenses than save money.
It would be better for you to just search for more legitimate programs or online training courses that could indeed provide you with quality lessons on the essentials of earning income on the internet.
What I LIKE About Simple Affiliate System
Although I don't recommend a done-for-you system in any way, there are several noteworthy things about Simple Affiliate System, which include the following—
Extremely Cheap
I believe this is the cheapest done-for-you system I have reviewed which would only cost you around $5.
Although the program might be a scam, the financial impact won't be that much since it is only about the same price as a McDonald's Double Quarter Pound with Cheese.
Protected by Clickbank's Refund Policy
In addition to the price, consumers are also guaranteed Clickbank's 30-day refund policy.
What I DON'T LIKE about Simple Affiliate System
Here are some of the cons of the program—
Scam!
First and foremost, the program is potentially a scam that you should refrain from engaging to.
Although the price is only about $5, you have to bear in mind that these types of programs mostly have upsells. As a result, you'd end up spending more money.
Bogus Business Details
The business has not provided any genuine information about the program. The so-called founder named "Tim" is obviously made up, and the voice we hear in the sales video is likely a paid actor from Fiverr or UpWork.
False Scarcity
False scarcity tactics are employed by many dishonest business owners to create a false event that is aimed to pressure the audience in buying whatever scam they are offering.
Exaggerated Claims
The claims presented in the video sales letter are also apparently made up to hype their audience.
If you're looking for a better opportunity that can definitely help you achieve your financial goals, then you have to try my best work-from-home recommendation!
Final Thoughts: Simple Affiliate System Review
I hope my Simple Affiliate System review has enlightened you on the subject matter and why they are not worth your while.
As I repeatedly emphasized, although they're affordable, it likely has upsells that would cause you to lose money rather than earn anything.
But if you still want to check out the program, then do so at your own risk!
But let's continue to the last part of my review, and I'll show you a much better source of income online…
How I Am Making a Living at the Comfort of My Home
Affiliate marketing is probably among the most popular income opportunity around, and many are turning to this amazing platform because they can definitely deliver financial stability once the business is managed effectively.
In addition, they're the most preferred online income source by many because of several factors such as the following—
The platform is 100% legitimate
It possesses a very low risk
Cost-effective
No upsells of any kind
Non-involvement with product management and shipment
And as you may already know, your primary responsibility as an affiliate marketer is to represent a company by promoting their products through your website or social media content if you're an influencer.
And then, you earn commission every time engages your links and utilize them to avail the brand's products you're promoting.
However, your success in this business relies on how well your posts are generating traffic and converting sales.
It may seem daunting at first, especially if you're a newbie, but I have something to offer that should put all your concerns aside.
Do you see the highlighted texts below?
Consider giving it a slight tickle, and I will show you how you publish quality posts that are attracting tons of engagement from scratch—
>>HERE'S MY BEST WORK-FROM-HOME RECOMMENDATION!

And to show my appreciation to you just by reading my Simple Affiliate System Review, I'm also giving away my book to help you kickstart this endeavor as well—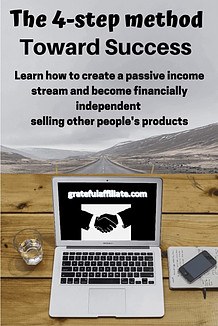 Peace!