When you're looking for the best and most trustworthy way to make money from home, have you thought about affiliate marketing? It's well-known as a good money-making option. As more people get interested in affiliate marketing, there's also more demand for training programs. But be careful because not all the programs you find online are real, especially since there are so many of them out there.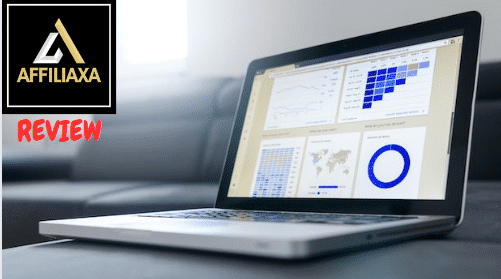 At first glance, Affiliaxa.com looks like any other affiliate marketing program. It doesn't seem to stand out from other training courses. What you will notice is that they use the same old marketing tricks, like making their products seem better than they are and pretending there's a limited supply to make people think they're the real deal.
But is there more to it than what we see? Before you make any decisions, let's remember that some programs might look the same but don't really offer any value. Today, I'm going to tell you what I think about Affiliaxa.com and help you decide if it's worth your money or if you should look for something better. So let's dive into our topic for today…
Product Overview: Affiliaxa.com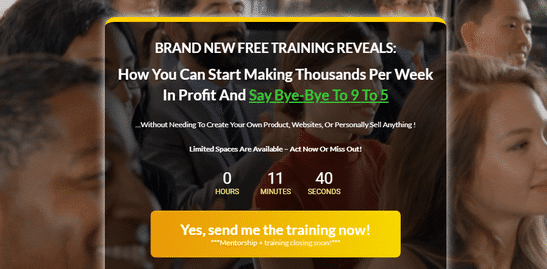 Affiliaxa.com was only founded recently on February 28, 2023, and it is the brainchild of Gena Babak.
He is a digital entrepreneur from Kyiv, Ukraine, who particularly specializes in affiliate marketing and solo ads. Aside from Affiliaxa.com, he also owns another digital marketing website called Genasoloads.com.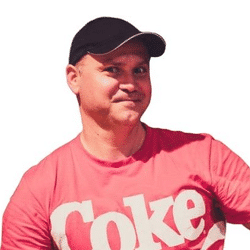 If you're expecting Affiliaxa.com to be a training program, you're mistaken.
It's actually from WarriorPlus. It will provide you with ready-made websites, templates, ad banners, and so on. The idea is simple: they want to make it easier for you by handling the creation and management of a website and helping you get visitors to your site.
While this might sound great, it's not always effective because these duplicated sites often don't show up well in popular search engines like Google and Yahoo.
Why do I say duplicated? Because everyone who purchases the program gets the same ready-made website.
The main features of Affiliaxa.com include the following:
Drag-and-drop funnel builder
Integration with an email autoresponder
Banner ads for your landing pages
Access to the programs' high-converting sales funnels
Done-for-you websites and templates
Gena Babak adds you to his personal traffic rotator for 30 days
Access to the program's exclusive Facebook community
Upsells and bonuses that should help you get ahead in the business
Recommended: If you are looking for a better alternative to DFY's that can provide you genuine training on the basics of affiliate marketing and how you can succeed in the business from scratch, then you have to check out my best work-from-home recommendation!

How Affiliaxa.com Works?
When you go to Affiliaxa.com's main page, it's not clear what the program does or how it works. But it's supposed to be easy because everything is already set up for you. Here's a rundown of how their ready-made plans work, according to their ads.
Join Affiliaxa.com by providing them with your personal information like name and email, and then by paying the required fee for the use of the program
Once you've become a member, you'll get access to their referral program, sales funnels, lead generation tool, and traffic hand guide
Afterward, you can now start promoting the program. The thing is they have not mentioned how you are going to market your referral links
In the next step, they claim that you will now start earning $100 a day. Again, this step is vague and they have not discussed how exactly you are going to reach the $ 100-a-day milestone
Reinvest your earnings to lead generation in order to boost your chances of increasing sales
And then, you'll reach the $1k a day plateau eventually, as they claim to be
As the name suggests, everything is already "done" for you, and all you have to do is post them somewhere online and wait for the passive income to start pouring. They even referred to their system as "Your Roadmap: From $17 to 1K/Day."
I wish it was as easy as they make it sound. However, this is not exactly true. Affiliate marketing involves the creation of a website or social media account where you will produce content. And then, drive traffic to your website or account through organic traffic or paid ads. Afterwards, you can use your platform to promote your affiliates where you'll earn commissions from every sale the brand makes.
And this process will not take a few days, but it will take months or sometimes even years of trial and error, patience, and expenses. Yes. It is not easy, but nothing can compare to the sense of fulfillment once you have reached your goal. 
I have written a lot of other DFY reviews in the past such as : Millionaire Biz Pro, Easy Pro Funnels and Fast Track Commission System, just to name a few.
Effectiveness of Affiliaxa.com's DFY Program
You have to bear in mind that DFY's are not really affiliate marketing programs as they claim to be. They are more referral marketing than affiliate marketing because you are limited to promoting several programs that they are in partnership with. It is unlike genuine affiliate marketing where it gives you full freedom on the number and what brand you would like to represent.
If you are doing business with a DFY program, you have to take note that you are essentially receiving premade materials. What this means is that the already-done resources are just the same as any other members of the program. Now, bear in mind that prominent search engine consoles like Google, Yahoo, and Bing and social media platforms like Facebook and Instagram have heightened restrictions on duplicating content. 
And this is because their system views these kinds of publications as spam and potentially risky to the data protection of their consumers and audience. As a result, Google and Facebook filter the potential spam leading the traffic they promised into obscurity. But you may ask what about the traffic they stated on their landing page? Well, that traffic is generated through email marketing and solo ads.
Solo ads uses email marketing, but the difference is that you will transact with other digital marketers to exchange funnels. The two digital marketers will agree on the number of clicks, which they have to meet on a specified date as well.
Pricing and Plans
The frontend cost to access the features of Affiliaxa.com is only $17 that includes bonuses such as the following:
First Bonus: Profit Store Pro – a tutorial on how to set up an eComm store from scratch
Second Bonus: eCom Finder – a software that helps you in product research
Third Bonus: The Newbies Guide to Becoming a Successful Dropshipper – the name of the bonus pretty much entails what it does. It discusses the foundations of dropshipping for beginners
Fourth Bonus: 110 Niches for eCommerce – the program will teach you how to search for the most profitable niches
Fifth Bonus: eCommerce Riches – it is another training on dropshipping that offers a unique perspective on how the business works
Sixth Bonus: eCommerce Arbitrage – training on Amazon FBA
Seventh Bonus: 8 Ways to Increase Your eCommerce Average Order – techniques on how to increase orders from customers
All in all, there's a total of 29 bonuses. Thus, one might believe that it's a good value for $17. Well, this is not exactly the case because there are tons of upsells as well which include the following:
Funnel Setup for $67 – it's all about setting up your email marketing system including your funnels and autoresponders
Email Marketing Secrets for $17 to $37 – it includes secrets on creating content for email marketing 
Social Media Dominator for $47 to $67 – it teaches you how you can bring traffic to your website using social media platforms like Facebook, Instagram, TikTok, etc.
Lead Master for $197 – it's another lesson on lead generation. But it provides a different perspective on driving traffic to your website
Pro Membership for $650 – it's not clear what the Pro Membership offers, but it appears to include a coaching program and a 50% cut on affiliate funnels
DFY Business Coaching Program for $3,500 – it's a coaching program on Gena's DFY system and how you can "clone" his success and run your business on autopilot 24/7
There was no mention of whether the upsells have refund policies or if some of them have installment plans. But what is certain is that the front-end cost has a 30-day refund policy.
Here are what other people are saying about Affiliaxa:
Recommended: As you see, you are not really saving money despite the bonuses included in the program. Therefore, if you are looking for a more budget-friendly program that can help you take advantage of the amazing financial benefits of affiliate marketing, then you have to check out my best work-from-home recommendation!

What I Like/Dislike
I listed below the positives and negatives of the website Affiliaxa.com to help you further determine if they're a good value for your money or should look for better alternatives. Let's discuss first the pros of the website:
The program offers a total of 29 bonuses
It takes away the essential and most crucial step in digital marketing, which is website creation, paid ads setup, landing pages, content, and other related stuff
DFY funnels that have enough subscribers to reach people
They have a 30-day refund policy
Now, the cons of the program that you have to bear in mind are as follows:
Expensive upsells
Although they promise high volume traffic, it is a little misleading considering their attempt to generate leads is filtered by prominent search engines and social media platforms like Google and Facebook
Final Thoughts/Conclusion
Done-for-you systems like Affiliaxa.com are popular programs today because they are relatively cheap but provide an exaggerated claim that they can help you gain high and reliable income in just a few short periods without doing the basic work related to the inception of a digital marketing business. In addition, Affiliaxa.com is no different when it comes to the number of upsells and disclosing them to its audience.
In any case, Affiliaxa.com is a legitimate DFY program that offers tons of bonuses when you become a member. And if you want to see whether they do work for you or not, then you can freely check them out because I believe it would still somehow produce results one way or another.
With this being said, I am giving Affiliaxa.com a rating of 7 out of 10 with a deduction for the done-for-you and the solo ads part of the system.

You have to manage your expectations if you are planning to try Affiliaxa.com because the traffic will likely come from email marketing and solo ads.
An Alternative
Affiliate marketing is a popular source of income because of its potential to help gain financial independence without having to leave the comforts of your home. You might feel that it offers nothing but exaggerated claims or hyping of the industry, but I have been in the affiliate marketing business since 2016, and it has indeed produced a reliable source of passive income aside from my regular day job.
A lot of people are attracted to affiliate marketing because you can start with a capital of as low as $500 or less, which makes them extremely low risk as well. You also don't have to concern yourself with inventory management and shipment.
Unfortunately, Affiliaxa.com is not really affiliate marketing because they do not truly represent the nature of affiliate marketing. It is rather referral marketing because you are limited to promoting the brands they are partners with. On the other hand, true affiliate marketing gives you the freedom to promote as many brands as you like that are in accordance with your business advocacies.
As I discussed, affiliate marketing has helped me succeed with my finances over the course of 7 years and counting. And if you want to benefit from the program that I personally trust and that provided me the help I need to succeed in this industry, then consider giving the highlighted texts below a slight tickle to start your affiliate marketing journey today.
>>HERE'S MY BEST WORK-FROM-HOME RECOMMENDATION!

And to give you my gratitude for being here with me today, I am also giving away my eBook for free to help you jumpstart your affiliate marketing business—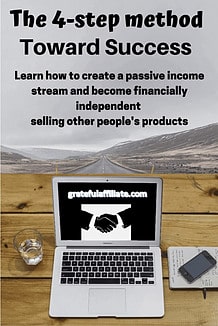 Peace!