CB MoneyVine claims that you can make "Up to $500 a pop" with Daily autopilot commissions. Is it real?  Does it really work? Get an inside view right here!
So you are here today because someone has "invited" you to join this "free" system and you are doing your due diligence by doing some research first and not believing everything that the sales video tells you.
Well, let me start by congratulating you for researching this system in order to make an informed decision.
I will do my best here to answer any of the questions you may have and give you all the information you need to make your decision based on real facts.
---
Although I can say right away that this system is legit and not a scam, it is not my preferred method of making money online.
Click here to find out about My No. 1 recommendation
---
Summary
Name: CB MoneyVine
Website: https://www.cbmoneyvine.com
Owners:  Brian Winters and Tom E
Price: Free (well not exactly, you will see why a little later)
Score:  3.7 out of 5 (So I would say "pretty good")

Overview

I was invited (through an email) to this sales page/video about CB MoneyVine:
I watched the video and they say that they are providing a done-for-you "Reverse Income software" that will "Stuff your ClickBank account with Daily Autopilot commissions" up to $500 a pop! With your own marketplace of over 4000 products.
From what I understood from the sales page, you give people an affiliate link to the product they are looking for, they buy and commissions come in on autopilot, as a recurring income!
So I decided to purchase this system and find out what the fuss is all about.  I actually paid $18.97 (So no it is NOT free) and by doing so, my account was qualified as an "autopilot" plan (Which I will explain later in this review).
However, before I finally got to the member's area, I was literally bombarded with upsells after upsells. It was almost exhausting!
Here is a list (of upsells that they call OTO or "one time offer" which I did not purchase) before getting to the member's area:
OTO 1- Commission accelerator – Tom E says that this "upgrade" is designed to make you 20 times more money than the front end version. Get the "pass up" commissions from any of your paid subscription members that are your direct referrals, that leave the system for whatever reason (and stop paying their monthly fee), get their commissions paid directly to you. Meaning you would be getting "their" potential commissions. They sell this upgrade for $47 with a downsell of $27 if you refuse to buy it the first time.
OTO 2 – 10K List Mogul –  This upsell will enable you to capture email leads from everyone who signs up in your CB MoneyVine network automatically and add those email addresses to your email autoresponder (If you have one) and then send out automatic emails to the prospect for them to sign up, and they will also get an email autoresponder sequence for the next 5 days provided by this upsell.  This one will cost you $97 or at a discounted downsell of $47 if you refuse to take it the first time.
OTO 3 – 4 Figure Commission Club – In this one, you unlock the ability to make additional high-ticket commissions all on "auto-pilot".  If you purchase this upsell, they will provide a sales video and an order button inside of everyone in your downline.  The video is for a high-ticket product related to the make money online niche and they say that the potential of commission is between $500-$1,000 each.  This upsell is sold for $197 and the downsell is $97.
OTO 4 – Traffic Co-op – If you want traffic delivered to your affiliate link(or your CBMV website as they call it) via their traffic source, then they recommend that you get this one.  They have a lot of traffic to their main website and they want to share that traffic with you if you buy this upsell. Takers of this upsell will be added to their traffic rotation, meaning they will be sending traffic to your link on autopilot.  The price for this upsell is $197 with a downsell of $97
OTO 5 – 6 Figure Empire – If you get this one you will be set up with 6 additional income streams from Brian Winters own products. You will get MyFunnel Empire, DiddlyPay, 5iphon Reloaded, ShopMonopoly, ViraLighting and IGMoneyTree, and these products are all bundled in a single package. This will cost you $397 with a downsell of $197.
So as you can see, there is more to it than a "free membership".  It could cost you almost $1,000 if you would buy the whole package including all of the upsells.
---
If you are looking for a method to make money online, without having to pay thousands of dollars, then let me show you how I started for FREE.
Join me and start your own Affiliate Marketing business for FREE – really free!
Nothing to purchase, no credit card to provide and no reason to "upgrade" until you have a running website of your own and you are ready to scale your running business to the next level!
===>Check out My No. 1 recommendation<===
---
So, what is CB MoneyVine?
The first thing I have to say here is that the owners/creators are real.
Brian Winters and Tom E are not hiding behind a smokescreen like a lot of the products/systems I review.
They are real persons and Tom E is actually the one who explains everything in the sales video, so we do see a real face of a real owner/creator. This is actually refreshing and is a BIG plus in my book!
These guys are very successful affiliate marketers and they know what they are doing and how it works!
So let's see how the "front end" system of CB MoneyVine really works:
CB MoneyVine is a brand new product that just came out in October 2019, sold on the Warrior Plus platform and the owners call it a reverse income software.
So what is a reverse income software? Let's take a look inside shall we?
It starts with a 17-minute video that explains the basics of what you should be doing in order to get your CB MoneyVine active and monetized.  The video explains it to someone that joined for free and needs to purchase a product every month to remain active and monetized.
Here is the 17:39 minute video itself so that you can really see what it is exactly (If you have the time to watch):
So as you can see, when your referral buys a product, you will get the commission in your ClickBank account.
The way to get it going is that you post your affiliate link on social media and through some email swipes and banner ads and you "give away" a free CB Moneyvine website to your referral.
They provide you with some links to promote your affiliate link (or your CBMV website):
What you are giving them is actually not a website (as they call it).
It's more of a landing page with a sales video explaining briefly what CB MoneyVine is.
If you want to see what your CBMV website would look like click on this link and you will see what I mean:
–>CB MoneyVine<–
---
Side Note: There is some "polishing" to do within the system itself from the creators with the links they provide. The "Email Ads" and the "Banner Ads" links (Shown in the image below) do not go anywhere or do anything when you click on them. Maybe it's something that will work eventually since this is a brand new system…
---
Once you get someone to click on your link (from the sales video/landing page they provide – see image below or link above) the process begins.
As soon as they (Your referral) have provided their email address, the setup is quite simple. They will receive an email with the login details and will have access to the member's area, but with an Inactive status:
The free member then has to purchase an item from the +4000 products in order to become "Active/monetized".
These products are all hardcoded with your affiliate link, so when someone buys through this marketplace, you make a commission.  So, rather than having a separate link for a bunch of ClickBank products you just give one link.
It's almost like giving your link to Amazon and then when someone purchases whatever through your link you get a commission. The difference is instead of getting a 1% to 5% commission from Amazon, you get a 50% to 75% commission from the ClickBank product they have just bought.
Once they are active and have bought one product, they become an active affiliate as well.
And in order to maintain their active status, they have to buy another product each and every month they remain active.  This is where you, as their referrer, should be making recurring commissions each month they remain active.
They (your referee) will have to submit a "proof of purchase" by copying and pasting their ClickBank receipt in the marketplace and that is how they will become active.
Then, they, in turn, will be doing the same as you and promoting this system and inviting their potential customers to this system.
So it's not an MLM (Multi-Level Marketing) system since there are no multi-levels.  You have your own referral line as your referrals will have theirs.
There is also another way to monetize this system.
If your referral doesn't want to purchase a product every month from the marketplace, they are able to choose to pay a flat fee of $20 per month (which is called the autopilot plan), and you can get a 50% commission on those as well!
In order to monetize this part, you will have to provide your Warrior Plus Affiliate Link and paste in the area shown below.
Side note 2:  You need to get approved by Brian Winters to get the link and monetize the Autopilot plan.
That is about it for the front end product.
PROS & CONS
PROS
Owners are real and are not using a pen name or hiding behind a narrator.  We actually see Tom E and Brian Winters is the one narrating the explanation video inside the member's area.
Good potential for earning a recurring income.
One link to more than 4000 ClickBank products with your affiliate link hardcoded to them.
30 days moneyback guarantee.
CONS
Too many upsells!  The newbie will be overwhelmed and probably just disappear after 2 or 3 upsells shown to them.
No real traffic source unless you buy their upsells.
It can be perceived as spam if you try and send it out to your email list and end up in the spam folder.
Without the upsells, the potential for income is greatly diminished.
Conclusion
From what I have seen in my research, I have to say that this is system is ingenious!
Brian Winters and Tom E have come up with a brand new idea that is likely to succeed!
Although I do not believe in "Done for you" systems, this one is different in every way that I am used to.  They provide a landing page that has the potential of conversion and the method they use to keep the system "running" month after month is really creative and possible!
The downside is that without buying the multiple upsells that they offer, the "front end" system will leave a lot of people in the dust.
Now, for those of you who are still wondering,  I can say that this system is definitely NOT A SCAM!
But it also does not provide any means (besides a few links) to promote the system, unless you are an advanced marketer, have a huge email list and know how to promote using paid advertising.
There is an alternative to the make money online niche.
The affiliate marketing industry is constantly growing and online spending and internet traffic increases every second of every day.
Companies are investing into their affiliate programs daily and they want and need affiliates to promote their products/services!
Therefore, there has never been a better time to get involved in Affiliate Marketing!
If you really want to earn money from your own website and driving FREE traffic to it, you will need to learn how to create your own online business.
The good news is that there is such a platform that teaches you how to create your online business from the ground up.
When you join, you will be taught (with state of the art step-by-step training) all of the basics of starting up your website.
They will also provide you with 2 Free websites that you will create yourself.
You will have access to a community of 1.4 million other members that are always willing to help you if you run in a snag.
Live 24/7 chat and up to date support
When starting an online business you will need three important and necessary elements:
Website(s), Education and Expert Training.
With Wealthy Affiliate, you will get all three elements along with my personal support and coaching to guide you along the way.
I also want you to have my Free eBook just to thank you for being here on my website:
Click on the image or the button below and get your own copy.
And I will see you on the inside!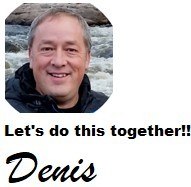 As always, if you have any comments or questions, please do not hesitate to use the comments section below!