In this review of Your Income Profits, we take a look inside the member's area and reveal exactly what you will get for your hard-earned dollars.
If you are here today, it's because you were invited by someone to check out this new ClickBank system called Your Income Profits. Well first off I would like to congratulate you for doing your due diligence and verifying if this system is really worth your time and money.
---
If you are in a hurry, I can tell you right away that this system is NOT what it pretends to be. The sales videos make it seem like it's a secret method that will generate thousands of dollars a day, but the reality is quite the opposite. Instead, I recommend that you take a look at my No.1 recommendation to start an online business.
You can start today by entering your email address, that's it. No credit card is required!
Click on the link below and you will be on your way to success
Click here to find out about My No. 1 recommendation
---
Summary
Name: (Your) Income Profits
Website: https://yourincomeprofits.com/
Owner: Tom Williams?? This is just a pen name. The real owner is hiding behind a BIG smoke screen!
Price: $9 with Multiple upsells
Score:
One-star rating, just because you can request your money back from ClickBank if you are not satisfied.
Recommended: NO
Overview

Well, the sales video is typical of thousands of other very low-quality systems on the market today like some I have reviewed in the past like China Cash Clone and Daily Profits.
They are all very hyped up and full of untruths and fake!
In this one, the sales video starts by saying that what you are about to discover is going to change your life!
You are supposed to find out about a little-known secret that can generate up to $1,000 in commissions as fast as "today"!!!
Then, it says that you are probably suspicious right now and you don't want to "Get scammed into another "Overhyped" money-making rip-off". Well, I think they just described their own product perfectly!
But let's not get ahead of ourselves here…Let's see what else is in there.
Then the story is about how he (the narrator) was laid off of his IT job and had no choice but to look elsewhere to support his family and they found a method called "Traffic Middleman Arbitrage".
And then he goes on saying that Amazon, eBay, and ClickBank "are willing to pay people to bring traffic to their sites!
Hmm…Never heard that one before…
It's supposed to be as easy as bringing internet traffic to these websites and get paid. And no need for any marketing expertise! Yeah right!
Then you have these "testimonies" with people saying they are making a boatload of money with this system:
This lady says that she has made $80,000 in her first month, while actually, she made a couple of bucks to read a script as an actress from Fiverr.
This one says that she has made $300 on her first day and ended up making $31,820 within 3 months.
Again another Fiverr actress being paid to read a script (and basically telling a LIE)
It is VERY typical of a low-quality system to use fake testimonies to make the newbie believe that this is actually working and that people are getting rich easily and fast.
And then, the narrator (we'll call him a narrator since the real owner(s) is (are) hiding behind this fake name) goes on saying that he worked 15 minutes a day for the last 6 months and made over $390,000. Now, this is what I call pure hype and absolute BS!
By this time I had seen enough of the video to determine that this "system" is one of the thousands of others just like it that are just using hype and lies to sell their products.
---
If you are fed up (like me) with trying these low-quality systems that promise you riches overnight without ever delivering what they sell, let me tell you how I make money online and how you could also start your own online business for FREE. ===>Check out My No. 1 recommendation<===
---
What is (Your) Income Profits
After refusing upsell no. 1 called Income Profits Pro (More traffic to your website) for $147 with a downsell of $97 and upsell No. 2 called Income Profits Plus (How to build an email list and sell traffic as a solo ad provider) for $145 the member's area looked like this:
The first thing they want you to do is to click their affiliate link and to join Commission Hero and also attend a webinar by Robby Blanchard.
You do this by clicking on the link that says: "Start Generating $1000/Day Now (10 Slots left)"
Sounds familiar? I believe that this is what they are trying to sell in the sales video. It's what they say anyway!
Click on it and you will be redirected to this page:
Commission Hero is an Affiliate Marketing course being taught by the world's top ClickBank seller, Robby Blanchard (I have no relation to him even though we have the same last name).
In summary, his course teaches how to use Facebook ads to make money promoting ClickBank affiliate products.
Robby is a real person and does know what he is talking about, but we are not doing a review on Commission Hero here.
However, I can say this: The person(s) who created this digital product (Your Income Profits) is definitely a member of the Commission Hero platform and is promoting his link inside the "said product" he (she/they) sells. This is also what the sales video is saying (Generate up to $1,000/day), so basically the whole sales video "sales pitch" is based on another product completely!!!
What is Income Profit system then?
If we go to Step 2 is "How to install an " Income bot" software to a WIX website".
First, let me say that this person who narrates the videos inside the system has very broken English and is very hard to understand! There are videos (Shown below in the left-hand side menu) that give an idea of what an income bot is…
Basically, the training tells you to "high jack" someone else's website that is popular and getting a lot of traffic, get this "income bot" to pretend that it's part of the website and have a link that sends them to your own offer!!!
Whew!!! Isn't this quite UNETHICAL???
I have a test website and I installed this "income bot" to it and redirected the "bot" to one of my own other websites to see how it works.
Not surprisingly, NOTHING happened!
I think it's a good thing because this is not something I would like to have installed on my own website!
Needless to say, I did not install anything on this business website!
In my opinion, this income bot thing is pure CRAP!
Not even worth the $9 initial fee to get in!
Then we move on to Income Profit Traffic Arbitrage Training Videos:
These are a bunch of short 2 to 10 minutes videos teaching the basics of Affiliate Marketing by creating a WIX website and using:
1- Etsy – This is an e-commerce website mainly selling handmade or vintage items and craft supplies.
2- Amazon – I believe anyone who is on the Internet nowadays knows what Amazon is…
3- Udemy – Basic courses on how to promote courses given on Udemy
4- Skillshare – How to become a Skillshare affiliate. Skillshare is an online learning community with educational videos.
5- Traffic Secrets – This section is probably the only one that is worth watching. It gives you the basics of using social media to promote and get traffic to your website using Instagram, Twitter, Facebook, Pinterest, YouTube, and paid ads.
6- Bonus Tools Stash – This is affiliate links to other Affiliate Marketing products, the main one being the Affiliate Bootcamp from ClickFunnel, and also Getresponse email autoresponder and ClickMagick, a link tracking website.
7- Case study – This is a PDF document called "How I went from $0 to $466.43 in 9 days using Google Ads"
There you have it, folks! This is the complete "system" that is supposed to generate $1,000 per day.
I wouldn't hold my breath on that one!
PROS & CONS
PROS
Since this is a ClickBank Product, you can request your money back within 60 days.
The cheap initial cost of $9 (If you don't get caught in the upsells)
Some video training makes it "a little easier" to understand what they are trying to make you do.
CONS
Fake Owner – Tom Williams…Who is he and how did he get so rich without anyone knowing about it? If he was such a great example of people making it rich overnight, why would he be hiding behind a pen name???
Fake Testimonials – Hired actors are a definite indicator of a low-quality program. If this system was such a great way to make money using their (not so) secret method, why would they have to hire actors in the first place!!!
Continuous lies and hyped-up stories. There are many ways to make money online but in this system, what you get is a lie about how he (the narrator) made thousands of dollars every day while only working 15 minutes a day! Then they give you some basic information on how to start with their "secret method" system, and they leave you there, hanging!
The narrator/creator of the videos has a hard English accent and it is very difficult to understand what he's saying!
Very basic training – Nothing in here that would not be found anywhere else on the Internet and probably for FREE!
Conclusion
Although there is some valuable information within the system's video training, the bottom line here is that you will NOT be making the thousands of dollars per day they promise.
Is this a scam then? Well, an Internet scam is when someone loses money to another party without getting any compensation whatsoever. In this case, you do get videos and training for the actual membership price, so in my opinion, this is what I call a Low-Quality System.
The thing is that if you would take a little time and do some research on the Internet, you would most probably find pretty much everything that is included here. And it's not complete. You get what you pay for I guess, so $9 is not that expensive if you look at quality/price.
How about a "Real" Method
Being lied to when it comes to making a business decision is not the way it should be! Especially when you are looking for a method of earning online, and end up being disappointed every time.
Being honest in business is how you gain trust from your clients but these low-quality systems sales videos are so full of lies that it's a wonder how they even stay online?!?
I was in your shoes a couple of years ago (over 3 and a half actually). I was going from one fake system to the next until one day I decided to check things out before believing what was being told on "those" sales videos.
I ended up on a platform that felt right! They did not hide their identity and they did not say that it was a get-rich-quick method either.
It's all about Affiliate Marketing and it did not look like anything I had seen before, so I decided to test it out.
That was the best decision of my online business life!
It's not just a training platform, it's a community of like-minded people that have grown into over 1.4 million members helping each other succeed.
Training is done through task-based, video, and text lessons.
And best of all, you can try this platform absolutely FREE with a starter membership.
All you have to do is enter your email address and you will have access to the first 10 lessons of two different methods of earning online (that is 20 lessons) and they will provide you with 2 free profit ready websites also for FREE and so much more…
Click on the link below and start TODAY!
When starting an online business you will need three important and necessary elements:
Website(s), Education, And Expert Training.
With Wealthy Affiliate, you will get all three along with my personal support to guide you along the way.
I also want you to have my Free eBook just to thank you for being here on my website:
Click on the image or the button below and get your own copy.

And I will see you on the inside!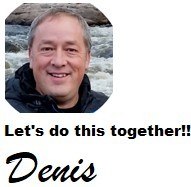 As always, if you have any comments or questions, please do not hesitate to use the comments section below!