Is Done 4 You Business a scam or can you really make $7,000 per sale?
In this review, you will find out exactly what you need to know before you join them.
I have been invited by email today to join this "new" money-making opportunity.  I decided to check it out and give you my report.  As soon as I saw the landing page, I realized that this system is telling "non-techy" people that it's "Done-for-You" and you can make $7,000 every 2 weeks!
The first thing I literally hate doing is giving my phone number online!  For many obvious reasons: Unsolicited sales calls, a scam artist posing as a tech from Microsoft saying my computer is out of date, bogus scams through text messages, and especially those orientation calls from these systems, which are basically salespeople trying to get more money out of you!
So I reluctantly filled in the form for this review's purpose and was redirected to a sales page!
---
Since you are here, on this page, I can tell that you are looking for a method to earn money online.  Well first let me say that I don't recommend this system!  So if you are in a hurry and you want to learn how to create a sustainable online business, built on a solid foundation, and with ALL the training and support you need to succeed and you would like to create it yourself (nothing is "done-for-you"), then click on the link below and learn how I earn money while I sleep (And while I'm awake too!)
Click here to find out about My No. 1 recommendation
---
Summary
Name: Done 4You Business
Website: https://cg20.logintosystem.com/index.html
Price: VERY EXPENSIVE!!! – Between $3,247 up to $21,847 (The price varies upon the level and the administrative fees you choose)
Recommended:  NO

Overview

First, let me say that I am in no way shape, or form associated with this system, and this review is based on facts found on the Internet and available to the public.
From what I understand, all you need to do here is sign up, pay for advertising, and the profits are guaranteed because everything else is "Done-for-you".  Sounds pretty simple…
However, I have seen these kinds of claims before and most of the time the story they tell is "too good to be true".
They always leave the important parts out of the equation.
And, again, if this was true, and it was this simple to make $7,000 every 2 weeks online, why wouldn't everybody be using their system instead of working at a job they hate day in and day out?
The answer is simple: It's NOT that easy!
The "done-for-you" methods are 99% of the time only making money to the creator(s) and people on the top of the pyramid!
If you are in a hurry, I can tell you right away that this system is a rehashed version of another High Ticket Scheme, so I don't recommend it!
I will reveal in this review why I don't recommend it!
But before I do, here is another screenshot of their "Sales Pitch" just in case you have been sent this link (Which is a little different than the one up above):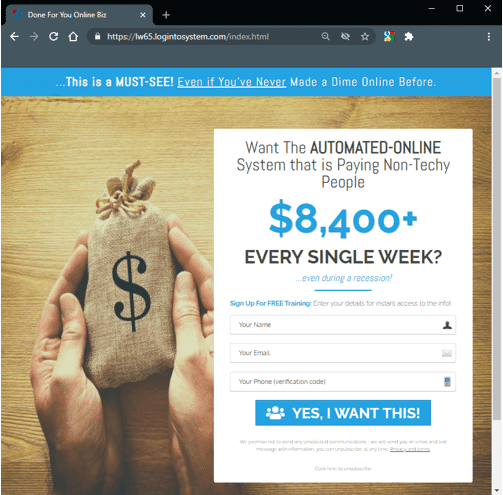 ---
If you are looking for a real method, one where you actually have to do some work yourself and be in control of your own business in order to create a passive income online, then  Check out My No. 1 recommendation
---
What is Done 4You Business?
Done 4You Business promises to provide you access to a "done-for-you" High Ticket Affiliate Program and the presenter says that this proven "system" is as easy as "pay for advertising" and "Receive a check" (Between $1,500 – $15,750), Then "rinse and repeat".  Sounds pretty easy right?
The presenter lays it out in this simple diagram:
According to the presenter, everything is done for you except the 2 steps highlighted in orange (Pay for advertising) and green (Receive a check).
This seems very simple at first glance, but what is it that you pay to advertise for?
And how can they do all the work and you get a $15K check???
There is some mystery surrounding this explanation…They don't explain what it is that the product is in the sales video, you are only told of the opportunity to make money.
So I dug a little deeper to find out what it was all about and tell you about it…
I also found out (through my research) that the owners launched a similar system in 2019 called "Secrets of the Wealthy".
They still have this system out there and it's still online.
From what I understand, Secrets of the Wealthy is a similar system as this Done 4You Business, except that they may have changed the name and are now using another URL for their sales funnel page.
Anyhow, whatever URL they use, this system is very similar, and the most likely reason that they have done this is that Secret of the Wealthy (SOTW) is not as popular as it was in the past, so they decided to launch the same system under a different name and URL.
So forget the fancy sales pitch and the done-for-you diagram up above, here is how this system REALLY works:
When and if you do invest in the program, you will be provided with a website (A Landing Page / Sales funnel), a telephone number,  a tracking system, a sales team closing the sales for you, and everything else you need to get going.
Then you will be told by your success coach that you need to spend some money on advertising, and this will have to be done on a monthly basis.
However, the ultimate goal is to recruit other people in the same system you have just bought.
It's set up as a pyramid system!!!
The only thing to sell is the right to resell the system and get other people to sign up!
This is a top-tier selling program meaning that there are "levels" and in order to make money, you must buy at the level you want and buy the right to earn at that level.
Let me explain how it works:
Gold Level – $3,000 plus $247 administrative fees = $3,247
Platinum Level – $7,000 plus $447 administrative fees = $7,447
Diamond Level – $14,000 plus $647 administrative fees = $14,647
Ultra Royal Level – $21,000 plus $847 administrative fees = $21,847
So to explain what I mean, in order to make a commission on the Ultra Royal Level, you would need to start by paying $21,847.
As you can see it can be VERY expensive.
Now you have to promote (by paying for advertising on a monthly basis) this system to other people so that they too buy the system.
And remember, you can only get a commission at the level that you have bought, so if you have bought the Gold Level and someone joins at the Ultra Royal level, it will be passed on to the next member "above" you in the pyramid that has bought at that level…
So if you do decide to join, your success coach will be explaining this to you so that you don't "pass up" any opportunities.
These "success coaches" are salespeople!
They put pressure on you to upgrade to the highest level right from the start.
If you don't, you would be losing a lot of money in commissions… Which makes sense when you look at the way the system is made up.
Now let's say that you have a website already (hosted somewhere by a web hosting provider) and you have a sales funnel that is set up to sell this particular product (and you know how to create funnels, how to build them, and the technical part of it), now you have to pay these guys and hope that the advertising you buy will convert into sales.  Or you can simply use the webpage they provide that is "done-for-you" and let them do the work, you will be however paying for the advertising that they provide.
Let's take for example that you joined at Gold Level(Paid $3,000 plus the $247 admin fee) and you promote the system on your website or the one they provided.
The basis of the program is that one of their "success coaches" will call and follow up with all of your "leads" generated from the advertising that you pay for, and close the sale for you.
Then, they get to keep 50% of the sale, which in this case would be $1,500, so you would still get $1,500 from that sale.
If we take what they tell you in the sales video word for word, and let's say that you paid $500 in advertising, you still would make $1,000 without doing anything, or hardly anything…
This is how the program is set up to work, you pay for the advertising and the rest is done for you… This sounds awesome, doesn't it?
Now is the time to take a step back and think, does this sound "too good to be true"? Can this be real?
Let's think about it for a minute.
You just sit back, go on with your normal daily life, give total strangers thousands of dollars, let them do all the work and they send you money when they sell?
Let me say this:  Pyramid systems are set up in a way the there is always a loser at the bottom…
The people that make money with a pyramid system are the ones at the top of the pyramid!
Those are probably the people you see featured as testimonials on the sales page, they are the ones making money…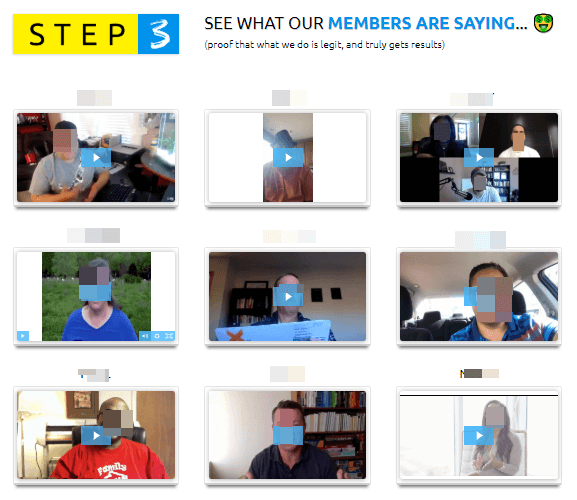 I am not saying it's impossible to earn money with this system, what I am saying is do your due diligence before you invest in it!
I have gathered the facts that are readily available to anyone that has access to the Internet and wrote my review based on those facts.
PROS & CONS
PROS
You get a done-for-you landing/sales webpage and other things to get you going.
CONS
VERY expensive! The smallest amount that you will have to spend is $3,247
Trusting someone else to do all the work for you and handle your money…
They make it sound easier than it is and done-for-you systems are usually too good to be true.
Could end up like MOBE and being shut down by the FTC because of the way they do business is very similar to what MOBE was doing.
No real product, just reselling the rights to resell!
Conclusion
While it is theoretically possible to make money from it, my research points out the opposite.
Some people will say that even though the ultimate purpose of the system is to earn commissions, even if you don't earn money with it, you still get a website, a phone number, and all the rest for the fee you pay for, which I don't deny.
However, when you watch the sales video, they make it sound too easy, which can be misleading.  You are just buying the right to earn at the level you purchase.
My advice is to STAY AWAY!
They even say so themselves in their earning disclaimer (at the very bottom of the sales page):
So by doing your due diligence, as they advise YOU to do, the only thing left to say here is if you have thousands of dollars of "risk capital" just laying around and you are not afraid to lose it all, then maybe you could make money.
Is Done 4You Business a SCAM?
I leave this one up to you!  I have reviewed this program and did all the research for you.
It is your decision now.
Needless to say that I did NOT buy anything from them!
I will say this again:  It is misleading!
And from the experience I have gained over the past 7 years, I can also say that 99.9% of the time, when a system or a program tells a story that is too good to be true, it usually is!
Why not do something worthwhile instead of Done 4 You Business?
6 years ago, I was in your shoes!  I was going from one program to another, trying this and that, and lost a lot of money along the way!
That is until I found affiliate marketing!  This method is a straightforward process, and you don't need to create anything.  You promote other people's products, and when you make a sale through your affiliate link, the affiliated company that created the product pays you a commission.
The affiliate marketing industry continues to grow and online spending has increased tenfold in 2020, especially since the COVID-19 pandemic and people staying home and shopping online now more than ever!
The companies that were already set up for online shopping are still making a lot of sales as people can't go to those "brick and mortar" buildings right now.  Plus, the number of companies investing in their affiliate programs is constantly increasing.
To be completely honest, there has never been a better time to get involved in Affiliate Marketing!
But you will need guidance.
When starting an online business you will need three important and necessary elements:
Website(s), Education, And Expert Training.
With Wealthy Affiliate, you will get all three along with my personal support to guide you along the way.

The best part is that you can test drive the platform for absolutely NOTHING! 
Not a dime!  No credit card necessary to log in!
Just choose a username, enter your email address and you are in!
You will get 10 free lessons and a free website to get your business online and get going right from the start!
I also want you to have my Free eBook just to thank you for being here on my website:
Click on the image or the button below and get your own copy.
And I will see you on the inside!
Stay Safe!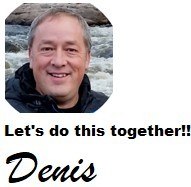 As always, if you have any comments or questions, please do not hesitate to use the comments section below!