Is Easy Cash Concepts really what it's claiming to be? Can you really make $12,000 per month from home?
I am subscribed to a lot of (probably too many) email newsletters. Just the other day, I received one that had a big headline saying that hundreds of ordinary people just like me are making over $12,000 per month from home with this brand-new money-making system.
I clicked on the email link and got to this kind of newsletter.
At first look, it seemed like a legit news website, but as you will soon find out, this is just a big front.
Before I go any further, I would like to congratulate you on taking the time to review this "opportunity" before trying it out.
In my review, you will be able to make a much more informed choice. I have created this website to do just that: help people find real opportunities to make money online.
There are so many choices and so many fake programs on the internet today that anyone who wants to start a legitimate online business is flooded with information good and bad. The problem is to know which one is which.
The internet is full of ugly and fake systems and the fact that you are looking for information before buying into this money-making system makes you one step ahead of all the others.
This is where I come in. I do the research and give you real and honest facts.
---
If you have a desire to make money online and want to know my method, then I can let you in on the platform I use. This is NOT a get-rich-quick method, it is a true and honest way of building your online business. And the best part is that you can try the whole system for FREE, no credit card required and you only give your name and email address. Get your free account by clicking on the button below:
---
So let's see what this system is all about.

Summary
Name: Easy Cash Concepts
Website: easycashconcepts.com
Owner: We have no clue, however, it says that the "article" was written by Amanda Winston whoever she is.
Cost: $4.95 (5-day trial). After that, it's $44.75/monthly
As I said before, when I first looked at the website page, I saw something different from the systems I've seen before.
What they (Easy Cash Concepts) try to do here with their "splash page", is feed you with what you want to see and hear.
They make it look a lot like a News website. But there's nothing on this website that is actual news.
They call it an advertorial. If you read the disclaimer at the end of the web page, an advertorial is a "term derived by a company advertisement and editorial and often used to explain the features of a particular product or service"
So basically it's a sales page, not a news website!
The (most probably fictitious) story/article starts with a "Jamie Taylor" who filled out a simple online form and discovered a "secret" to beating the recession and be able to provide for her family. The article's author "Amanda Winston" says that she read Jamie's blog and decided to feature her story in their weekly Consumer Report.
Then there's a link, I clicked on that link and got to this page:
You know what? This is a BIG RED FLAG!!!
This system is just a rehashed copy of the Online Web Cash System. It used to be the same old usual get-rich-quick online business crap:
There are only small differences like the "cash" picture is not there, and the lady in the picture is now Karen instead of Kerry!
I have read tons of reviews about "Online Web Cash" system back in the days I was still searching for an online business opportunity, and this one was qualified as one of the worst systems you will ever come across. Of course, I did not buy it back then, but when I saw that web page today I recognized the similarities right away.
I can only assume that Easy Cash Concepts system is made by the same individual trying to make more money out of the same old unethical "get-rich-quick" crappy system.
Getting back to Easy Cash Concepts, there are only really two main pages on this website. The first is the "news articles" and then you click on the link provided and you get to that page that collects your personal information, a lot of personal information including your phone number and address.
Actually, it doesn't really matter where you click on the first page, you will always be brought to the second (Check for a Spot in your Area) page. They are all linked to the same page where you enter your information.
Right then and there I knew I was into a big scam. You end up providing them with all your personal information and they spam you like crazy from that day on.
I don't know about you, but I would never give a strange system like this my phone number and/or my home address!
On top of that, they will probably sell your information to someone else in the bargain.
Do you want to see more red flags?
Here is the picture of Jamie Taylor with her two kids the woman who lost her job and started working online. Or is it really?
Here is the same picture I found on Shutterstock.
As you can see Jamie Taylor doesn't exist, or at least she doesn't exist as Jamie Taylor, she's just a photo model.
Here is a testimony on the second website page from Amir K. saying he made $10,000 in sales in 3 months:
And again here is the same "Amir K." but I found him on Shutterstock again!!!:
So this system also uses fake testimonials and stock images.
What they do is they find generic pictures and videos and post them as part of their fake "newsletter" or advertorial as they call it!
---
THIS IS THE SYSTEM I USE TO MAKE MONEY ONLINE AND IS MY NO.1 RECOMMENDATION
---
So, what is Easy Cash Concepts?
Like most of the very low quality and scam systems out there that I have reviewed before, there is no way of knowing what is it exactly that you are buying into.
They claim that you can "generate multiple income streams fast" and "it's as easy as using Facebook, Google, and Twitter", but how???
They also say that you get paid by Amazon, Overstock, and Alibaba, which is the only clue that it's something about affiliate marketing.
But what do you get when you enter the system? Your guess is as good as mine. These systems are focused on the money that they claim you can make, to make it very appealing, but they never explain what it is exactly. You have to buy before and find out after what you are in for.
All they say is that it's a three-step system:
1- Register (Fill out all your personal information)
2 – Follow the instructions and set up your account
3 – Deposit your earnings
Any system that says nothing more than this is usually too good to be true! They make it sound so easy to make money online that people that buy the system think that there's a magic button to push and make boatloads of money doing nothing. It's this kind of system that gives the affiliate marketing industry a bad name and a bad reputation.
And good luck trying to get your money back on this one if you do decide to join them and give them ALL of your information, including your phone number and full address!!!
There is nothing anywhere on the web page that says that you have a money-back guarantee.
To make it really simple, Easy Cash Concepts only works for the people behind the system, not for you to make money.
If making money online was this easy, everybody would be doing it! And they would all be millionaires!
And where is the owner(s)? There is no sign of the owner anywhere. Why is he(she) hiding?
I strongly suggest that you stay away from this very suspicious and misleading system. It will definitely not live up to it's $12,000 per month claim!
It usually takes me a lot to call a system a scam, but this one deserves the title!
It is a total scam! There are way too many red flags and too many lies to be a legit system!
Are you fed up with scams? Do you want a real method to make money online?
Just a few years ago, I was like you, searching hi and low for a quick method of making money online. I eventually realized that it simply does not exist! The get-rich-quick methods are not real, all they do is they provide themselves with riches from your hard-earned money with their hyped-up lies and fake testimonies.
However, there are real ways to make money online. I found a platform that is just that: "Real".
It's NOT a get-rich-quick method, but it is very lucrative once you have a solid foundation and you build your business from the ground up as I did!
Basically, all you do is you promote other people's products and earn commissions from the sale of the product. All of this on a website that anyone can easily create. It is very legitimate and it's a very true and honest way of making money online.
What you will eventually find out (like I did a few years ago) is that to make a full-time income online requires time and consistent effort, and I am very grateful that I found a method that works!
Anyone who is willing to put in the necessary work will eventually succeed, and if your goal is to be financially, then this method will show you how to create passive and recurring income! That is the secret sauce of Affiliate Marketing and making a full-time income online. And anyone can do it, all you need is desire and persistence!
If you are ready to start an online business from the ground up, and you want to test the platform first, well I have good news for you.
Wealthy Affiliate will provide you with everything you need!
There are no obligations, no credit card required, and nothing to pay. You can try the platform absolutely free and they will provide a 10 lesson training along with 2 free websites of your own (that you can keep forever) to get you started!
What are you waiting for, check it out for yourself by clicking on the button below!
And as a bonus, I will be there with you every step of the way as your personal coach.
I am certain that if you follow the training as I did, you will also succeed.
---
I also want you to grab a copy of my Free eBook: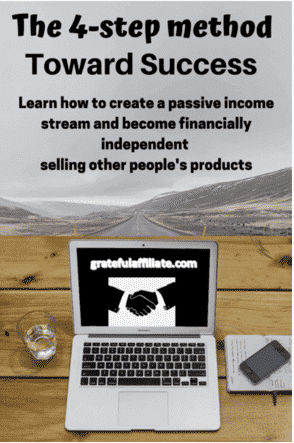 In it, you will find a step-by-step method of how I do it, how I make money online.
Let's do this together!
Denis
If you have any questions or comments, please feel free to leave them in the comment section below!