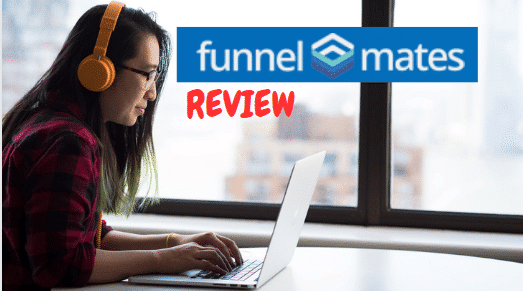 Today, I'll share my analysis of FunnelMates, covering its features and the pros and cons. This should help you decide if it's worth your investment or if there are better alternatives out there.
Quality website traffic is like the lifeblood of digital marketing. It's what allows you to promote your brand and connect with your audience. You've got two main ways to bring in visitors:
First, there's Paid Advertising. This means running ads on platforms like Google or Facebook. You pay each time someone clicks on your ad and lands on your site. It can be quite effective in generating leads, but it's not always the most cost-efficient option.
The second method is Organic Traffic. This is about optimizing your website so it shows up in search engine results, like Google. To do this, you create valuable content with the right keywords, and over time, your site naturally climbs up the search results. The great thing about organic traffic is that it doesn't cost you per click, making it a smart long-term strategy.
So, whether you're investing in ads or working on your site's SEO, both approaches can help you attract quality visitors and grow your online presence.
Now, let's talk about sales funnels. They're a popular way to drive free traffic, even though they might not be as effective as paid methods. One program you might have heard of while exploring funnel optimization is FunnelMates.
They claim to help you understand and make the most of funnels. If you're wondering whether FunnelMate is the real deal or not, that's where my article comes in.
So, let's dive right into today's discussion without any more delays…
Product Overview: FunnelMates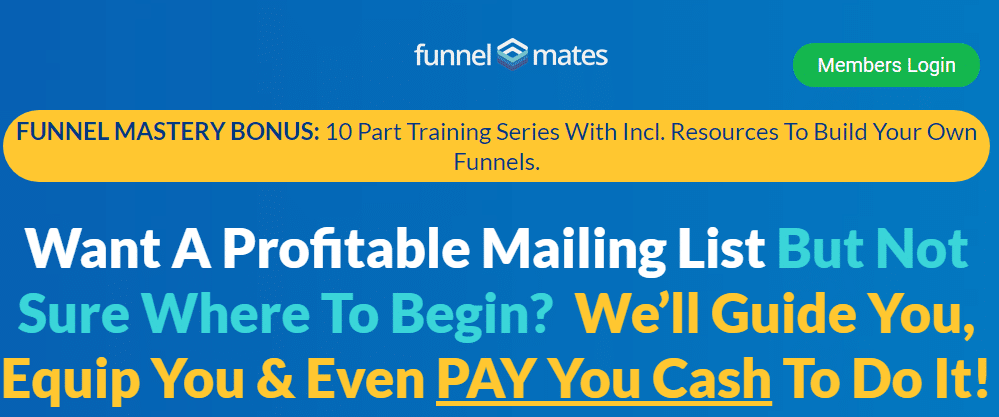 FunnelMates is a ready-to-use (DFY or Done-for-You) system that provides pre-made sales funnels, allowing you to promote your brand through email marketing. The website introduces Cindy Donovan as the founder and current owner. However, despite claims of her extensive digital marketing experience in some articles, I've had difficulty finding substantial information about her online. Honestly, it feels like her name (and picture) might be made up.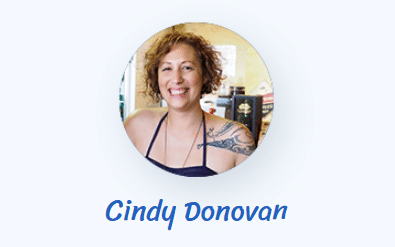 Adding to my skepticism, I've noticed the same name and image used on various Done-For-You (DFY) websites like SQZin (now defunct), Plugin & Theme, GoToStage.com, and Funnel Joy Affiliate, among others. These DFY services, like those offered by FunnelMates, offer ready-made funnels and email lists, eliminating the need to build your email list from scratch. Yet, the challenge with DFY email lists is uncertainty – you can't be sure if they're actively used or if the email addresses were generated by automated bots.
Beyond the program's advertised purpose, here are some noteworthy features of FunnelMates:
It includes a user-friendly drag-and-drop interface for creating profiles.
Integrates with affiliate networks like Clickbank, WarriorPlus, JVZoo, Amazon, Shopify, and ThriveCart.
Offers a built-in traffic toolkit and easy link management.
Ensures GDPR (General Data Protection Regulation) compliance.
Provides a choice between pre-made templates and customizable design options.
Offers a script database or the option to create your own.
Includes email autoresponders and click tracking statistics.
Offers website hosting with your domain name.
Features social lead funnels, quiz lead funnels, animated elements, and a funnel request board.
Recommended: If you are looking for a trustworthy program that can help create a profitable website, then you have to check out my best work-from-home recommendation!
How Does FunnelMate Work?
In my view, FunnelMates operates in a way that's somewhat similar to solo ads. The key distinction is that with solo ads, you're engaging with other digital marketers to exchange leads. In a Done-For-You (DFY) funnel setup, they promise to take care of all the work for you. Just like other DFY solutions I've reviewed, they claim their program can be boiled down to three simple steps:
Step One: Connect
After you've paid the initial cost, you'll need to create an account with an affiliate marketing platform of your choice. These platforms can include JVZoo, Clickbank, WarriorPlus, and PayKickstart, and the good news is that registration on these platforms is entirely free.
Step Two: Select
Here, they suggest that you can now access and choose the profitable funnels that align with your specific niche.
Step Three: Profit
They assert that you can start earning money passively through the sales funnel.
However, it's important to note that while these claims may sound enticing, generating leads and converting sales through sales funnels isn't as effortless as they make it seem. You'll still need to put in the work, such as crafting engaging subject lines and compelling email content to capture your audience's attention.
Effectiveness of FunnelMates
Again, I have several concerns with a DFY sales funnel. For one thing, there's no assurance that the email addresses included in the email list are obtained from real people or generated by bots. With this being said, it is possible that it won't produce the quality leads that your website or social media account needs, even if you create engaging email marketing content.
In addition, generating leads from free traffic is not as easy as they advertise. In fact, generating leads from organic sources is more challenging than paid ads because visibility is extremely low, and you really have to put in the work to boost overall engagement. You also have to monitor the clicks to ensure that you are going in the right direction.
This is unlike paid traffic that flashes your ads to various platforms, which increases your chance of being noticed by prospects. And, of course, the apparent disadvantage is the expense that you have to incur. If you are a startup or don't have the budget for ads, then organic traffic is the most practical solution.
Pricing and Planning
Like any done-for-you schemes I reviewed in the past, aside from the promise of a quick and easy way to earn passive income,  they also pose a low steep price. In the case of FunnelMates, the front-end cost is only $46.95.
With the promise of thousands of dollars in just a few hours or days, it might have led some people to believe that they are getting good value for their money.
However, this is not exactly the case because if you have experience in DFY systems like me, then you'd know that the front-end cost is just the tip of the iceberg because of the upsell that follows after paying for the initial price.
You have to pay for the upsells unless you are not interested in the more premium version of FunnelMates. The following are the three main upsells of FunnelMates that you have to take note of—
First Upsell: Platinum Package costs $27 a month or $297 a year, or you can opt for their one-time payment of $997
Second Upsell: Source Code Bundle costs a one-time payment of $97
Third Upsell: The Agency License costs a one-time payment of $67
Since FunnelMates is a product offered under Clickbank, consumers are protected by the platform's 60-day refund policy. However, you have to take note that the refund policy is only applicable to the front-end costs and not the upsells.
Recommended: If you are looking for a more budget-friendly program that can help you create a profitable digital marketing business, then you have to check out my best work-from-home recommendation!

Pros and Cons of FunnelMates
I have listed the pros and cons of FunnelMates that you have to consider in order to help you further determine if they're the right choice for you or should search for better alternatives. Firstly, let's talk about the pros of FunnelMates:
Cheap front-end cost.
Clickbanks' 60-day refund policy protects consumers.
Now, the cons of FunnelMates and why they are not a good buy:
It does not produce quality traffic
Expensive upsells
Final Thoughts
You might give FunnelMates a shot if you're curious, but I can't wholeheartedly recommend it. I have some doubts about its legitimacy because the website's founder and owner aren't very upfront about basic company details.
Plus, when it comes to extraordinary claims, solid evidence is essential. In FunnelMates' case, there are no authentic income disclosure statements to back up their promises.
Considering all this, I'm giving FunnelMates a final rating of 4 out of 10.

Recommendation
Affiliate marketing has been a source of passive income for me since 2016, and it has similarly empowered others to achieve financial independence. What makes affiliate marketing particularly appealing to aspiring digital marketers is its suitability for all levels of experience, plus the relief from concerns about inventory management and shipping.
Furthermore, the potential for profit in affiliate marketing is boundless, as you can promote as many products and services as you desire.
However, it's not as simple as it may seem, especially when you're starting from scratch. In my early days (And still today), I relied on a platform that guided me in creating and effectively managing a website. They also provided fundamental lessons in affiliate marketing and building a digital marketing business that generates leads and converts sales.
If you're interested in affiliate marketing and ready to kickstart your venture, I recommend clicking the button or the highlighted description below.
>>HERE'S MY BEST WORK-FROM-HOME RECOMMENDATION!

And to show you my deep gratitude just by being here with me today, I am also giving away my eBook for absolutely no cost to you to help you kickstart your affiliate marketing journey—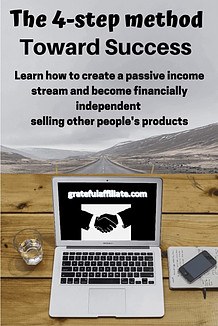 Peace!