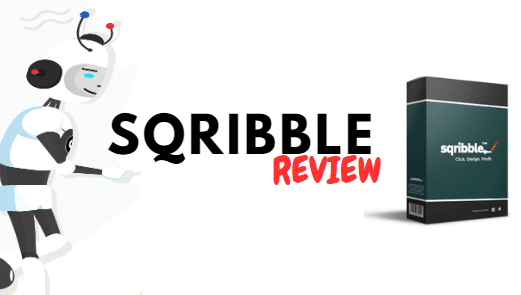 Thinking eBooks are dead in the age of TikTok and vlogs? Think again! Some say that writing blogs or publishing eBook content is no longer relevant because of the rapid growth of video blogging (or vlogging, as it is popularly known) and short video reels such as those you find in TikTok or Facebook Reels. However, this is not exactly true because there is still a huge market for eBooks because it is mentally satisfying to some extent instead of passively watching a video clip like a zombie.
If you're a writer aiming to publish an eBook for a specific niche, the good news is that it's not all doom and gloom; there's still a market for written content. But if you don't know where to start, that's another concern to consider.
Ever come across Sqribble while searching for programs to help you make money from eBooks? Although they're relatively popular, if you're hesitant about their legitimacy, you've come to the right place! In this article, I'll share the important details of the program and provide you with my analysis of its pros and cons to help you figure out if it's worth the investment.
So without any further delays, let's dive in!
Product Overview:  Sqribble eBook Generator Program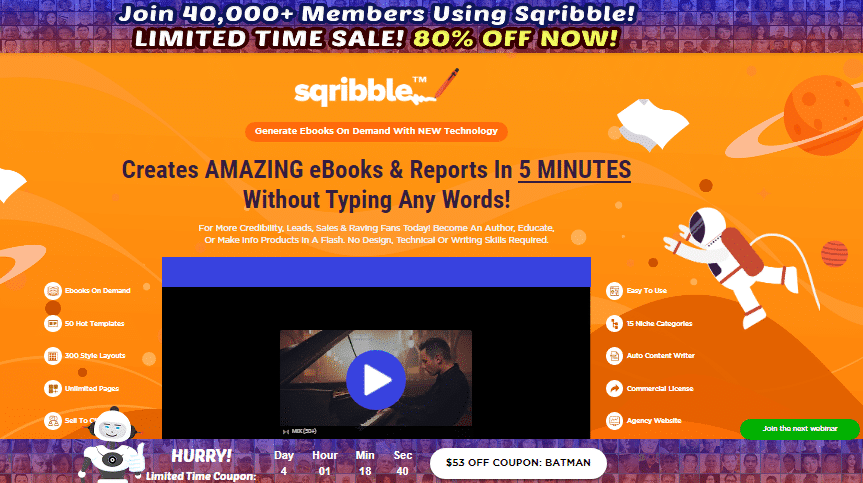 Sqribble is a cloud-based software that helps you publish your ebook, whitepaper, or reports either for literary or commercial purposes. The program was created by Adeel Chowdhry. He is a well-known published author and reputable personality in the world of internet marketing with over ten years of experience under his belt.
Sqribble particularly aims to help writers publish their work of art or provide eComm entrepreneurs with a finished eBook for their website, either for commercial purposes or as a freebie to their audience. By using this software, you can either publish your own writing or obtain premade content from their PLR (private label rights) database.
The main features of Sqribble that you have to take note of are as follows:
The software is a classic drag-and-drop tool where you can copy your work from Google Docs or Microsoft Office and paste it to the Sqribble dashboard. Or, you can open a resource file using your Sqribble account to transfer the document.
Automatic "Table of Content" generator based on the content you have uploaded
Automatic headers and footers and page numbering
Access to their PLR database
It is highly customizable because of the wide range of design tools and templates for your eBook, whitepaper, reports, etc.
You can create content with unlimited pages.
In any case, you will still need a website that's generating leads and converting sales in order for the eBook to be useful to you and provide value to your audience.
Recommended: If you are indeed looking for a program that can help you create a profitable website from scratch, then you have to check out my best work-from-home recommendation!

How Sqribble Works?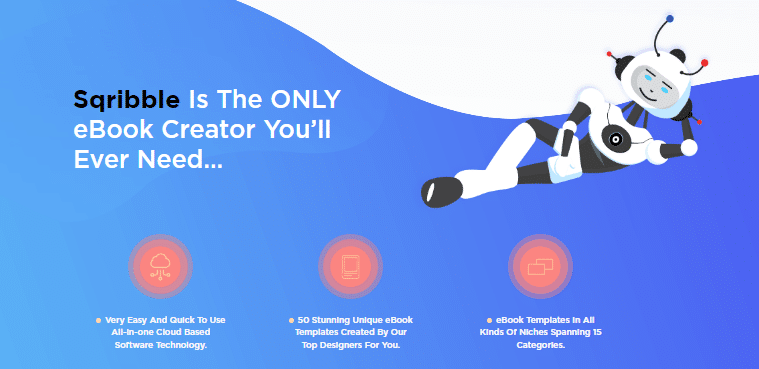 On the landing page of Sqribble, they mention that using their software and creating your eBook is as easy as three simple steps, which include the following:
First Step: Pick Your Template
Once you are fully registered to Sqribble and ready to generate your first eBook, the initial step for you to take is to select the template or design you want your digital book to have. If you are not sure of the design, you can choose from the database of templates that are based on your niche.
Each template comes with designs for book covers, tables of content, and book pages that are converted to a layout that is easy for your audience to read.
Second Step: Add Instant Content
Now is the fun part of the process, which is to add your writing to your dashboard, and the software will automatically load the eBook according to the template you have chosen.
As mentioned in the earlier parts of the article, you have two options when it comes to loading eBook content. The first option is that you can add your personal content to create the eBook. The second option is to use the ones offered in Sqribble's database of PLR content.
Third Step: Customize and Publish
Expect minor errors from the automatic generation of your eBook. Therefore, the last step is to polish the inconsistencies of your content, such as the design and layout of the eBook. Once you are happy with the overall design, you can now hit the "Generate" button to publish the eBook. Afterward, the eBooks are ready for distribution to your subscribers or to the visitors of your website.
Effectiveness of Sqribble
The user interface of Sqribble is relatively straightforward, and it is very easy to use. If you are determined to produce your own content, then probably the hardest part of the entire process is writing the content for your eBook. But if you are looking for shortcuts and will only use them as freebies for your website, then you can choose the content you like according to your niche from their wide range of PLR databases.
The effectiveness of the software is pretty outstanding when it comes to its supposed purpose and the results it can potentially produce. In addition, they have gained a positive overall rating in credible websites like TrustPilot, as shown below:
Aside from the positive rating, they also received a lot of praise from their current and previous clients: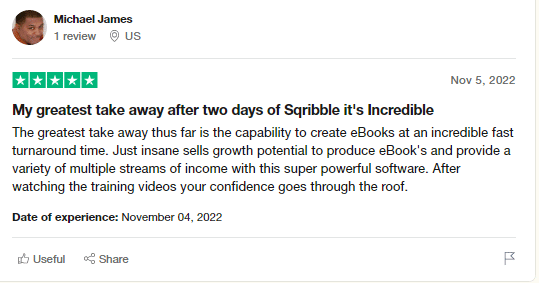 Recommended: Of course, if you don't have a specific purpose for the eBook, then the initial cost required for the required payment would go to waste. If you are an aspiring digital marketer, but you don't know where to start the venture,  then you have to check out my best work-from-home recommendation!
Pricing and Plan
The pricing for Sqribble requires a one-time payment of $67. They say that it is under promo, and it used to be $197. If this is true, then it is a huge discount considering how popular the software is. In case you are wondering, yes, there is an upsell that limits you from using some templates and other features of the program.
In addition, there is one incident of double charging that you have to bear in mind, as shown below: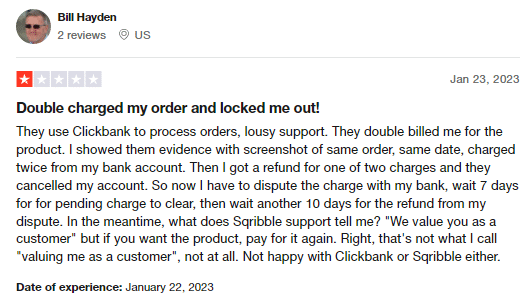 Also, Sqribble is offered under the ClickBank affiliate market, which means that the platform's 60-day money-back guarantee protects consumers. Thus, you can request a refund if Sqribble's eBook software is not meeting your expectations.
Recommended: If you are looking for a program that can help you establish a profitable website instead, then you have to check out my best work-from-home recommendation!

What I LIKE and DISLIKE
I have also listed the pros and cons of buying Sqribble to help you further determine whether it's a good value for your money or the software wouldn't do any good at all. Firstly, I present you the advantages of Sqribble:
You are in good hands because Adeel Chowdhry's Sqribble is a trustworthy program that has helped lots of digital marketers create eBooks, whitepaper, or reports for their websites
Affordable price
60-day refund policy as guaranteed by ClickBank
The interface of the program is user-friendly and very easy to use
It generates stunning and professional designs and layouts
They also have a PLR database if you are not particularly keen on writing eBook content from scratch
Positive overall ratings and reviews from previous clients
The only disadvantage of Sqribble is that the best templates and features have limited access unless you pay for the cost of the upsells.
Final Thoughts
Giving away eBooks as freebies is a great way to connect with your audience and create a positive association with your brand. Many digital marketers turn to PLR (private label rights) sites for this purpose because they are cheaper. However, you have to bear in mind that PLR content is not high quality and most of them are outdated and would not provide value to your audience. You might even lose credibility as a result.
Hiring freelancers to create the eBook for you would be an effective alternative to PLR because they are researched and thoughtfully made, but employing freelancers isn't the most affordable and not for everybody.
Although you might still need writers to create the content, Sqribble helps you save money from the editing and designing part of the process. But, again, if you don't want to hire freelancers to write eBook content, then they also offer quality PLR content from various niches.
Also, the great thing about Sqribble is that they are currently under promo, and you can buy the program for only $67. The downside, though, is that you have to pay for the upsells to access their more premium templates and features.
So, with this being said, I am giving Sqribble a final rating of 8 over 10!

My Recommendation
Affiliate marketing has been helping me generate reliable passive income since I started in January 2016. This has also been the case with so many people around the world who deeply desire to earn stable profits in the comforts of their homes.
Affiliate marketing suits levels of experience, and you don't have to worry about inventory management and shipment. Your main job is to promote the brand through your website or social media content. But most importantly, the potential income is unlimited because you can market as many products or services as you like that fit your niche and preferences.
If you are interested in affiliate marketing but don't know where to start, then I suggest that you click the highlighted description below—
>>HERE'S MY BEST WORK-FROM-HOME RECOMMENDATION!

And to show you my gratitude for being here with me today, I am also giving away my eBook for free to help you kickstart your affiliate marketing venture today: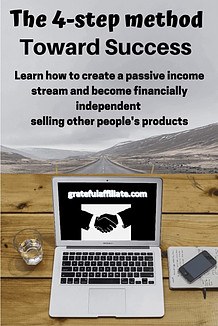 Peace!